All Sizes of Capsule Available

High Productivity & Fully Automatic

High Efficient & GMP Standard
NJP-3800C Automatic Capsule Filling Machine
Aipak NJP-3800C automatic capsule filling machine produced by our company is the innovative product of the third generation. It not only covers all the functions and effects of the domestic capsule filling machine of the same model, but also has four innovative technologies: a. structure of the machine base has been improved; b. turntable structure has been innovated; c. filling structure has been innovated; 4. Finished capsule outlet structure has been innovated; 5. Device to separate the powder and defective capsule has been innovated, three of which has been issued the utility model patent certificate by the national intellectual property administration, PRC. The technologies innovations have improved significantly the operation efficiency, achieving a capsule separating rate of 99.99% and a qualified rate of finished capsule of 99.8%. The new machine is easier to maintain and operate, being well received by customers at home and abroad.
1.Automatic Capsule Filling Machine Working Principle
2.Automatic Capsule Filling Station
4.Double Shaft Double Oil Sealing
11.Capsule Filling Complete Process
13.What Aipak Automatic Capsule Filling Machine Can
Opening and locking of capsule can be controlled automatically which is safe and convenient.
Equipped with inching control system, which makes it easy and convenient for cleaning, loading and unloading of upper and lower dies.
Equipped with gate control security system and mechanical failure security system, which provides functions of automatic alarm and shutdown.
Automatic alarm and shutdown will be activated when lacks empty capsule or powder.
Rich functions designed on the HMI, including counting and displaying functions during the production, and it is able to link with printer, if needed, for printing information including date of production, lot number, quantity, etc.
Shafts of capsule absorbing, pushing, locking, as well as defective capsule rejecting are all sealed with two layers of sealing ring, among which the first sealing adopts Nitrile Butadiene Rubber (NBR) to prevent lubrication from losing, and the second sealing uses imported silicone rubber sealing ring (SIL) to prevent powder from entering bearings, which has effectively solved the problem of bearing damage and shaft jamming because of powder leakage.
The two horizontal shafts of high-precision fully enclosed turntable adopts PTFE oil-free bearings, which are sealed with imported silicone rubber sealing ring (SIL) for preventing powder from entering the inside room of the turntable, ensuring running accuracy of the turntable, without needing to maintain and add lubrication permanently.
The plane cams are running in the mode of double rails, where the two axes run out separately. It can improve the operation accuracy and meanwhile eliminate the possibility of collision between the lower die and the dosage disc.
The high precision cam splitter uses optical dividing head of German Zeiss. The dividing spindle is machined in the CNC all at once, which has ensured accuracy dividing of the turntable and dosage disc while the machine runs fast, thus ensuring the precision of filling. Higher precision of cam splitter also provides the machine longer service life.
The operating cams are all processed with 20crmoti carburizing and quenching treatment, and then machined in CNC grinding machine all at once, which has ensured the accuracy and unity of the cams and provided a longer service life.
| | |
| --- | --- |
| Model | NJP-3800C |
| Filling capacity | 228000pcs per hour |
| Weight | 2200Kg |
| Dimension | 1500×1200×2200mm   |
| Power supply | 380/220V   50Hz |
| Total power | 10.5KW |
| Segment bores | 27 holes |
| Vacuum | 120m3/h-0.04-0.08Mpa |
| Dust collector | 24.5Kpa  210m3/h |
| Air compression | Air consumption 7m3/h  Pressure 7-8Kg |
| Operating noise | <75DB(A) |
| Filling percentage | Empty capsule 99.9%   filled capsule 99.8% |
| Capsule size | 00,0,1,2,3,4,5#   safety capsule A-E |
| Filling accuracy | Western medicine ±3%   Chinese medicine ±4% |
| Suitable for | Powder, Granule, Pellet, Tablet. |
                                                   Get in touch with an expert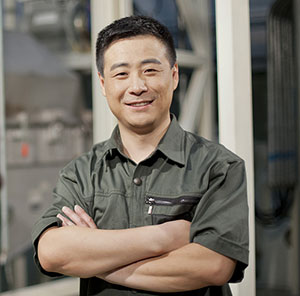 We´re looking forward to find the suitable solution for your product. Please contact:
Andrew Yang
Engineer Director
Phone: +86 189 7157 0951
Capsule Filling Machine Related Products
Capsule Filling Machine Related Posts
Capsule Filling Machine Related Videos