Aipak E-liquid Filling Machine
Aipak E-liuqid filling machine can be also called automatic liquid filling and capping machine, which can automatically finish the bottle filling, bottle capping. With the no bottle no filling feature. The E-liquid filling machine is suitable for products of liquid such as oral liquid, e-liquid, eye drop etc. It is widely applied for filling of products in such industries as food, cosmetics, medicine, grease, daily chemical industry, detergent, pesticide and chemical industry etc. The E-liquid filling machine with scientific structure can be single used, and also can be used with production line .It is the ideal liquid filling production equipment, completely meet with GMP requirements.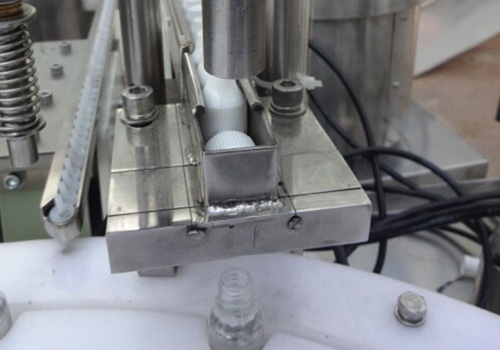 Aipak E-liquid Filling Machines
All Aipak E-liquid filling machine adopts human-computer interface,PLC controller,which are easy to operate.With frequency converting control,the E-liuqid filling machine is easy to adjust the filling speed and can do automatic counting.
Automatic stop,no bottle no filling
Round turn table for positioning filling,stable and reliable
High precision CAM indexing gage control
E-liquid Filling machine Applications
E-liquid Filling Machine Applicabale Lids
E-liquid Filling Machine Working Process
E-Liquid Filling Machine: The Ultimate Buying Guide in 2023
When it comes to the amazing ranges of electronic cigarettes, you will find a quiet few options that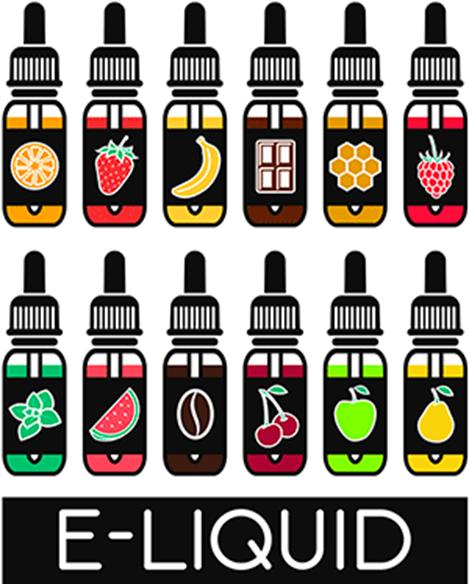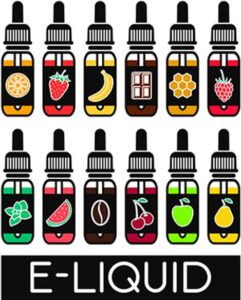 appeal to you. Many people love to use an electronic cigarette as it does offer a few incredible benefits.
This is a popular method among those people who want to quit the smoking habit. People who never smoke they also love to use E-liquid due to their attractiveness and flavours.
It seems very modern way of smoking, but if you exmine deeply you'll realise that E-liquid has been invented around 1960s whereas, Herbert A-Gilbert who developed and patent it in 1963.
some E-liquid look like a regular cigarrete, or pipes. Some E-liquid look like USE or pen.
So, the big question is,
How do you get a filled E-liquid? What makes E-liquid so appealing to you?


Well, in this blog we are going to introduce an E-liquid filling machine which is a targeted reason behind various features of incredible E-cigarette.
Let's dive right into the topic!
Add a header to begin generating the table of contents
1.What is an E-liquid?
Electronic cigarettes – or e-cigarettes – simulate the act of smoking, but they don't burn tobacco. Instead, the e-cigarette is a battery-powered device that works by heating liquid into a vapor, which is then inhaled into the lungs. Using an e-cigarette is sometimes called 'vaping'. It mainly contains propylene glycol, glycerine obtained from vegetable sources, flavoring agents, and water.
Sometimes, you will find certain E-liquid which is incorporated with the nicotine content that's why many people use these devices to get rid of occasional smoking.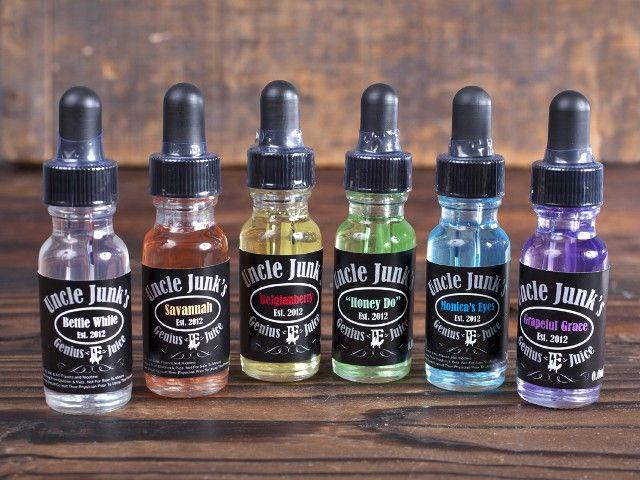 The basic composition of E-liquid solution is
Nicotine, with various concentration (optional).
Vegetable glycerine or Propylene glycol or mixture of both. As it is a thinner liquid so it is easy to handle and refill.
Food grade flavoring agents.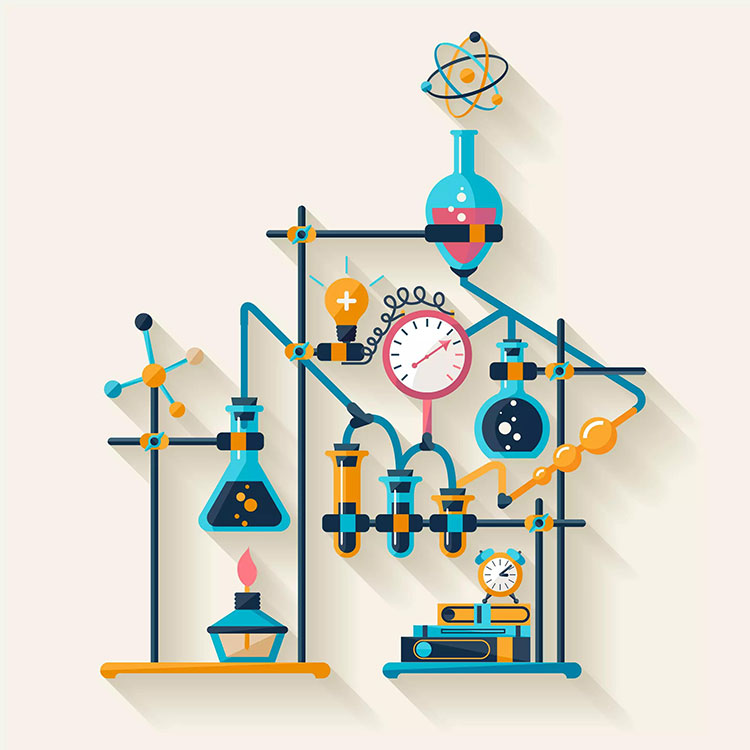 2.What are the basic parts of an E-liquid?
Normally, E-liquid is composed of the following parts:
Mouthpiece
The mouthpiece is a fixed cartridge attached at the end of the tube. Inside it contains a tiny plastic cup having soaked liquid solution.
Atomizer
The atomizer allows heating of liquid which ultimately improves the vaporization when you inhale.
Battery
An E-liquid device incorporates a battery that powers the heating material.
Sensor
By sucking the device sensor activates the heating elements.
Solution
The solution inside E-liquid or E-juice contains a mixture of nicotine, flavoring agents, and propylene glycol.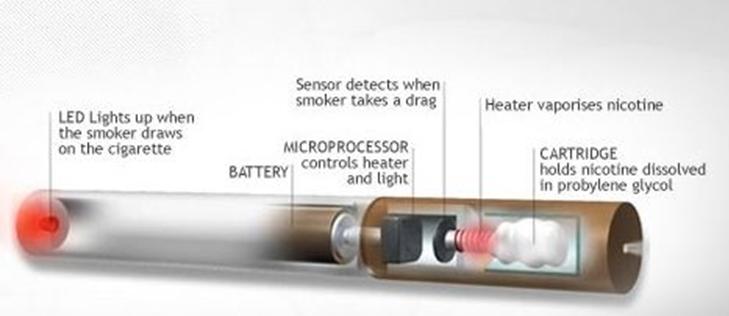 An E-liquid Device
3.What are the benefits of E-liquid?
There are certain benefits of using E-liquid such as:
a) Safer than Smoking
According to the British Royal College of Physicians and Public Health England, consumption of E-liquid is 95% safer. It does not create harmful smoke or combustion. Moreover, it is proved to be good for the lungs and heart's health and produces a good sense of smell.
The aerosols of E-liquid generally composed of fewer toxic chemical ingredients than a deadly mix of thousdands of chemicals present in normal or regular cigarrete.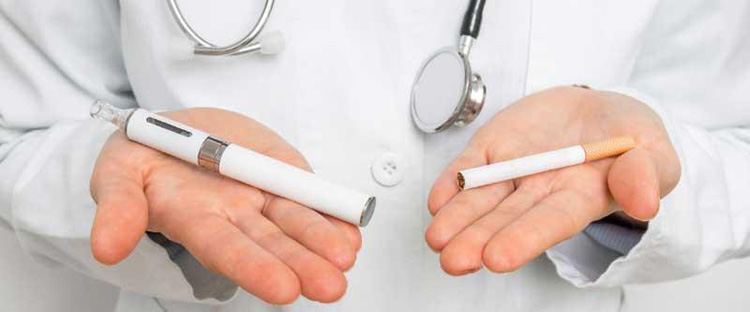 2)- No Noxious Odour
One of the significant advantages of using E-liquid is that it does not produce a smoke smell in your clothes, house, or car. E-liquid leaves you devoid of smell. Because they contains vapours so any damage due to deposition of particles is minimal. Additionally, it has a good aroma, and its smell is barely noticeable.  Moreover, E-liquid has smaller number of content than regular cigarette involves burning of various components which is indeed not a cleaner process and leaves persistent smell.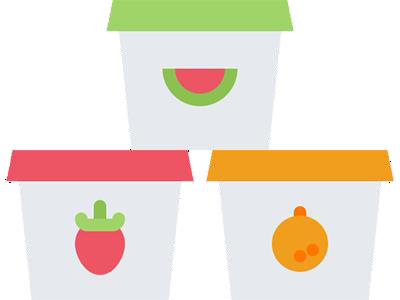 3)- Good Control Over Using Nicotine
Using E-liquid is a beneficial way to get control over nicotine usage. They are available in a variety of strengths, ranges that help you out for lowering the urge for nicotine or even eliminates nicotine intake.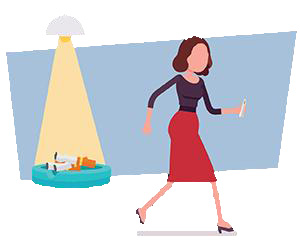 4)- Flavors for Each Palate
There are endless flavoring options you can choose from E-liquid commercially available. All flavors are such as fruits, menthol, tobacco, etc are popular depending upon how you choose.

5)- Instant Satisfaction
E-liquid faciliates instant satisfaction that you get a quick result. There are endlessly prefilled and ready-to-use E-liquid devices available commercially that hits as simple as pushing a button to draw E-juice. If you consider a traditional cigarrete it doesn't provide an instant pleasure. For E-liquid all you need to press and push the button. All E-liquid devices need a simple charging battery to continue working and provide an instant satisfaction throughout the day.
6)- Cost-Effective
An E-liquid is cost-effective product that offers multiple enivornmental benefits with longer durability.
An E-liquid machine marketing is large and competitive. You can find an infinite variety of e-liquid devices ranges from 10 to 100$.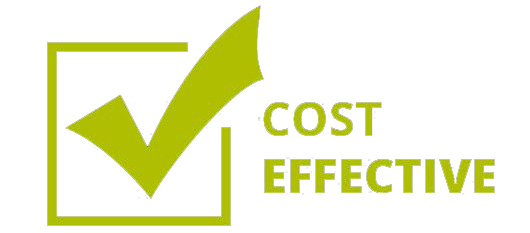 7)- Accessible
E-liquid devices are a simple and easily accessible product in Super Mart, Gas stations even smoke shops.
4.What are the main disadvantages of using E-liquid?
1)- Potential Health Hazard
It is well-known that using E-liquid is very new for us to understand. It is OK if you are using E-liquid replacing the potential use of cigarettes. But for beginners, it may cause addiction. Furthermore, it affects the development of the brain up till the age of 25. It may also harm fetal development during pregnancy.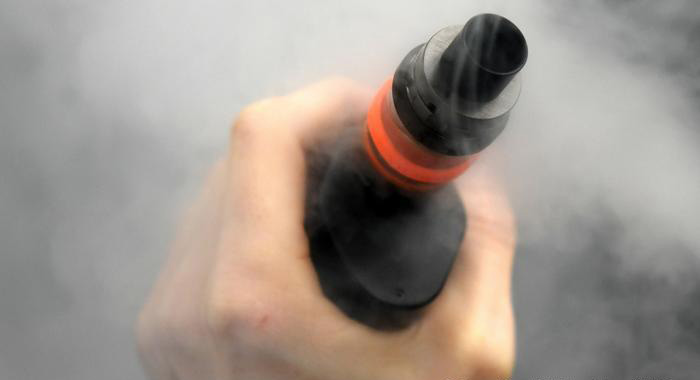 2)- Toxins
They contain acetaldehyde and formaldehyde which are known to be carcinogenic damages to your lungs. Acrolein which is a weed killer is also a part of the composition of E-liquid therefore it may also irreversibly harm your lungs.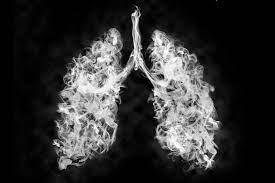 3)- Encourages Teen Smoking
The marketing way of E-liquid devices is to give the impression that they are not harmful. The messages tempt the public especially teenagers to start using them. However, early on may improve the chances to boost ordinary smoking later in life. Many scientific studies also reported that using E-liquid devices encourages teens to inclined more likely toward regular tobacco smoking.
4)- Disturbs Brain Function
The presence of nicotine in E-liquid devices can impact on a brain reward system. They can permit the brain to use other potential drugs such as cocaine to get more pleasure. Furthermore, nicotine affects other areas of the brain in young people which is responsible to interrupt learning and memory.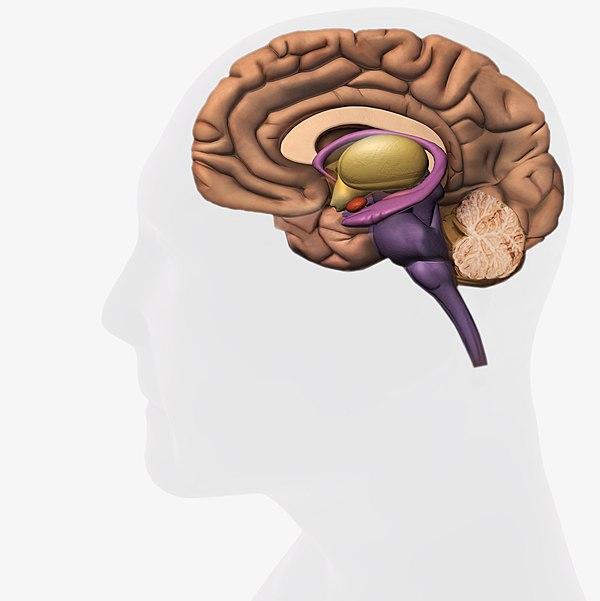 5.What is an E-liquid filling machine?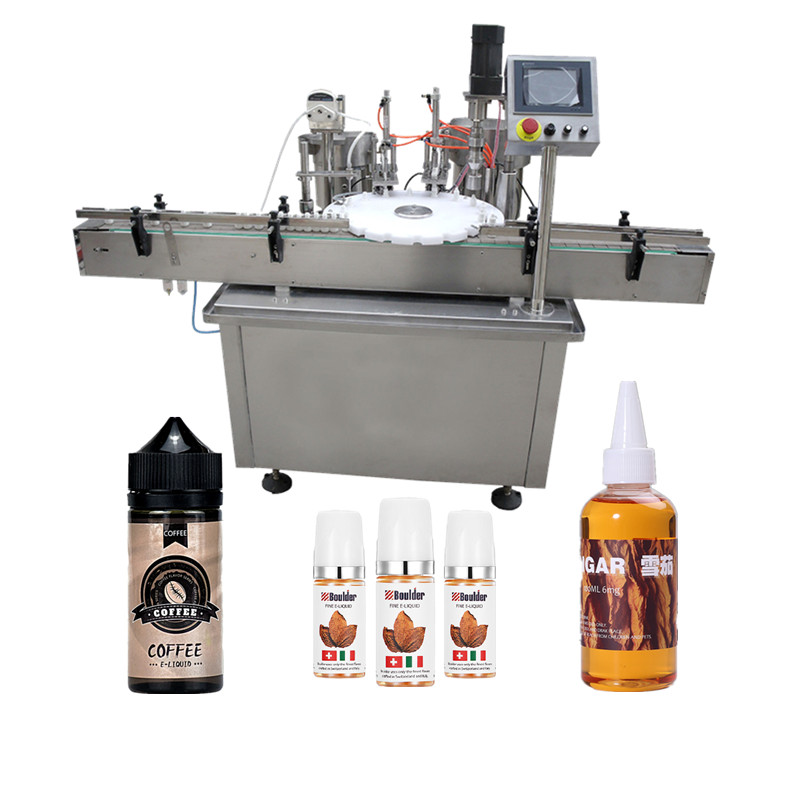 Aipak E-liquid filling machine
The E-liquid filling machine is used in a wide variety of applications in pharmaceuticals, food, and beverage, and cosmetic industry to dispense liquid in different sizes of containers.
6.What are the classifications of E-liquid filling machines?
E-liquid filling machines are classified into the following categories.
Manual E-liquid Filling machine
Manual E-liquid filling machines are available in different sizes that can work manually. The filling volume capacity of manual E-liquid filling machines ranges from 5-10 and 15ml.
This machine is suitable for manufacturing E-liquid filling devices for smaller batches.
Semi-automatic E-liquid Filling Machine
A semi-automatic E-liquid filling machines are suitable for filling E-liquid solution which is a six-headed filling machine that has a filling rate of up to 6 ounces/second. To operate a semi-automatic E-liquid filling machine you'll be required an expert technician who can efficiently run the system. A semi-automatic filling machine can fill approximately 2500 bottles/hour which are indeed highly accurate with filling volume ranges of 10ml.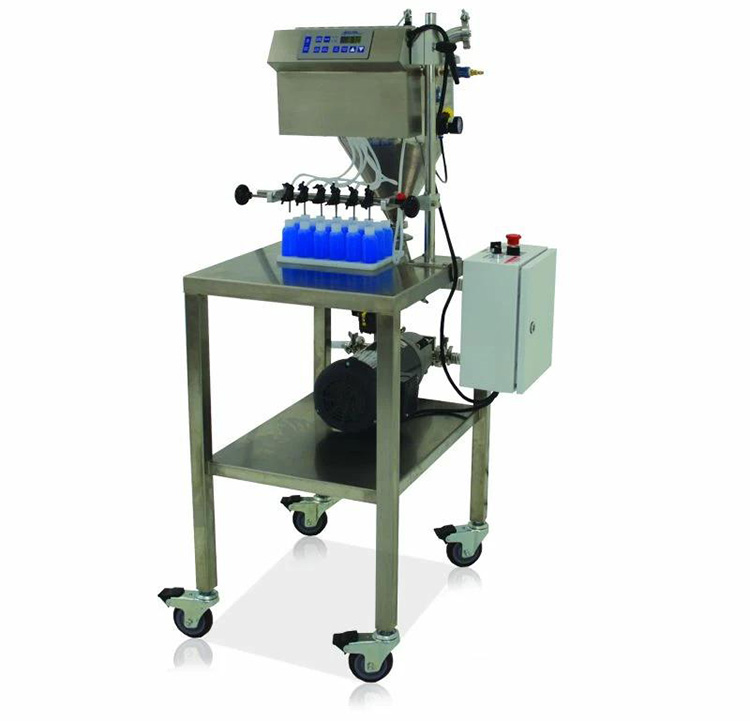 A- Semi-Automatic E-Liquid Filling Machines
Automatic E-Liquid Filling Machine
An automatic E-liquid filling machine works on a larger scale industrial unit. As its name shows the entire processing of E-liquid filling is based on automatic phenomena. This machine is composed of various important components and each component has its responsibility, for instance, product filling, cap placing, cap screwing, etc. For this purpose, you'll find the modern composition of automatic E-liquid filling machines such as ceramic piston pumps, nozzle filling, unloading trays, movable conveyors, etc. The well-equipped structure and design of this machine comply with GMP regulation.
Read this blog, we have mentioned perfect and comprehensive details related to automatic E-liquid filling machines.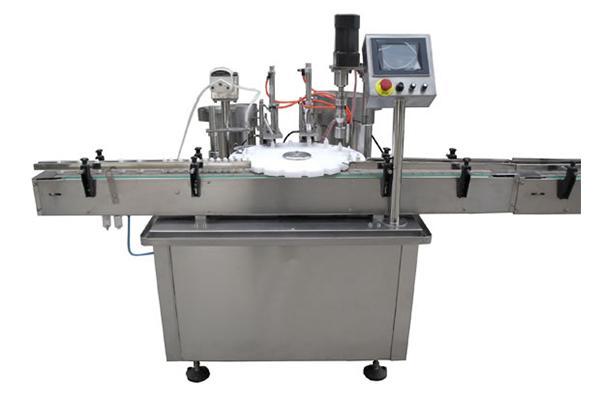 An automatic E-liquid filling Machine
7.What are the basic components of an E-liquid filling machine?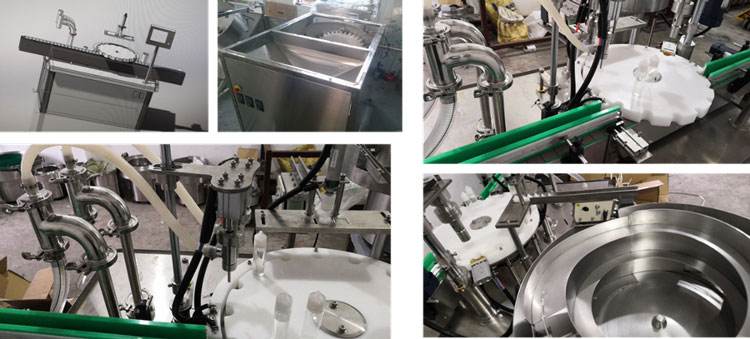 Basic components of e-liquid filling machine
E-liquid filling machine majorly consists of nine parts namely a) Control panel, b) Conveyer system, c) Filling unit, d) Stopper unit, e) Tray, f) Cam, g) Motor, h) Bowl feeder, and i) Star Wheel.  These parts are described below in detail.
Components of E-liquid Filling Machine
Control panel: The machine is operated with a three-phase control panel present next to the mainframe. Composed of electrical and electronic components panel comes with an easy-to-use digital screen and colored knobs.
A control Panel of E-liquid Filling Machine
Conveyor system: Present at the front of the machine the conveyer belt carries empty bottles for filling of E-liquid and capping. The conveyor system also runs on a three-phase motor with variable speed that can be set as per need using a control panel. Around the conveyor belt, stainless railings are present that facilitate the movement of the empty bottle in a straight line intended to be filled at the nozzle. The conveyor system is also equipped with automatic sensors that ensure the presence of bottles before filling of product.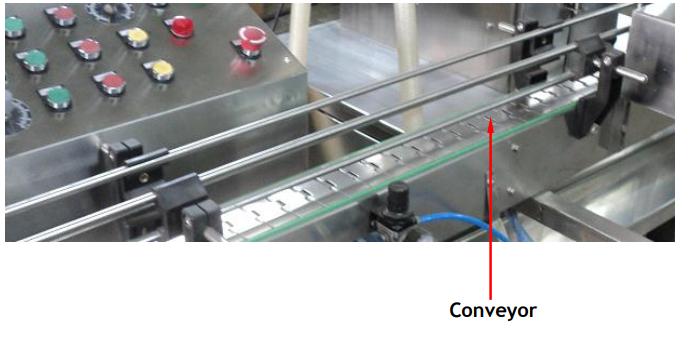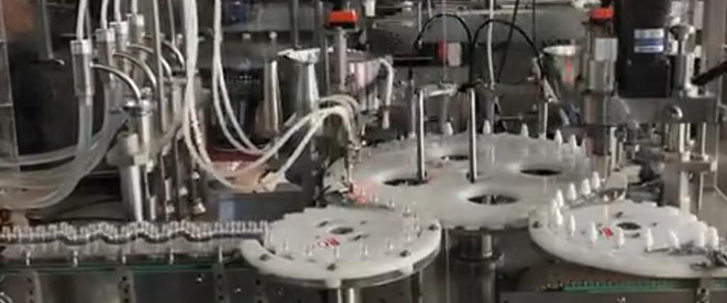 A conveyor of E-liquid Filling Machine
Filling unit: Based on the cam principle the filling unit of the E-liquid filling and capping unit is provided with rollers present inside the main machine body. Surrounded by four syringes for product dozing the cam works on its axis moving the syringe unit towards the nozzle for proper filling of the product. The syringe unit is composed of three separate pipes, an inlet pipe embedded with suction for receiving the product from the receiver tank, an outlet pipe for distribution of product to the filling nozzle, and an air removal bypass pipe provided with a manual locking system which removes air accumulated during the procedure.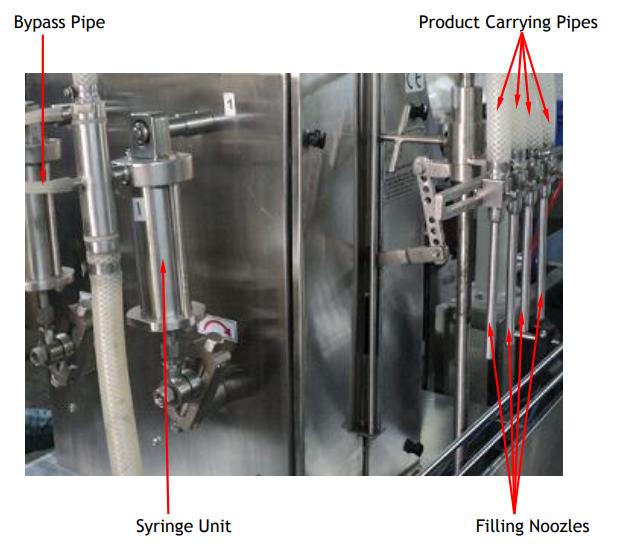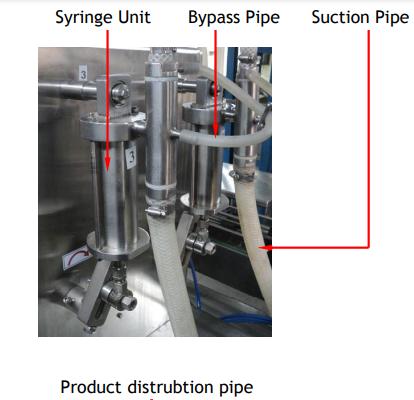 A Filling Unit of E-liquid Filling Machine
Stopper unit: Equipped with the pneumatic system the stopper unit is present below the filling unit. Using air pressure, 5-6 bar, like in other automated systems the stopper unit stops the bottles from filling of product. The pneumatic system works in conjunction with limit switches that result in a well-co-ordinated filling operation.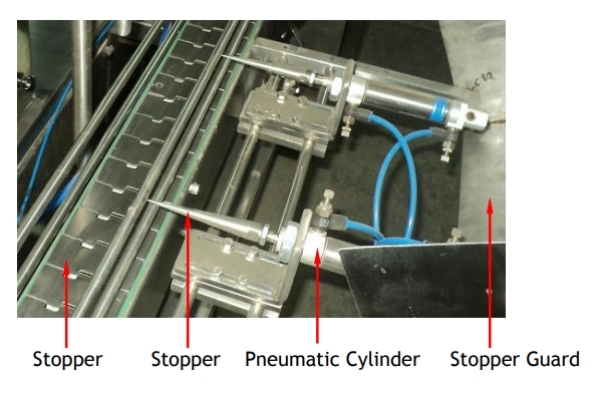 A stopper Unit of E-liquid Filling Machines
Stainless steel tray: The excess liquid spilled during filling is collected in a stainless-steel tray present just below the conveyer unit thereby, reducing spillage and increasing the overall performance and life of the machine.

A stainless-steel tray of E-liquid Filling Machines
Principle of cam: Employed in the filling unit, a filling cam is present on the shaft present inside the main body driven by a three-phase motor for accurate filling of materials.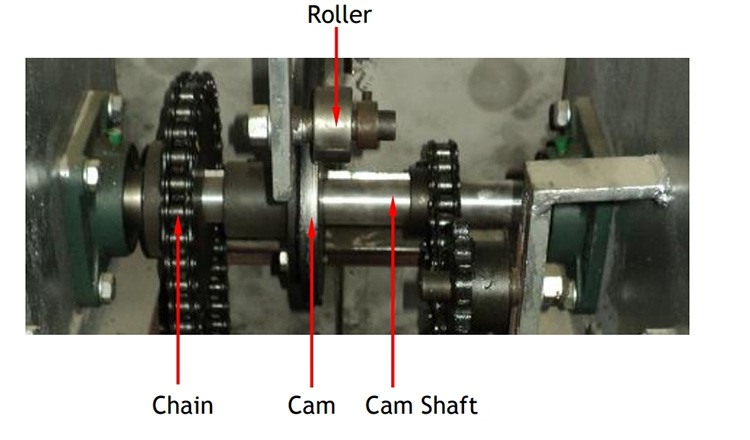 A filling Cam Unit of E-liquid Filling Machines
Motor: The E-liquid filling machine is provided with a three-phase motor present inside the main machine body, the motor is employed for rotating the camshaft and moving the conveyor belt.
Bowl feeder: A vibratory feeder is provided with a chute which consists of a vibrator having a single-phase electrical connectivity, specifically designed for moving crowns towards the chute. The chute is connected to the wheel and caps the bottle with the crowns once filling with the product is completed. This entire unit is provided separately along with the capping machine.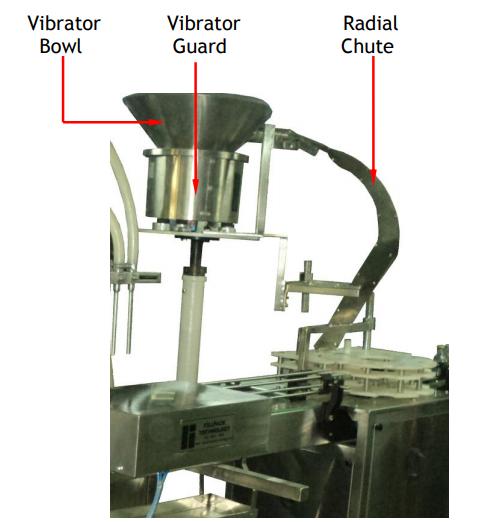 A Bowl Feeder of E-liquid Filling Machine
Wheel: It's the component of an E-liquid filler and capping machine designed to hold bottles and moving them beneath the chute. Below the wheel, the conveyer moves along bringing the bottle which is collected by the arms of the wheel which then moves them to the filling and capping unit to be filled with product and sealed with caps. The wheel is held in place utilizing a stopper which restricts the movement of the wheel during the process. The wheel is moved by three-phase motor.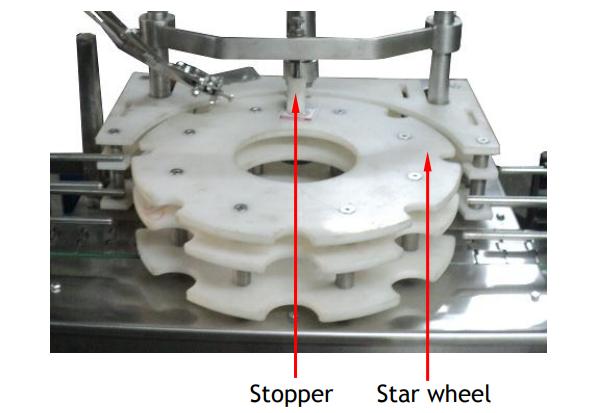 A Wheel of E-liquid Filling Machine
In the end, the process the bottles are analyzed for deformities and defects with the help of a bottle rejection system.
8.What is the working principle of an E-liquid filling machine?
The working principle of the E-liquid filling machine is based on the pressure of liquid that flows into assigned containers. An E-liquid filler machine easily controls and fills the accurate amount of liquid using a digital auto-feeding system.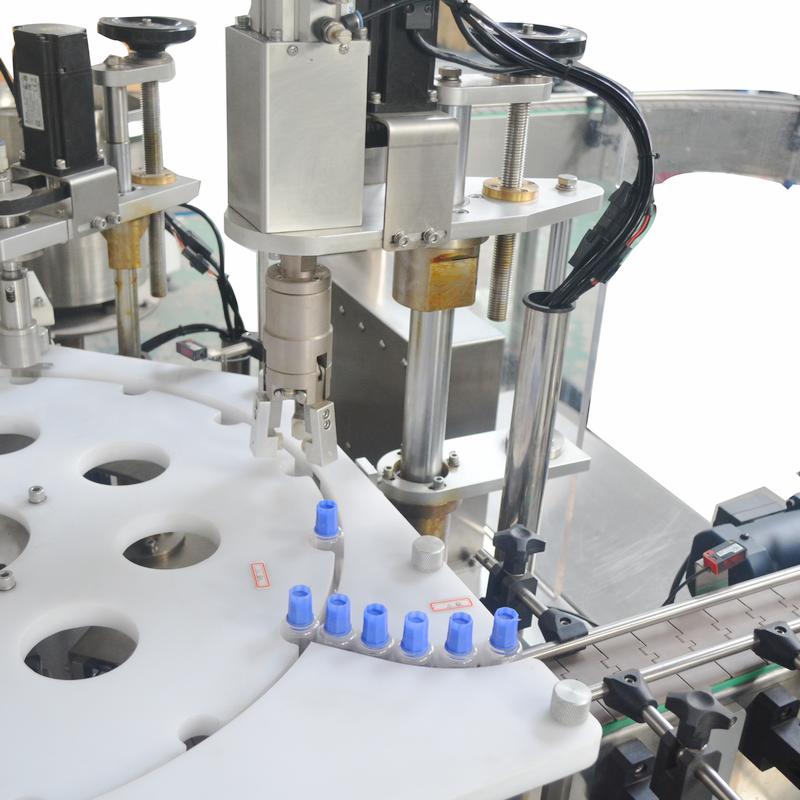 An E-liquid filling machine has adjustable properties for different sized bottles.  The mechanism of machine based on auto-sensor means 'No- filling if No-Vial' means machine does not work in the absence of vial/container. The digital E-liquid filling machine properly works on a stable electricity supply and adjusts in the case of electric modulation under certain conditions. A PLC system allows to monitor in case of error occurred before finalizing the product.
9)What are the basic applications of E-liquid filling machines on an industrial scale?
E-liquid filling machines are important equipment employed in various firms like cosmetic, food, beverages, and pharmaceutical industries. These are of great importance to packing the various liquid content in different sizes of containers without extra wastage of material.
Today modern E-liquid filling machines are introduced which are user-friendly demonstrates the best features to pack the liquid in no time and no labor burden. For instance, you can continue a huge filling process easily without requiring vast manpower.
They are importantly utilized in the following manufacturing companies.
1) Cosmetic Industry
An E-liquid filling machines are suitable for filling various cosmetic products into respective vials such as face serum or nail polish, nail polish remover, etc.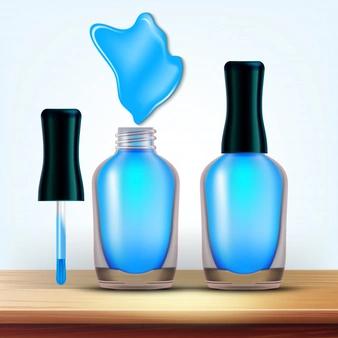 2)- Pharmaceutical Industry
In the pharmaceutical industry, an E-liquid filling machines are of great importance for the filling of the small unit liquid dosage formulations such as eye drops, nasal drops and ears drops, etc.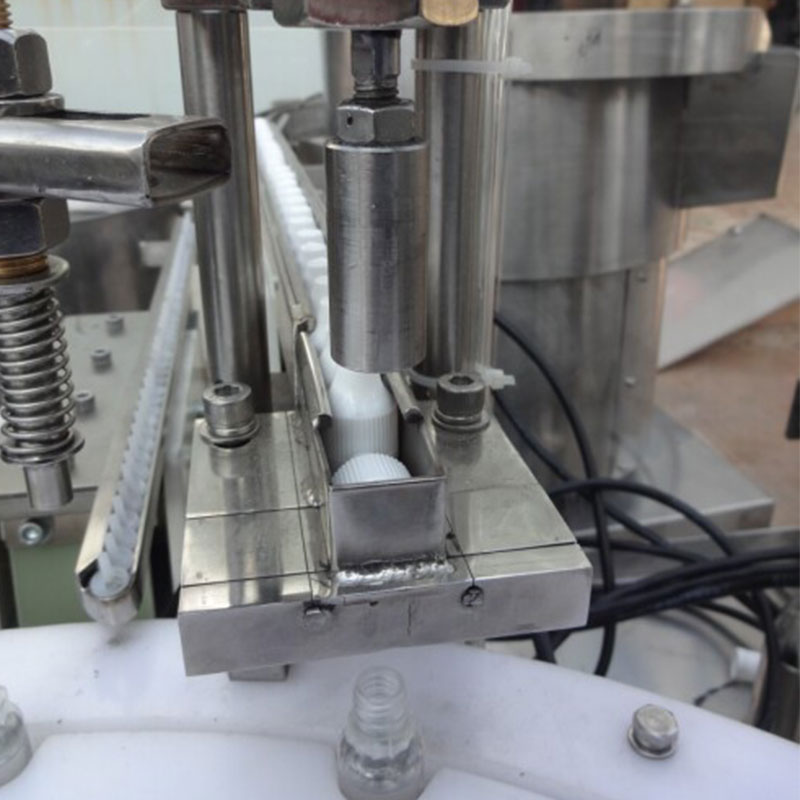 3)- Food and Beverages
The most common and beneficial industrial sectors such as food and beverage industries highly require the application of E-liquid filling machines for the various liquid content filling process. Products like juices, food essences, cold drinks, etc can dispense into airtight vials and bottles using an E-liquid filling machine and you can store them for a longer time.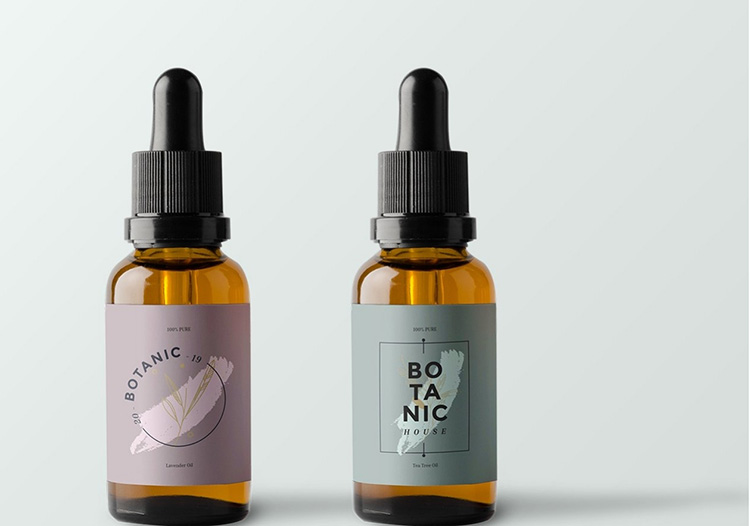 10.Can you explain the importance of an E-liquid filling machine?
Importance of an E-Liquid Filling Machine
An E- the liquid filling machine is broadly utilized in the major manufacturing units of various industries. They are tremendously contributing to limiting the production cost and boosting the revenue of the business.
The mentioned list contains the importance of an E-liquid filling machine.
Consistency and Quality
You do not require to measure each vial or container to be filled. Because an E-liquid filling machine facilitates an accurate filling volume for definite sizes.
So, this machine ensures each bottle is filled with a precise amount of product based on volume, mass, and levels.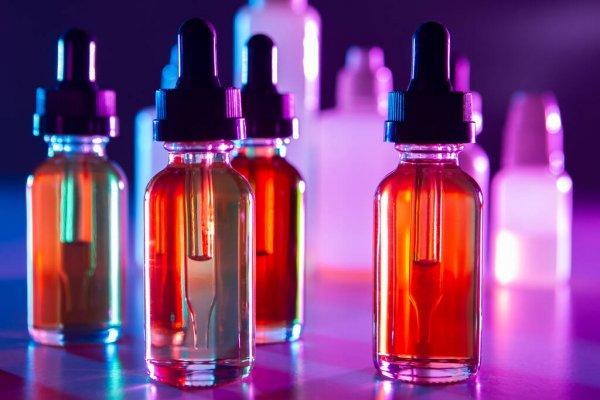 Simple and rapid operating systems
An E-liquid filling machine has made simple and rapid settings to perform filling procedures swiftly such as rotative fillers, capping, movement, filling time, pumping speed, etc. You can fill thin and viscous fluids with various production lines.
Up-gradation advantages
According to the business growth model, an E-liquid filling machine consistently can be upgraded. You do not need to replace them. So, many industrial firms initiate an E-liquid filling machine with 4-6 filling heads that can be added with time up to 16 filling heads which are quite accessible options.
Time and Energy saver
An E-liquid filling machine requires very little manpower. So, you can save energy with a longer production preference.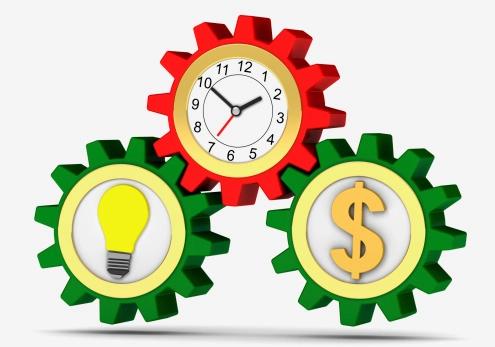 11.Do you know the Installation procedure of the E-liquid filling machine?
It is recommended that the E-liquid filling machine installation be carried out by experienced and skilled personnel having previous sufficient knowledge of machine installations. Personal and equipment care is necessary to avoid any accidents during installation that may result in injuries or financial losses. The following points should be read carefully before installing an E-liquid filling machine:
Unload the E-liquid filling machine from the container and bring the machine to the site of installation with the help of a forklift. It should be noted that the machine approximately weighs one ton. Special care should be taken to avoid accidents during the movement of the machine.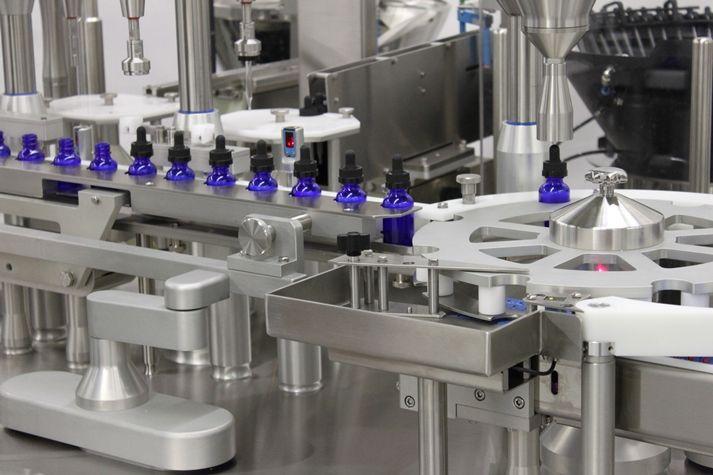 E-liquid Filling Machine- Picture Courtesy- Pinterest
The E-liquid filling machine is provided in a wooden pallet box. Open the pallet with the use of hammers and steel bars, avoiding any hit that may damage the machine. A packing list is provided which should be checked and ticked for the presence of mentioned parts. Immediately report to the manufacturer missing parts or damage. Installation is carried out in such a way that there are four feet of space on all four sides of the machine.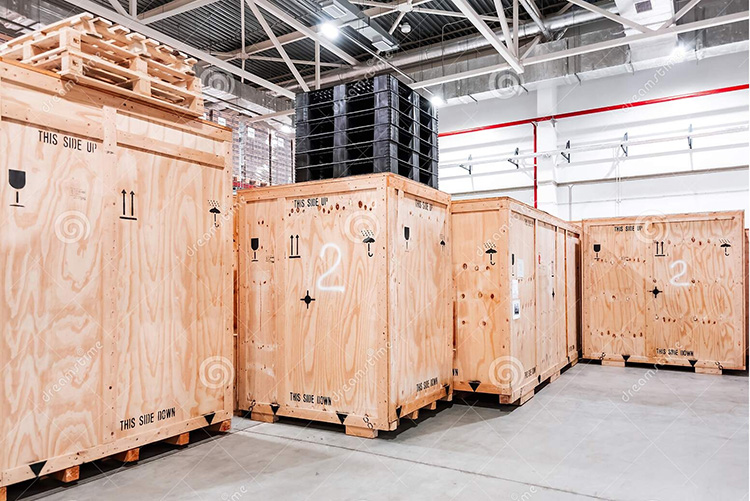 Wooden Pallet Boxes Used for transporation of E-liquid Filling Machines
An E-liquid filling machine should be installed on a leveled ground to avoid rocking. No special foundation is required for our product. After assembling the machine will be checked with leveling gauge. The company's representatives may assist in assembling and installation procedures.
It is recommended to install the E-liquid filling machine upon arrival. However, if there is a delay in installation due to any reason the machine should keep in a sheltered area, free from dust, water and other factors that may influence its working.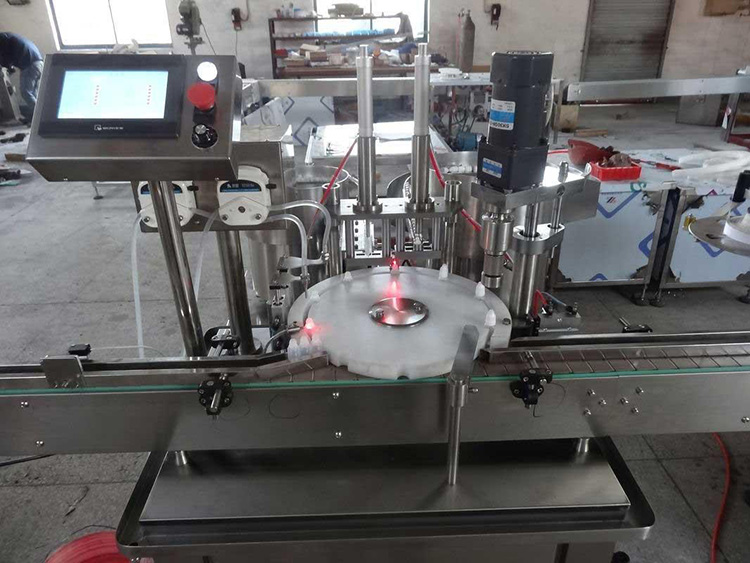 E-liquid Filling Machine
12.What safety measures are required during the installation of the E-liquid filling machine?
Following proper safety measures should be taken during installation of E-liquid filling machine.
As previously mentioned, installation should be carried out by skilled professionals, with experience in machine installations.
Use of fork-lifter is authorized for transferring machines from or to the place of installation. Use of overhead cables and slings is not recommended.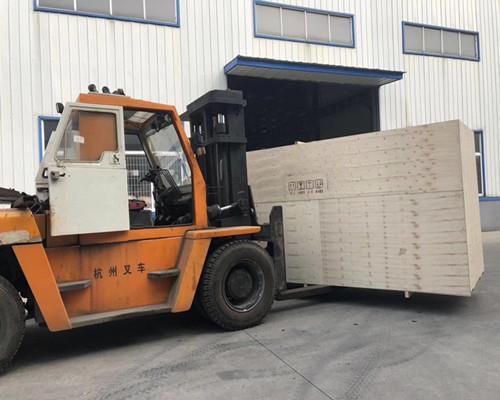 No direct human efforts should be employed in lifting, pulling, or transporting machines.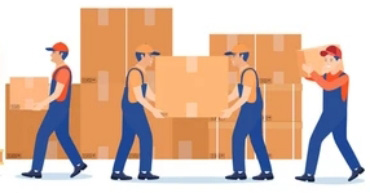 An E-liquid filling machine will be installed in non-corrosive and non-explosive environments.
All electrical connections at the installation sites will be properly grounded.
13.How to operate an E-liquid filling machine?
a) Pre-Start Up Points of E-liquid Filling Machines
Before starting the E-liquid filling machine necessary checks should be made to grasps the best results, services and avoid any potential errors that may lead to time wastage and monetary losses. Pre-start-up points are given below:
Electrical connections in and out of the E-liquid filling machine should be double-checked. All connections should be properly in place as loose connections may lead to malfunction of the unit.
The MCB inside the machine should be ON.
Check and maintain the air pressure, in the pneumatic unit, the pressure should be between 5-6 bar.
The product tank should be filled with the product intended to be filled.
All the connections should be checked and tightened. The suction pipes should be well immersed in the liquid.
E-liquid filling machine comes with double safety features and an alarm system. In case an alarm goes off activate the emergency STOP button. The alarm will be switched off once the cause is removed. Proceed with deactivating the emergency STOP button.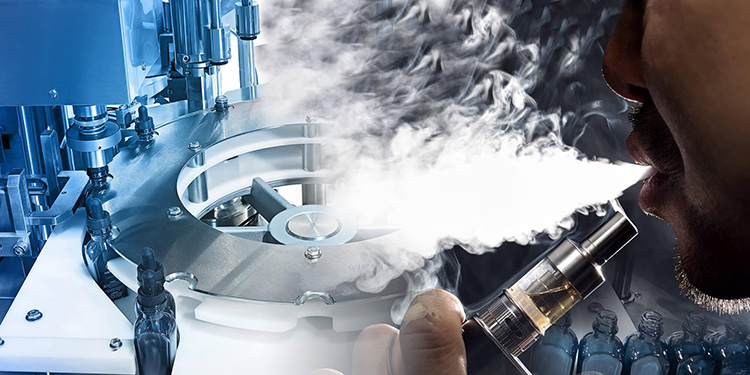 E-liquid Filling Machine- Picture Couretsy- Cozzoi
b)-Startup Points of E-liquid Filling Machines
To start the E-liquid filling machine switch ON the main electrical supply. Once ON the power comes to the control panel. Proceed with activating the control panel by bringing the main switch, present on the control panel, towards the ON position. The E-liquid filling machine is now ready for operations. This will be indicated by subsequent activation of the green lamp.
The Conveyor unit is the second one to be switched ON after the control panel. Activate conveyer unit first followed by filling unit and finally capping unit. All three units are activated with three different green push START buttons.
Once activated the conveyer belt starts moving and the bottles are brought to the filling unit. Automatic sensors activate the filling unit once the bottle is aligned. The pneumatic unit stops the bottles at the tip of the nozzle. The distribution tube brings the liquid to the nozzle and the product is filled in the bottles one after another. After filling the bottles are moved to the capping unit by conveyer unit. The crowns are brought to the chute by vibration. The bottles are kept in place by the arms of the wheel and the crowns are placed on the neck of the bottle.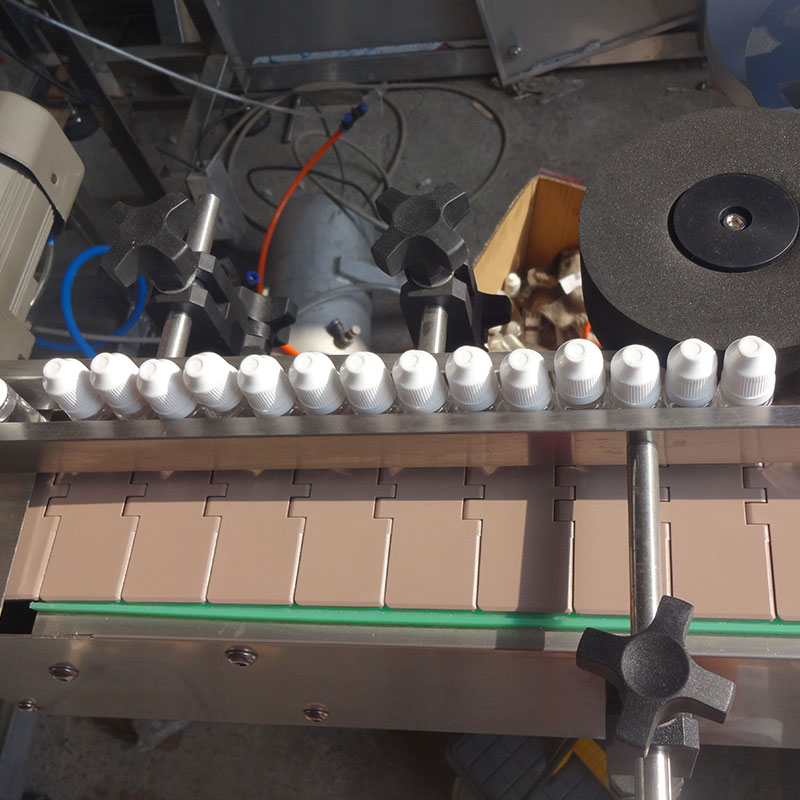 c)- Stopping E-liquid Filling Machine
To stop the E-liquid filling machine press the red STOP button different for each unit. Follow the same order which was used when starting the machine i.e., beginning with conveyer unit followed by filling unit, and finally capping unit.
Deactivate the control panel by bringing the main switch button to the STOP position.
Finally cut off the main power supply to the E-liquid filling machine.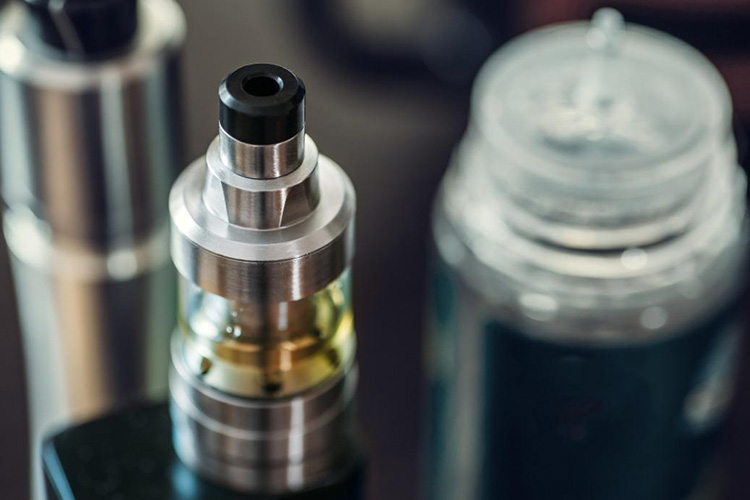 14.What are the basic troubleshooting of the E-liquid filling machine?
Conveyer unit: If the machine and conveyor system is not starting check the main power supply. Restoring the main power supply will usually start the unit. Check the MCB inside the machine. Check the START push button.
Stopper unit: If bottles do not stop, check the air pneumatic supply, the air pressure should be between 5-6 bar. Adjust the limit by checking the limit switches.
Improper filling of the bottles with the product, check the distance of the nozzle and bottleneck. Adjusting the distance.
Bowl feeder unit: If the crowns are not properly fit on the bottle, check the pneumatic unit, the air pressure should be between 5-6 bar. Adjust the pressure as per manual. The distance between the bottles and the capping unit often leads to improper capping of the bottle. Adjust the height of the capping unit.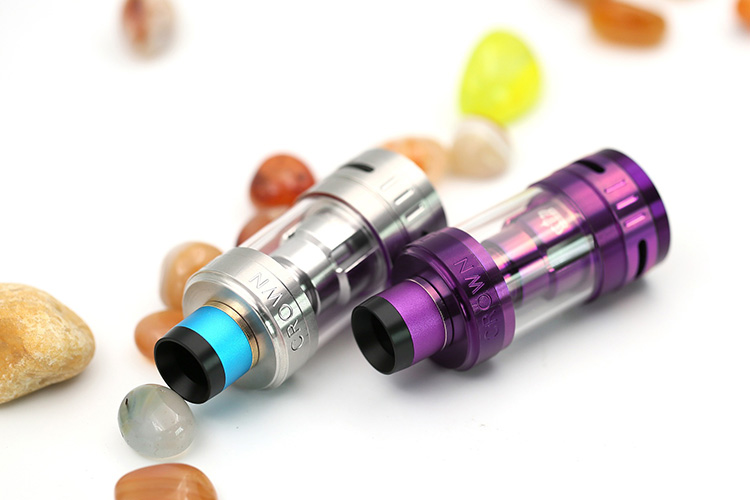 15.Do you know how to maintain an E-liquid filling machine?
Proper maintenance of the E-liquid filling machine will always ensure that the best output and results in the most effective manner can be attained from its working. Replacing gears, and chains, lubricating moving machine parts, and tightening screws will increase the life of the E-liquid filling machine and will permit you to gain maximum benefits out of it, with low financial costs for a long period (refer to manufacturer guide for maintenance of E-liquid filling machine). To keep E-liquid filling machine up to mark and functional following maintenance points should be part of the maintenance SOP.
Maintenance of E-liquid filling machine should be carried out by skilled persons qualified and experienced in carrying out maintenance. Usually, these are individuals from the engineering section of a firm.
For repair and maintenance, strict safety measures should be employed to avoid injury and other potential occupational hazards. No safety protocols should be omitted or skipped during regular maintenance of the E-liquid filling machine. The persons maintaining the machine should be properly geared up with proper PPE's (safety gloves, safety shoes, goggles, and helmet).
Based on utilization of the E-liquid filling machine (hrs/month) scheduled maintenance is specified by the manufacturer. On a functional machine regular maintenance is carried out an hour after switching OFF the machine. This will allow the machine to cool down.
A maintenance form is provided with the E-liquid filling machine (check maintenance manual) which should be filled on every scheduled practice.
Keep in mind that the main power supply to the machine be cut off 10 minutes before starting the maintenance because there is a high current in the main control panel even if the machine is switched OFF. Further, check electrical earthing before scheduled maintenance.
Air supply to the E-liquid filling machine should be disconnected before any scheduled procedure.
General maintenance of the E-liquid filling machine includes cleaning, oiling, and greasing the moving parts of the machine. Use of clean cloth is recommended for cleaning of the machine. General maintenance is carried usually after determining the utility of the machine.
Electrical connections should be checked regularly. Wires should be checked every month.
Oiling and greasing should be done to the shaft, cam, and chain.  Clean the nozzle with a clean cloth. Lubrication should be done every 15 days and cleaned every month.
After every 15 days tighten the nuts and bolts of the motor. Replace them if the threads are worn out.
Fan of the motor should be cleaned every week.
Springs should be checked for elasticity every 10 days. If out of order replace immediately.
Proper cleaning SOP should be employed. The conveyor belt should be cleaned after every batch.
The stopper should be checked for tear and play every week and replacement should be carried out if required.
The bowl feeder should be checked and cleaned every day.
The chute should be checked every week.
Vibrators should be checked for vibrations and replaced if required.
Air should be released from the pneumatic unit every 15 days.
16.What safety measures are required during the operation and maintenance of the E-liquid filling machine?
Only trained individuals will operate and carry out proper maintenance of the E-liquid filling and capping machine. Proper training of the operator will be carried out under supervision, and it will be made to assure that the operators have completely read and understood the working manual.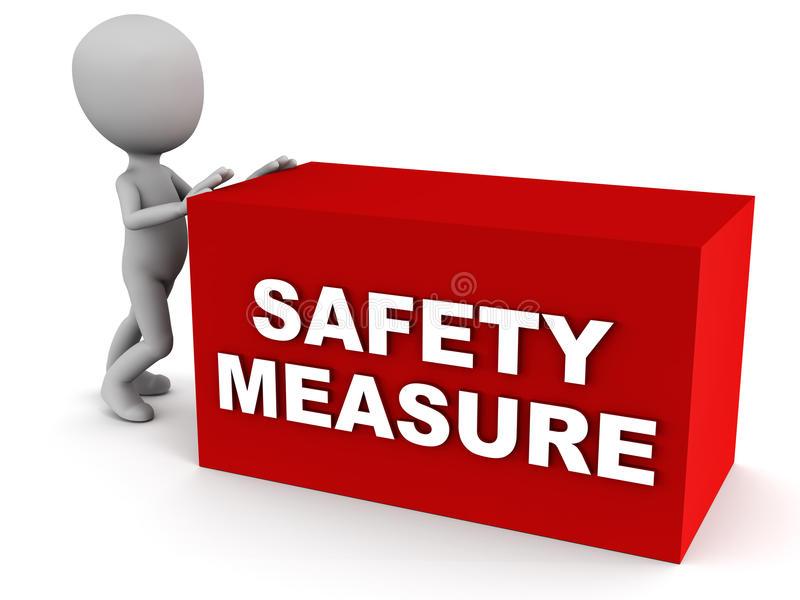 No safety measures will be bypassed, no doors will be left open during the operation of the machine. No safety switches will be turned down during operation. No elements will be changed on the control panel during the working of the machine.
If any error occurs during operation immediately stop the machine and remove the error. Make sure no tools are left on the main body of the machine before continuing with the process.
Make sure there is a clear view of the machine and the area surrounding the machine is always clean.
Place proper signs on the main body of the E-liquid filling machine before initiating maintenance or repair.
Shut down the machine completely. Do not remove parts at least one hour after a complete shutdown.
Never try to slow down any moving part of the machine with hand or direct tools.
17.Does E-liquid filling machine comply with international quality standards?
The international quality standards entail all relevant requirements, specifications, products services, and their characteristic of e-liquid filling machine should consistently meet to assure their quality is matching with expected purpose to meet all sets of international bodies assigned for food types of equipment.
Similarly, when it comes to food manufacturing machines, it is mandatory.
Given below are the following product certification that e-liquid filling machine complies with.
1.CE Mark of Quality Standards
CE mark is mandatory to ensure the manufacturing machine meets all essential parameter of health and safety needed for machine. A CE mark also indicates all the parts of E-liquid filling machine are well-documented.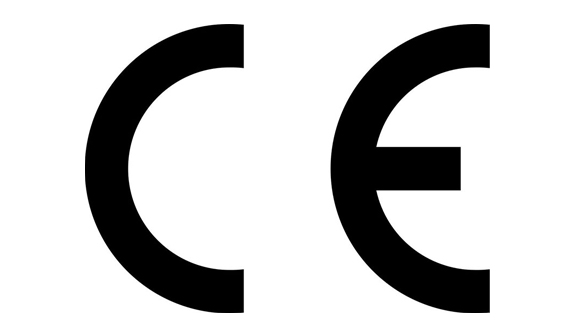 2.cGMP Standards
cGMP is the main regulatory standard mandatory for every pharmaceutical and food industry which ensures a safe quality practice of Current Good Manufacturing Practice complies with quality standard for human consumption.
3.ISO Certifications
An ISO certification verifies that following management or manufacturing process has all mandatory requirement of quality assurance and standardization.
Each certification has independent standards and benchmarks that are classified numerically.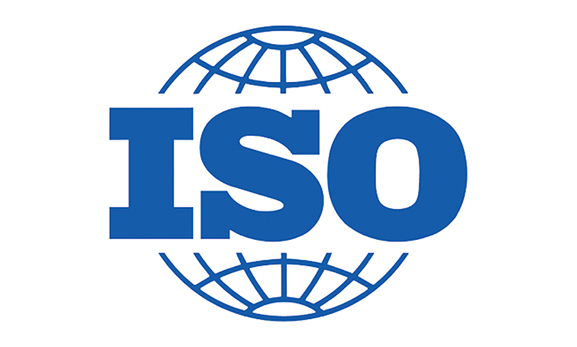 18.What are the basic factors that you should consider before buying an E-liquid machine?
Before buying an E-liquid filling machine, there is certain important consideration you should keep in mind to accomplish your business tasks.
Cost-Effectiveness
You can opt for semi-automatic or automatic E-liquid filling machine by considering your budget. For example, you have high affordability and space then you must go for automatic E-liquid filling machine. An automatic E-liquid filling machine features entire procedures automatically with enhanced performance with no effort and time. Therefore, the choice should be automatic E-liquid filling machines.
Flexibility for various Types of bottles
An automatic E-liquid filling machine should work with various sizes of vials/bottles that have the facility to fill different volumes of liquid solution easily.
Process Execution & Time
You should always look for such E-liquid filling machine that can execute optimum time and concentration of liquid filling in each interval with customized specifications and reasonable costs.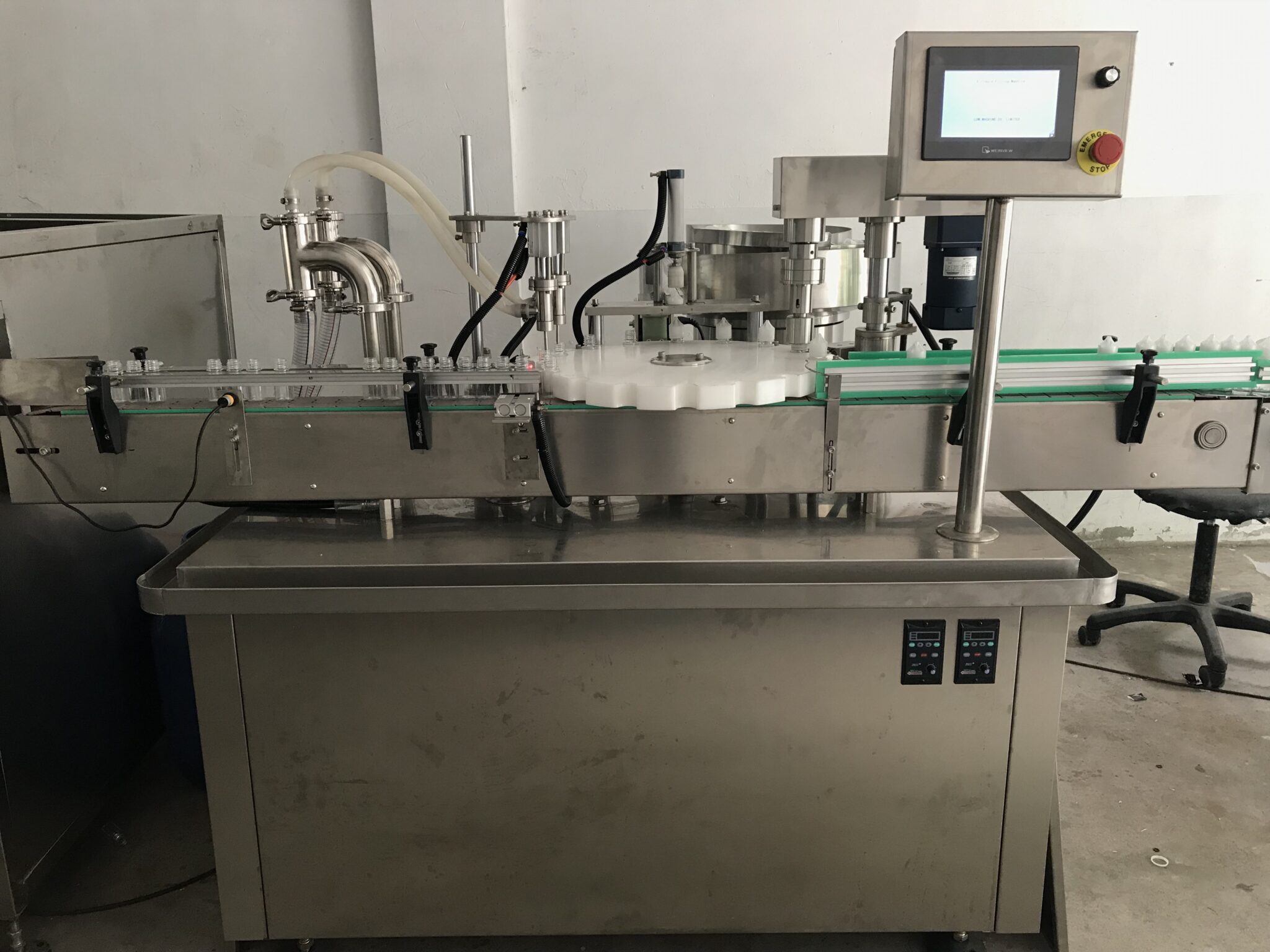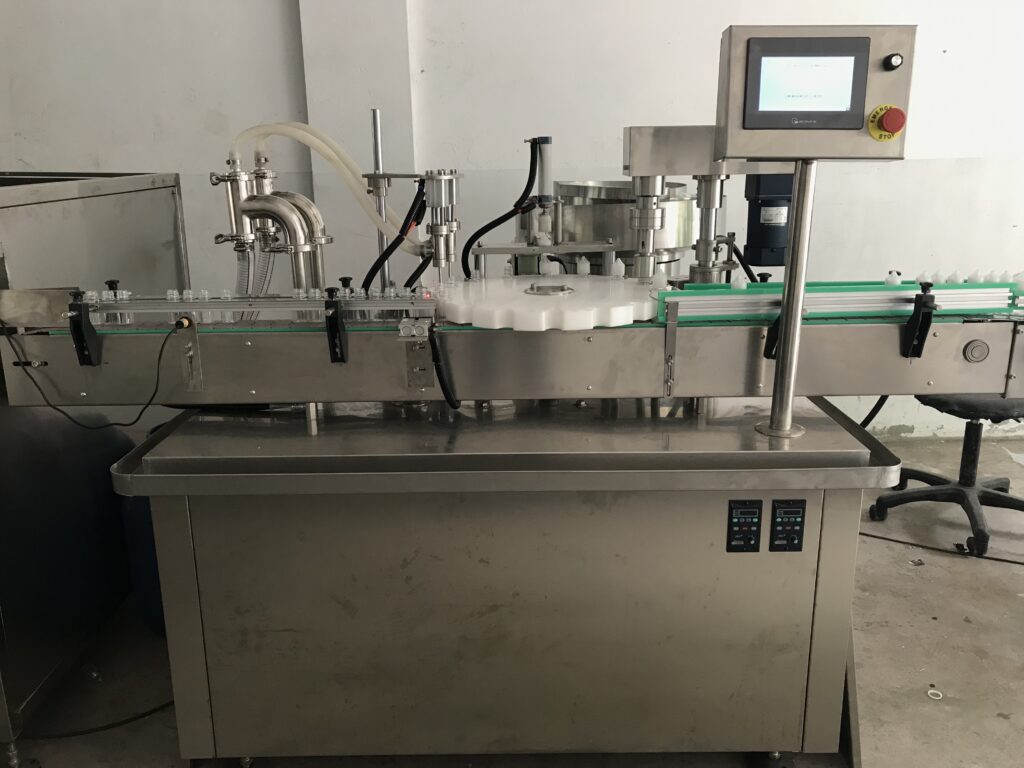 E-liquid Filling Machine Related Posts
CONTACT US
Tell us your raw material and project budget to get quotations within 24 hours.
WhatsApp Us: +86 189 7157 0951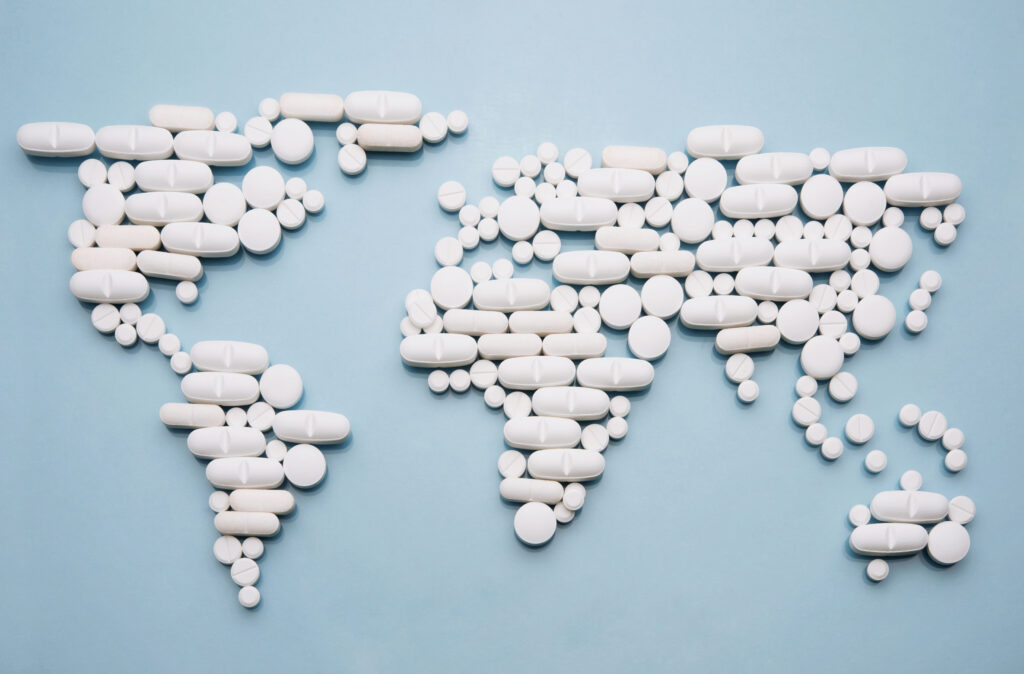 Tell us your material or budget, we'll reply you ASAP within 24 hours