Your Remier Capsule Polishing Machine
All Szies Of Capsules Available
Continous Long Hours Of Operations
Compliant With GMP Requirement
AIPAK Capsule Polishing Machine
AIPAK Capsule Polishing Machines are kinds of capsule polisher with function of sorter as well.They play the function of not only the polishing for capsules,they also automatically reject low weight capsules,loose piece and fragments of capsules.AIPAK Capsule Polishing Machine is suitable for all sizes of capsules without the need to change parts.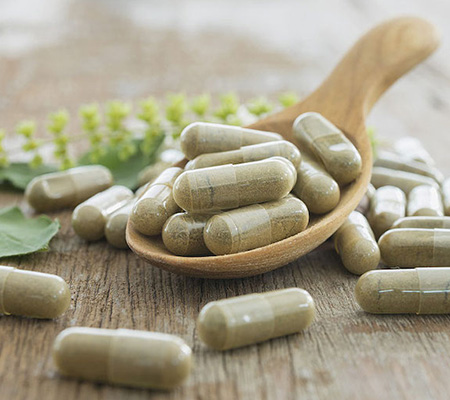 AIPAK Capsule Polishing Machines
NFJ-150 Capsule Polisher is a kind of capsule polisher with function of sorter as well. It plays the function of polishing capsule .
It can also automatically reject low weight capsule, loose piece and fragments of capsules. It is suitable for all sizes of capsules without the need to change parts.
All sizes of capsules Available
Excellent design for quick cleaning
Adopts frequency converter
The Model HPT-II capsule polisher with the function of sorter as well. It plays the function of not only the polishing for capsule and tablet but eliminating static electricity. It can also automatically reject low weight capsule; loose piece and fragments of capsules. It is suitable for all sizes of capsules without the need to change parts Sorter.
All sizes of capsules Available
Excellent design for quick cleaning
Adopts frequency converter
YPJ-6 Vertical Automatic Capsule Pill Polishing Machine has achieved double functions of capsule polishing and elevating. Inlet of the machine can be connected with any model of capsule filling machine, and outlet with capsule sorter and metal detector, so that to realize the production line of capsule polishing, elevating, sorting and detecting.
High flexibility
Meet GMP demands
Safe and quick disassembly and assembly
Capsule Polishing Machine:The Ultimate Buying Guide in 2023
Capsules are solid dosage forms that are filled with a diverse range of formulations such as dry powder, nutraceutical substances, mini tablets, non-aqueous liquid or even loaded with mini capsules.
A capsule as a finished product goes through a series of processes such as selection of raw material, preparation, printing, packing, etc. In the meantime, each step requires high expertise, handling, and supervision.
When it comes to your capsules, cleanliness is key. That's why this revolutionary polisher guarantees that all areas of the polisher are easy to clean. The one-piece cylindrical polishing chamber promotes powerful, cyclonic air flow ensuring continuous movement and ease of cleaning.
Thus, a final step is of capsule polishing that utmost play important role to ensure capsule is highly sophisticated, glossy, and free from residual particles.
This capsule polishing machine is extensively used in the pharmaceutical, cosmetics, veterinary, nutraceutical industry and so on. A capsule polishing machine is considered as a vital component for polishing medicinal goods. The prime objective of using capsule polishing machines is to boost up the quality of medicine and meet the levels of healthcare- standards.
If you want to invest money in buying a capsule polishing machine, then we welcome you to read this blog as whole. Here, you will find all mandatory information about capsules polishing machines such as applications, troubleshooting, maintenance, cleaning, and most importantly their operation.
Let's get into it!
Add a header to begin generating the table of contents
1.What is capsule polishing?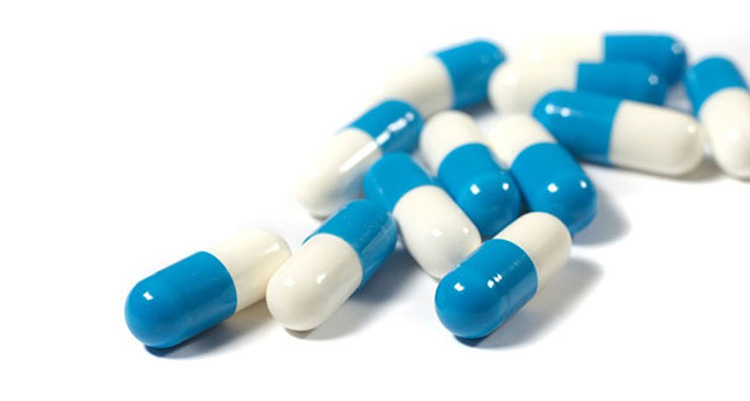 Capsule polishing is the ultimate step of a capsule manufacturing process. Capsule polishing ensures capsules are neat and cleaned without the presence of any residual powdery elements on them.
If capsules are not polished, they may carry a lot of dust and residual particles into packaging equipment that results in obstruction of packaging sensors, powder may ingress into components of equipment such as gears, belts, etc. This may increase troublesome downtime with high maintenance costs for the further packaging process.
2.What is a capsule polishing machine?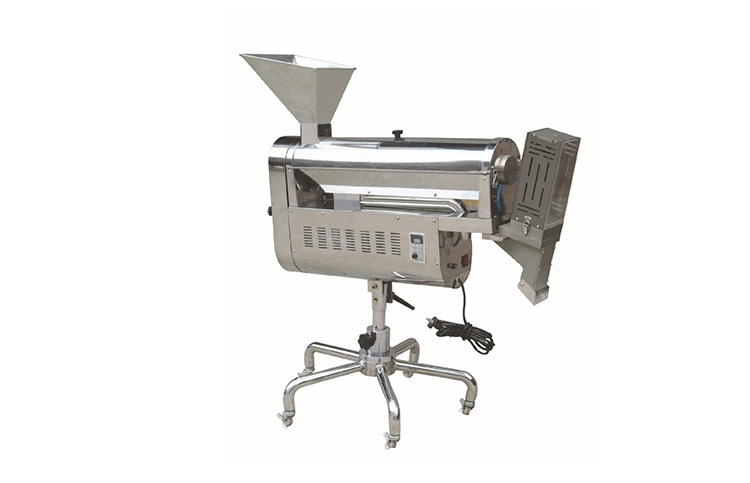 AIPAK capsule polsihing machine
The capsule polishing machine is used when capsules are filled with assigned raw materials such as active ingredients and excipients.
The cleaning and polishing of capsules are accompanied by though mechanically circulating brush as well as a vacuum that attracts powdery residues and cleans the capsules.
This is easy-to-operate equipment that allows high care-free operation. It frequently cleans the high number of capsules while transporting them gently to the next procedure, for instance, the packaging process.
Due to the presence of vibratory conveyors capsules are continuously dedusted before they infeed between contra-rotating polishing belts. By extensively drying and polishing process a high gloss is generated even at the edges/tips of the capsules.
3.What are the innovative capabilities of a high-quality capsule polishing machine?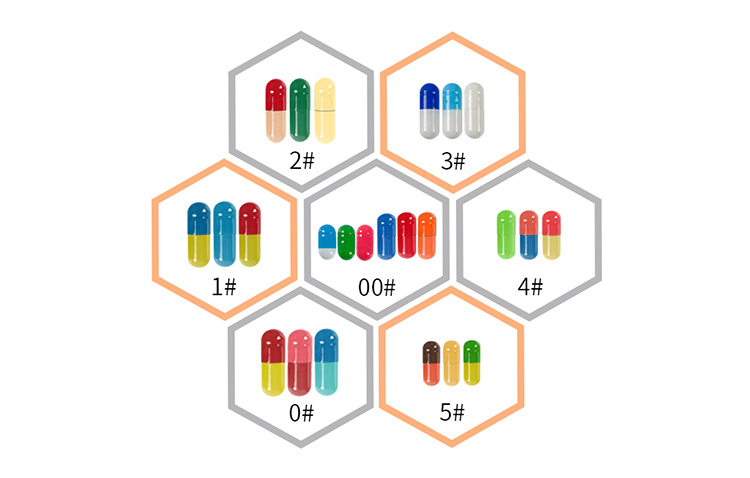 It is well known that capsule polisher is an ultimate step of the encapsulation process before packaging and shipment procedures.
Capsule polisher offers dedust, neat, and polished capsules to consumers. Because it makes capsules look best, attractive, and provides a high-quality product.
The emergence of capsule polisher has raised high competition among the manufacturer and suppliers.
Every year you come out with more improvement than an earlier machine that facilitates a high degree of automation to the consumer. Hence, there are various options available in the market that you should keep your mind to opt for the right choice.
Automatic Vs Manual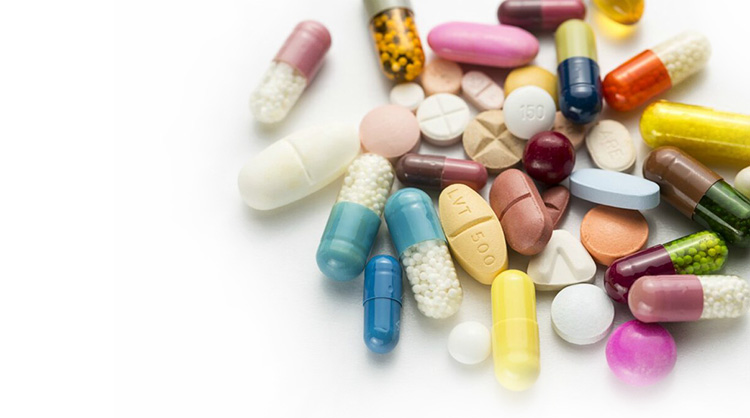 Some people prefer to use manual capsule polisher while some of them go for automatic to bring the fastest outcome. Hence it is very important to scrutinize the functions of the machine either automatic, semi-automatic, or manual capsule polisher. Consequently, capsule polisher must have the capability to yield both functions such as automatic and manual with multiple working options for the suitability of consumers. These qualities will allow high versatility in your manufacturing process which is an excellent indication of high-quality machinery.
High Capacity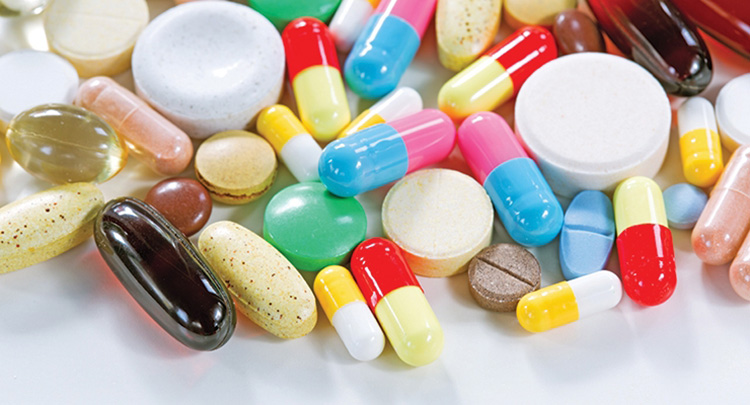 An estimated output capacity is of prime importance that highly influences your production profitability ratio of the company. Because to get maximum high-quality output, your machine must be capable to deal with large production with perfect speed and running hours. Therefore, after assessing your production estimation acquire for each batch, you may increase your entire capacity by obtaining the correct capsule polisher machine.
Outstanding Operating Procedures
As you're done with the capsule polishing procedure, you shouldn't take ample time to get your equipment back to start. Capsule polisher has outstanding operating procedures that won't be a challenge when dealing with it.  The capsule polisher machine has a single 'Reset' button that simply allows you to start the polishing process when you require it. Therefore, No Hassle, No Fuss when it comes to deal the next batch.
High Alarming System

When you're dealing with so much production process, it is very common to forget some essential steps of operation that run in capsule polishing machine. Therefore, every operator must want to be aware of exactly when capsules are operating till their final processing step.
Capsule polishing machine has the high innovative capability to facilitate you with visual and audible alerts. Therefore, whenever your product is treated and prepared, it will automatically notify you. Thus, you do not need to worry to leave the capsule polisher machine in running condition for a longer time and these properties can help.
Manage and Portability
Previously, capsule polisher machines were very large and hard to manage. With the emergence of high technologies advancements in capsule polishing equipment dramatically arise. Thus, capsule polishing machines are designed practically in mind that allows users to manage easily. You can easily move a capsule polishing machine from one place to another without worrying about movability in mind. 
Easy to Clean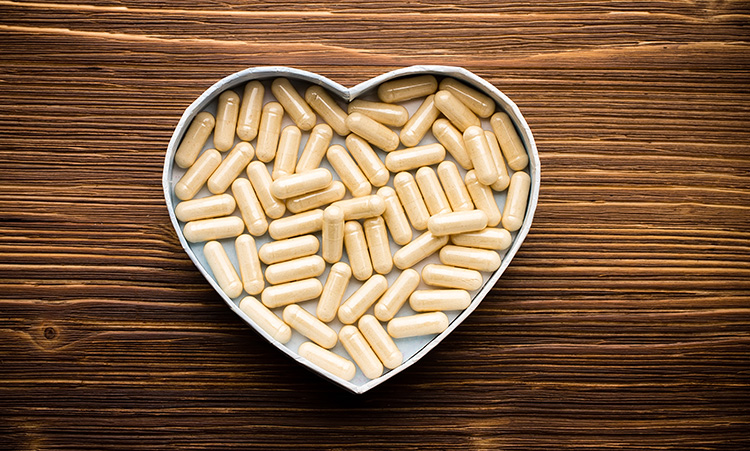 Every piece of apparatus necessitates frequent cleaning to yield high shelf life and smooth working. Because if you do not clean your machine effectively it can interrupt your production process, that could be catastrophic for future work procedure. The capsule polisher machine is easy to clean and requires less time to deal with cleaning procedures.
Always remember a high-quality machine would require your lesser time but give you more ease and high production without damaging the integrity of your product- the same goes for a capsule polishing machine. 
4.Why de-dusting and polishing are important in capsule making process?

De-dusting is a cleaning process where powdery dust particles that typically reside on the surface of capsules are removed.
This step is very important to make capsules cosmetically appealing and sophisticated.
If capsules are not de-dusted properly or polished that ultimately may obscure further processing steps.
Furthermore, it is recommended to use capsule polishing due to the following reasons such as; to attain glossy, hygienic, and smooth texture of capsules.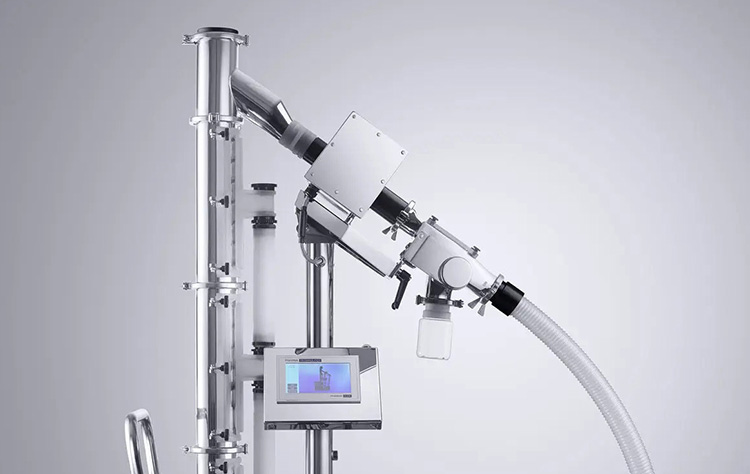 Capsule Polishing Machine- Metal Detector
All these important parameters can efficiently be performed by a capsule polishing machine. Additionally, integration of metal detector and capsule container can facilitate the best practices to achieve the finest-polished capsules free from dust.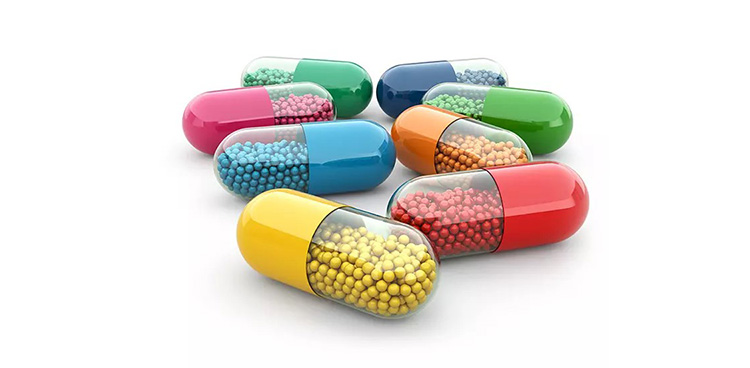 Polished capsules
5.What is the working principle of the capsule polishing machine?

The working principle of the capsule polishing machine is based on a continuous rotation of a brush that drives the capsules along with a smooth polished wall of the tube for circulatory spiral movement.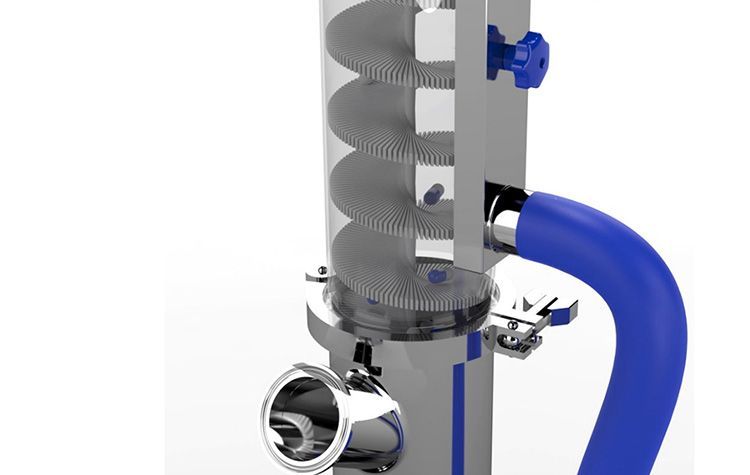 Capsule Polishing Treatment diagram
Thus, the capsule treated with movable brush and under constant friction with polished wall ultimately results in the glossy shiny appearance of the capsule shell.
Furthermore, residual powdery particles and fine fragments have been scrubbed off with a capsule sorting device.
6.What industrial sectors require a capsule polishing machine as the most integral unit for a profitable production?
A capsule polisher is always required to attain a high level of refined capsule products. There is a wide range of industrial sectors that significantly demands a capsule polishing machine to fulfill their manufacturing applications.
Discussed below are the following industrial applications of capsule polishing machine that brings a profitable production ratio to the manufacturer.
1.Pharmaceutical Industry
A capsule polishing machine is becoming an economical approach to attain suitable polishing of capsules. In the pharmaceutical manufacturing unit, the capsule polishing machine is continuously utilizing for treating capsules of various ranges.
Adopting the use of capsule polishing machines results in a high improvement in annual revenue.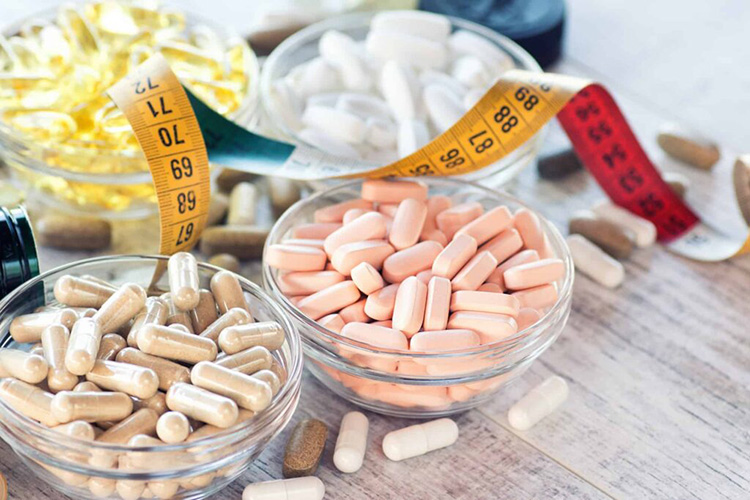 2.Nutraceutical Industry
The emergence of nutraceutical capsules is now an essential part of a healthy lifestyle that has trigger the global market of capsule polishing machines.
Today, many brands offer an extensive way of delivering solid dosage formulations in the form of capsules (softgel capsules, hard gel capsules, HPLC capsules, etc.).
If we assess the contribution of capsules considering nutraceutical drug delivery system, then their contribution is estimated more than 34.8% of the total market in 2019.
In this competitive era, many consumers are inclined toward those capsules products that create an aesthetic, appealing, and glossy appearance. Thus, the capsule polishing machine adequately plays this job to deliver an outstanding polishing material for customer satisfaction.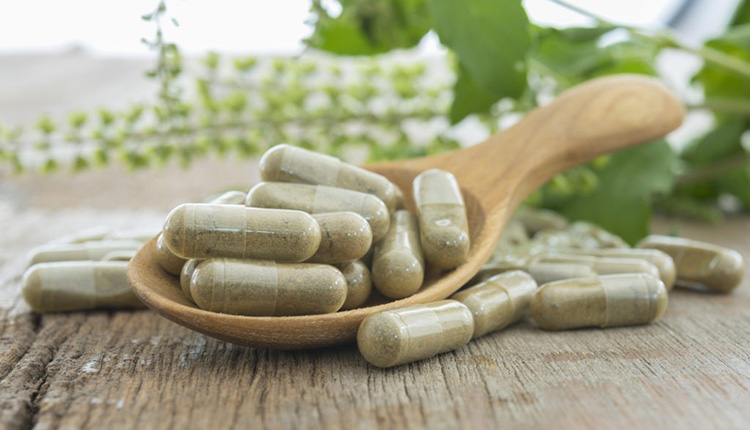 Capsule Polishing Machine- Applications in Nutraceutical Industry
3.Cosmetic Industry
In the cosmetic industry, skincare products such as vitamin E, omega-3, serums, and certain skincare oils are dispensed in softgel capsules. These capsules are available in many shapes, designs, and colors to achieve consumer's attraction.
Therefore, manufacturers of the cosmetic industry highly demand capsule polishing machines to provide an ultimate glossy and smooth appearance to capsule products.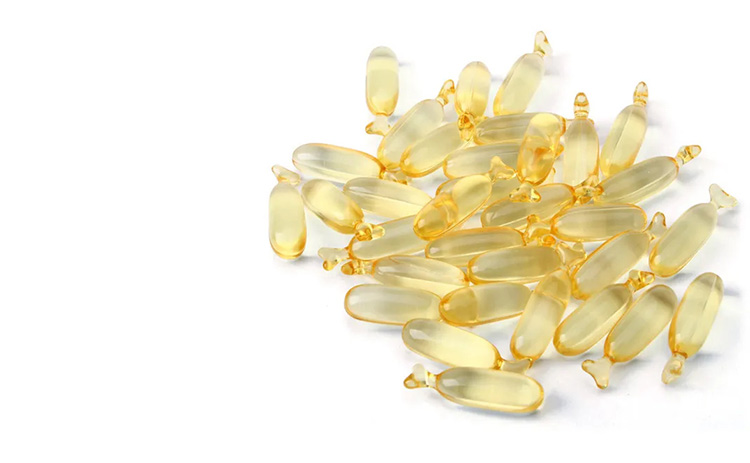 Capsule Polishing Machine- Cosmetic Capsule
4.Veterinary Industry
The applications of capsule polishing machines are of prime importance in the capsule manufacturing unit of the veterinary industry.
You can find many veterinary products related to medical, dental, surgical, etc. in capsules formulations across the globe.
Maintaining consumer compliance and trust is a challenging task that is perfectly managed by a capsule polishing machine by delivering perfectly supplemented veterinary products free from unwanted residue.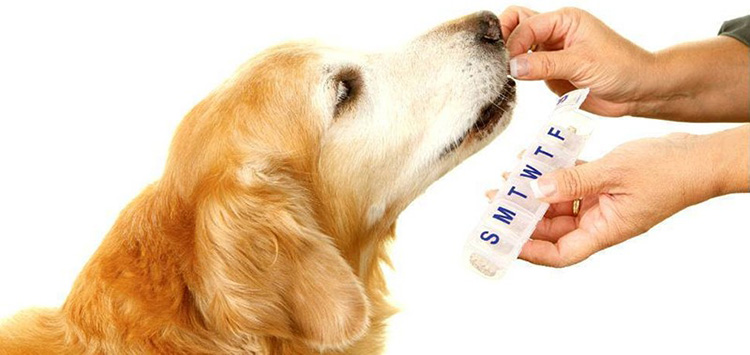 Capsule Polishing Machine- Veterinary Industry
5.Herbal Industry
Herbal industry plays a pivotal role in delivering herbal medicines for treatment of various ailments. That's why herbal products are gaining popularity day by day. Many herbal products are dispensed in oral formulations using gelatin capsules. Capsule polishing machines are broadly applied for polishing exterior of capsules that ultimately get consumer's satisfaction when they are consuming herbal capsules.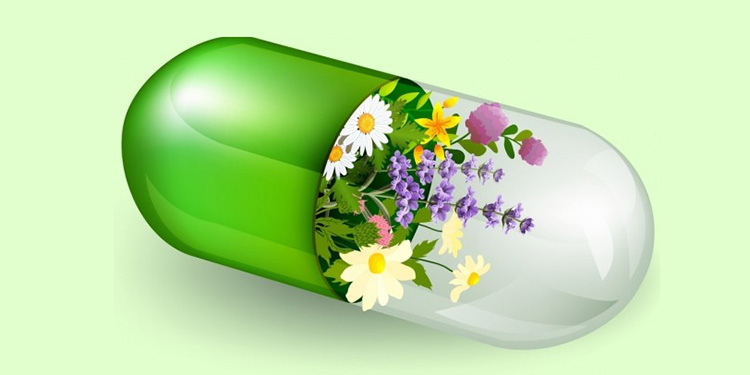 7.What are the advantages of a capsule polishing machine?

A capsule polishing machine is an extremely beneficial tool for pharmaceutical and other relevant firms. The advantages of a capsule polishing machine are as followed.
1) Cost-Effective
The use of automatic capsule polishing machines can help the pharmaceutical sector earn lucrative returns. This machine can generate a high number of polished capsules each hour which is definitely very cost-effective for each company.
Each capsule is treated with numerous steps during treatment that takes less than 10 seconds for entire processing.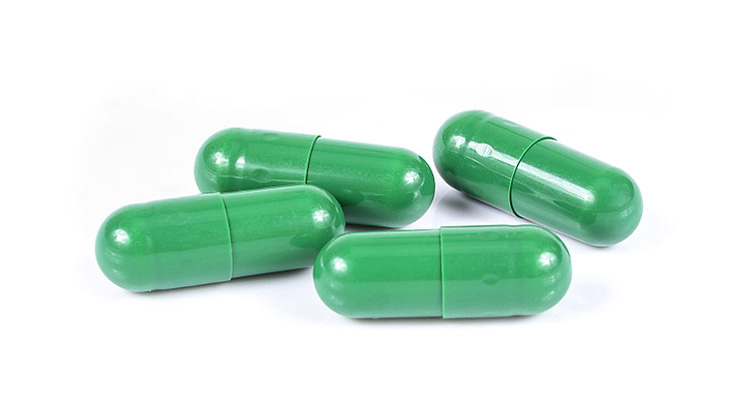 2) High Precision
This is well-known that pharmaceutical processing necessitates high precision and accuracy for their products. Hence, any slight error can affect the whole production batch. The capsule polisher machine is integrated with a tester device that can measure the weight and length of the capsule after treatment with the capsule polishing machine.

An integrated tester for weight measurement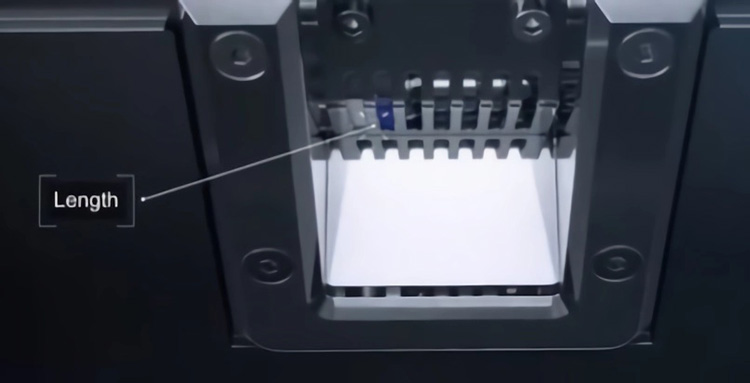 An integrated tester for length measurement
3) High Capacity
Capsule polishing machine enables different ranges of capsules polishing in no time. Thus, utilizing this machine is extremely flexible as you do not have to opt for separate devices for every different size or shape of a capsule.
4) Contamination Free Treatment
A capsule polishing machine is designed in a compact structure that helps to remove dust and ingresses of foreign particles from capsules. Due to the highly patented system this machine allows an extremely safe environment for the operator as well as drugs. Therefore, this greatly validated equipment with stainless steel housing and other units facilitates you with a clear and safe outcome without worrying about cross-contamination.
5) Flexible Performance
Capsule polishing machine delivers a flexible performance in the term of dwell time, machine's efficiency, and quality control. As capsule polisher machine designed in a vertical polisher cylinder that significantly enhanced the machine output and excellent dedusting quality.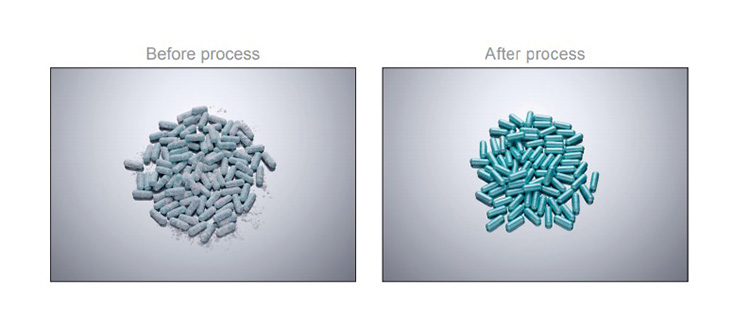 8.What are the components of the capsule polishing machine?

The basic parts of the capsule polishing machine are as following:

1. Capsule Conveyor/ Capsule Feeder
Capsule conveyor also termed as capsule feeder, inlet chute or infeed chute. Capsules are fed into the capsule polishing machine via this component.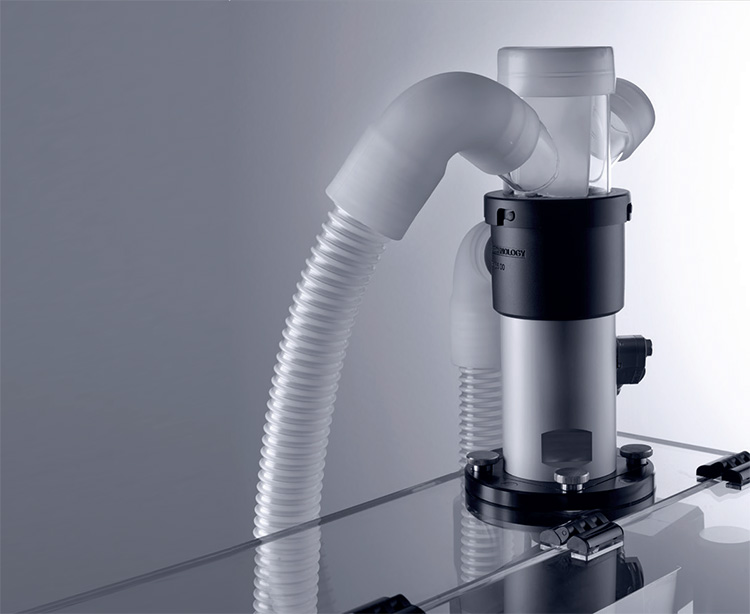 2) Net- Cylinder Brush
Dual brush assembly is available in the cylindrical assembly of capsule polisher machine that allows cleaning of the capsule from center and edges.
One brush contains a larger diameter with softer bristles while the other brush with a smaller diameter offers slightly stiffer bristles.
This multi-layer brushing system allows an optimal capsule polishing process.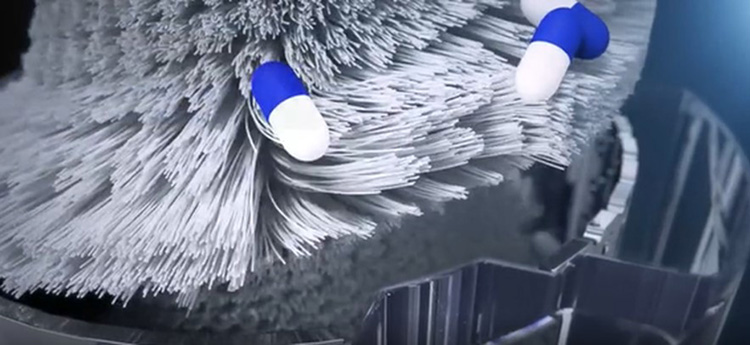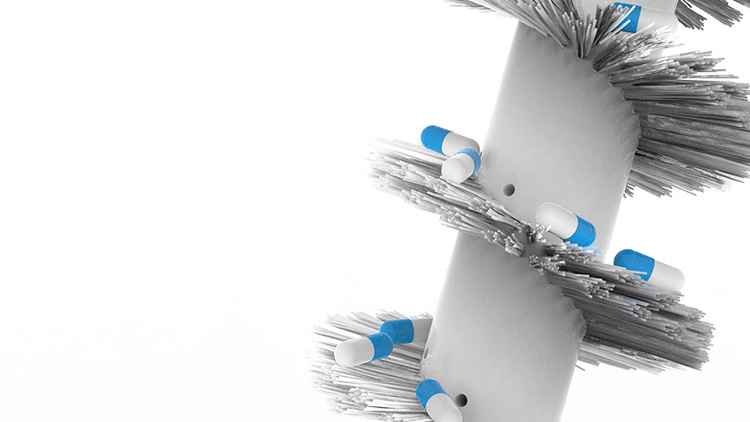 3)- Air Flow Attachment
An optional air shaft offers a circulation of air inside the tube that allows the cleaning of the product.
The air regulation is maintained which depends upon the type of product. The pressure of air should not be exceeded than the amount of vacuum that is utilized to pull the dust.
4) Vacuum Sucker
A vacuum sucker allows pressurized pulling of unwanted dust particles or loose fragments around the product.
5) Fragment Collector or Capsule Sorter
Fragment collector of capsule polishing machine collects rejected low weight capsules, fragments, and loose pieces obtained during processing.
6) Capsule Outlet
Capsule outlet is allowing the ejection of polished capsules.
7)- Anti-Static Auto Check Unit
Anti-static or static eliminator helps in reducing static and allows dedusting of product with greater ease.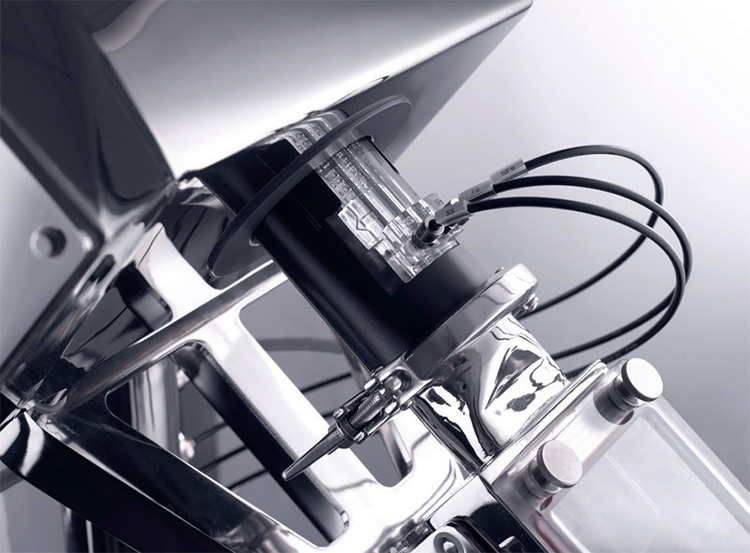 Anti-Static Auto Check Unit
9.What is the mode of operation of the capsule polishing machine?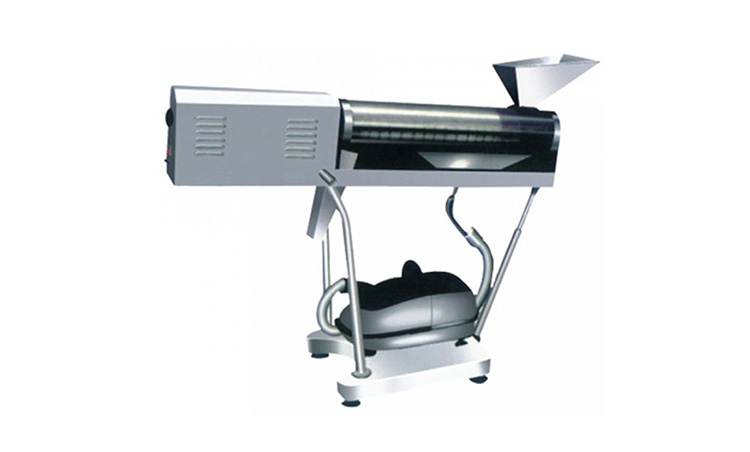 AIPAK capsule polishing machine
Capsule polishing machine ensures 100% removal of dust and lose particles using an integrated soft nylon brush. A capsule polishing machine detects and carries away defective, loose capsules, or debris with the help of a vacuum system.
Thus, excellent capsules are collected in an empty capsule sorter.
The mode of action of the capsule polishing machine are classified into three sections:
a)- Feeding section,
b)- Inspection section
c)- Polishing section

Feeding Section
In the feeding, section capsules are introduced via vibrator. A vibrator helps in the clearance of powdery particles that eventually accumulated into a dust collector.
Inspection Section
After the feeding section, capsules are examined precisely from a 'viewing window' of the capsule polishing machine. This 'viewing window' also allows inspecting the running process.
The accepted capsules have proceeded for further activity while defective capsules are removed from the conveyor line.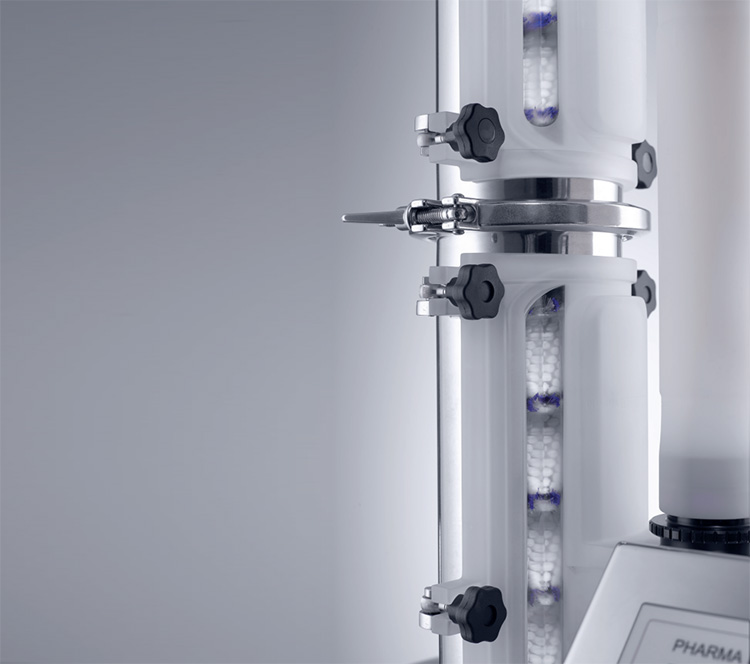 Viewing Window- Capsule Polishing Machine
Polishing Section
In the polishing section, capsules are treated with a filter cloth, spiral nylon brushes, and powder collecting containers. Capsules are introduced into helical circulatory brushes where they are treated and polished completely due to friction with nylon bristles. Treatment with polishing section makes the capsules products polished, cleaned, and glossy.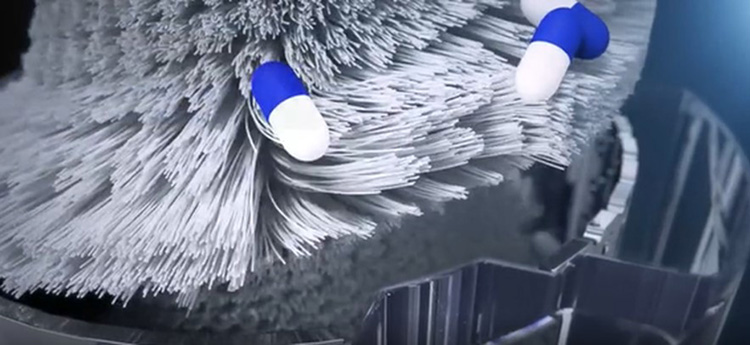 Spiral Nylon Brush
10.How do you operate a capsule polishing machine?

Pre-start-up
Before operating the capsule polishing machine inspect the machine visually.
Remove label 'Cleaned' from the equipment and affix with 'Equipment Status'.
Check the temperature and relative humidity of the atmosphere, if it is under a limit then you may initiate the process. Put the 'Power Supply' on.
Ensure the air compression, and inspect the vacuum supply is accessible for the dust extractor unit. Switch ON the dust extractor to eliminate excessive powder available in the machine.
Connect the extractor unit to the machine.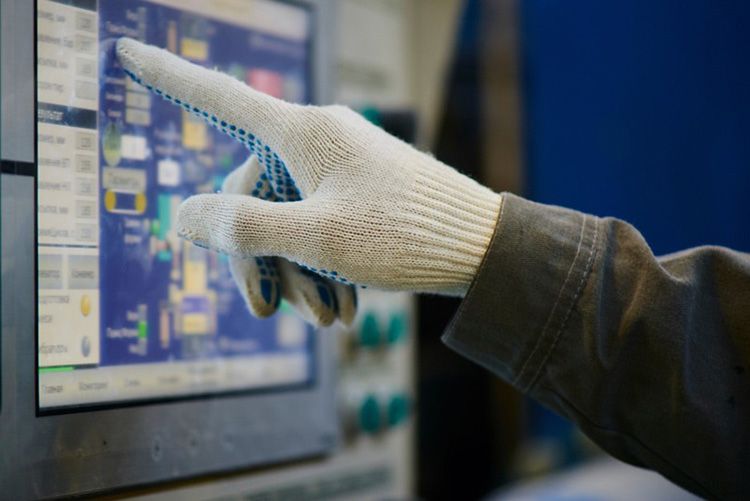 Start-Up
Switch On the main electric supply, you will notice a glowing indication of the LED light.
Press the Start button to initiate the motor.
Motor LED light (green) indicates the electric supply to the motor.
Using the HMI touch screen system feed the protocol required for the polishing respective type of capsule batch. For instance, speed, pressure regulator, air compression, homogenous airflow, and polishing time.
Start the feeding of the capsule from the inlet hopper at a uniform rate.
Inspect the quality of the polished capsule, if polishing of capsule is unsatisfactory then you may set the acceleration of the brush.
The polished capsules after being treated with brushes pass through an integrated unit of the tester to measure weight and length.
Record the operation time and attach 'To be Cleaned' tag to the machine.
11.How do you manage and maintain capsule polishing machines?

Capsule polishing machine is a well-constructed and advanced machine that requires little maintenance as compared to other pharmaceutical equipment.
For efficient, smooth performance and long shelf life of capsule polishing machine, you are required to pay attention to cleaning and maintaining the machine after the product-to-product changeover.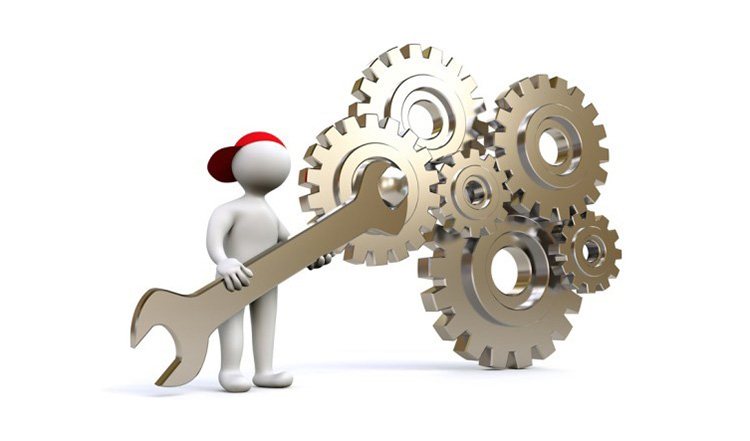 The motor and shaft of the capsule polishing machine are pre-lubricated and sealed properly. Therefore, most often there is no component in a machine that needs subsequent lubrication.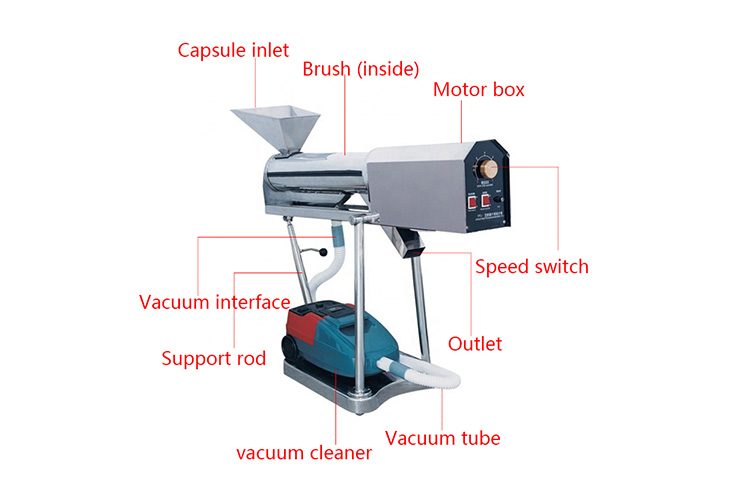 part of Capsule Polishing Machine
Capsule Polishing machine should be properly maintained by assessing visual and audible inspection during operation.
Check the assigned pulleys for wear and tightness for loc screws.
Always keep visual inspection for electrical wires of capsule polishing machine to assure they are maintained in a good condition.
Check the timing belt for wear by removing the drive cover of the capsule polishing machine.
Nylon polishing brush of machine must be handled with caution to avoid damage to bristles. Mishandling of nylon brush may result in bending and deformation of a brush.
A polishing net should be cleaned and allow to air dry.
A rubber belt/latch should be fastener must be replaced when broken. The installation of rubber latching fasteners should properly secure the top of the capsule polishing machine during installation to avoid unwanted damage.
A proper securing of rubber latching fasteners acts to provide a correct position of the perforated tube and brush.
Frequently change over the filter bag of a vacuum cleaner helps in avoiding of accumulation of excessive material.
12.What is the cleaning procedure of capsule polishing machine?

Capsule polishing machine requires routine cleaning to maintain the proper status of the machine.
After each process, clean the equipment using soft gauze around the base of machine as well as transmission units with the help of mild solution (Isopropyl Alcohol 70%).
To clean hopper, covering of motor, and lower units, use same method. For motor covering you need to loosen the screw with help of screwdriver.
Loosen the spring hasp and mesh cartridge assemble and clean it properly.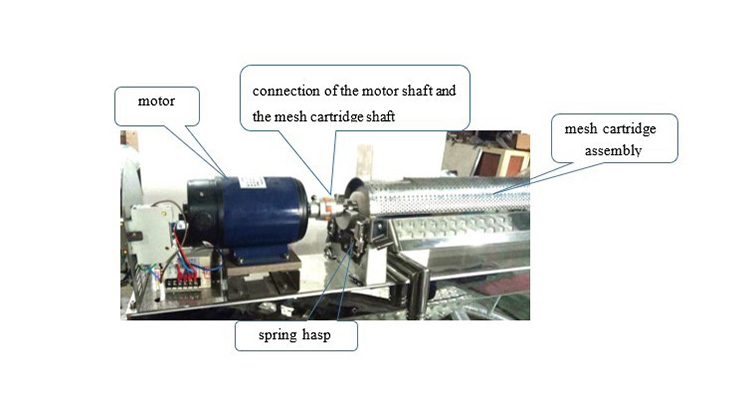 Release the M6 screw of motor shaft and also mesh cartridge shaft.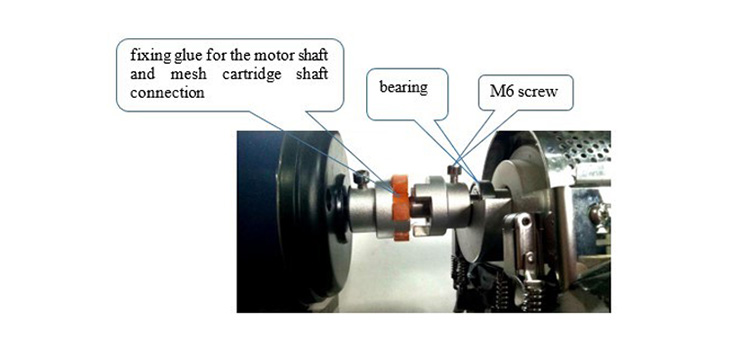 Clean the helical brush with mild solution and dry all these components either with compressed air or atmospheric air.
Wipe the bearing of machine, middle shaft using dried cloth and apply anti-rust solution.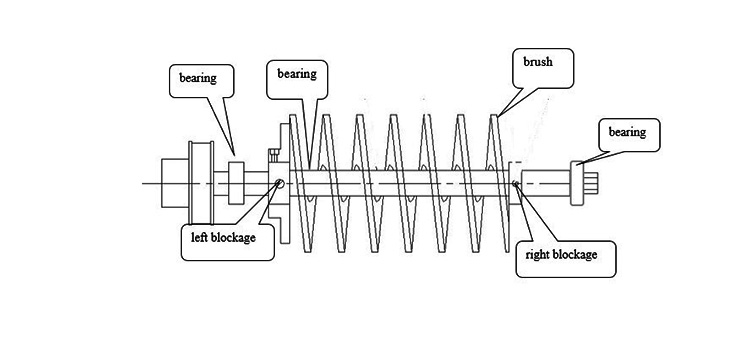 After cleaning and drying of all components assemble the machine in reversal manner.
13.What precautionary measures should be taken during the operation of the capsule polishing machine?
During the operation of the capsule polishing machine avoid electrical wires being worn out, crushed, and pulled.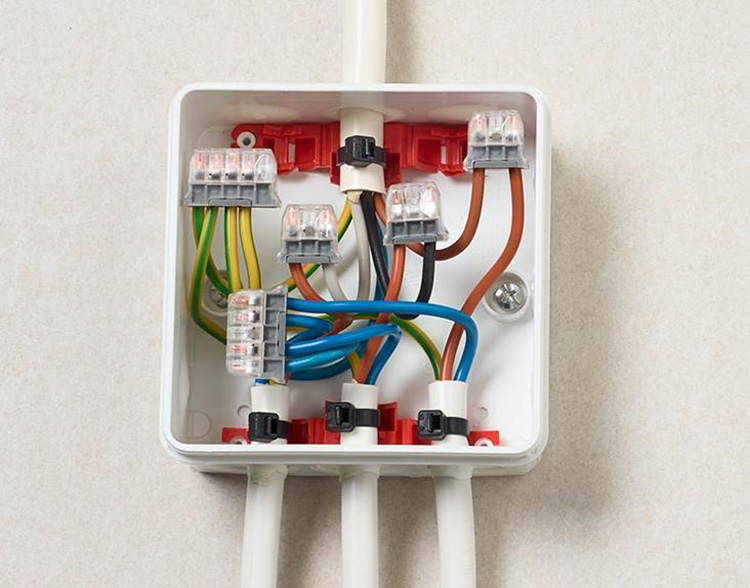 During the working of the capsule polishing machine, if there is a problem with a power cord it will result in malfunctioning of the machine. Therefore, always consider protective measures of power cord when the machine is working.
Inspect the machine polishing pad for yarn winding, the purpose of checking to avoid the belt from damage. Because if there is debris or yarn winding it will ultimately result in electrical resistance of motor that eventually led to producing unusual sounds and belt breakage.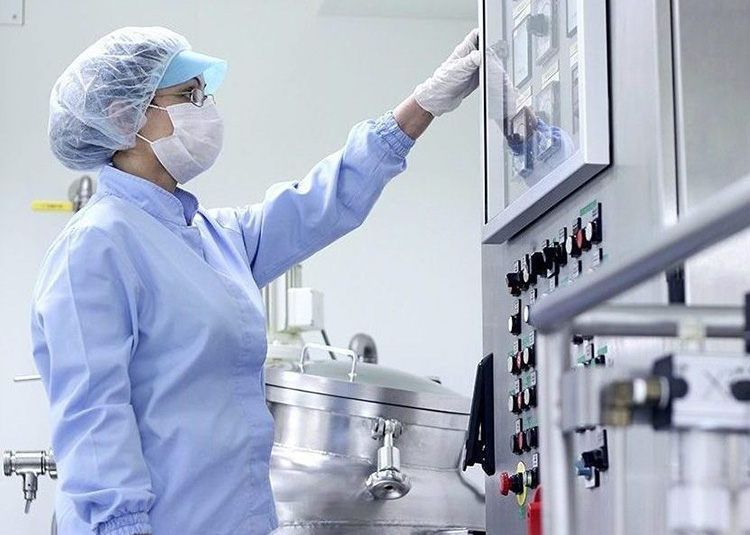 Always use proper PPEs before running the operation on capsule polishing machine.
14.What are the basic types of capsule polishing machines?
Capsule polishing machine has two fundamental types: Horizontal and vertical capsule polishing machines.
a) Horizontal Capsule Polishing Machine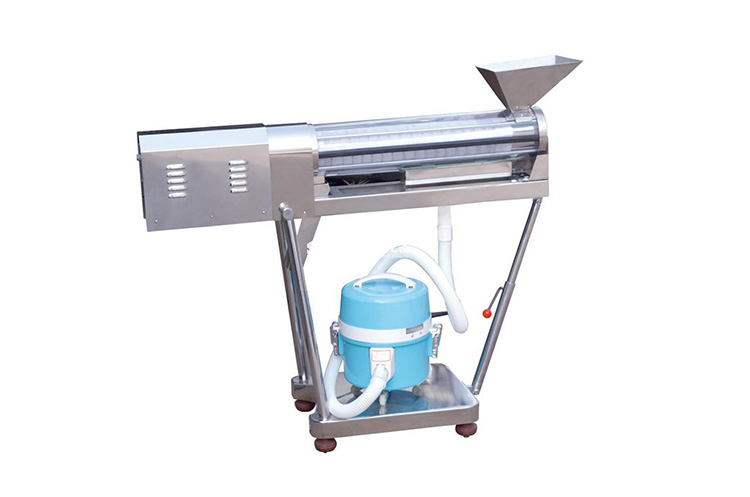 AIPAK horizontal capsule polishing machine
A horizontal capsule polishing machine is a brushless machine with an original polishing approach. This machine has a long fiber cloth that wipes capsules gently to overcome low efficiency and brittleness around the surface.
The slices of dustless fiber cloth are easy to set up, cleaning and remove. The application of cleaning and polishing capsules is harmless to capsule surfaces.
The working principle of the horizontal capsule polishing machine is based on a horizontal plate and helical track.
When a capsule is entered into the center of the track plate, it is gently driven by a low-speed polishing plate that helps in traveling the capsule along with the helical track to the outer circle.
In this process, dust or foreign particles are captured and swipe away by slices of cloth.
A giant collector with an exact diameter as track plate is integrated beneath the track.
Thus, all dust and foreign particles around the capsule are subjected to gravity and sucked which drops down into the collector. There is no flying of dust with the plate moves gently.
b)- Vertical Capsule Polishing Machine
A vertical capsule polishing machine polishes and improves the surface of capsules with a sorting and metal detecting device.
It has a fully automatic production line that includes polishing, improving, sorting as well as detecting systems.
A vertical capsule polishing machine is a human-friendly machine that has several advantages for polishing and improving capsule quality.
A vertical capsule machine can easily sort out capsules that are unsatisfactory, broken, or in loose shapes.
Today, a vertical capsule polishing machine is a preferable machine by many production set-ups. The main principle of working of this machine is adopted by traditional horizontal capsule polisher.
In comparison with a horizontal capsule polishing machine this machine can handle a large number of capsules and occupies less floor area.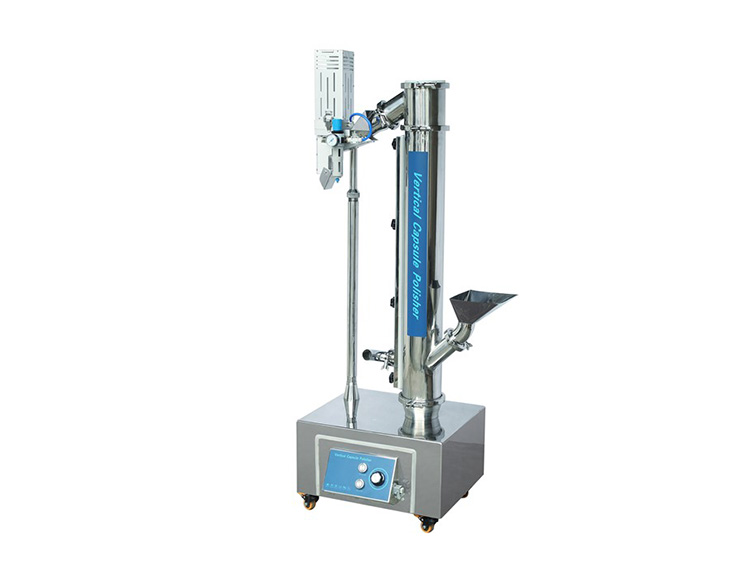 AIPAK vertical Capsule Polishing Machine
15.What are the problems and troubleshooting of the capsule polishing machine?
1) Machine Doesn't work
Sometimes, when you attempt to operate the capsule polishing machine it does not respond.
Cause of Malfunction and Troubleshooting:
This problem might be happened due to a poor connection with the main power plug or socket. Hence to troubleshoot this problem you should examine the connection and repair it in case of breakage. Furthermore, the switch or governor might be damaged that also require replacement.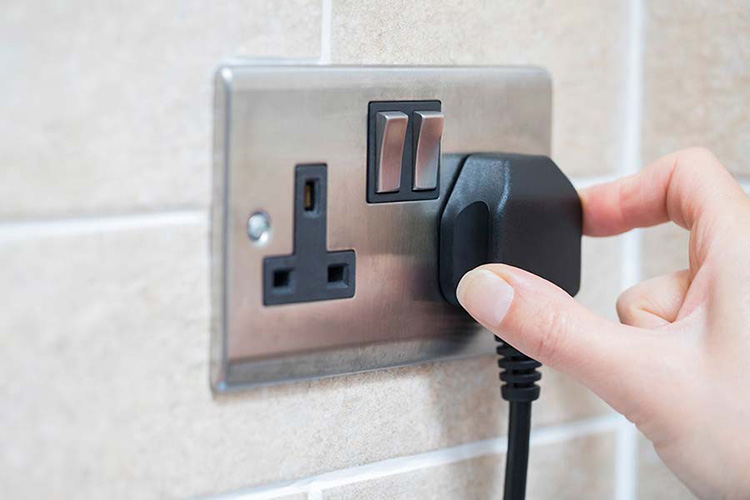 2) Low Speed of Capsule Polishing
Capsule polishing machine allows handling of the capsule with high acceleration. But sometimes you may encounter with a low polishing speed that yields low production.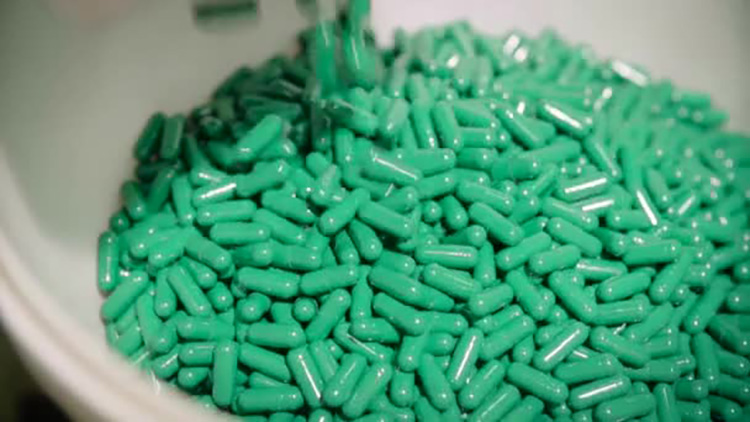 Cause of Malfunction and Troubleshooting:
The cause of the low polishing speed of the capsules might be caster losing. Because caster improves high speed, stability and increases straight-line tracking to a machine. Therefore, to treat this problem you should properly fix the loosening of the caster and make them properly touch the ground.
Furthermore, if spiral brushes of capsule polishing machines are abnormal it may affect the activity of capsule polishing. To fix this problem replace the brushes if necessary.
If the brush tube and a central shaft are not properly fixed, they result in low capsule polishing speed time. For this, you should properly tighten the screw of brushes and allow fixing of the central shaft.
3) Generation of Noise from Middle Shaft
During running a system, you might observe abnormal sounds generated from the middle shaft.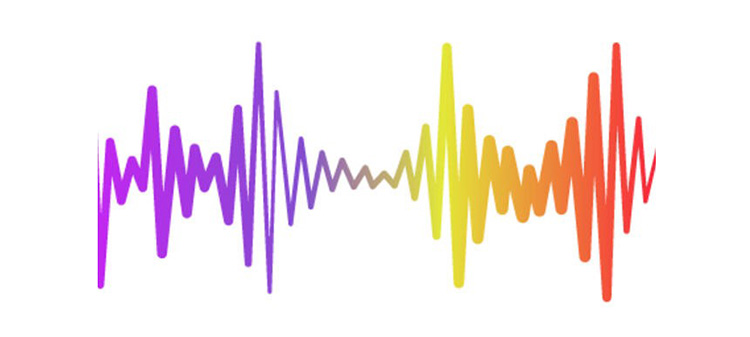 Cause of Malfunction and Troubleshooting
The possible reason for abnormal sounds from the middle shaft of the capsule polishing machine might be due to the loosening of the middle shaft. To combat this problem, simply disassemble the unit and re-install the shaft brush and its upper and lower attachments.
4) Shaking of Polishing Cylinder
During processing capsule polishing machine, sometimes, you observe a serious shaking of a polishing cylinder.
Cause of Malfunction and Troubleshooting
This problem may arise due to the unsteady connection of the middle shaft, adapter, and driving shaft. Therefore, you should open a covering of the polishing cylinder and examine if the brush and following units are connected firmly or not.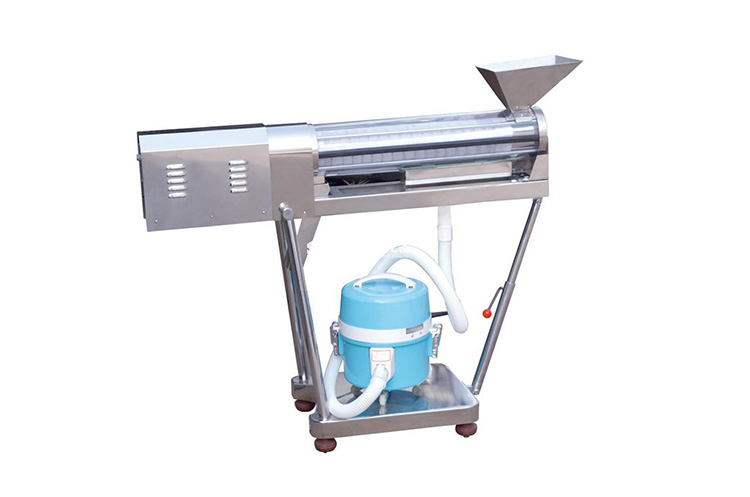 Capsule polishing machine
5) Inadequate Vacuuming
Air vacuuming is a mandatory step required for the capsule polishing process. Sometimes, the capsule polishing machine does not facilitate an optimum air vacuuming pressure ultimately an insignificant polishing process.
Cause of Malfunction and Troubleshooting
This problem may have arisen when the vacuum cleaner is not working correctly. For this, you need to examine the vacuum cleaner and its suction liners. Additionally, if replacement is required you may replace it with the new vacuum cleaner.
6) Poor Polishing
Sometimes, you may observe a poor polishing activity using a capsule polishing machine.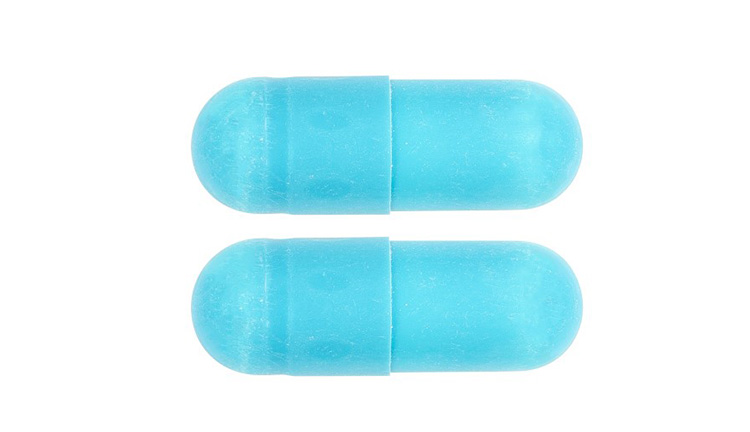 Cause of Malfunction and Troubleshooting
This problem is arisen due to damaged nylon brushes therefore, you need to replace them with new brushes.
When the surface of capsules is too sticky, they may result in poor polishing activity. For this, you need to control the humidity of the atmosphere. Secondly, treat the capsules with talcum powder before polishing them.
This problem may also arise when you treat with plenty of capsules, therefore you must reduce or optimize the number of capsules.
If vacuum cleaner suction is not functioning properly it may also result from poor capsule polishing. For this, you must examine the filter bag of vacuum cleaners regularly.
Debris on the edges of the brush may also affect the polishing process, therefore you must clean the brush on regular basis.
16.What types of capsules are treated in capsule polishing machines?

A capsule polishing machine is suitable for all types of capsules. For instance
Soft gelatin capsules,
Hard gelatin capsules,
HPMC
Fish gelatin
Pullulan, etc.
Furthermore, a capsule polishing machine is applicable for all sizes of capsules such as from 000 to 5.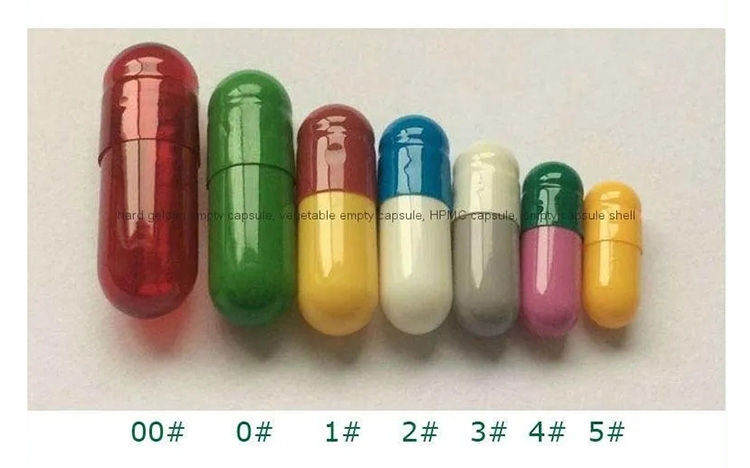 17.Can you integrate a capsule sorter into a capsule polishing machine?
Yes, it is possible to integrate capsule sorter into capsule polishing machine. Today, with the emergence of innovations in pharmaceutical equipment, you will find many capsule polishers integrated with capsule sorters.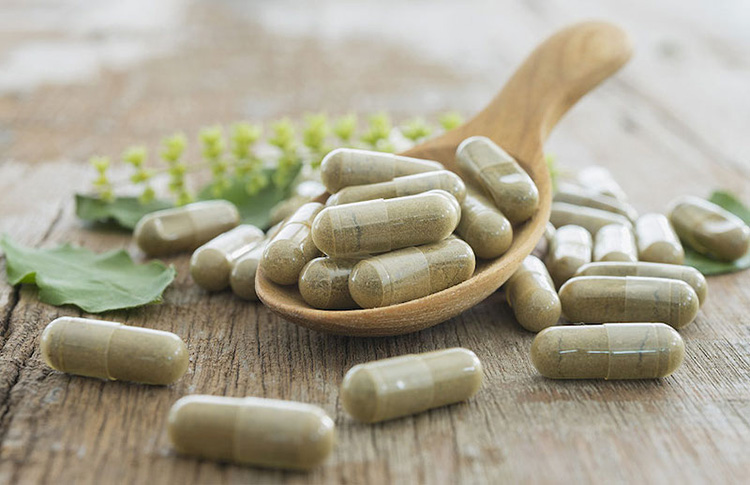 The sophisticated combination of these two pieces of equipment has improved profitability range up to a high level. Because capsule polishing machine offers you to eliminate excessive loose particles from a capsule, whereas sorter machine distinguishes good quality capsules from defective capsules.
Consequently, it not only saves your time but is also considered a cost-effective instrument for quick production.

18.Can you explain the integration procedure of the capsule filling machine with the capsule polishing machine?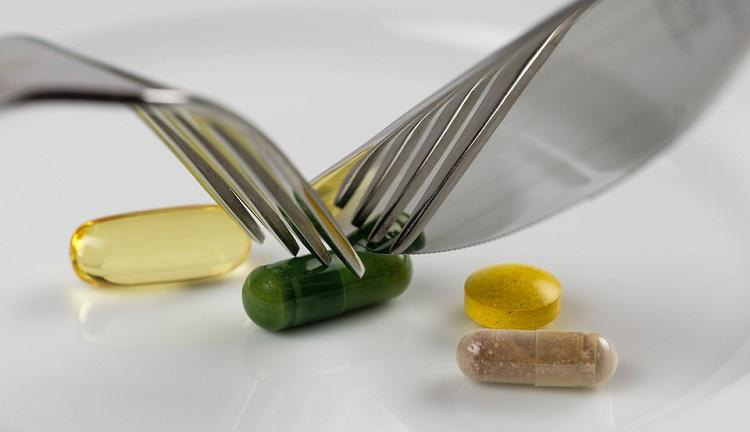 It is well-known that capsule polishing is the final process of capsule manufacturing. This process takes place soon after filling capsules from capsule fillers. Hence, it is available in an integrated form with a capsule filling machine.
The integration of capsule polishing machine with capsule filling machine takes place via connecting the discharge chute of capsule filler with polishing machine.
As discussed earlier capsule polishing machine is composed of a capsule hopper, polisher, suction, etc. A capsule hopper is of prime importance when it comes to integrating with a capsule filling machine.
Hence the discharge chute of the capsule filling machine is connected with the hopper of the capsule polishing machine.
In this way, filled capsules from capsule filler are discharged to capsule polishing machine where they move to the polishing cylinder for further processing.
19.What possible international quality standards comply with capsule polishing machines?
Capsule polishing machine is a well-equipped, safe, robust and reliable instrument that complies with the following standards:
GMP Standards
Capsule polishing machine is certified with Good Manufacturing Practice or GMP system that ensures 100% consistent production with the well-controlled quality system. Additionally, the structure and design of the capsule polishing machine overcome the risk of developing contamination, inaccuracy, and rejection of capsules. Hence, the capsule polishing machine delivers safe, effective, and consistent pharmaceutical batch production.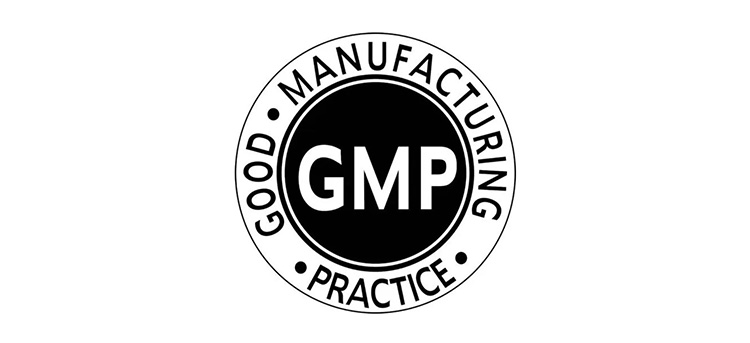 CE
A capsule polishing machine is a piece of CE-certified equipment that offers safety, health, and environment-friendly processing.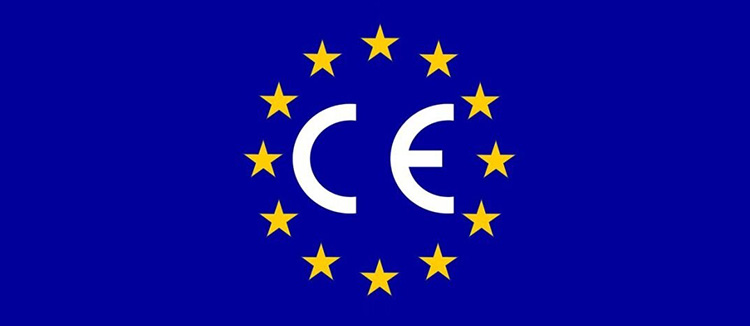 ISO
A capsule polishing machine is an ISO-certified machine that demonstrates a high quality, well-controlled function throughout the treatment of capsule polish.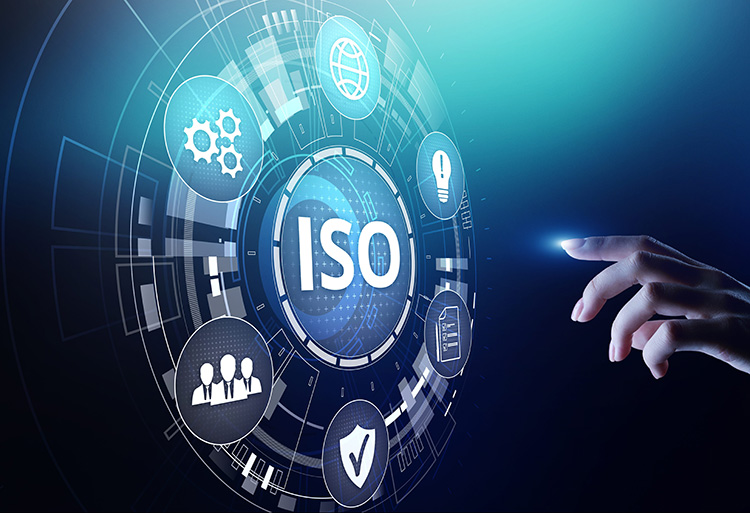 20.What are the important consideration factors before buying a capsule polishing machine?

There are some tips that every customer must keep in mind before purchasing a capsule polishing machine.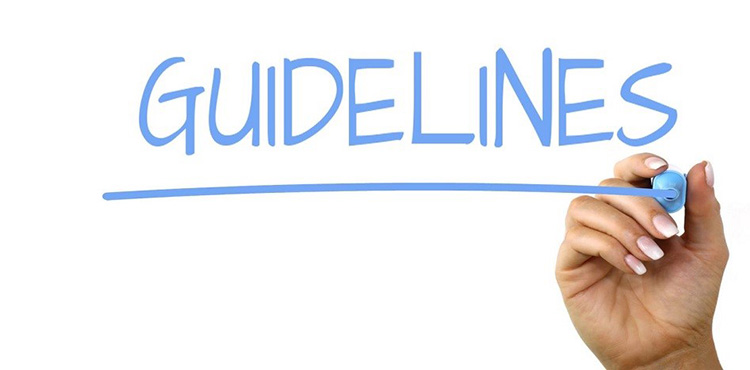 Before buying a capsule polishing machine you must know your laboratory conditions, size of productivity each hour, and degree of automation.
You must opt for those manufacturers who offer you a detailed instruction, training, and testing of products.
Before shipment capsule polishing machine, the manufacturer must allow you to check and test the product with complete assurance.
Conclusion
In recent years, manufacturing interest in using capsule polishing machine in production unit of pharmaceutical sector is increasing enormously. This is probably due to high profitability, safe, fastest production line, dust- free application, user compliance, acceptance, and environmentally friendly processing. The unique features of capsule polishing machine offer extensive advantages in manufacturing area. Hence capsule polishing machine is considered as an ideal tool for polishing, dedusting and sorting of capsules before packaging or further steps. Furthermore, the improvement in structure and design of capsule polishing machine will continue to improve in more versatile way in the future.
Capsule Polishing Machine Related Posts
CONTACT US
Tell us your raw material and project budget to get quotations within 24 hours.
WhatsApp Us: +86 189 7157 0951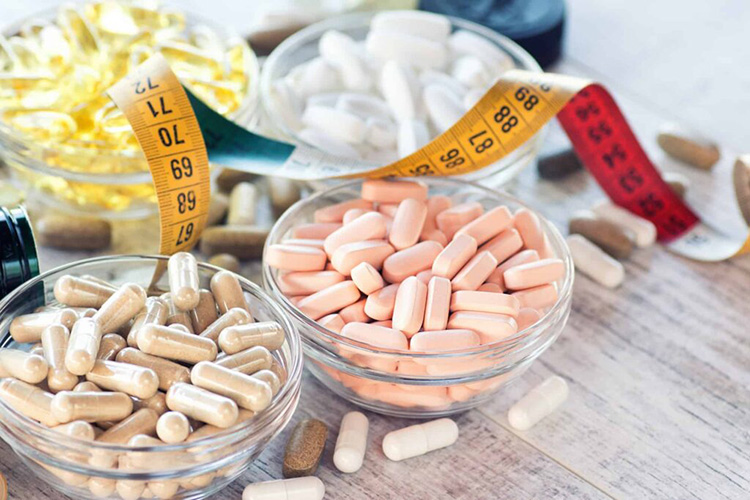 Tell us your material or budget, we'll reply you ASAP within 24 hours