Your Cost-effective Ampoule Filling Line
AIPAK Ampoule Filling Line
AIPAK Ampoule filling line can be also called ampoule bottle washing ,sterilization, filling and sealing line,consists of AKCA vertical ultrasonic bottle washer, AKDH hot air circulation sterilization tunnel and AKA type ampoule filling and sealing machine.The ampoule filling line can be used in combination or in a single machine.It can complete water spray filling,ultrasonic cleaing and flushing (internal and external),CA flushing(internal and externa),preheating,drying and sterilizing to remove pyrogen,cooling,before and after nitrogen,sealing after preheating,sealing and other processes.
AIPAK Ampoule Filling Line
AIPAK AKBL ampoule filling line' design has reached the advanced level at home and abroad, with reasonable structure, high automation, stable and reliable operation, high production efficiency and mechatronics. The material used for contacting liquid medicine fluid is 316L stainless steel; the rest is SUS304 material, with matt stainless steel plate on the outside. The overall design and manufacture meet the requirements of the new GMP.
High production speed
Reliable and smooth running
No bottle no filling
AIPAK AKCA Vertical ultrasonic washing machine is driven by AC motor, frequency conversion speed regulation and PLC control circuit, with reliable performance. Automatic constant temperature control of water temperature in water tank and water level control switch are installed to prevent the equipment from starting water pump, ultrasonic wave and heating elements in the absence of water. The water and gas pipeline is equipped with pressure display, and the pressure can be adjusted by the diaphragm valve. When online,receive the signal of sterilization tunnel and filling machine.
Good cleaning effect
Compliance with FDA and EU standards
Meet medical hygiene level requirement
AIPAK AKDH series hot air circulation sterilization tunnel is mainly used for drying, sterilization and pyrogen removal of small glass bottles such as ampoules, vial bottles and oral liquid bottles in pharmaceutical industry.It can automatically complete the whole production process from bottle feeding, preheating, drying and sterilization, cooling to bottle bottle discharging.
Uniform heat distribution
Sterility assurance
Wind pressure assurance
AIPAK AKA series ampoule filling and sealing machine is mainly used for filling and sealing ampoule bottles under aseptic conditions. It adopts step-by-step transmission system to automatically complete the separation and feeding of bottles, forward nitrogen charge, filling of medicine, post nitrogen charge, preheating, wire drawing and sealing and other processes.
Control measure for the crushing rate
No hygienic dead angle
Different bottle specification available
AIPAK Ampoule Filling Line Working Process
Ampoule Filling Line: The Complete Buying Guide In 2023
A small hermetically sealed glass ampoule is commonly practiced in the healthcare, chemical, and associated sectors. To fill the ampoule is a challenging task but the ampoule filling line efficiently executes it. The main objective of this article is to provide you an extensive knowledge pertinent to it.
Add a header to begin generating the table of contents
1.What is an ampoule filling line?

An ampoule filling line is a versatile solution for filling fluid products under sterile conditions.
It is an integrated state-of-art technology for the mass production,but can also be offered as a piece of stand-alone or single machine.
Ampoule filling is a sensitive process,it is a linkage line that cosists of vertical ultrasonic washing machines, hot air circulation sterilization tunnel, ampoule filling and sealing machine.
It can carry out water flushing (internal and external), preheating, sterilization, cooling, filling, sealing, and other tasks.And it is well-flexible to fill and seal ampoules of various capacities like 1ml, 2ml, 20ml, 25ml, etc.
2.How ampoule filling line originated?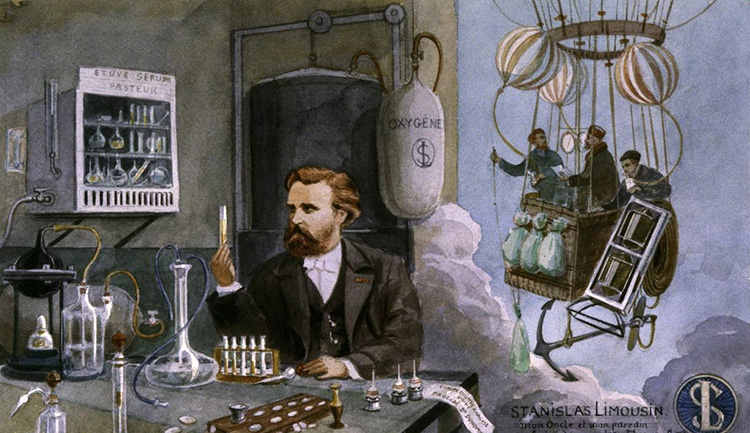 Traditionally, in some cultures, ampoules were meant to contain a martyr's blood after death that entombed alongside the person's burial sites.
In the 1800s, chloroform was frequently used anesthesia for healthcare purposes. Hence evolution of ampoules began by utilizing them as a storing medium.
By the time, hermetically sealed glass ampoule was introduced by a French Pharmacist Stanislaus Limousin in the 1890s. These were meant for sterile pharmaceutical preparations. Besides this, oxygen bottles, and balloon equipment for therapeutic oxygen are also invented by Limousin.
Medicines and technologies have developed over time. The utilization of ampoule also changed although storing a small number of gas or liquid has pretty much remained the same.
3.What are the main applications of the ampoule filling line?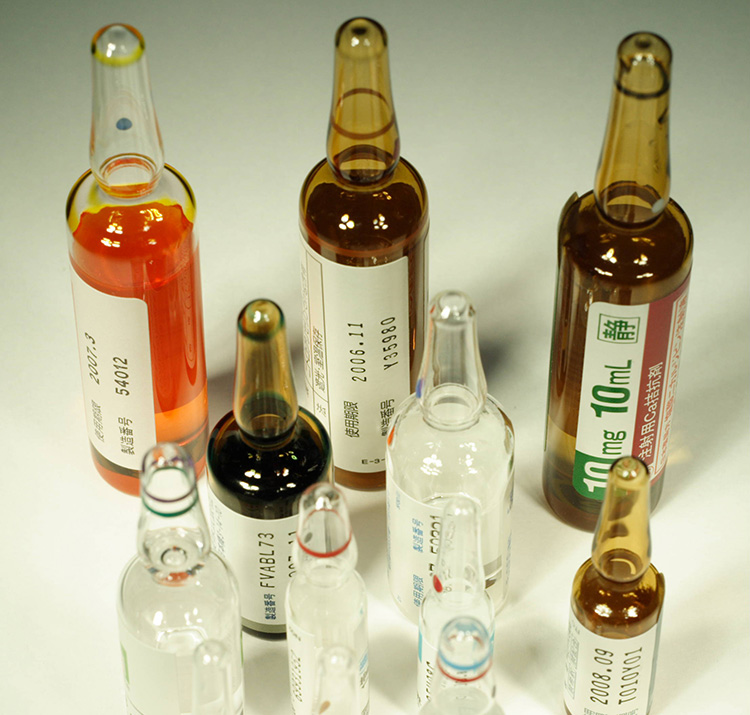 Pharmaceutical Industry
Ampoule filling lines are essential for the long-term preservation of medicinal substances routinely used by an anesthesiologist, nurses, healthcare, and medical centre. In order to sustain their effectiveness, they must be used after opening.
Retail Industry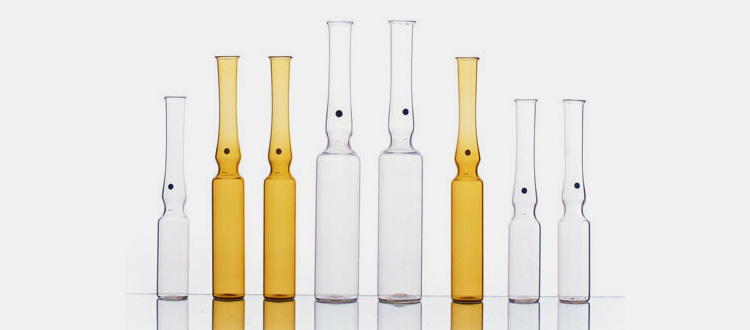 The retail industry heavily demands ampoules that involved efficiently storing goods within a hermetically sealed environment for personal and commercial use.
Diagnostics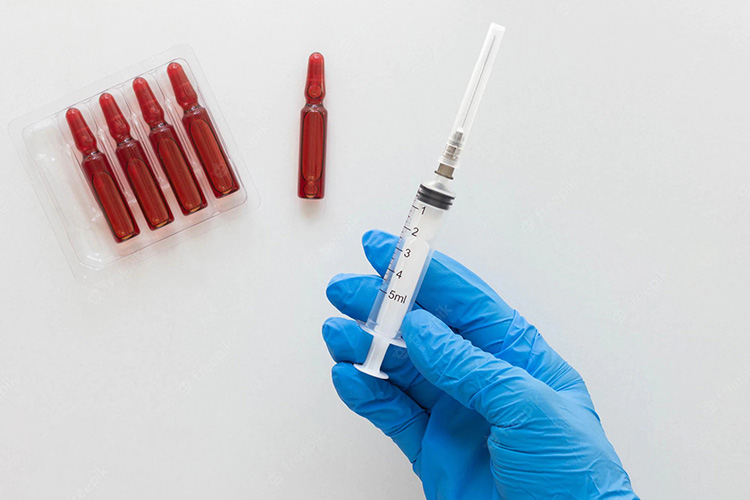 The ampoule filling line is designed to carry both opened and closed ampoules under aseptic conditions. Ampoules are used to protect blood, serum, or extractable content from oxidation and contamination.
Veterinary Industry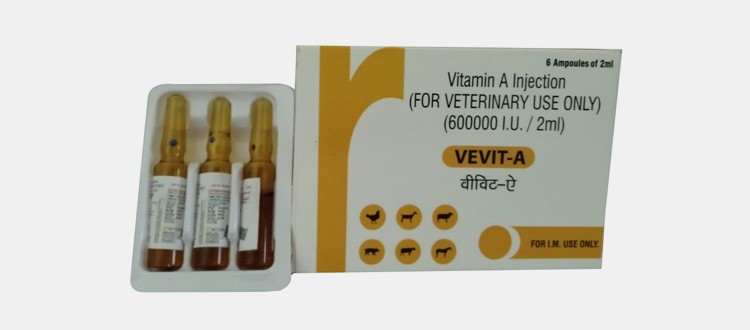 Veterinary steroids, painkillers, antibiotics, adjuvants, and antiallergy products are available in the form of unit dose ampoules.
SPA Industry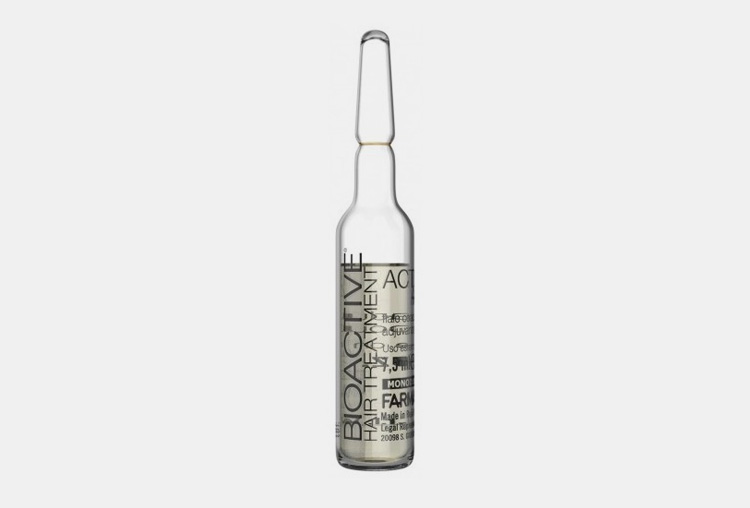 SPA industry is a fast-growing market associated with the resort, traveling, salon, medical and mineral, etc., They are dealing with a variety of relaxation, health improvement, and beauty treatments. Many of their products are brought to you in ampoules and bottles to preserve 100% bio-active ingredients.
Cosmetic Industry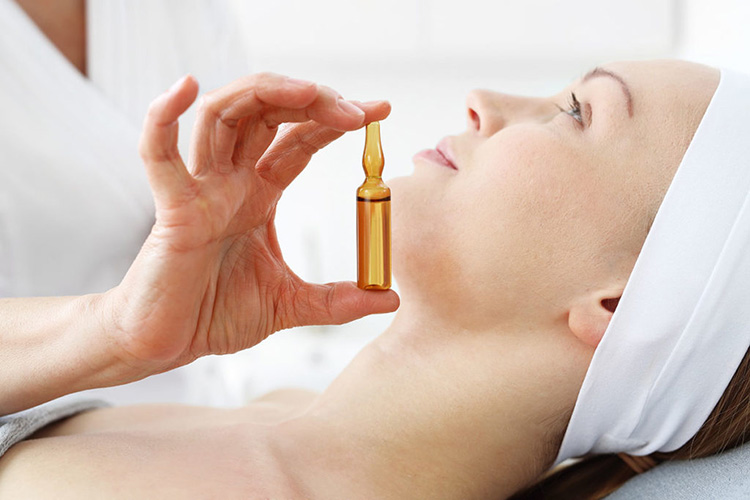 Ampoule filling lines are ideal to deal with cosmetic ampules that are scientifically designed with excellent ingredients to resolve skin care problems. You can get modern ampoules including serums, moisturizing ingredients, antiaging products, and detoxifying agents.
Toiletries

The toiletries industry estimated 118.26 billion USD with a growth rate of 10 to 15%. The manufacturing industry deals with personal care products dynamically driving business worldwide. Ampoule filling machine is required to store skincare, haircare, bath, and personal grooming products.
4.What is the working principle of the ampoule filling line?
Ampoule filling lines are constructed on the principle of slant transport.
The machine has an integral working principle that can be categorized into the following sections.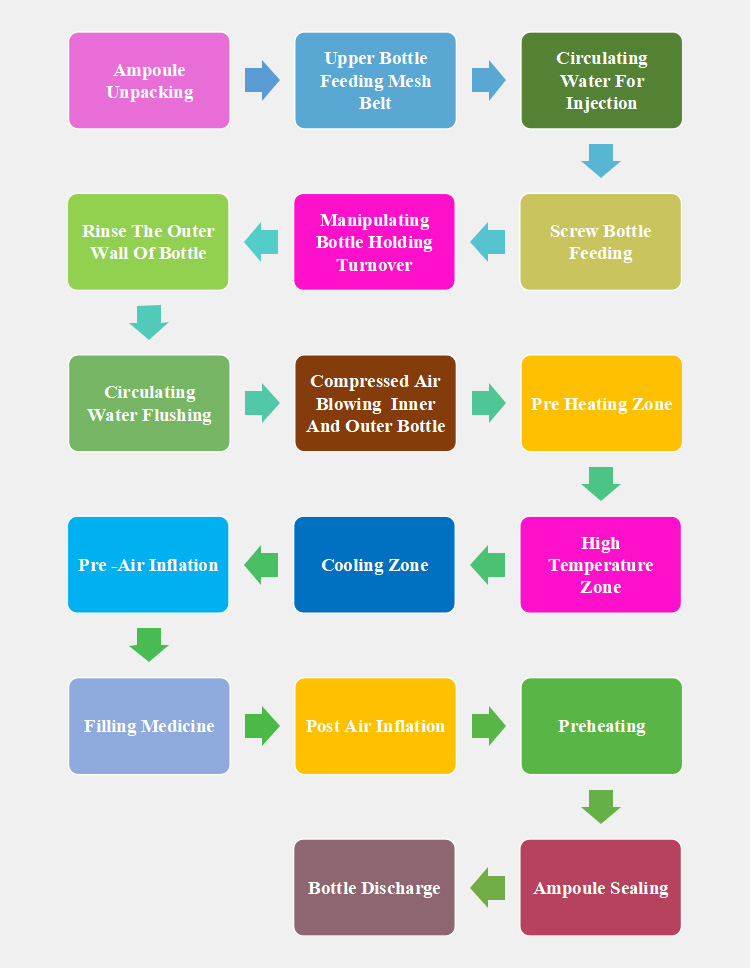 Cleaning Zone- Ultrasonic Washing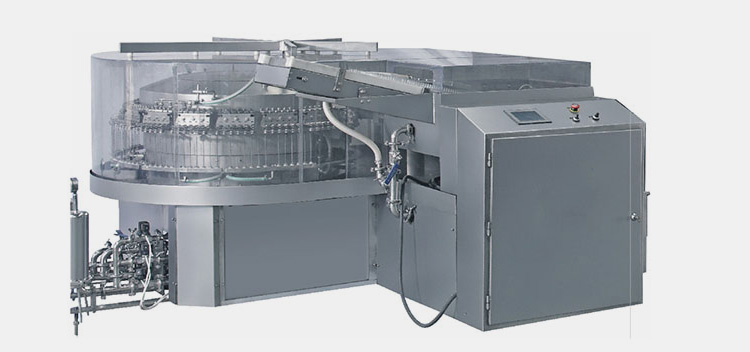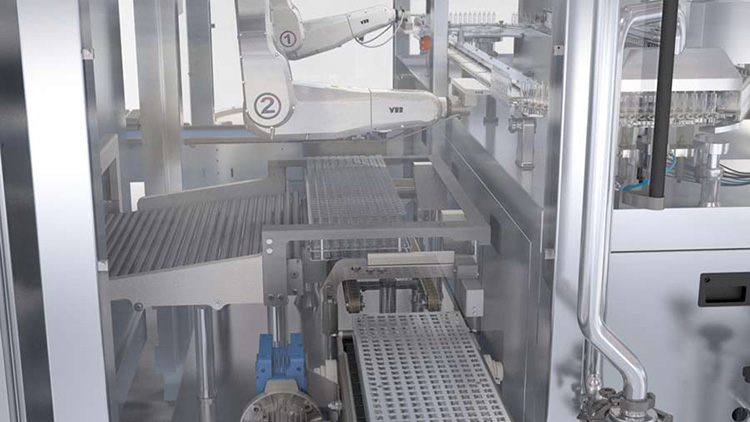 Washing Tunnel
An unpacked set of ampoules are introduced for cleaning where inverted ampoules are exposed to ultrasonic washing using circulating water for injection. This process is taken place twice. After circulating water flushing compressed air is introduced for good cleaning effects that induce excellent protection against contamination. Compressed air is facilitated inner and outer surfaces of the ampoule.
Sterilization and Drying
This process is divided into three sections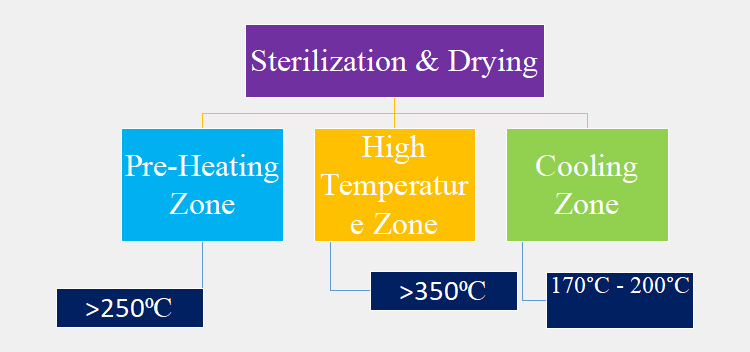 Pre-Heating Zone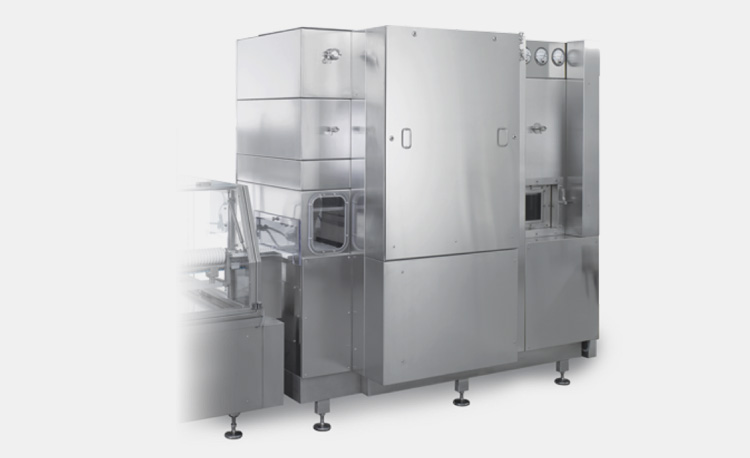 De-pyrogenation Zone
Here, pre-heating is a mandatory step before coming procedures. The ampoules are entered gradually through the mesh belt. They are exposed to hot air via laminar flow for short time under a high temperature. Whereby the exposure to heat above 250°C destroys the pyrogens. This step is of prime importance for ampoules bottles, and medicinal ampoules to ensure pyrogen-free outcomes.
High-Temperature Zone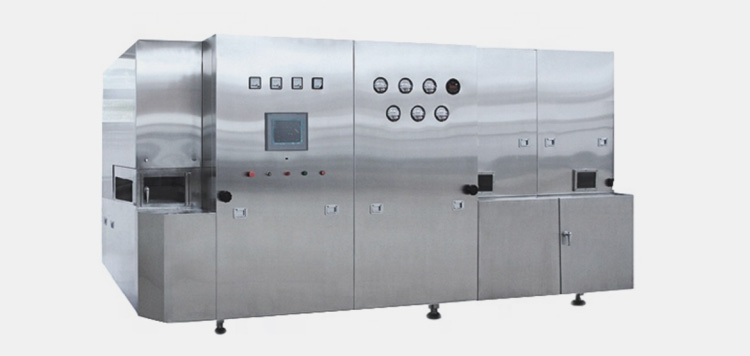 Drying and Sterilization Tunnel
The machine is equipped with a front-back laminar flow box and high-temperature sterilization box. Such boxes are supplied with medium and high effect filters blowing 100-grade purified air. This ensures the entered ampules are protected. High temperatures zone destroying microbial growth supplying temperature up to ≥350⁰C); with time ≥5 min. The entire process is operated following real-time monitoring.
Cooling Zone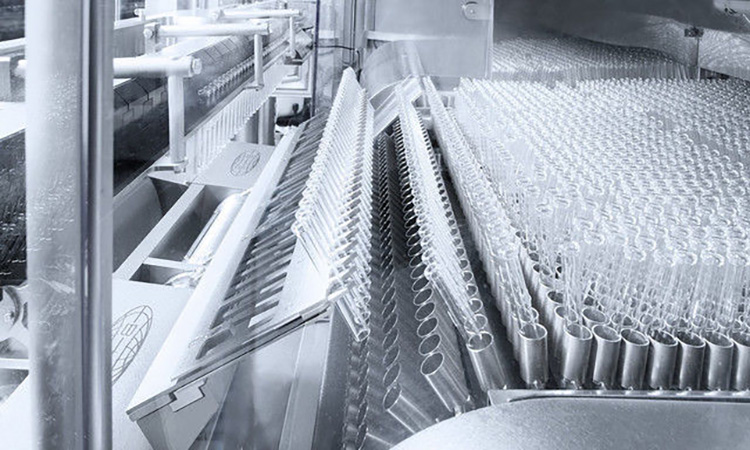 When ampoules are de-pyrogenated completely. They are encountered to cooling zone to be cold. The sterilization process is set on the 'operator terminal' and programmed to ensure correct sterilization which makes it difficult for the flow of hot air to reach ultimately normally 'Colder'. The cooling zone cools out the sterilized ampoules to fulfil technological needs.
Ampoule filling and sealing Zone

Ampoule Filling and Sealing
The filling and sealing zone are accompanied by 100-grade pure air. This section is equipped with dispensing pumps as well as laminar airflow to prevent the product against contaminated during filling. On one hand, the filling product is dispensing while on the other hand, sealing the tip of the ampoule is taking place. The treated ampoules are finally discharged.
5.What are the main components of the ampoule filling line?
The components of ampoule filling line are segmented into two parts:
Primary Components
The main parts of ampoule filling line are as followed: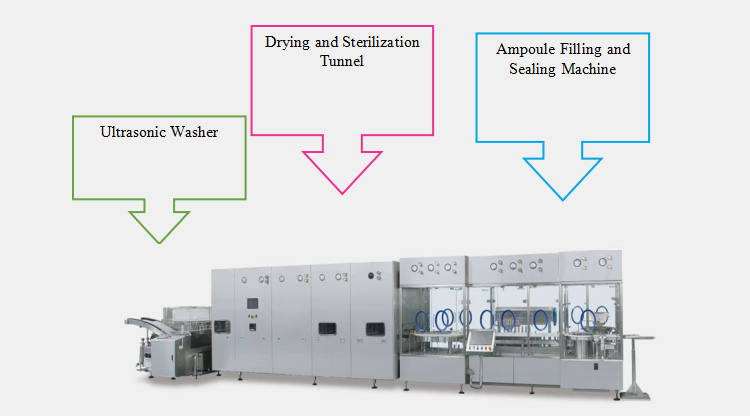 Ampoule Filling Machine
Ultrasonic Washer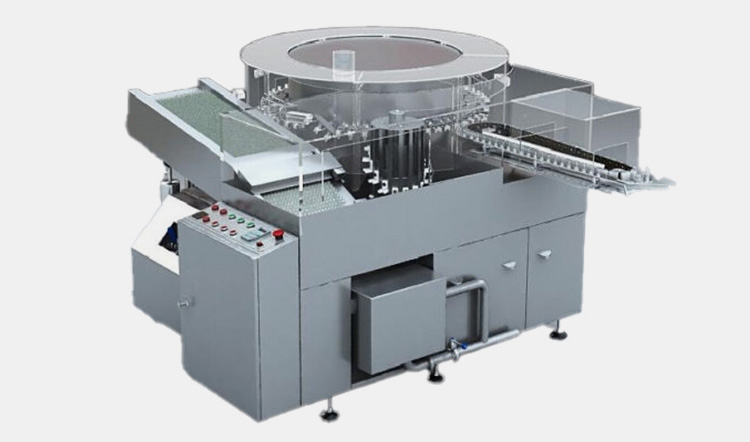 The ultrasonic washer is accompanied with efficient technological washing equipment for wet and dry-cleaning of ampoule. When tray of ampoule immersed in water, an ultrasonic transducing action ensures washing. The disk in washer turns over the ampoule for leaving the water content.
The basic parts of ultrasonic washer are:
Bottle Infeed
It allows ampoules in system via mesh belt.
Ultrasonic Tank
This tank ensure the removal of foreign particles inside the ampoule with excessive water flush.
Safety Screw
This part ensure infeed ampoule are steady and smooth throughout the procedure.
Ampoule Gripper
It hold the ampoule neck and inverts till washing procedure completes.
Hoist Wheels
These wheel put the ampoule into fine washing zone.
Water Recycling System
The recycled water is reuse to flush wash the exterior of ampoule.
Air Blower
A compressed air is blow for drying the ampoules as well as gas ejecting.
Ampoule Outfeed
The ampoule are outfeed via mesh belt respectively.
Drying and Sterilization Tunnel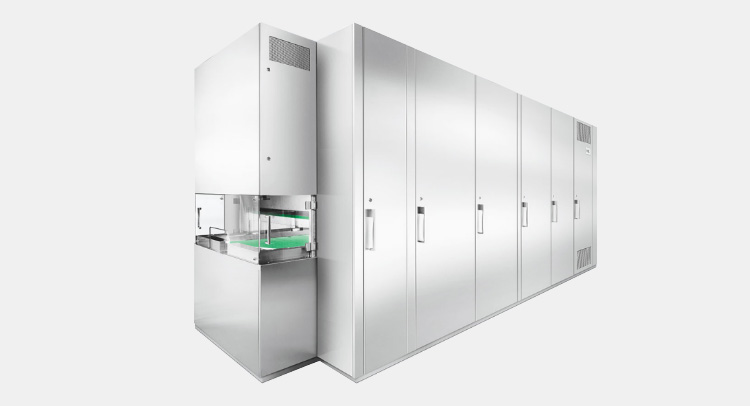 The drying and sterilization tunnel comes with a complete set composed of pre-heating (hot air vaporizes the washed moisture from ampoule), sterilization zone or high-temperature zone (uniform hot air HEPA filters up to 350°C), cooling (subjected to cold air before entering aseptic region) and outfeed.
The components of drying and sterilization tunnel are as followed:
Intake Air System
The system meant for intaking air from outside bring into the unit.
Exhaust Air System
The system de-pressurize the air present in the unit.
Internal Air Circulation
This unit ensure uniform temperature distribution throughout the tunnel.
Exhaust HEPA Filter
An exhaust HEPA filters ensure fine entrapment of harmful particles and purifies the air.
Static Pressure Gauge
The pressure gauge measures the variation in velocity and pressure relative to atmospheric pressure.
Heater Current
This device ensures the transformation of electric current into heat.
Cold Spot
This location represents cold zone as it is difficult to heat up. The prime objective of this section is to normalize the warmed temperature of ampoules.
Ampoule Filling and Sealing Machine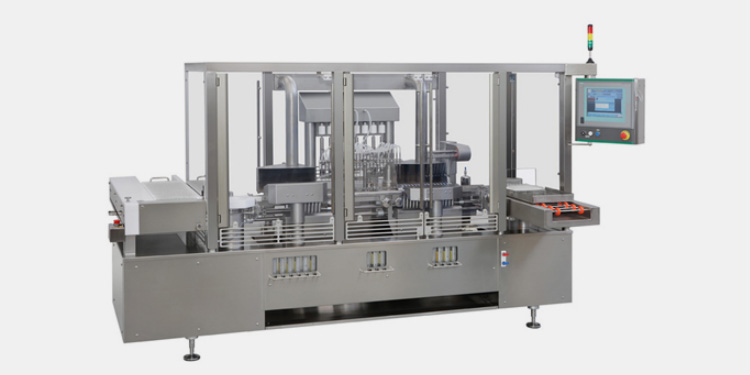 This is the major components of ampoule filling and sealing process. The parts of ampoule filling and sealing line are as followed:
Ampoule Infeed
This unit allows the sorting and transferring of ampoules in an aligned position. Furthermore, the aim of this section is to reduce the risk of ampoules jamming at the entry point.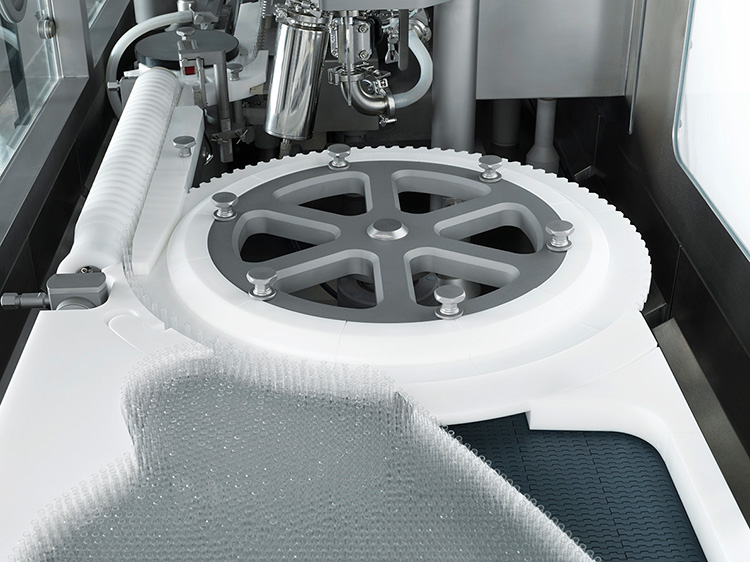 Vertical Ampoule Head
The filling and sealing tunnel are equipped with vertical ampoule head (single, double, four, six and eight), The purpose of ampoule head is to treat ampoule for the filling job.
Pouring OR Guide Needle Tube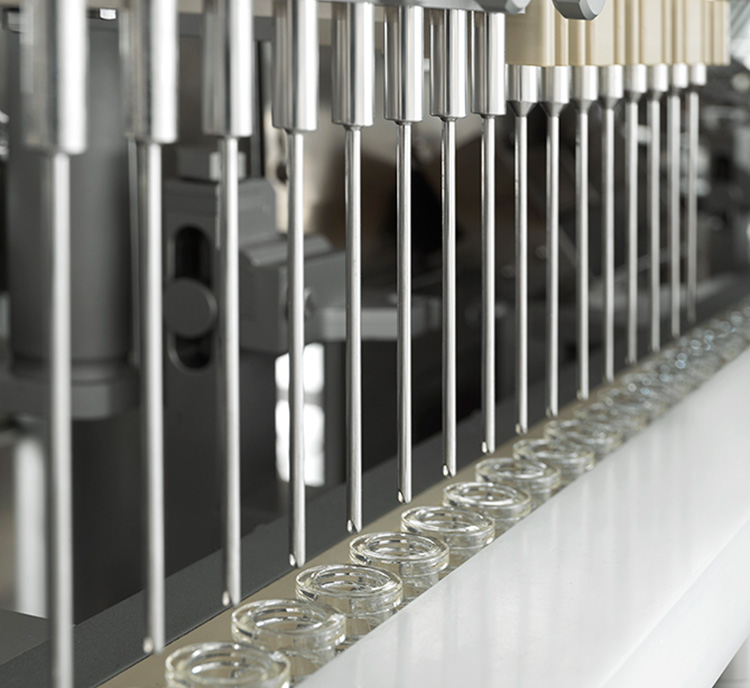 The solution is transferred into each ampoule by the pouring needle.
Fire Head and Wire Tongs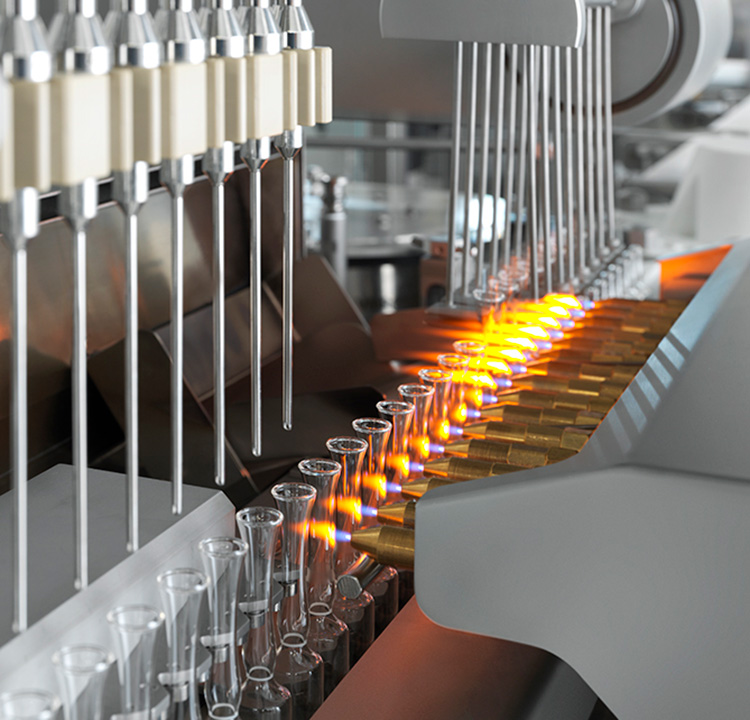 Sealing System
The machine is accompanied by a set of fire heads and wire tongs. The prime function of these heating devices is sealing.
PLC Controlled Program
Filling volume regulation, air pressure, gas induction, temperature, and different parameters are regulated by a user-friendly PLC system.
Air Pressure Reducers
This device is equipped with an air-decompressor that prevent excessive pressure in order to avoid interruption in normal procedure.
Conveyor Belt
The flow of ampoules from feeding to the discharge station is firmly regulated by the conveyor belt
Exhaust Fume Aspirator
An exhaust fume aspirator pre-cleaned the system from unwanted particles.
Nitrogen Flushing Tank- SS Gassing
The machine is accompanied by a nitrogen flushing tank to ensure nitrogen gas.
Nitrogen Needle
Nitrogen needle connects nitrogen supply manifold inlet.
Holding Vessel
The holding vessel supplies water for injection and is connected to filter housing.
Flame Ignition
The machine has a flame ignite that turns on when air pressure increased up to 0.1mpa. The size of the flame can be adjusted by safety valves.
Flow Meter
A flow meter ensures a regulated flame.
Gas/Oxygen Safety Valve
The machine is accompanied by a gas/oxygen safety valve to regulate and maintain the concentration of gases.
Ampoule Outfeed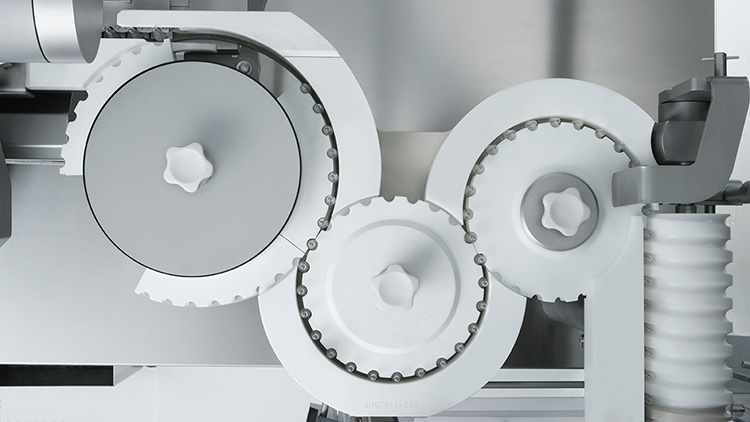 The filled ampoules are discharged via rotary ampoule outfeed.
6.What are the advantages of an ampoule filling line?
The advantages of the ampoule filling line are as follows:
Safety
Ampoule filling line is safe to use as it ensures that the machine won't leak your valuable content, no gas or explosive danger.
Cleaning
The filling line adopts ultrasonic washing using water for injection and compressed air prior to filling and sealing in an inverted state; protecting products from microbial contamination.
Easy Detection of Foreign Particles
Ultra-cleaning technology is used to obtain improved product clarity and visibility.
High Production Capacity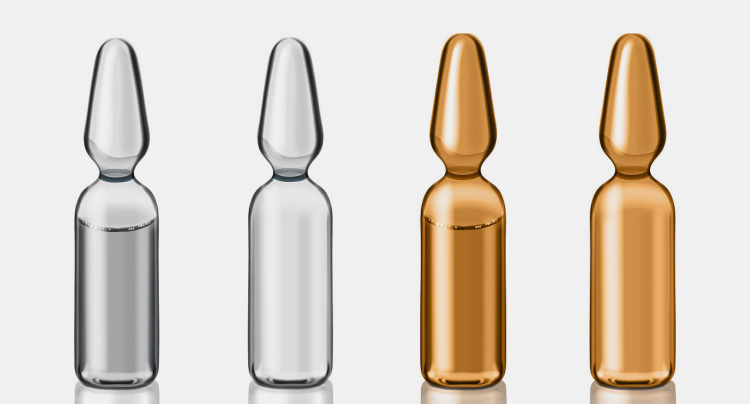 An ampoule filling line is a leading machine that can meet high ampoule filling demand in the shortest time devoid of compromising product quality.
User Friendly
Perhaps the ampoule filling line is complicated in appearance, but the machine is pretty easy to use. You just need to load the ampoules and infeed the program and let the machine do work.
Accurate Volume
The pharmaceutical industry and other relevant sectors require vast and rapid production batches with high accuracy and precision. There is no room for error and product wastage. The automatic ampoule filling lines are intended for accurate dosing in a lesser time.
The CIP and SIP system
The machine is compatible with the CIP and SIP systems thus you don't need to worry about dismantling the unit for cleaning.
Easy to Troubleshoot
The machine seldom meets technical issues. Good manufacturing companies provide you with remote assistance and detailed documentation to make your production journey easy.
7.What are the main types of ampoule filling lines?
The types of ampoule filling line are categorized as:
Manual Ampoule Filling Line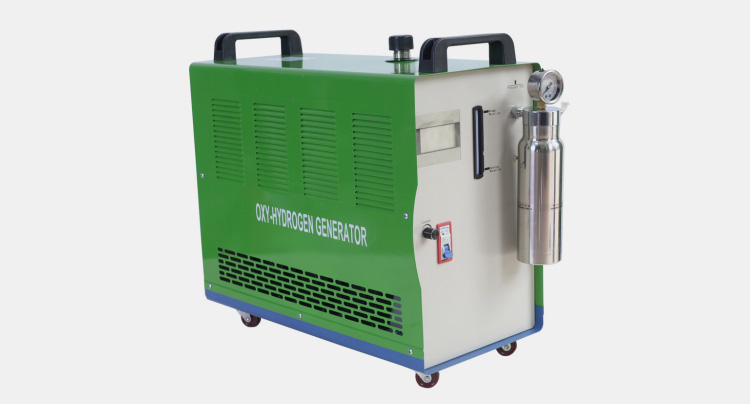 The machine is hand-operated without a suitable gas cylinder for the sealing procedure. But this machine is supplied with a gas burner. The machine is suitable for small or laboratory purposes.
Semi-Automatic Ampoule Filling Line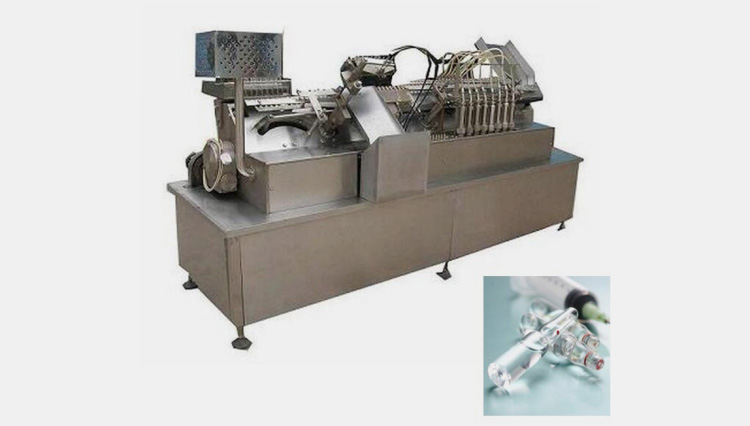 A semi-automatic ampoule filling line is also called a low-cost ampoule production line. The machine is compact, versatile, and can be integrated with a jet washer, dryer, and labeler. This machine is suitable for ampoules and vials of various sizes.
Automatic Ampoule Filling Line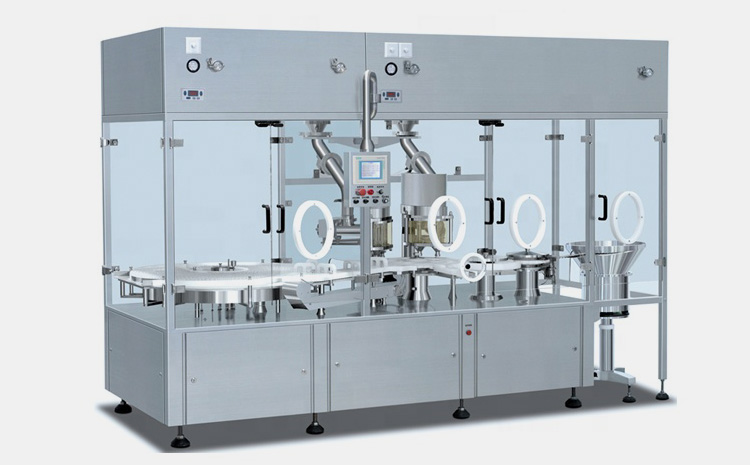 An automatic ampoule filling line is best for performing high production demands. The machine can be integrated with various systems and offer minimum change over time. Due to the presence of specialized sensors, the PLC control program and multi-ampoule heads ensure accurate filling solutions.
8.What is the difference between the tip sealing and pull sealing method?
| | |
| --- | --- |
| Tip Seal Method | Pull Seal Method |
| This is also known as Bead Seal Method; involves glass melting at the tip of the ampoule. | A pull seal method melts the glass at the middle of the ampoule's neck. |
| This method creates a smooth, attractive, and strong sealing than the Pull Sealing Method | This method creates a pointed, intense, and thin sealing. |
| The seal is hemispherical with a consistent height and shape | The seal is irregular, sharped. |
| The seal is made of thicker glass. | The seal is made of thinner and stretched glass. |
| An automated process with improved user safety. | Performed manually puts the user at the risk of developing a mishap. |
9.What is the auxiliary equipment of the ampoule filling line?
The auxiliary machines of the ampoule filling line are as followed:
Ampoule Inpection Machine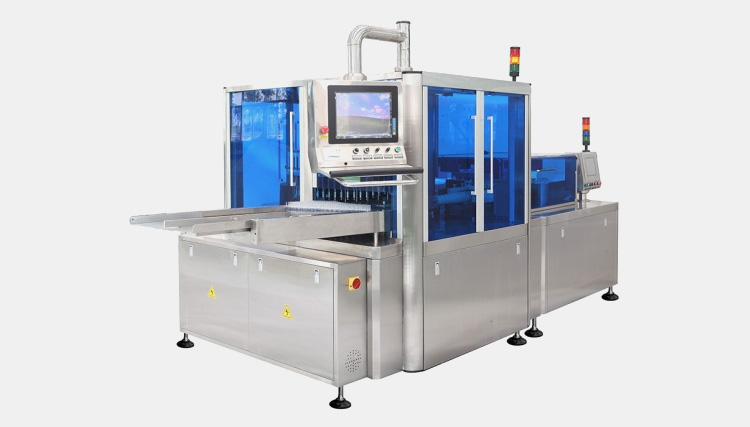 This machine is suitable for inspecting injectable ampoules by the end of the procedure. The working principle is based on visual inspection.
The machine is equipped with a track of rollers chain with spinning assembly as well as a rejection drive. The machine is well-engineered and safe; all contacting parts are constructed of stainless steel as per cGMP requirements.
Ampoule Labeling Machine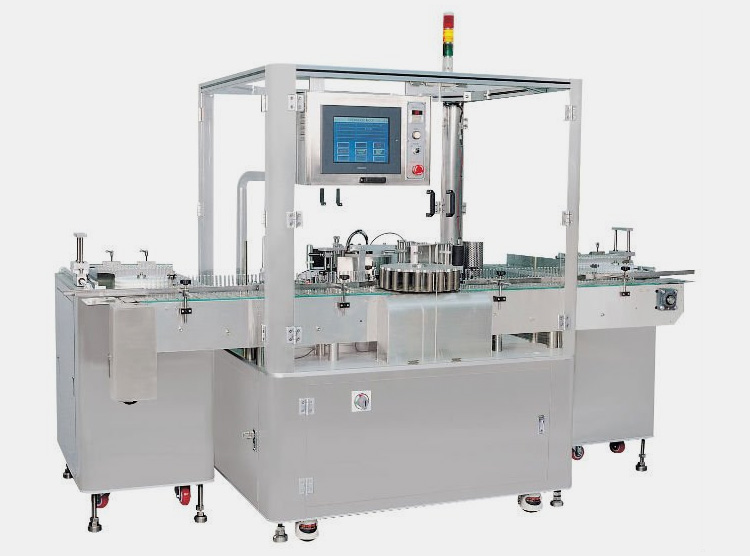 This machine performs the labeling procedure on the ampoule. The machine is equipped with a printer; enabling the printing of batch no. manufacturing date, and primary instructions. The system is supported by a camera-based vision print as well as a barcode print.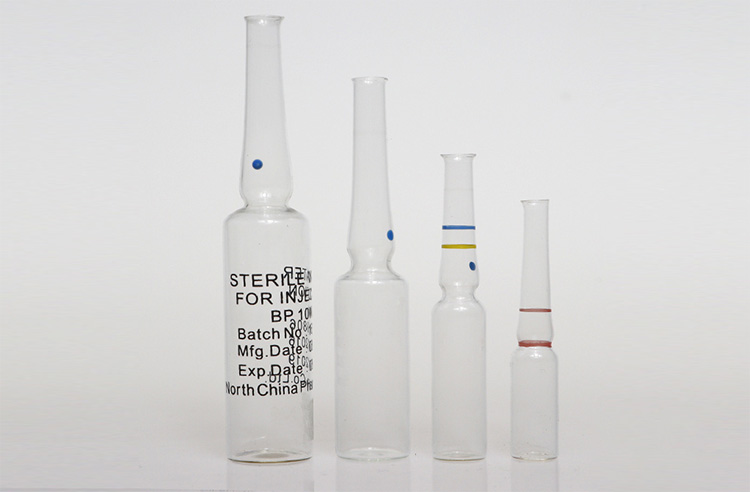 Nitrogen Gas Cylinder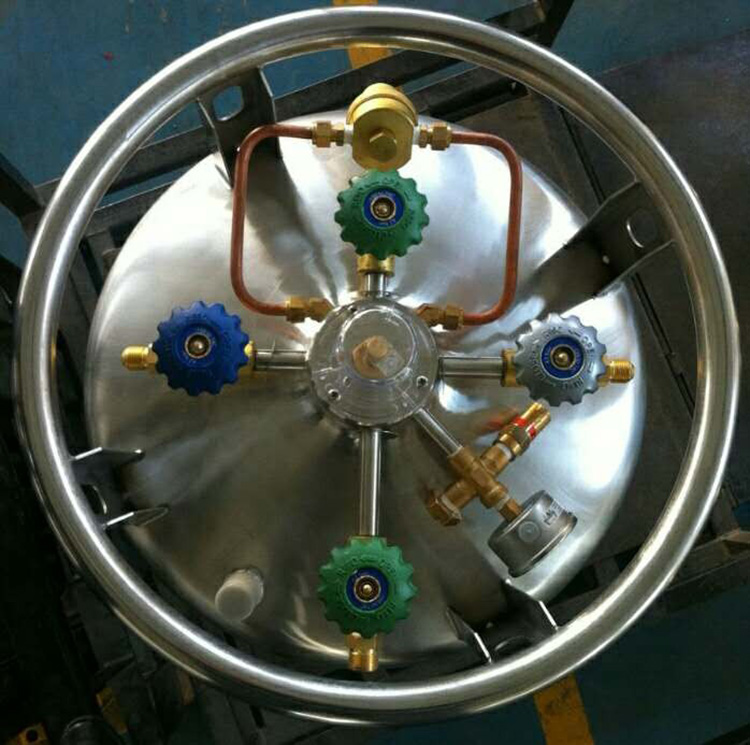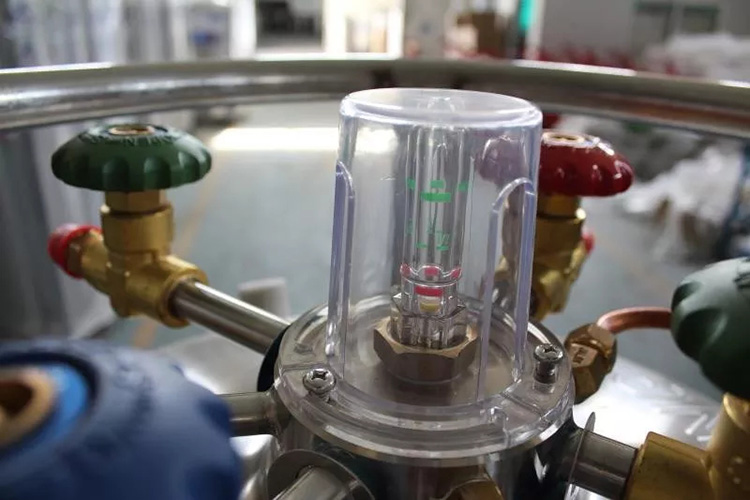 Before sSealing nitrogen gas flushing is required to replace oxygen from the ampoule. This nitrogen flushing aims to extend the shelf lifestability and prevents discoloration of the product.
10.What are the problems and troubleshooting of ampoule filling and sealing lines?
The technical issues in ampoule filling line are seldom; use the following table to troubleshoot the common filling and sealing problems.
| | | |
| --- | --- | --- |
| Symptom | Possible Cause | Solution |
| The seal is brittle, cracking glass | The flame is too warm | Lower the oxygen and increase the dwell time. |
| Incomplete sealing | Flame may be too cold or too short dwell time | Increase oxygen and as well as dwell time |
| Discoloration of particles | Corrosive liquid | Terminate the process; consult with biosciences |
| Ampoule Breaking | Misalignment of purge or fill head | Adjust the position of the ampoule head |
11.What is the future perspective of the ampoule filling line?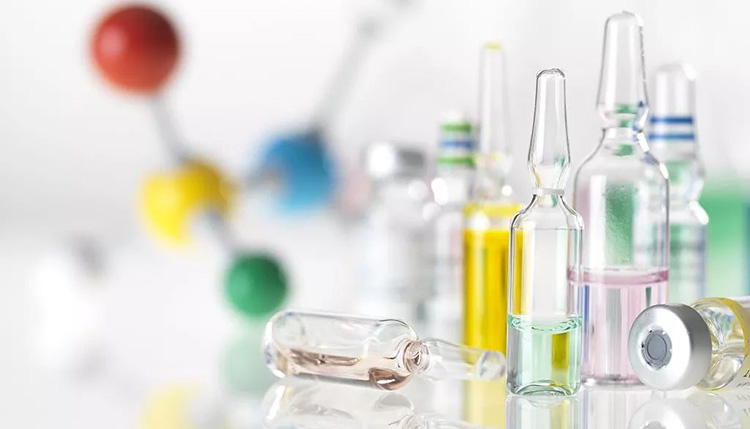 Geographically, the ampule filling line market is categorized across the following regions: Asia, East & West Europe, North, and Latin America, Middle East, and African regions. The expansion of the ampoule filling line at a healthy CAGR poses several challenges and opportunities for manufacturers across the globe.
Because of the COVID-19 pandemic, the market analysis of ampoule filling lines is estimated to be worth a million USD in 2022 and is forecasted to grow with a high inclination between 2020-and 2028.
CONCLUSION
The ampoule filling line is specially designed for processing sterile products under aseptic conditions. Featuring innovative designs construction and technical specification; AIPAK pharmaceutical offers a cost economical ampoule filling solutions with high-capacity filling. We Are Here to Help! Please provide us with your little details and get connected to our High-Tech Experts.
Ampoule Filling Line Related Posts
CONTACT US
Tell us your raw material and project budget to get quotations within 24 hours.
WhatsApp Us: +86 189 7157 0951
Tell us your material or budget, we'll reply you ASAP within 24 hours