OR WHOLESALES OR RETAIL
We Warmly Welcome New And Old Customers To Discuss Cooperation And Consulting Business ,And Look Forward To Working With You To Create A Win-win Situation.
Aipak Empty Capsule
Aipak empty capsule available in size #00,#0,#1,#2,#3,#4.With natural raw materials,advanced production technology and double quality inspection ,the empty capsules produced becomes most popular among all dosage forms for its slender shape and easier to swallow.And also may cover up the bad odor of the medications and let the good medicine never taste bitter. A variety of powder, liquid,semisolid and pill could fill into the empty capsules.Furthermore,capsules have good bioavailability as it could quickly, reliably and safely dissolve.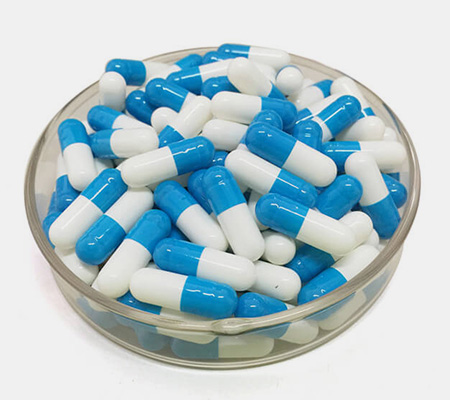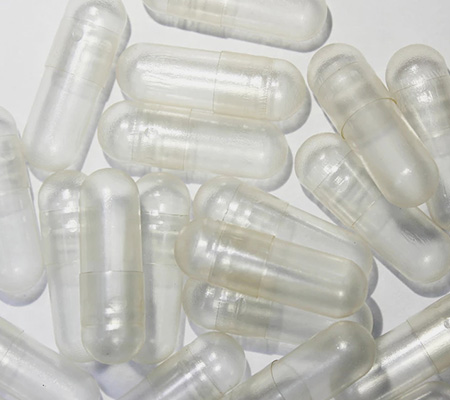 Empty Gelatin Capsules are modelled as 00#, ,0#, 1#, 2#, 3# 4# and more that meeting requirements of all kinds of pharmaceutical packaging.
Be smooth, uniform color
Smooth incision
No deformation and strange smell
Hydroxypropyl methl cellulose empty capsule as a new plant capsule,with greater dissolution,high humidity tolerance,low steam through quantity etc,and with its unique sources,mature technology and various technical advantage,for preparation industry provides a larger development space.
Different colors available
Halal,ISO,FDA certificate
No deformation and strange smell
Gelatin empty capsulea are made  form pharmaceutiacal gelatin and auxiliary. It becomes most popular among all dosage forms for its slender shape and easier to swallow.Besides,empty capsule may cover upo the bad odor of the medicaments and let the good medicine never taste bitter.
Good bioavailability
Quickly, reliably and safely dissolve
Halal,ISO,FDA certificate
Enteric HPMC (Vegetarian) Empty Capsule, effectively overcome the insufficiency of the molecular structure when protein encounters alcohols. Using its surface insufficiency it conducts an organic integration with the enteric coating, and the products attain a higher acid resistance and become more safer. HPMC (Vegetarian) Empty Capsule doesn't change its tenacity after enteric-coated, so it is more convenient for filling, storage and transportation.
Simplify your product formula
Speed up product into market
Conform to pursuing healthy
Empty Capsules:the Ultimate Buying Guide in 2023
Probably,you are looking for empty capsules to store your herbs,powers or medicines.
There are a variety sizes,colors or flavors of capsules in the market now,it may be challenging for you to choose the right ones ,especially if you are not a manufacturer.
Today I will use this empty capsules ultimate buying guide to introduce the vital aspects that you must consider before your buying.
It covers everything including:classifications,benefits,filling methods and FAQ about this empty capsules .
You can spend a few time reading through to choose the best empty capsules for your needs.
Let's drive to the main subject of this topic directly.
Add a header to begin generating the table of contents
1.What are Empty Capsules?
Empty capsules are protective shells to drugs.
It is used when the drug or any other substance used by oral way it contains, has a strong odor or an unpleasant taste that you wish to mask.
It's also used when the drug has a texture not easy to put in the form of tablet.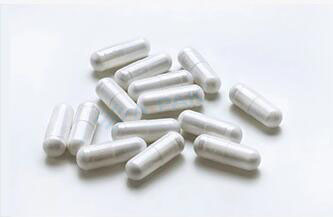 Empty Capsules
Normally, the active products in the empty capsules must be a dry powder, because the gelatin disaggregates when in contact with water.
It's possible to put liquids in a hard capsule, but only is included in an absorbing substrate, for example,aerosil , or right before swallowing the capsule ,such as the case for essential oils.
Nevertheless, the hard capsules can be filled with oily liquids, but in industrial environment only.
It's possible to hide in an empty capsule with a smaller product as a compressed tablet or another smaller capsule, for example for clinical trials,also known as in " double blind".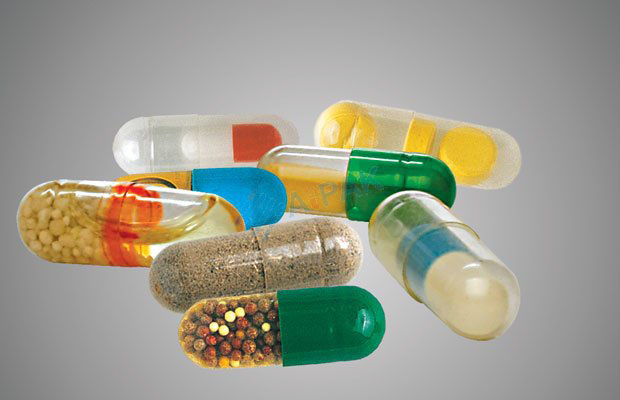 Capsules filled with smaller capsule or tablet
Especially the treated empty capsules,like the "gastro-resistants" or with "enteric coating" will allow to avoid the inactivation of a substance by the stomach acidity, or allow to obtain a delayed release, in the intestine.
The empty capsule is mostly an easy packaging to realize, with a cheap material, such as gelatin, cellulose, polysaccharide, etc,has been widely used in hospital, in pharmacies, and even by private individuals doing their own mixtures of plants.
Thanks to the many combinations of colors that it allows, and with the possibility to print logo and reference no, the empty capsules make it possible to personalize a drug or a food complement, with a marketing aim for example.
This personalization is also useful for the poisons centers to recognize a product when there is an intoxication.
In addition,there is also many other more "exotic" uses of the empty capsules: for example, they are used to store electronics components, or fossils of small size.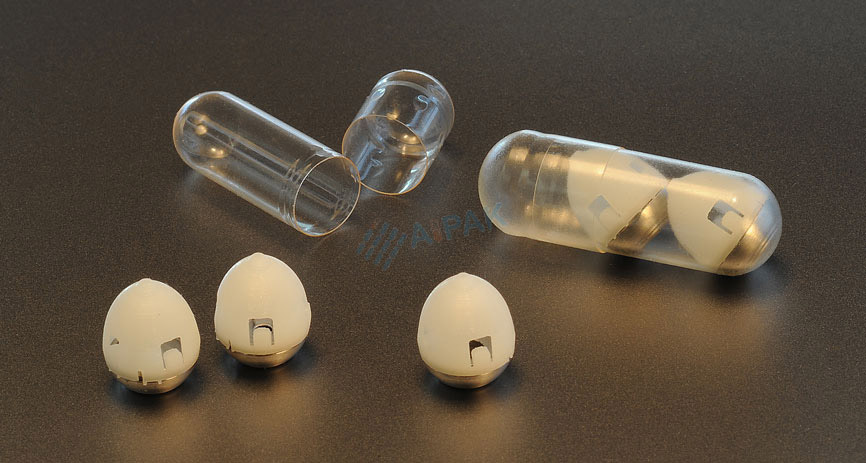 Tiny needles filled to empty capsules-Photo Credits:Sciencenews
2.What are Empty Capsules used for ?
Empty capsules are used to encapsulate liquids, powders, granules, oils, extracts, and herbs in precise dosages.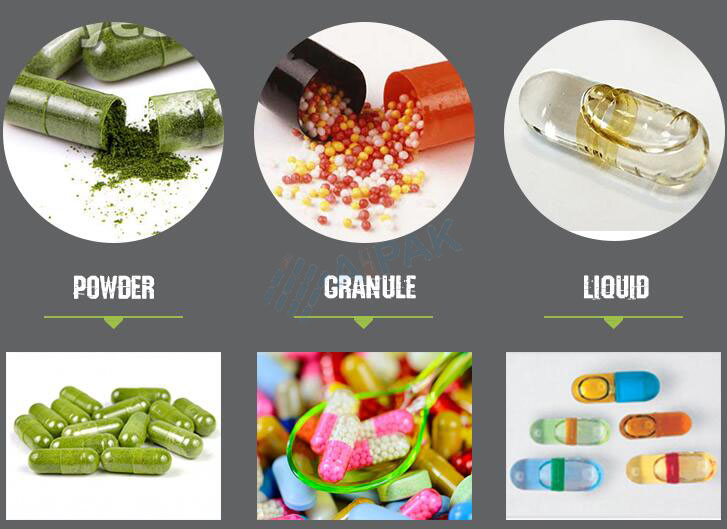 The versatility and familiarity of empty capsules make them a popular option for individuals who are interested in encapsulating their own supplements and medications.
3.What is the Structure of Empty Capsules?
Empty capsules consist of two encased parts: the "head" and the "body".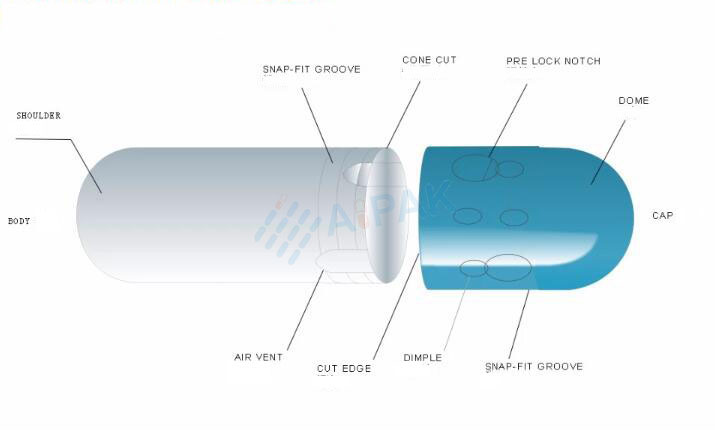 Empty Capsules structure
While the body is longer and a little less broad than the head.
The body is filled with powder,it is the normal filling volume of an empty capsule.
4.What are the Main Composition of Empty Capsules?
The traditional empty capsules are made by gelatin of ox or pig .
This gelatin is obtained by partial hydrolysis of the collagen contained in the bones or the skin.
It can be added with opacifying products ,like the titanium dioxide ,or and with dyes. or simply left transparent.
There is also vegetable empty capsules, containing modified cellulose ,Hydroxypropyl Methylcellulose, or "HPMC", or "Hypromellose".
It should be noted that the traditional gelatin capsules from now on are guaranteed free from risks related to disease.
The vegetable capsules continue to be preferred for the "bio" products.
Finally, there is also capsules made with fish gelatin.
5.What are the Size and Weight of Empty Capsules?
Weight
For the regular empty capsules, the various sizes go from "000" ,the largest, to 5,the smallest.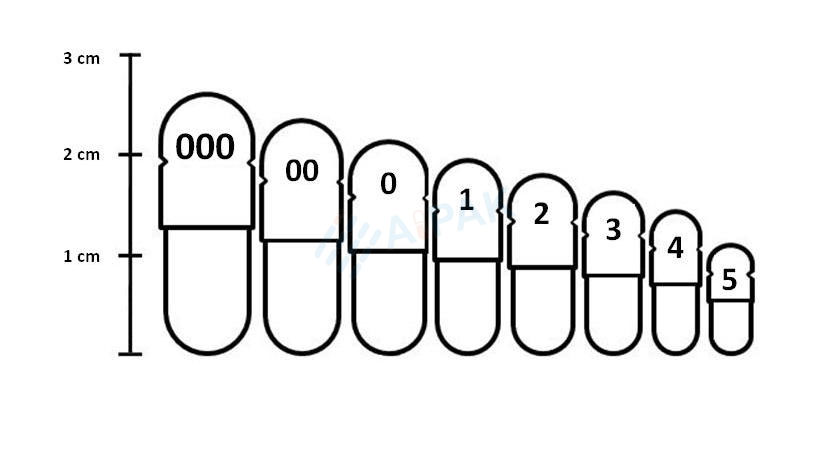 There is also much larger capsules, for veterinary use, as well as "lengthened" capsules, or even capsules especially reserved for the clinical trials.
Size
It will save you valuable time and cost taking some time to research the correct capsules sizes,whether you are a seasoned professional or an individual consumer.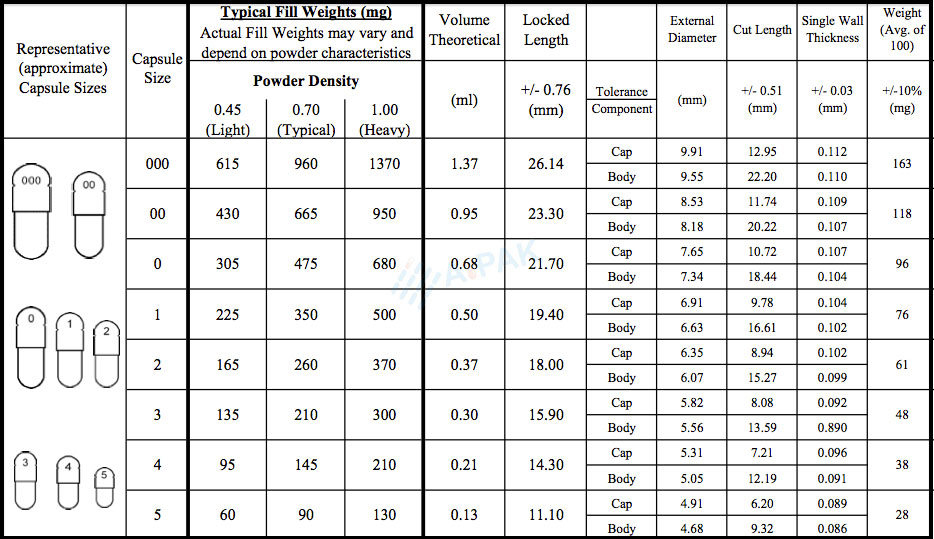 Empty Capsule sizes-Photo Credits:Capsule Supplies
6.How to understand the Empty Capsules Size?
It is most important step for your understand the empty capsule size when purchasing for whatever large scale capsule filling or individual application.
You may be confused by the capsule size as the smaller sized capsules have higher numbers than larger capsules.
For example, a # 5 capsule is smaller than a #1 capsule. A "000" capsule is the largest size available.
In fact,you may obey the following basic principle to understand the empty capsule szie:
.Capsule Size 1-5: The higher #= smaller size
.Capsule Size 0, 00 and 000: Less 0s = smaller capsule size
7.Which Aspects do you need to considering for choosing the right Empty Capsule szie?
For capsule filling manufacturer, choosing the correct capsule sizes is critical for them when preparing to encapsulate a formulation or create a product line.
Likewise, any individual consumer looking to make capsules for home use should do some research to ensure selecting the correct capsule.
Many consumers or hobbyists are not familiar with the industry standards of capsule sizes, and this lack of knowledge often leads to purchasing the wrong sized capsule and results in product returns.
Thus,getting the order right the first time may take a little time but will eliminate purchasing errors and additional shipping costs.
Now let's look at the many aspects you need to take into consideration for choosing the most suitable size to meet your needs.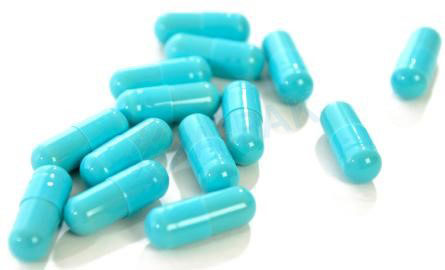 1.The maximum length and diameter of the capsule that can be ingested .
You shall also note that all capsules are measured in metric units. If you are unfamiliar with metric units of measure, use an online converter .
2.You must be clear with your intended dosage,that is how much filler in each capsule?
3.You shall know the density of your filler material,how much will your capsule hold?
4.You shall know the designated size of the capsules by your capsule filling equipment such as fully automatic or semi-automatic capsule filling machine.
Since these capsule filling machine may only work with one size capsule,so to make sure you are choosing the size that corresponds to the machine you already have.
5.The certain types of capsule you want,for example,you may want enteric,pullulan or herbal ol capsule are not available in all sizes.
Surely,the types of capsule may make your selection of size narrow down .
8.How many types of Empty Capsules are there?
In terms of materials, empty capsules can be divided into gelatin capsule and vegetable capsule.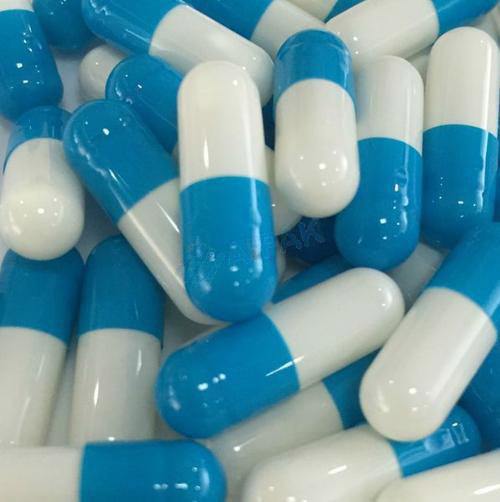 Gelatin capsules
The gelatin capsule is made of animal skin, bone and tendon by complex physical and chemical treatment.
It is easy to be absorbed by human body and has the physical characteristics of high viscosity, high freezing force and easy to freeze.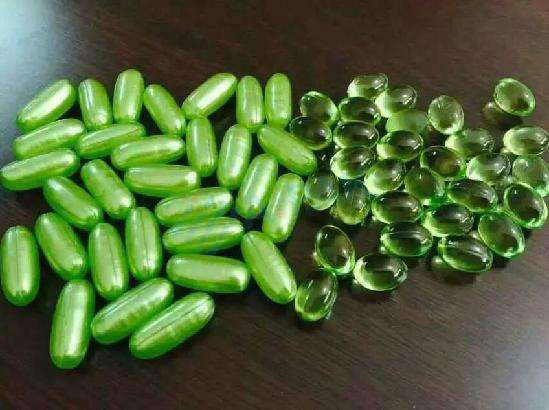 Vegetable capsules
Vegetable capsule,also known as Halal capsule, is a hollow capsule made of plant cellulose or water-soluble polysaccharide.
While the cellulose is 2-hydroxypropyl methylcellulose, which is generally made of short cotton wool or wood pulp by etherification.
For example, carrageenan, pectin, agar, sodium alginate and guar gum are all extracted from plants.
Some of their characteristics are the same as gelatin capsule.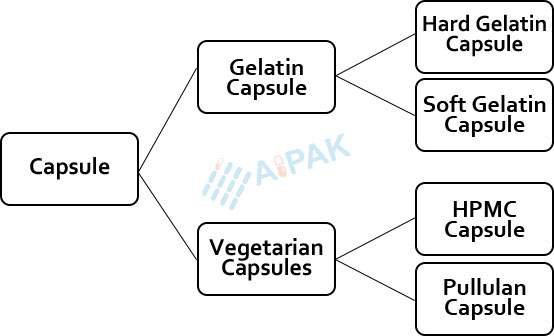 In terms of physical shape, gelatin capsules can be divided into two categories: hard gelatin capsules and soft gelatin capsules also known as rubber pills.
Hard gelatin capsule is to make a certain amount of drugs or herbal extracts and appropriate excipients or without excipients into a uniform powder or particle, and fill them in the hollow hard capsule.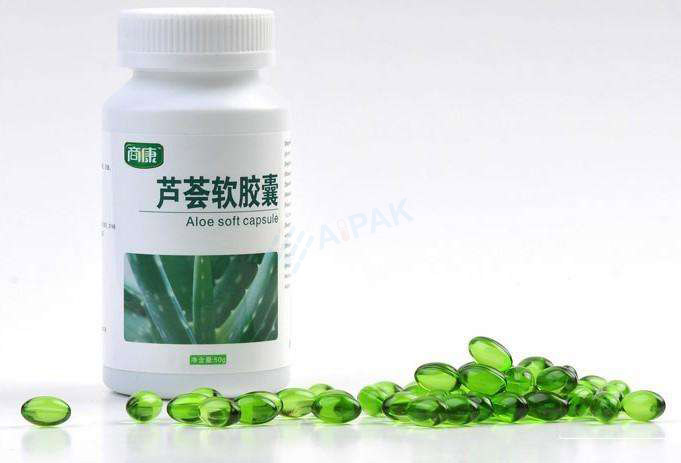 Soft gelatin capsules
Soft gelatin capsule is a kind of soft capsule which dissolves a certain amount of medicine or extract of medicine in a proper auxiliary material, and then makes it sealed in a spherical or olive shaped soft capsule by pressing or dropping.
According to the place where the drug is released in the body, empty capsule can also be divided into stomach soluble type and enteric soluble type.
Gastrolysis type is to release the drugs wrapped in the capsule in the stomach, while enterolysis type is to add special medical polymer materials into the capsule shell or to make it insoluble in the gastric juice after special treatment, only to dissolve in the intestinal juice and release the active components of the drug.
And as the size varies, there are #000, #00, #0, #1, #2, #3, #4 and #5 stomach soluble capsules, but #0, #1 and #2 intestine soluble capsules.
9.What Is Hard Gelatin Capsule?
Hard gelatin capsule is a kind of capsule mainly made by gelatin(9000-70-8) and purified water.
Some colored hard gelatin capsules also contain a small amount of Titanium dioxide (13463-67-7) and colorants.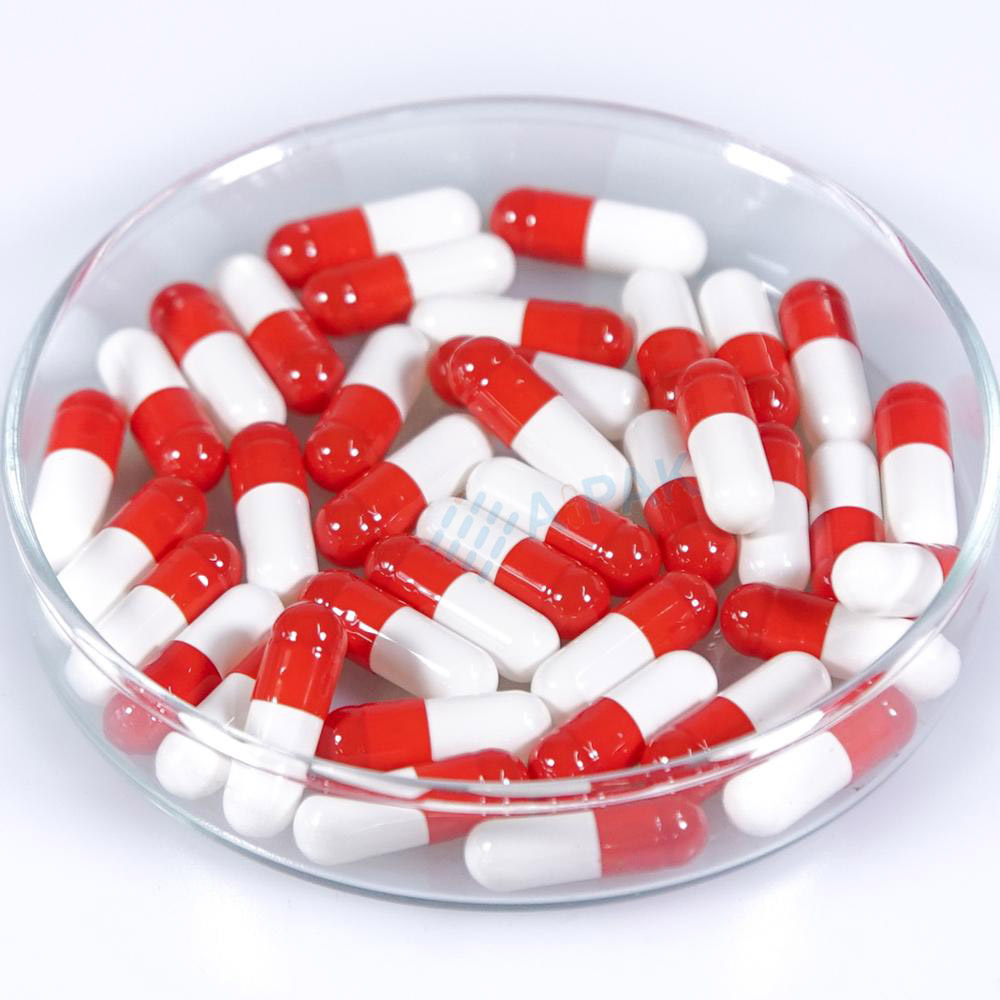 Hard Gelatin Capsule
The main component of hard gelatin capsules,the gelatin,is a a protein product which is harmless, inexpensive, edible, and degradable, and it is easy to store and use.
It is an ideal material.
While the Titanium dioxide acts as an opacifier, and colorant makes the capsules colorful. They are all approved additives for food and medications and are recorded in JECFA. Moreover, and there is no limit for acceptable daily intake of gelatin and Titanium dioxide, and a very small amount of amino acids in the gelatin can be neglected.
In fact, gelatin has been used on a large scale for more than 100 years, no obvious harm has been found when gelatin is used for pets such as cats and dogs.
Because of these features, gelatin has been dominant in the 100-year history of capsule production.
In 2007, the total sales volume of the empty capsule exceeded 310 billion worldwide, of which gelatin capsules accounts for 94%.
If you do not have other special needs, hard gelatin capsules will be your safest choice. Compared to capsules of other types, gelatin capsules have many different suppliers because of the vast market, which will offer you more options.
10.How are Empty Gelatin Capsules made?
Empty capsules are fabricated and supplied to the pharmaceutical industry or individuals and are then filled in separated operations to be functional capsules.
Manufacturing empty gelatin capsules includes step by step process that need strict quality control.
Now before we go to explore the manufacturing procedures,let's take a look at the raw materials used in the production of empty gelatin capsules.
.Gelatin
Gelatin is by far the most common and most well-known material used to produce empty capsules.
It is a generic term for a mixture of purified protein fractions obtained from irreversible hydrolytic extraction of collagen obtained from the skin, white connective tissue, and bones of animals.
As the source of the collagen and extraction methods vary,the types of gelatin can be acquired.
One is made from pork skin via acid hydrolysis.
Another way is made from alkaline hydrolysis of bovine bones.
Traditionally empty capsules can be produced by using above both types of gelatin, but combinations of pork skin and bone gelatin are often used to optimize shell characteristics because bone gelatin contributes firmness, whereas pork skin gelatin contributes plasticity and clarity.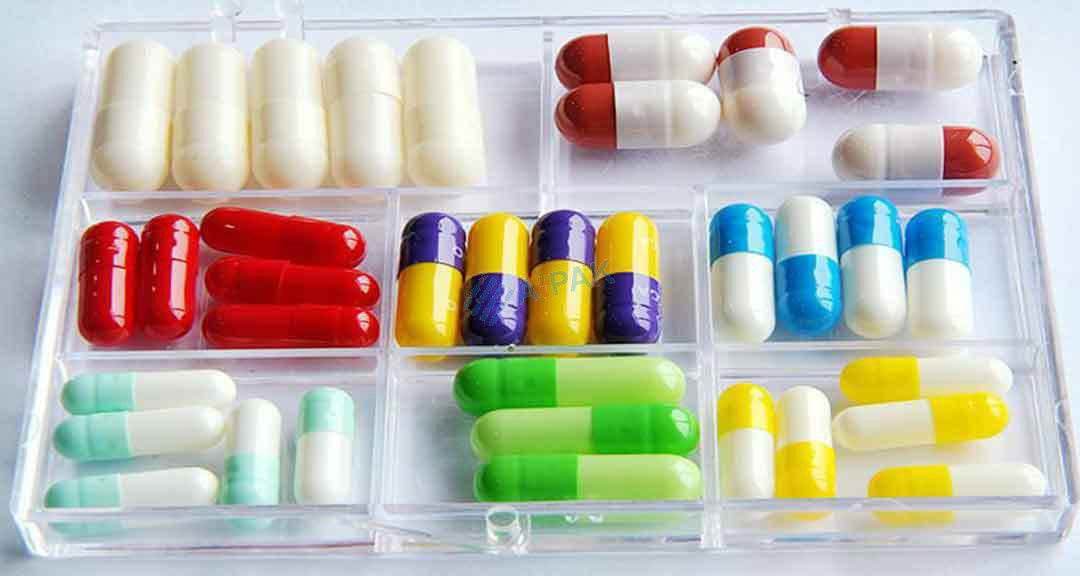 Empty Gelatin Capsules
Besides,gelatin is stable when dry in air but will be subject to microbial decomposition while exposed to moist .
.Plasticizer
Plasticizers are added to gelatin to reduce the rigidity of the polymer and make it more pliable.
The most commonly used plasticizers are glycerine and polyhydric alcohol.
Water is also a good plasticizer and is naturally present in the gelatin.
.Colourants
The colourants made to empty gelatin capsules are to enhance its aesthetic properties ,but  also to act as a means of identifying the product.
In addition,the use of colorants must meet the regulatory requirements of the countries where the gelatin capsules are sold.
The most commonly seen colourants include synthetic dyes such as azo dyes and xanthene dyes.
.Opacifying agents
The most commonly used opacifying agents such as the titanium dioxide is to make clear gelatin opaque.
After the using of opacifying agents,the capsules become opaque and then will provide provide protection against light or will conceal the contents filled.
.Preservatives
The use of preservatives is to act as an in-process aid to prevent microbiological contamination during the manufacturing.
Then let's go to explore the manufacturing process :
Manufacturing process of empty gelatin capsules-Photo credits:Pharmapproach
1.Preparation of the gelatin solution
A concentrated solution of gelatin will be gotten through dissolving the gelatin in demineralized water and which has also been heated to 60–70°C in jacketed pressure vessels.
This solution contains 30 – 40% w/w of gelatin and is highly viscous, which will cause bubbles as a result of air entrapment.
The presence of these bubbles in the final solution would yield capsules of inconsistent weight and would also become problematic during capsule filling and upon storage.
To remove the air bubbles, a vacuum is applied to the solution.
2.Adding colourants and dyes
Follow the above steps, colourants and pigments are added to get the desired final capsule appearance.
At this stage, other processing aids may be added, such as sodium lauryl sulfate, to reduce surface tension.
3.Dip the gelatin solution on to moulds
Empty capsules are manufactured under strict climatic conditions .
First,dip the standardized steel pins arranged in row of empty capsules body and cap on the metal bars into into an aqueous gelatin solution (25 – 30% w/w) maintained at about 50 ° C in a jacketed heating pan.
Then the gelatin will start to form a thin gelatin layer or film on the moulds as the moulds temperature are lower than the gelling one.
The rows of pins are arranged so that caps are formed on one side of the machine while bodies are simultaneously formed on the opposite side of the machine.
4.Rotate the dipped pins
After the gelatin solution are absorbed on the surface of the pins,the bar containing the pins will be removed and rotate a few times to evenly distribute the solution around the pin.
The evenly gelatin distribution is critical for the formulation of uniform and precise capsule wall thickness and dome strength.
5.Stripping and trimming
After the gelatin is dried, the capsule is stripped off the mould and trimmed to the proper length.
6.Join the trimmed capsule shell
Once trimmed, the cap and body will need to be joined to the pre-closed position using a pre lock mechanism.
7.Printing
When cap and body are joined together,the empty capsule shells can be printed to improve identification now.
Printing can be achieved using one or two colours, containing information such as product name or code number, manufacturer's name or logo and dosage details.
11.What are the Advantages of Hard Gelatin Capsules?
You will benefit from hard gelatin capsules from the following advantages:
.They are attractive in appearance.
.They are odorless and easy to administration.
.They are convenient to handle and carry.
.Closed shell will cover up the unpleaant odor of any drugs.
12.Is there any Disadvantages of Hard Gelatin Capsule?
Yes,hard gelatin capsule also has disadvantages as the following:
1.Hard gelatin capsules can't be filled with hygroscopic drugs as it will absorb water present in the capsule shell and cause brittle shell .
2.The hard gelatin shell may be dried to excessive by the deliquescent material.
3.The extremely soluble materials like potassium chloride, potassium bromide or ammonium chloride filled on hard gelatin capsule are sudden release such compound in the stomach cause irritation.
13.What Is Empty Softgel Capsules?
The composition of empty softgel capsules is similar to that of hard gelatin capsules, except that the different moisture proportion.
Usually, plasticizers will be added to keep capsules' elasticity and stability, including Glycerol (56-81-5), Sorbitol (50-70-4) etc.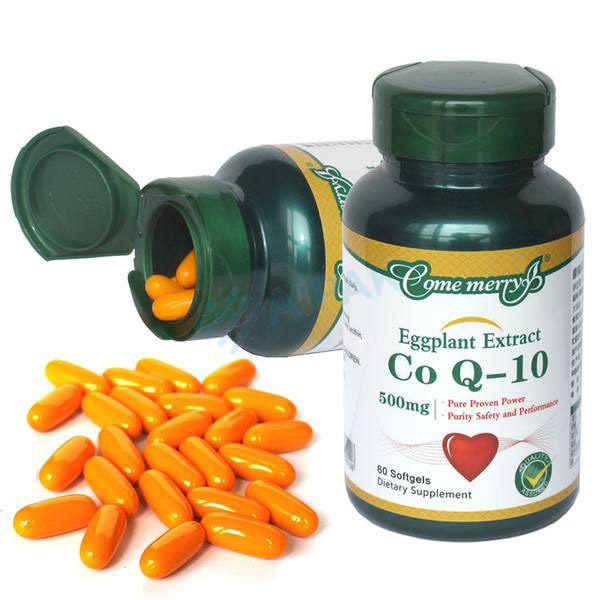 Empty Softgel Capsules
It is a one-piece capsule that is processed directly from specialized equipment so it can be filled with liquid.
Most features of empty softgel capsules are similar to that of hard gelatin capsules.
14.What are the Advantages of Soft Gelatin Capsule?
One of the most widely recognized benefits of soft gelatin capsules is that it has enhanced the nutrient bioavailability.
Through delivering the nutrient in solution or other absorption-enhancing media,soft gelatin capsules has improved the bioavailability.
And the smaller the particle, the better and quicker it is absorbed in the digestive tract.
Therefore,with such enhanced absorption and bioavailability, consumers can expect fast disintegration and immediate nutrient delivery ,and at the same time,producing a quicker onset of action.
In fact,apart from that ,soft gelatin capsules also has other so many advantages that including:
1.Superior delivery system
Soft gels are easy to swallow, have no taste or unpleasant odors, and offer a pharmaceutically elegant appearance and perceived superior delivery system.
So,nowadays,lots of consumers prefer soft gels over tablets or hard-shell capsules.
2.Protection of active ingredients
Soft gels provide excellent dose uniformity and better protection of active ingredients.
The sealed capsule protects nutrients from oxidation and degradation.
Opaque soft gels also protect against light and UV radiation, providing ingredient stability and minimizing free radical formation and rancidity, especially in the case of oils.
3.Tamper-proof
Soft gels are also tamper-proof,a tampered or punctured soft gel will leak or become discolored, thereby showing evidence of a potential problem.
Consumers will feel safe while taking their supplements.
4.Versatility
There are wide varieties of colors, shapes and sizes empty soft gelatin capsules available which provide a large product differentiation.
Various size of soft gelatin capsules
Although aesthetically pleasing supplements appeal to the consumer eye, the inner filling of the capsule is even more crucial to them..
Soft gel capsules can accommodate a wide variety of compounds filled such as a semi-solid, liquid, gel or paste.
Micronized materials can be used to fill soft gelatin capsules,while tablets and hard-shell capsules require larger particle sizes so the powder will flow in the tableting or encapsulating machines.
15.Is there any Demerits of Soft Gelatin Capsule?
The disadvantages of soft gelatin capsules include:
1.Moisture-sensitive drugs may not be stable in soft gelatin capsules due to the relatively higher water content in soft gelatin shell (20–30% w/w).
2.Compared with the direct compressed tablets,soft gelatin capsules are not not a cheap dosage form.
3.There are limitations to the filling drugs when sue soft gelatin capsule shell,that is,you can only fill with liquids and semisolids.
4.There is possibility of interactions as the soft gelatin shell is more intimate contact with the liquid contents compared with the powder filled hard gelatin capsules.
5.The manufacturing process of soft gelatin capsule is relatively tedious and difficult to optimize such as the ribbon thickness, fill weight and weight variation).
Besides, the breakage of even one capsule during the manufacturing can lead to the coating of drug formulation on the outer surface of several other capsules.
16.How to make Soft Gelatin Capsule?
There are two ways of make soft gelatin capsule:
1.Dropping method
The soft gelatin capsule agent is produced by a dripping machine, and the oil is added into the hopper.
The open glue slurry is added into the slurry hopper and kept at a certain temperature.
The cooling liquid (which must be safe and harmless, immiscible with gelatin, generally liquid paraffin, vegetable oil, silicone oil, etc.) is put into the soft capsule container.
According to the amount of medicine contained in each capsule, the outlet and rubber outlet are adjusted, and the slurry and oil are in the following order
At the same speed, gelatin drips out from the outlet of concentric tube, gelatin is on the outer layer, medicine drips out from the central tube, gelatin slurry drips onto the liquid paraffin and spreads out, oil immediately drips on the just unfolded gelatin surface.
Due to the principle of acceleration of gravity, the gelatin continues to drop, making the it completely sealed, oil is wrapped in.
With the surface tension, the gelatin will become a ball .
As the temperature drops, it gradually solidifies into soft capsules.
Then the prepared capsules are dried in cold air at room temperature (20-30 ℃), washed twice with petroleum ether, and then dried at 30-35 ℃ after being washed with 95% ethanol until the moisture content is qualified.
In the preparation process, it is necessary to control the density of liquid medicine, gelatin and coolant to ensure that the capsule has a certain sedimentation rate and enough time for cooling.
This dropping method is simple, less investment, low cost and hardly no waste gelatin is produced in the production process.
2.Pressing method
Soft capsule is usually produced by pressing machine.
Gelatin, glycerin and water are dissolved to make getain plate and gelatin belt.
Then the medicine is placed between two gelatin plates to adjust the thickness and evenness of the rubber, and pressed by steel mold.
In continuous production, the automatic rotary bagging machine is used.
The two gelatins made by the machine moves in the opposite direction.
Before reaching the rotary mold, part of the gelatin has been pressurized and combined.
At this time, the liquid medicine enters the gelatin through the pipe from the filling pump, and be rotated into the groove, and then all the rear gelatin is rolled and compressed.
After that you can cut the excess gelatin.
Then cool and fix the prepared gelatin balls,and wash and degrease with ethanol, and then dried .
This method is suitable for large-scale industrial production because of its high yield, high automation, high yield and accurate measurement.
17.What Is HPMC Capsule?
HPMC Capsule is mainly made by HPMC and purified water.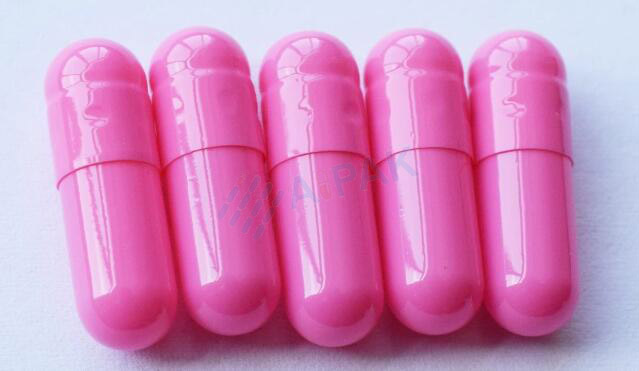 HPMC Capsules
HPMC is short for HYDROXYPROPYLMETHYL CELLULOSE (9004-65-3), a kind of cellulose obtained by the hydrolysis of plants and is made by etherification.
Now, HPMC capsule has been widely used in food and pharmacy industry, and recorded in the world's authoritative pharmacopeia.
As HPMC is extracted from plants, it is the ideal nutritional supplements for many vegetarians .
18.What Is Pullulan Capsule?
Pullulan capsule is mainly made by pullulan and purified water.
While pullulan is a water-soluble mucopolysaccharide, a mature food additive.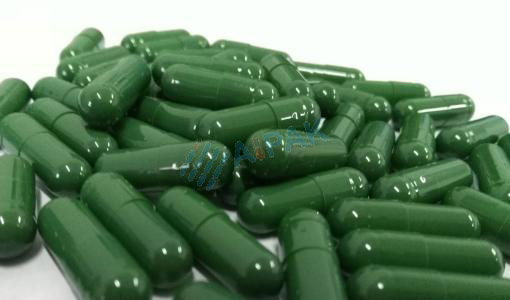 Pullulan capsules
At present,pullulan capsule has become the ideal raw material for capsule production due to its good film forming properties and other excellent features, which replacing animal gelatin to make pure natural vegetarian empty capsules.
In addition, with extremely low moisture content and good toughness,pullulan capsules can be filled with water-sensitive medication.
19.What are the Advantages of taking Vegetarian Capsule?
One of the advantages of taking vegetarian capsule is that it is not made of animal byproducts.
These capsule types are suitable for individuals who have dietary or religious restrictions, which prevents them from consuming animal source products.
Vegetarian capsules are also classified as Halal or Kosher products, which is important for many individuals, and since it also comes in a variety of size and color, it can increase the manufacturer's customer base.
The main ingredient used for the vegetarian capsule is cellulose especially if the formulation has a semi- solid and/or gel composition.
It also has no known potential health hazards even when taken for prolonged period, as it is nontoxic and 100 natural.
20.What Is Enteric Capsules?
To be exact, enteric capsules do not belong to a certain type of capsules.
They are made by applying an enteric coating to other common capsules or other processing.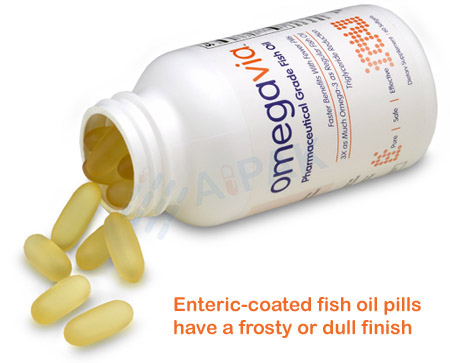 Enteric capsules-Photo Credits:Omegavia
Enteric capsules are mainly made to meet the needs of releasing medication in the intestine. Because some medication may have strong stimulation to the stomach, and for some medication, the medicinal may be destroyed by the stomach acid, or maybe the medicinal of some medication will be better in the intestines.
Its general principle works like that, with the coating process, the enteric capsule only can be dissolved by the alkaline liquid in the intestinal tract.
The main features of enteric capsules are related to the raw materials capsules used.
Materials for enteric coatings include fatty acids, waxes, shellac, plastics, and plant fibers etc.
In fact, some of these materials are not completely safe, such as some material containing phthalates.
Owing to legal regulations and consumer's growing demand on health, however, the use of these material has been reduced.
21.What are the Differences between Empty Gelatin Capsule and Empty Vegetarian Capsule?
First of all,you can see that empty gelatin capsules are made by animal byproducts while empty vegetarian capsules are just extracted from vegetable products.
The animal products such as the animal skin,bones and hives while most empty vegetarian capsules are made by specific plant products such as Tapioca.
Secondly,empty gelatin capsules have the collagen as the main capsules base,but empty vegetarian capsules have the cellulose as its main capsule base.
Thirdly,empty gelatin capsule are most suitable for filling with powders or drugs,some materials such as liquids are usually not compatible with them.
While empty vegeratian capsules are most suitable for filling gel or sem-solid materials.
Fourthly,you may find the intake of gelatin capsules over a long time will have some side effects to the body while vegetarian capsules may noty as they are totally natural and non-toxic.
Lastly,vegetarian capsules are considered as better option for people who don't take animal products and strict vegetarians.
22.Are there any differences between Hard and Empty Softgel Capsule?
It is essential for you to know the differences between the two types of capsules for choosing the most suitable one for your needs.
First of all,hard gelatin capsules can only be one type while softgel capsules can be of various type.
Then as both hard and softgel capsules are made by gelatin, the difference actually between them lies in the design and the manufacturing technology.
Below you can see: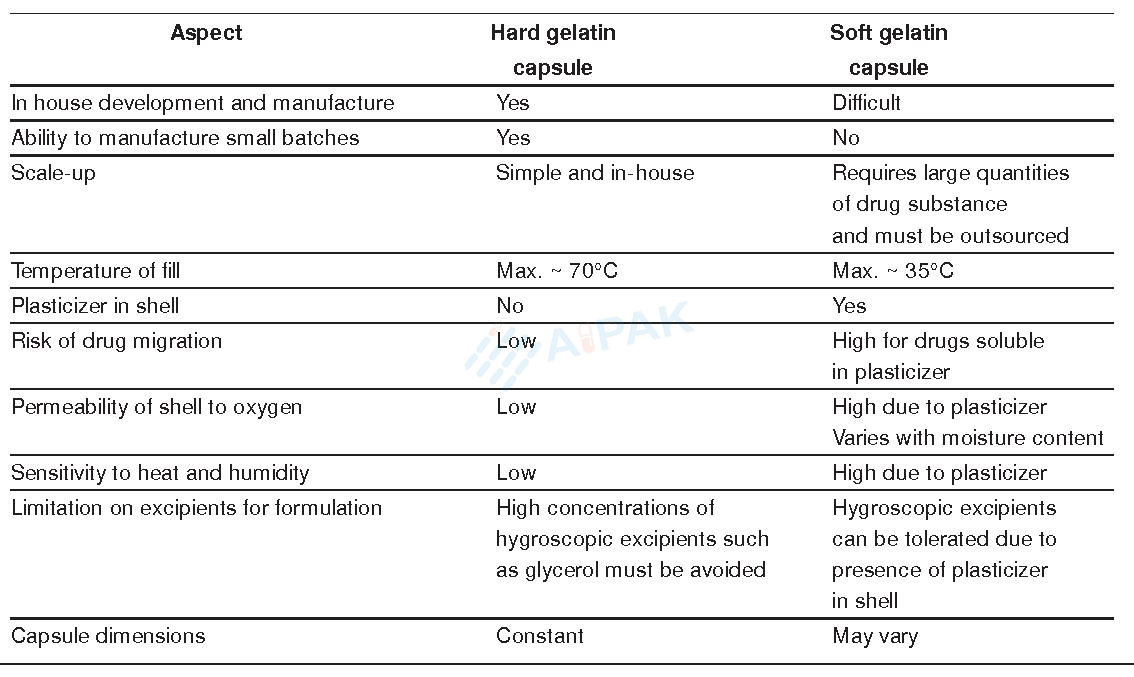 Difference between hard and soft gelatin capsule-Photo Credits:Semantic Scolar
23.What will you Benefits from Empty Capsules?
Empty capsules generally refer to capsules made from special film-forming materials,such as gelatin, cellulose, polysaccharides, and pure natural plant starch, etc.
They have been used to enclose ingredients in a relatively stable shell, allowing them to be taken orally.
You will benefit a lot from using empty capsules as they have so many performance features.
1.Excellent chemical stability
Empty capsules have the ability of being effective oxygen moisture barrier and have excellent chemical stability, which could improve your product stability.
For example, components are unstable, sensitive to temperature, light and heat can be made into capsule forms.
As the common empty capsules, you can freely select the taste, color, fragrance, transparency and luster of capsule skin film.
And it will cover some contents with odor and peculiar smell, especially for some functional healthy food and pharmaceutical products.
If the thick gelatin skin film is used, it can be completely airtight sealed, with high capsule strength and film coverage, and the contents will be stored stablly for a long time.
After the capsule is ingested, the content is released rapidly, the utilization rate of the body is high, and the absorption rate is high.
2.Uniformity of dosage units
You can fill the empty capsules with various products such as powder,pallets or the mixture of powder and pallets.
They will be in good uniformity of dosage units that you can make different types of capsules to meet your needs.
Filling the empty capsules is a good way of covering up the bad taste in herbs and drugs.
3.More healthy dietary supplements
Compared with the other types of dietary supplements-tablets,empty capsules are more healthy ones.
As tablets require high pressure to help with the molding.
However, the pressure and temperature at the time of making could potentially damage the activity of the sensitive components.
Moreover, the tablet form has to be coated with a film coat to increase moisture resistance; the composition of the coating contains a lot of chemical additives, including titanium dioxide and talcum powder.
All of which may have potential risks and harms.
Some cheaper tablet products also used to add artificial colors on the coating, which burden our body in a big way.
While empty capsules,like the vegetarian capsules have no known potential health risks, even when consumed in a long term scenario as they are 100% natural and nontoxic.
And the soft capsule is made of gelatin, glycerin and water. It is a kind of edible natural product.
4.Widely usage
Empty capsules have wide usage,you can choose to make your own dietary supplements or fill different drugs to make large scale manufacturing.
5.Improve identification
Empty capsules can be printed with information such as product name or code number, manufacturer's name or logo and dosage details.
Thus,it has reduced the risk of product confusion by the numerous handlers and users of the product including manufacturers, pharmacists, nurses, doctors, caregivers, and patients.
24.How to fill Empty Capsules?
There are ways to fill empty capsules,you can choose to manually fill or reply on the high tech equipment.
For example,manually filling will make you fill less than 100 capsules per hour,while with a fully automatic capsule filling machine,you may get 800,000pcs capsules filled per hour.
Now,let's talk about the filling equipment  in details.
1.Manual capsule filling machine
You will operation the filling and sealing process of empty capsules by hand with the help of a manual capsule filling machine.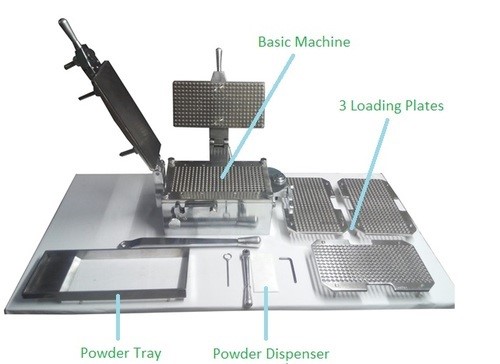 Manual capsule filling machine-Photo Credits:Indiamart
First,you will need to put 50 capsules onto manual capsule filling machine loader.
Then shake back and forth moving the capsules into the holes, lift gate and pour off excess capsules.
Then you shall open filler locking clamp forward, place loader locating feet in the holes on the filler marke.
After filling the empty capsules, put the cap sheet on the capsules , make sure all the capsules are fixed firmly.
Then close the cover and push the clip in to lock the cover, lock the body sheet by swinging the lever under it outwards.
After that,take the collector by both handles and lift it off. Put it to one side.
Fix the powder guard to the body plate using the steel pegs as guides. Pour the powder and use the spreader to fill the capsules ,at the same time the powder tray should be to the right.
If the capsules are not full, take out the tamping tool and compress the powder.
Take the collector and use the stainless steel pegs as guides,and ifx it to the body plate.
Lastly,place your thumbs on either side of the cover. Hold the lifting plate at the very bottom with your remaining fingers and pull it up and down until you feel the capsules are locked.
2.Semi-automatic capsule filling machine
Compared with above manual capsule filling machine,a semi-automatic capsule filling machine has more high production.
And the filling of semi-automatic capsule filling machine is partially automated,you will need one operator to assist the filling process.
Below you will refer to the video of how semi-automatic capsule works .
 Semi-automatic capsule filling machine working video
3.Fully automatic capsule filling machine
A fully automatic capsule filling machine must be your ideal choice for your large scale empty capsules filling.
As all of whose operation process including the filling and sealing are operated automatically.
It is more accurate and fast that you can even fill up to 450,000 pcs of capsules per hour.
You can also refer to below video for the detail filling process of fully automatic capsule filling machine.
25.What are the Environmental Requirements for Empty Capsules Production?
The production environment needed in the whole process of manufacturing empty capsules is a high-precision clean process of constant temperature and humidity.
To acquire high quality empty capsule,you may have to meet with below requirements:
Understanding of constant temperature and humidity requirements.
The empty capsules manufacturing  equipment is an open mechanical transmission automation equipment, and the part required for the environment is the drying system, which requires strict air supply parameters to ensure that the drying fan sends constant temperature and humidity air.
The other part is the glue dipping part, which needs to dip, form and solidify in the constant temperature and humidity environment.
In addition, the ambient temperature should be maintained so that the metal mold has a constant initial temperature of dipping.
The air flow parameters at the return air outlet of the capsule machine should be adjustable within the temperature range of 20-23 ℃, the accuracy of ± 0.5 ℃, and the relative humidity of 45-55%, with an accuracy of ± 2%.
The accuracy of temperature and humidity is to ensure continuous and stable production, which depends on the automatic control system of air conditioning.
In particular, the humidity sensor with high accuracy shall be selected, in addition, the control valve shall be controlled in proportion.
The air distribution of the working environment (main room) of the capsule machine is very important.
The air supply shall be in place, especially the capsule forming part at the head of the machine.
There must be top air and the air volume can be adjusted.
Capsule air conditioner is a process air conditioner, so its particularity must be considered. The return air should be around or before, but it can not be mixed with the air flow outside the main engine room and then returned.
The air conditioner in the main engine room should have its own independent system.
The air conditioning design requirements are: reasonable selection of cooling capacity and air volume; reliable operation, accuracy to meet the requirements; energy saving; small investment, clear display and recorder in the main engine room.
Make the operator master the change of environmental parameters at any time.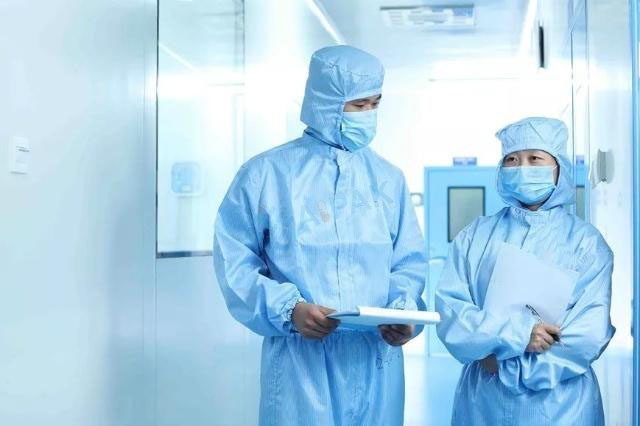 The cleanliness of production environment is 300000.
26.How to store Empty Capsules?
Proper storage will eliminate defects of empty capsules.
Surely,the storage conditions may vary depending on the material of the empty capsules.
Normally,empty hard gelatin capsules contain 12 - 16% moisture. But the moisture content can vary up on the storage conditions.
But though there are variables,you are recommended to store hard gelatin capsules as below conditions:
1.Store capsules away from direct sunlight such as windows or skylights.
2.Store capsules away from hot water/air radiators, hot water pipes and steam pipes.
3.Store capsules on pallets off the ground.
4.Store capsules away from potential sources of water condensation like under water pipes.
5.Do not store empty capsules in freezers.
6.Hard gelatin capsules shall be stored between 15-25°C,that is 68-75°F and 45-55% relative humidity to maintain the 12-16% moisture content of capsules.
It is important that this moisture content is maintained and exposure to high temperatures or cycling between high/low temperatures is avoided.
Since when the humidity is low ,the capsules will become brittle.
And if they are stored at high humidity, the capsules will become flaccid and the excess moisture content can interact with encapsulated product and can cause stability problems.
While if the capsules stored at high temperature following defects can occur:
Stucking of capsules together in lumps and do not come apart.
Brittle or shatter capsules.
Stucking of capsule cap to body and resists separation.
Capsules with distorted shape.
27.Is there any innovation in the future application of Empty Capsules?
Yes,as various technology innovation,people have tried every ways to broad the application of empty capsule.
One example is that the empty capsules filled with battery-powered, swallowable cameras have been on the market since 2001.
Many companies make such capsules to take pictures of the esophagus, small intestine, and colon as the capsules move through the gastrointestinal tract—offering a less invasive alternative to endoscopies and colonoscopies.
Swallowable electronics-Photo Credits:C&en
And In 2012, the U.S. Food and Drug Administration has approved the use of a silicon chip, the size of a grain of sand, which can be embedded in a pill to monitor whether people are taking prescribed drugs.
Whereby,the consumed capsules could do much more than just snap pictures and tattle on patients who skip their meds.
In fact ,the engineers want to detect the first faint markers of bacterial infections, cancer, and hard-to-diagnose disorders like irritable bowel syndrome through the digestive tract .
Or, swallowable devices could manage chronic diseases like diabetes by sensing glucose and delivering insulin.
They could also drop drugs exactly where and when they are needed in the gut, making therapies safer and more effective.
Apart from that,the empty capsules filled with sensors will give the doctors direct, real-time access to the complex chemistry present in the GI tract while it operates normally with food and liquid in it.
As it is something that not currently possible via standard tests like stool studies or endoscopies.
Such empty capsules with sensors will also detect the gut's proteins, electrolytes, enzymes, hormones, and metabolites—plus the trillions of bacterial cells that influence many aspects of human health.
Because ,In the stomach, imbalances in the levels of gastric acids, digestive enzymes, hormones, and more can indicate disorders, such as ulcers, inflammation, or cancer.
The small intestine carries a similar complex mixture. Makers of empty capsules filled with ingestible sensors want to dig into this trove of information.
Empty Capsules Related Posts
CONTACT US
Tell us your raw material and project budget to get quotations within 24 hours.
WhatsApp Us: +86 189 7157 0951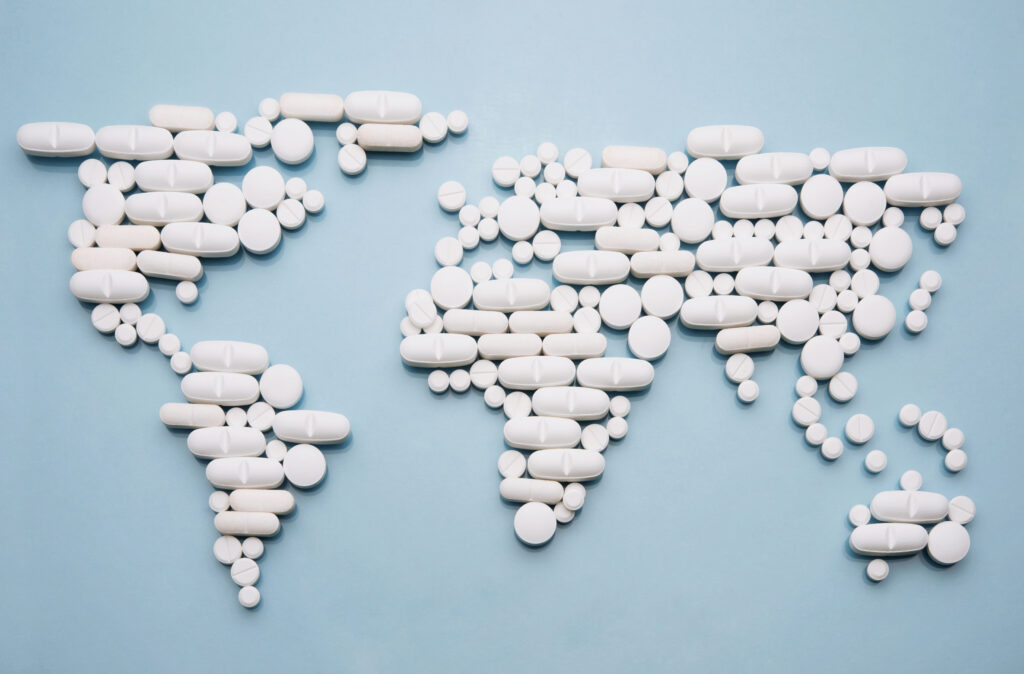 Tell us your material or budget, we'll reply you ASAP within 24 hours