Moringa Packaging: The Complete FAQ Guide In 2023
You might be familiar with the miraculous and wonderful powers that moringa holds right?
If not, then by reading this article you'll surely get to know. The Moringa Olifera plant is used to extract and formulate powder and oil from various parts, to further process it in assorted forms available in the market such as capsules, tablets, organic powder, oil, etc. Its benefits can be termed quite promising because not only of its nutritious nature but also because it is being used for medicinal purposes.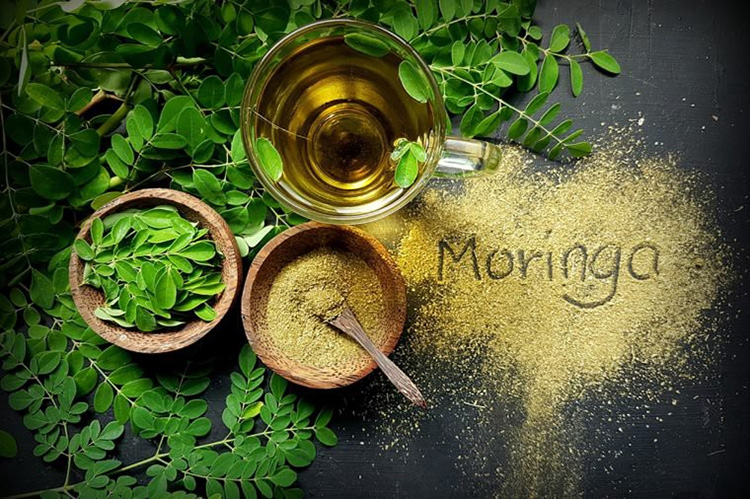 Without further ado, we will get into the guide presenting you :
Add a header to begin generating the table of contents
1.What Is Moringa Packaging?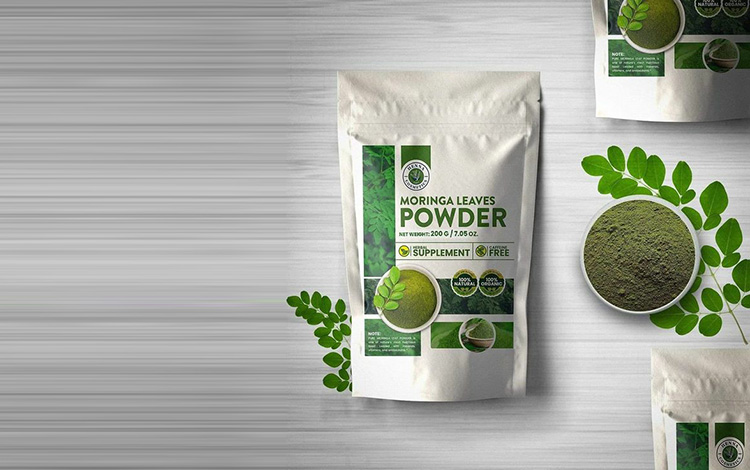 Moringa Packaging refers to enclosing and safely packing your chosen form of Moringa Olifera's (whether it is in powder form, capsule form, or oil form) extract in any sort of container or pouch. Due to being widely popular in the consumer's market, the organic powdered form of Moringa is sold in stand-up pouches quite commonly.
2.What is the History of Moringa Packaging?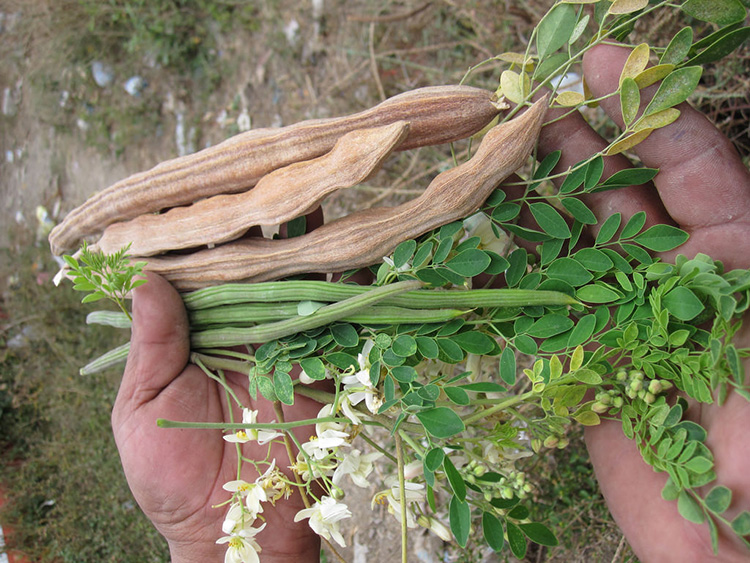 Moringa had been discovered dating back to 2000 BC from Northern India, and at that time it was mostly utilized in its raw form either as leaves' extract or oil. Later on it was used as crushed and grounded powder form derived from their leaves.
Soon due to  rising demand it became apparent for cultivating. As an effective crop and after processing it as a "superfood" in powder and capsule forms its packaging consideration for preservation and storage came into practice.
It came packaged in glass bottles or containers after a certain time of advancement, before it was usually packaged in plastic pouches such as those made with Polypropylene or Polyethylene and paper based packets etc.
3.What Are The Packaging Requirements Of Moringa Packaging?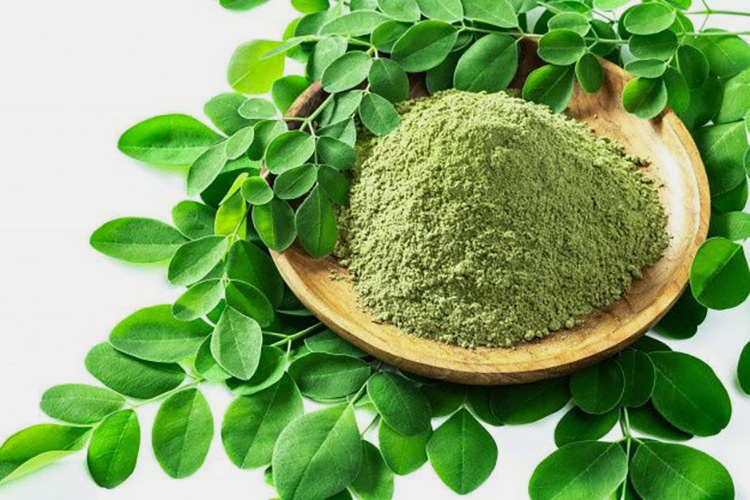 The most essential part of any product's packaging presentation lies in its protection and attraction. Similarly for moringa's packaging:
It is crucial to process in highly inert packaging which would restrict the spoilage of the product and protect it from microbial growth or any other contaminants.
It is also necessary that the packaging material prevents aroma and flavor loss to preserve its quality.
Ensuring that the packaging is according to customer's preference and liking would improve customer satisfaction such as using reusable materials like plastic pouches or paper bags that are sustainable.
Moringa packaging need to confirm as per suitable storage conditions to prevent product deterioration.
4.What Packaging Materials Are Used For Packaging Moringa?
There are distinctive materials that are availed for packaging of Moringa depending on your choice of quality of nutritional value preservability and market demand. We will be checking them out one by one.
Glass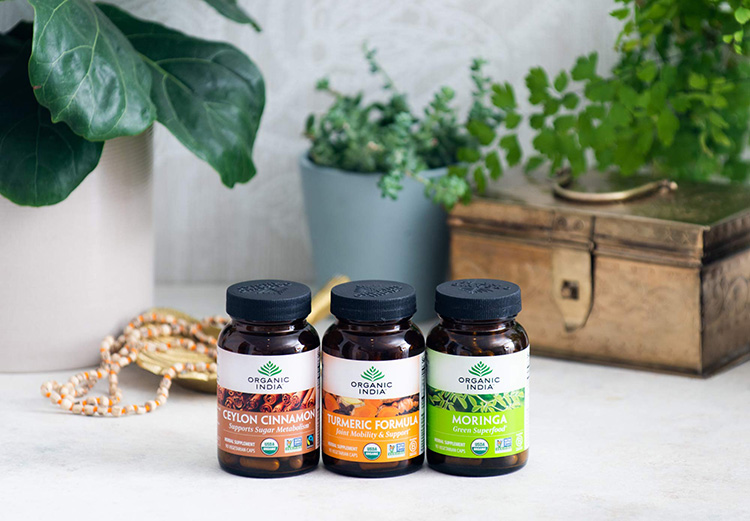 They offer prime packaging as glass containers have been often used in many industries. The reason for major preference owes to its recyclable and inert nature. Glass packaging also takes advantage of it's aesthetic design to appeal to customers.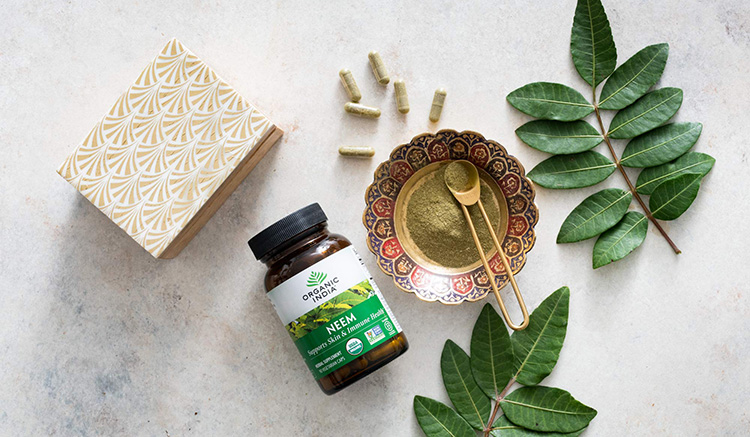 Glass bottles can help to maintain the quality of moringa you offer as it prevents the exposure of light, oxygen, and moisture completely as well as offer sustainability due to their being recyclable. They can hold upto 100-1000 grams of Moringa powder. Glass bottles can also be used to package moringa's capsule and oil form.
Paper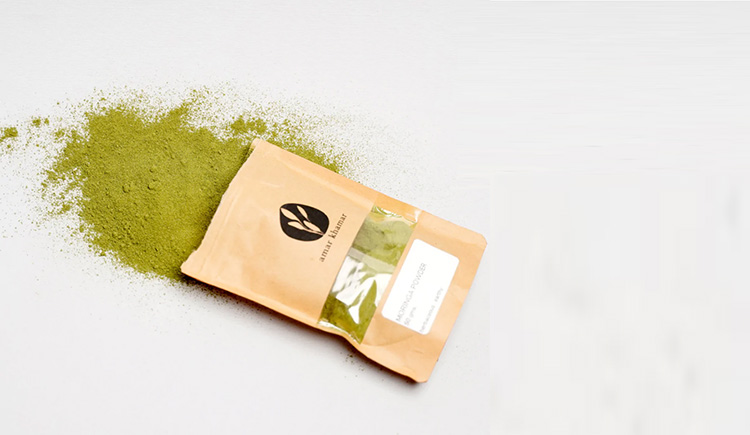 Paper based products like cardboard boxes and sheets are employed for packaging of Moringa powder.
Paper packets can offer excellent graphical printing to appeal customer's eyes and if high quality material such as Kraft paper is used it can also provide durability and protection for your product.
Plastic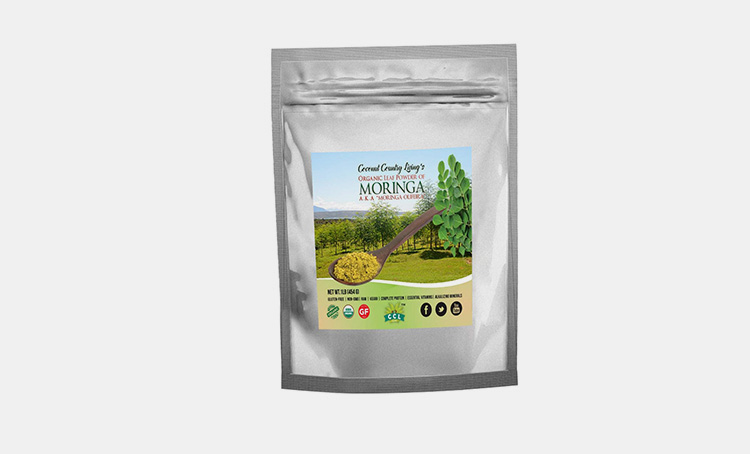 Another broadly used packaging type is plastic. Moringa powder can be packaged in plastic pouches that are laminated from inside with coatings of Polyethylene, Polyester, BOPP(Biaxially oriented Poly Propylene) which is a thermoplastic polymer matching in characteristics with PET(Poly Ethylene Terephthalate), LDPE (Low-density Polyethylene), Aluminium foil etc.
5.Different Types Of Packaging Styles are Available For Moringa
Moringa products are marketed post-processing and production in various types of packaging designs available such as:
Stand up Pouches
The best thing about these pouches is that due to their strong gusseted bottoms it delivers an eye-catching appearance for being placed on shelves and does not allow moringa leakage, preventing any spillage and food wastage.
Its puncture-resistant barrier helps for locking in the flavor, aroma, freshness, and nutrients, also disabling the penetration of moisture, light, and oxygen.
Stick Pack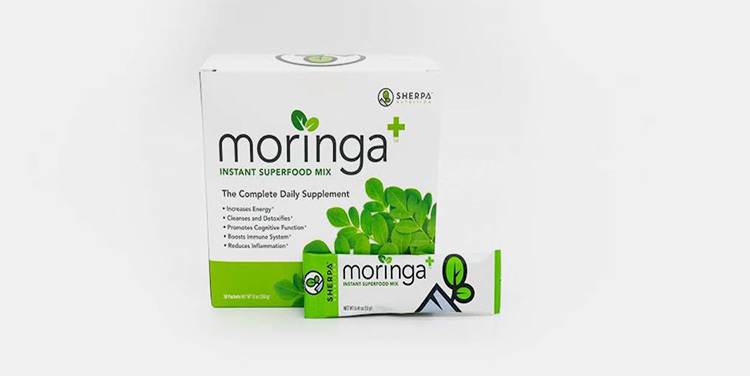 Stick packaging offers an ideal solution for on-the-go needs of any product and provides a convenient single use option as well.
Usually, they are made of PET or PE material, in various thickness sizes. They offer protection against moisture, oxygen, and light to moringa powder.
Can/Container Packaging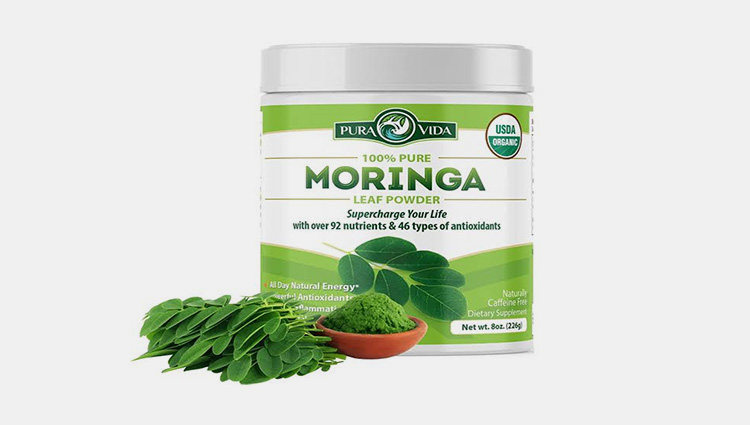 Cans are not any less common when it comes to packaging designs. Due to the property of metal or sometimes even plastic, they possess strong protective barriers against environmental factors that can save from degrading the product. They are mostly easy to carry, recyclable and offer you hygienic products.
Paper Box Packaging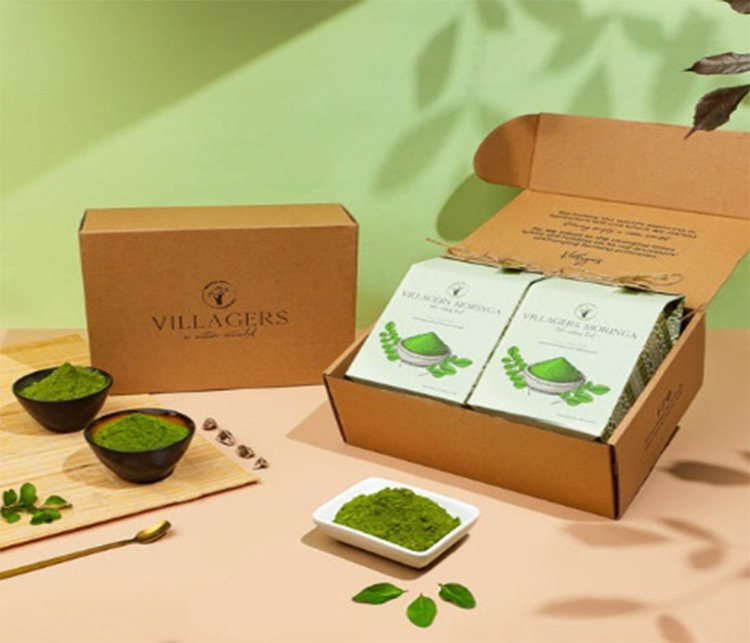 Cardboard boxes made up of Kraft paper or high quality paper packaging material is used to provide durability and reliability to the Moringa powder as it also prevents adverse external factors such as light and oxygen to harm the product.
Glass Jars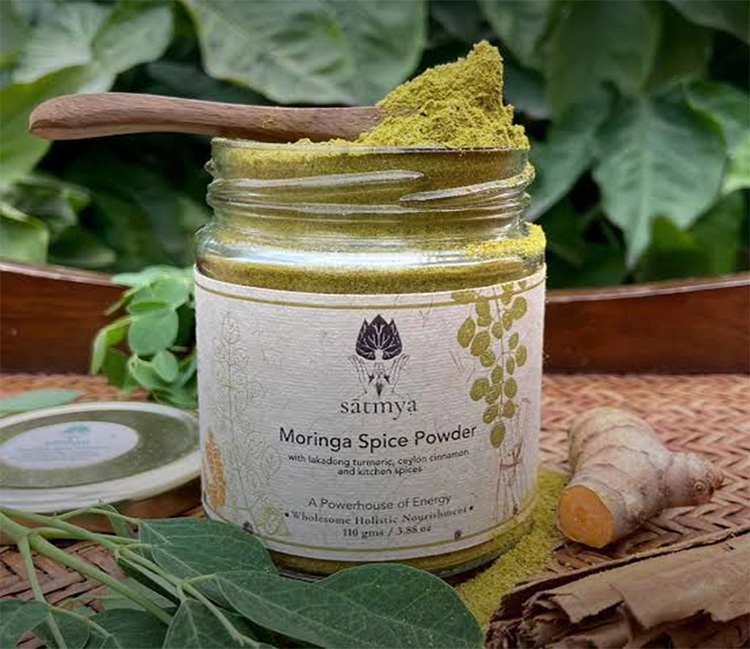 As we read above, glass is the most reliable packaging style available in terms of preservation of Moringa powder. Glass Bottle or jar packaging allows a customer to see through and appeal to them due to its unique and special designs. It restricts environmental factors to interfere with the product's quality and maintains its freshness.
6.Effects Of Different Packaging Materials On the Shelf Life Of Moringa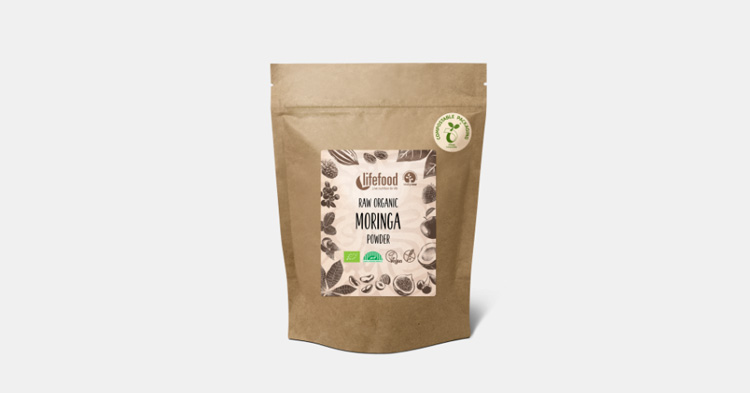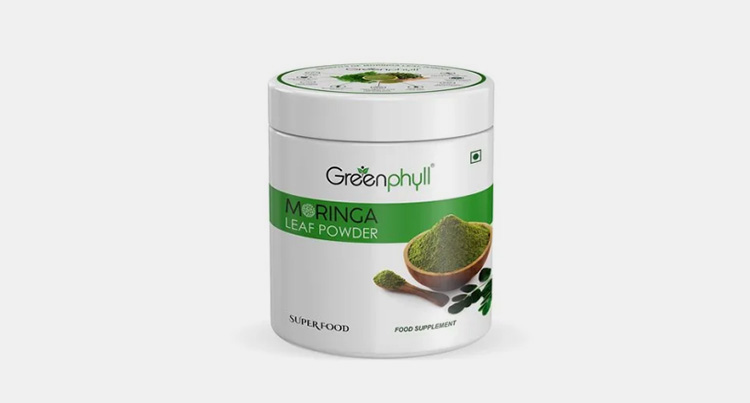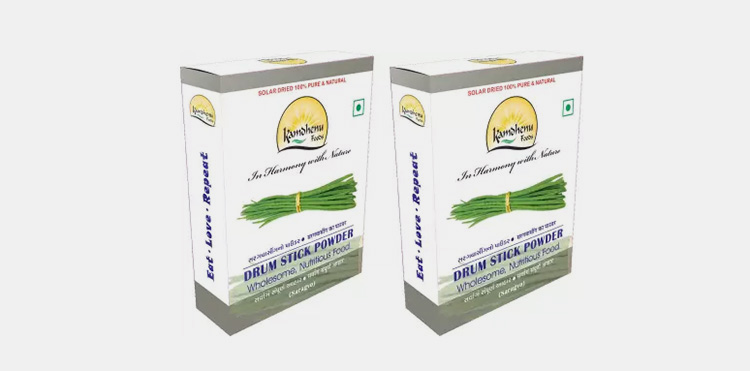 Glass bottles constructed of transparent and opaque glass, plastic pouches made from different sources such as (PET, PP, LDPE, BOPP) and paper-based packets either of brown paper bags or cardboard boxes were different materials that were chosen to determine the variable shelf life expectancy they offered for Moringa.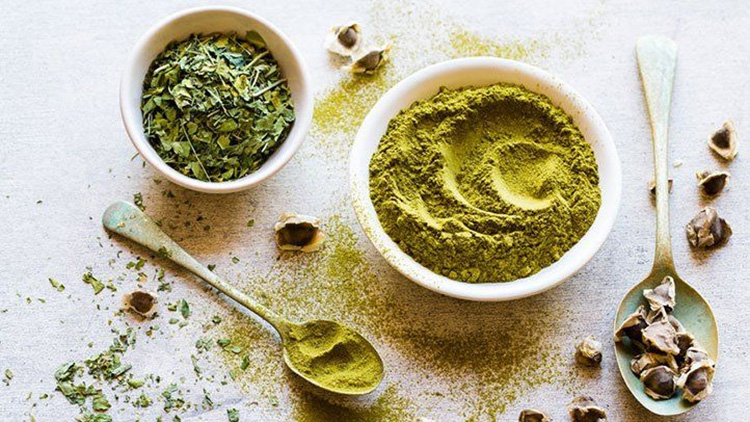 All the above-mentioned materials were checked for any type of microbial growth, moisture invasion, preservability of nutrients and their color.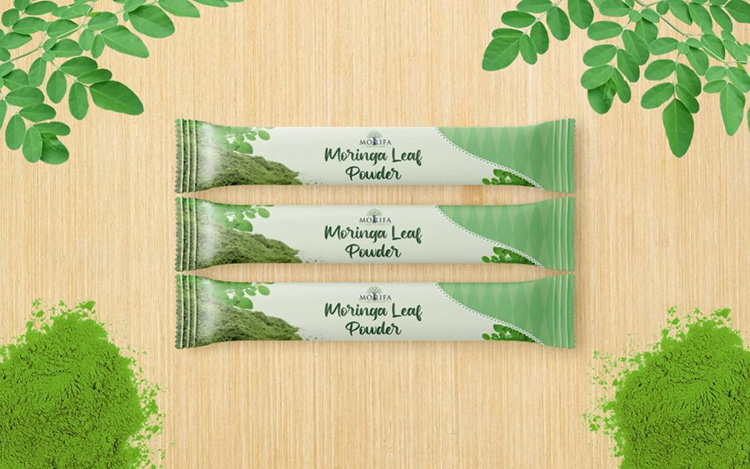 Paper-based packaging materials did not offer great protection against moisture and microbial growth had also contaminated the product after two week's time period, color change and nutritional loss to some extent were also detected.
Glass bottles offered great resistance against moisture content and prevented any microbial contamination as well, and neither any color change or nutritional loss was found. Plastic packaged products as those in LDPE and visible and opaque PE offered significantly lower resistance to moisture than glass but prevented microbial contamination and color loss, nutrient loss was found to some extent.
7.Types Of Machines Used For Packaging Moringa
Various different versions of machines are presently available in the industries that are used for packaging of Moringa, which is to be selected as per the product's requirements.
Sachet Packaging Machine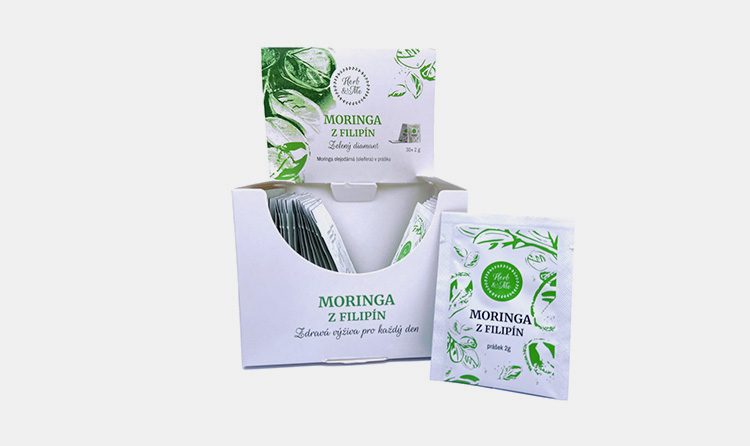 This is the most popular and conventional machine for moringa packaging. It has a computerized bag size controller which can select the length, as well as the packaging speed of the machine.
The parts that are supposed to be in contact with the Moringa powder have been constructed of stainless steel. This machine has an automated alarm device installed to ensure proper operability and functioning.
Working
Small sachets can be packaged by utilizing this machine which involves a stepper motor subdivision technology improving the functionality of motor's accuracy. Film is unwinded by dancer arms come in contact with sealer where lower bottom and two parallel sides are sealed; top sealing is done after moringa is being filled into it.
Premade Pouch Making Machine
This machine possesses a horizontal pouch delivery system and it also has a pouch storage area that enables the operator to pack more pouches as required.Premade Pouch Making Machine also has a zipper closure mechanism specifically designed for zipper bags to avoid the deformation of packaging.
Working
To control the size of the pouch , a motor is present which can be instructed with the help of a button.
You can load premade pouches manually, then rest of the process starts automatically where a hopper introduces the product into pouches that are opened by inflators using grippers and vacuum pressure.
If sealing is required; sealing bars can do this job. Similarly, opening and closing jaws help in closing of pouches. 
Vertical Form Fill and Sealing Machine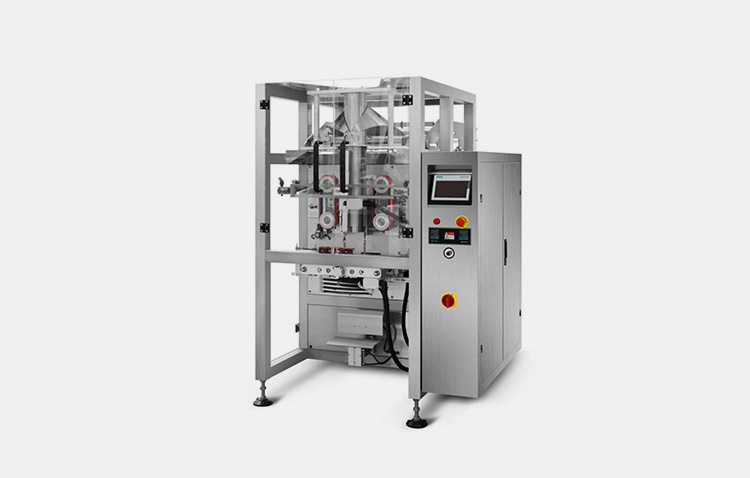 As the name suggests; it works by forming the film, filling and sealing the whole bag. The entire procedure takes by in vertical fashion. This is a compact machine that is very cost-economical. That's why it is preferred by small and large production industries for packaging.

Working
The vertical packaging machine starts functioning after its film is rolled off by the transport belt and moves over the dancer arm which moves up and down to create tension under the film.
Later it moves through the printer (if installed in the machine) to emboss any marks or graphical prints. Film tracking and positioning are the next steps. Then comes the bag forming process in which the seal is formed and the bag length is decided.
Sealing jaws comes forward and seals in open and close motion. Once the sealing jaws are closed, whatever type of filler is required fills the package with a desired quantity of a product and releases them finally.
Horizontal Form Fill and Sealing Machine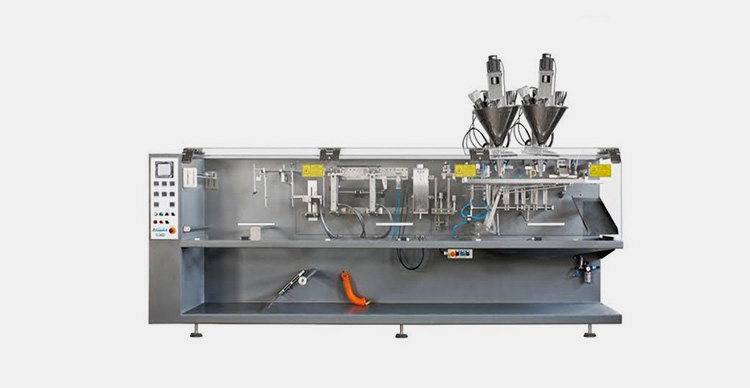 Horizontal Form Fill Seal (HFFS) is a perfect moringa packaging solution that produces pouches, and fills, with spout and cap assemblies in one procedure.This is an extensive machine where a manufacturer has entire control of its packaging process.
Working

A horizontal powder packaging machine develops a packaged product by unwinding the roll of film and that film travels in a horizontal direction to seal the packet in the bag forming process. Sealing jaws seal the packet from top and bottom respectively in each turn and then the desired product is filled and sealed again for final delivery of the packaged product.
Stick Pack Machines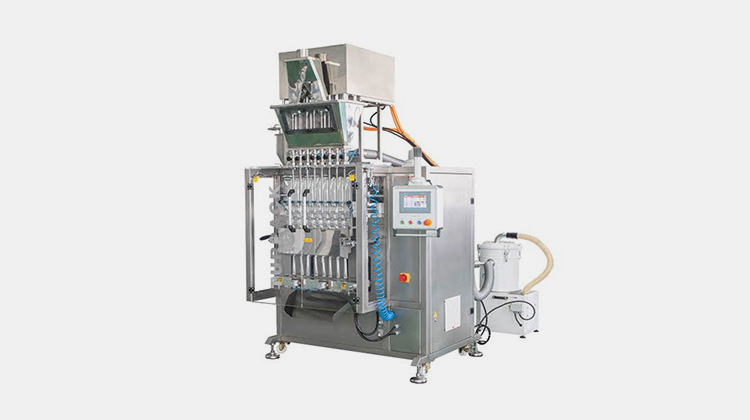 Stick packaging machine manufactures narrow tube-like packets that are sealed at both ends which gives them the shape of sticks. It forms a central seal to the pouch and assembles a greater quantity in a lesser space as compared to others. It is typically used for packaging dry powders although occasionally for semi-solids, or liquids.
Working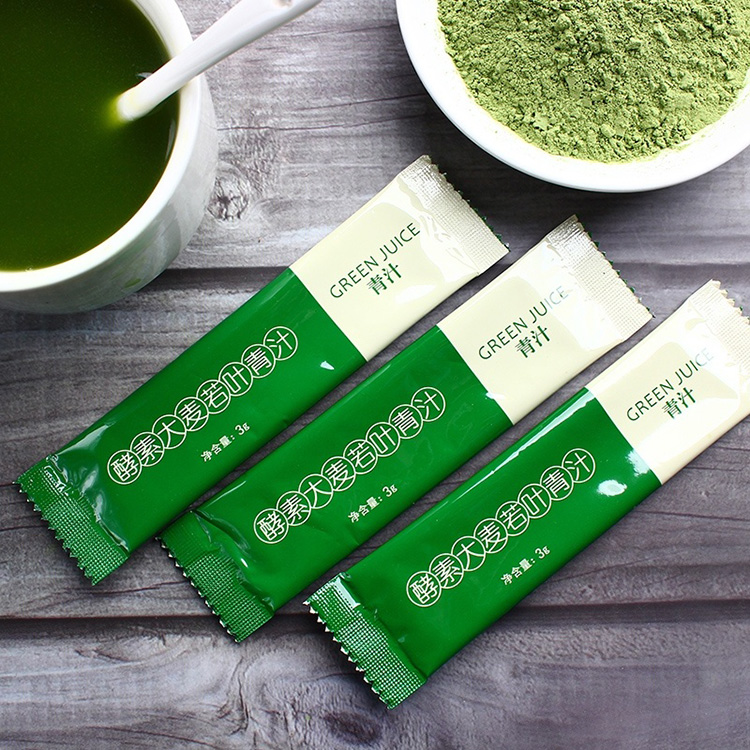 The film is unwinded and moved to form a unit and shaped into tubes, the size usually depends upon your selection and user requirements. After the formation of tubes, they are accurately filled with the product and finally sealed at both ends. They have easy to tear options in individual sticks which are then transferred into boxes or containers.
Can Packaging Machine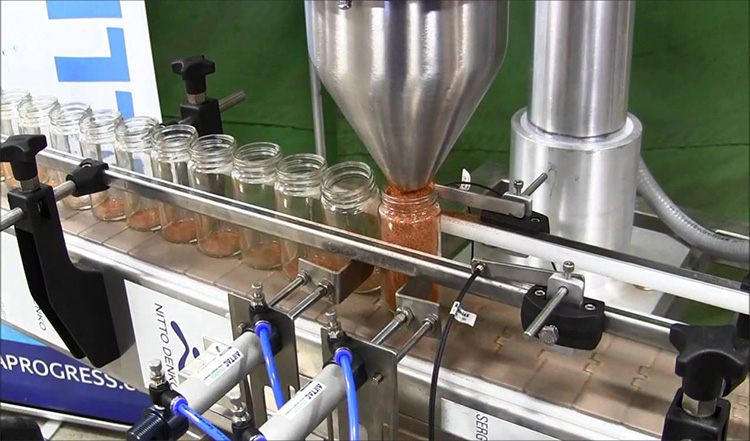 An ideal solution for airtight moringa packaging in metallic, plastic, or glass jars. They are totally safe for foods, medicines, or other sensitive product as it retains 100% potency of your ingredients.
Working
Can Packaging machine operates through the manual loading of cans, each container travels through the conveyor belt to reach the filling area. After filling containers, sealing is carried out by a sealing plate. A high temperature and high vacuum are required for this process.
8.How Can Moringa Be Stored After Packaging?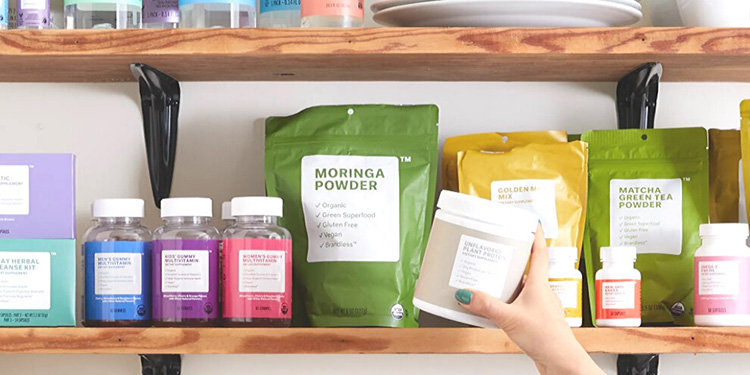 Moringa can be stored if it is in powder form, in a place that is away from heat, sunlight, and moisture.
Moringa can deteriorate if exposed to sunlight by losing its nutritional value and if moisture invades it can catch mold.
Almost many commercial products of moringa contain an expiry date of about two years that can be extended as well which means moringa's potency will slowly begin to lose afterward. In its capsule form, moringa can stay as long as two years if kept stored properly in a cool and dry place.
9.What are Common Packaging Mistakes To Avoid In Moringa's Packaging?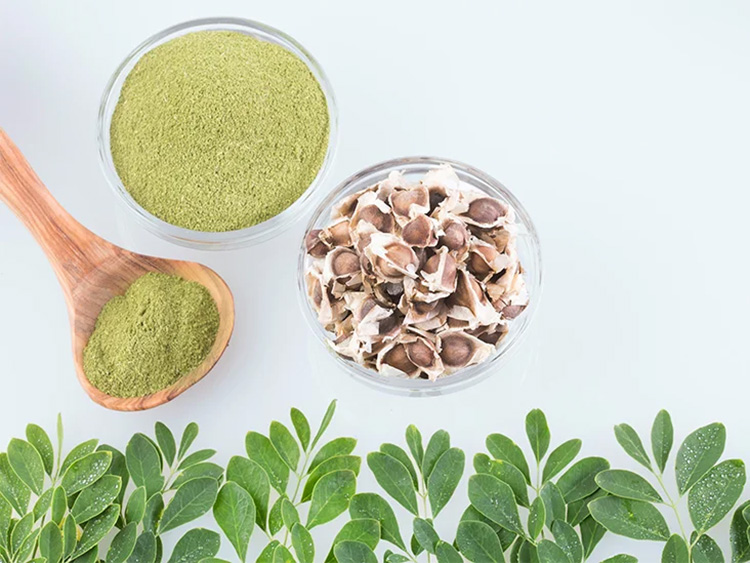 For executing excellent packaging for your product you need to make sure that you choose and design material that is reliable and accurate according to your product's features.
Instead of going for a fancy presentation of Moringa's packaging, focus on cutting down waste materials that are unwanted and serve no purpose to protect your product. This way you will ensure eco-friendly packaging and cut down on the waste of money and resources.
Make sure your Moringa pack's appearance doesn't resemble brand competitors. For your product to stand out in the market, choose a creative aesthetic design for your packaging.
Do not use oversized materials to package moringa products, that gives a false image about your product's quantity as well as wastes your packaging materials.
Be mindful of the packaging style you are selecting to deliver to your respective consumer group. Products that are supposed to be transported far away need extra care and safety.
10.Aipak's Moringa Packaging Solutions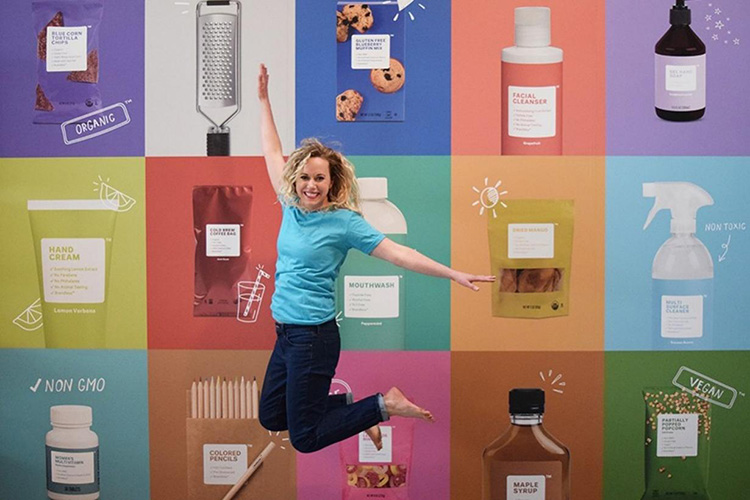 Aipak Pharmaceuticals offers wide series of moringa packaging solutions worldwide covering a broad spectrum of product types. Such as free-flowing, non-flowing, liquid, capsules, viscous, etc.,
Whether for medicinal purposes, cosmetics, or foods- Aipak has a suitable solution for the moringa packaging line in an affordable price range. Indeed, for moringa packaging, one machine is not only a solution for all tasks.
For this, Aipak offer unlimited extent solution that you can integrate easily to handle various other jobs under strict safety and automation, i.e, blister packaging, encapsulator, tablet counters, vials, tube fillers, etc.,

11.What Are The Different Types Of Moringa Products Available For Consumers?

| | |
| --- | --- |
| Type of Product | Description |
| Moringa Powder | Moringa powder provides great nutritional value and is therefore a powerful and healthy herbal supplement. It is also known as Suhanjana. It contains double the amount of protein found in yogurt, four times more calcium than that present in dairy products, and seven times more amount of vitamin C than that found in oranges. |
| Moringa Oil | Owing to its vast benefits, Moringa's essential oil can be used as a cosmaceutical product for softening the skin and treating dry skin conditions and hair too. |
| Moringa Capsules | Moringa capsules are formulated using Moringa leaf powder extract and provide extremely beneficial nutrients such as different types of vitamins and antioxidants, proteins, calcium, etc which offer a plethora of energy and health benefits. |
12.What Information Should Be Included In Moringa Packaging Labels?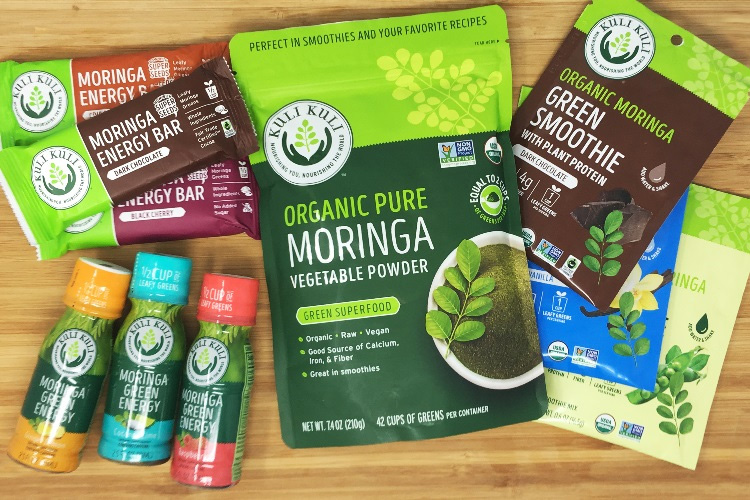 For every product's packaging, it is essential for the manufacturers to enlist the proper labeling information required and necessary for providing details about it to the customer. Likely, for Moringa products packaging there must be some points mentioned clearly on the label such as :
The source of Moringa you have used to develop your product, such as leaves extract powder or oil form.
Nutritional value that will be provided per gram or per capsule. Supplementary facts and figures must also be represented, that how much quantity of a certain nutrient is present in your Moringa product. The additional guideline that it might not be a substitute for dietary requirements must also be given.
Advise on the usage of dose of capsule or powder to be taken according to age parameter must be done.
Storage condition requirements are printed clearly such as ' It should be stored in a cool and dry place.' , ' Keep out of reach for children '.
You must mention whether your product is FDA regulated or not.
You must mention if any sort of allergens is present or not. Whether it is suitable for everyone or there are any limitations for a certain category of people.
13.How To Choose A Supplier For Your Moringa Product's Packaging?
Your selection of a supplier for packaging your Moringa product is not that simple. Make sure you follow the enlisted points for your ease and benefit.
You must have into consideration such manufacturers who provide flexible packaging options as per your requirements, whether you need some custom-designed packaging or go for a traditional style.
You also need to ensure that they enable high quality, durable and reliable packaging in terms of retaining Moringa's efficiency and freshness.
You need to follow the budget scheme and look for if your chosen supplier for packaging is cost-effective or not.
14.How Moringa Packaging Benefits Your Business?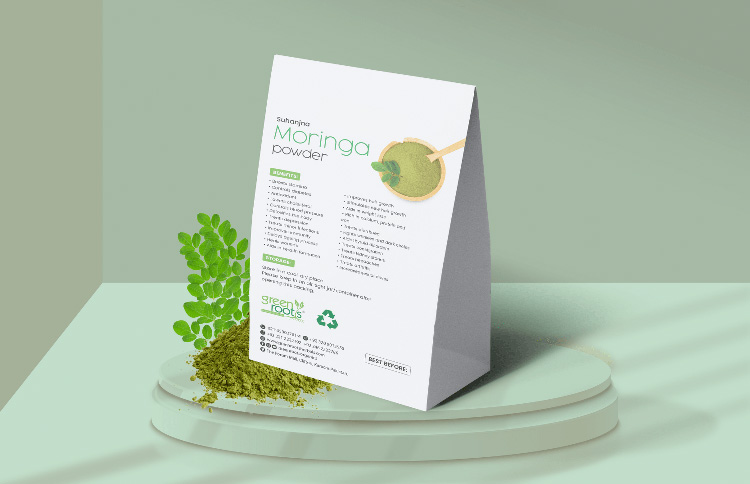 After reading the blog, you must be thinking how moringa packaging can positively influenced on your brand and business.According to our experties some of them are:
Extended Shelf Life
Moringa packaging can be done in many ways depending upon the type of product i.e liquid, powder, or paste. It can protect the preserves the flavor, potency, effectiveness, and freshness which in turn increases the shelf life of your product.
Improving Your Market Value
Excellent packaging is one that appeals to the consumers and compels them to grab it from the store's shelf.
After all, good moringa packaging and high-tech machines can produce various formats and designs easily to stand out your market value very quickly.
Cost-Effective Production
Running a successful business in a cost cutting manner is always fascinating. Using automatic moringa packaging machines involves a large investment but is effective in running large production with low labor expenditure and human error. It's time to grow!

Protection
Moringa packaging has diversified formats in terms of designs, labeling, presentation, and storage.  Nevertheless, it not only helps in ease of transportation but ensures reliability and consistency in terms of protecting your product.
Conclusion
Considering to start a moringa packaging business? To ensure world-class moringa packaging technologies- Aipak promises to offer one-stop solution equipment. As an industry leader- We hold all capabilities to enhance your productivity and market value in the world of manufacturing enterprises. Contact us for more information and product quote.
Don't forget to share this post!
Powder Filling Machine Related Products
Powder Filling Machine Related Posts
Powder Filling Machine Related Videos
CONTACT US
Tell us your raw material and project budget to get quotations within 24 hours.
WhatsApp Us: +86 189 7157 0951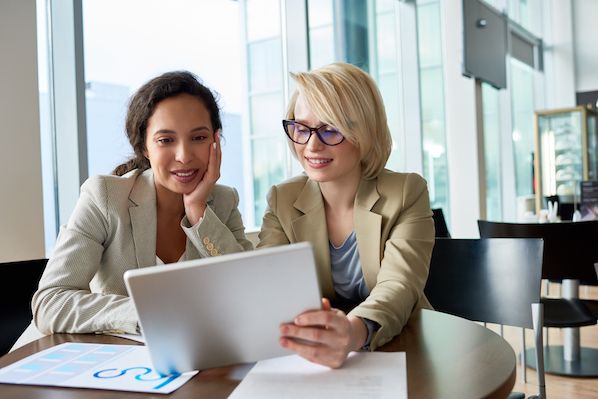 Want the best price & newest pharmaceutical machinery buying guide,tips and trends sent straightly to your box?Sign up for Aipak's monthly newsletter,we're free for your consultation and Offer you the most suitable solutions!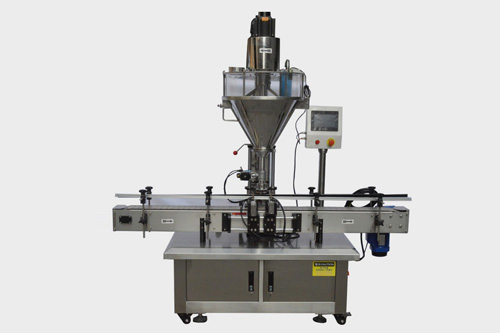 Tell us your material or budget, we'll reply you ASAP within 24 hours