Liquid Pouch Filler: A Complete FAQ Guide in 2023
Presentation and packaging go a long way in the selling of products. Liquid pouch fillers are an integral type of packaging machine. Today, pouch packaging has greatly replaced the traditional old can or bottle packaging style. Consequently, liquid pouch fillers are mostly sought equipment in the competitive packaging arena.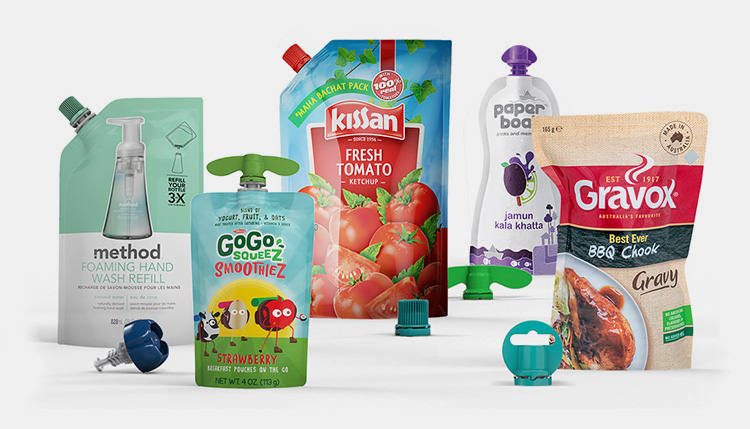 If you are planning to run your packaging line then liquid pouch fillers will come in handy. Read through this informative guide to learn about different useful aspects of liquid pouch fillers.
Add a header to begin generating the table of contents
1.How Can You Define Liquid Pouch Filler?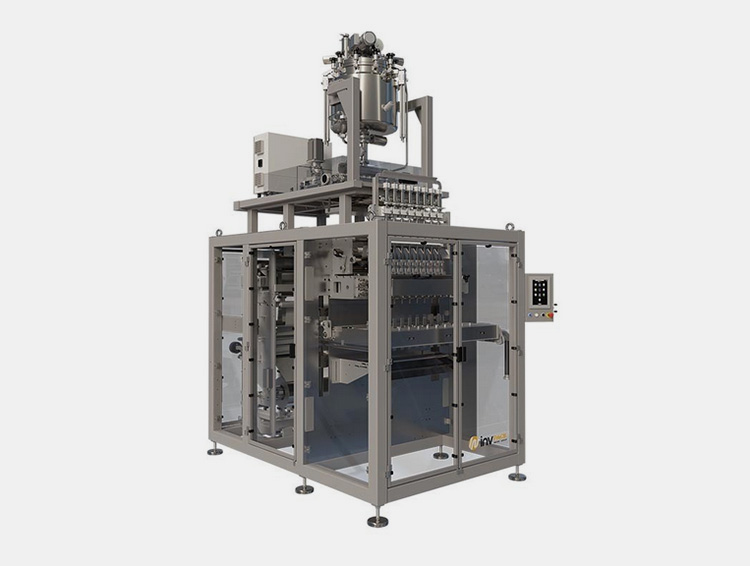 Liquid pouch filler are machines are that often used in industries such as food, cosmetics, personal care, and pharmaceutical industries for filling various liquid products in beautifully styled pouches.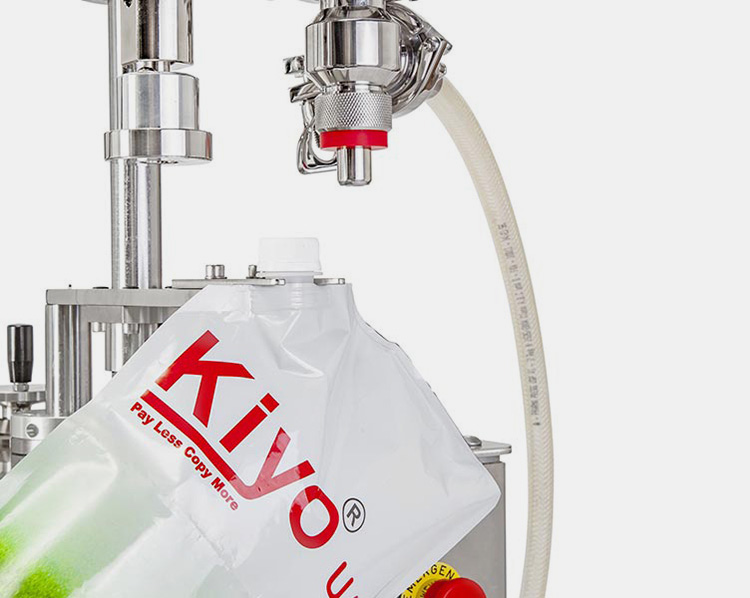 These machines can easily precisely and accurately fill free-flowing to highly viscous liquids in pouches or bags. These are highly versatile machines that are equipped with different kinds of filler for packaging liquid products.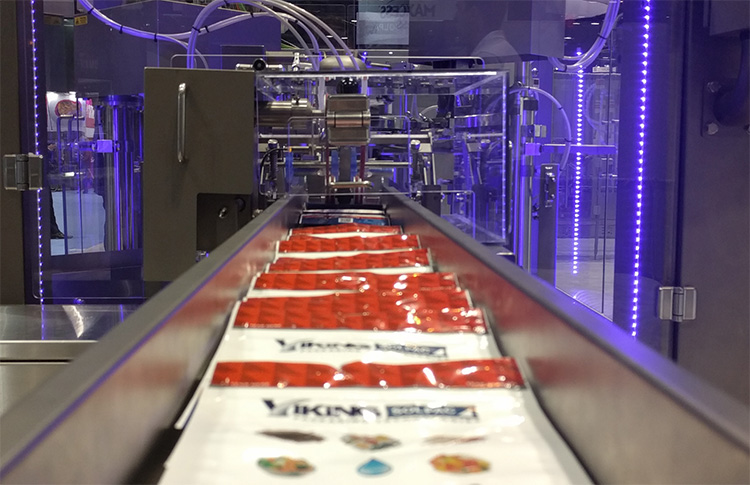 Different pouch formats such as tear notch, sprout, doypack, sachets, etc. are processed by the liquid pouch filler. These machines use already fabricated pouches for liquid filling as well as can form pouches from scratch for liquid filling.
2.What are the Advantages of Liquid Pouch Filler?
Liquid pouch filler are an essential component of a packaging line. Some of the advantages of these efficient machines are discussed below:
Easy Operation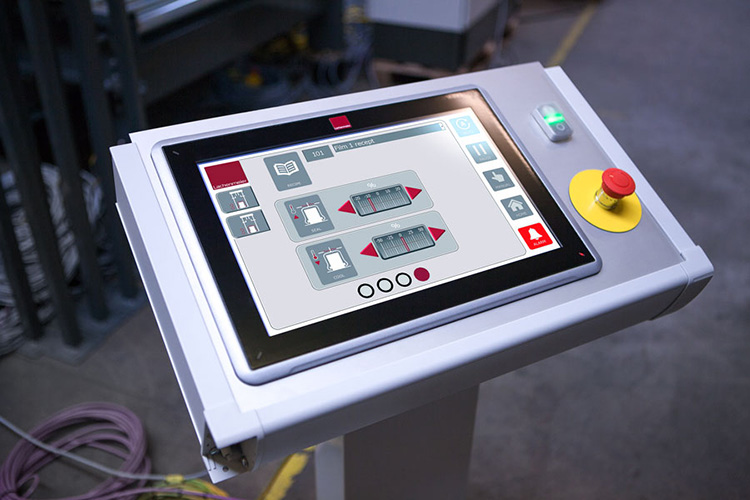 These machines are equipped with state-of-the-art technology and control systems such as PLC controls which make machine operation quite convenient and free of hustle. By using the HMI touch screen, you can easily adjust and program packaging parameters with a simple touch. Color touch screen interface and PLC unit make programming packaging options easy.
Automation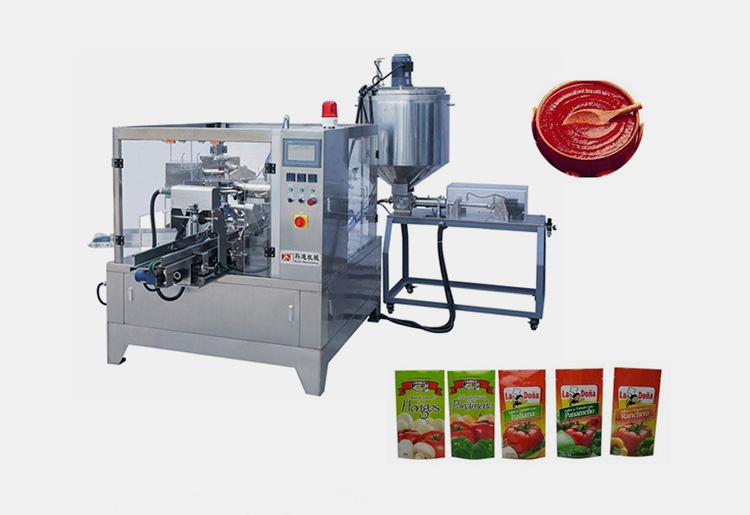 These machines are automatic and every function is formed autonomously. There is minimal need for human intervention in these liquid pouch filler. Thus, there is a limited chance of error in packaging. Highly accurate sensors indicate defects in sealing temperature, air pressure, and filling volume.
Versatility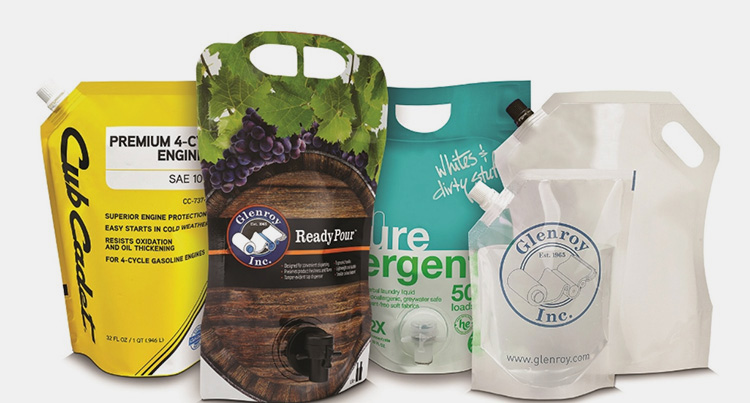 Liquid pouch filler are versatile automation. They can process multiple pouch styles and designs. Moreover, these machines can easily handle a wide range of liquids with different viscosities.
Trouble-Free Cleaning and Maintenance
These machines are easy to clean and maintain. These have water-proof construction thus, liquid pouch filler are easily washed using water without risking corrosion. Also, these machines have automatic CIP and WIP systems that make cleaning convenient. These machines have a simple and clean design with full visibility and 360° access for easy cleaning and maintenance.
Low Operational Cost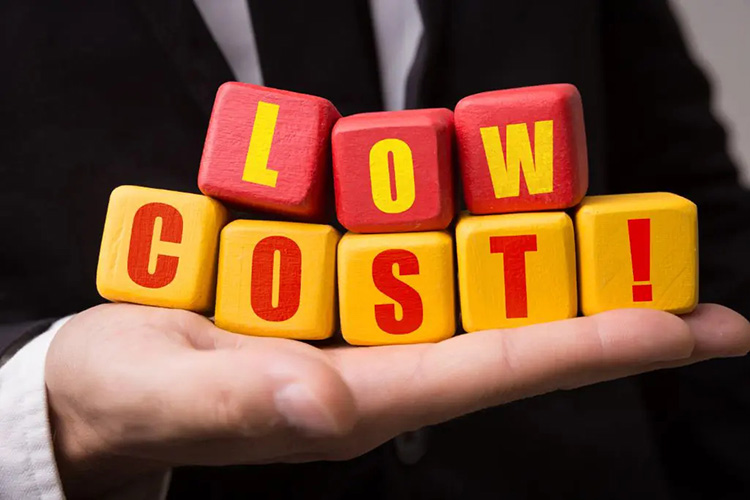 Liquid pouch fillers have low operational costs due to less human intervention and lower wastage of product and packaging material. By using these devices, you can save labor wages and materials purchase costs.
Precision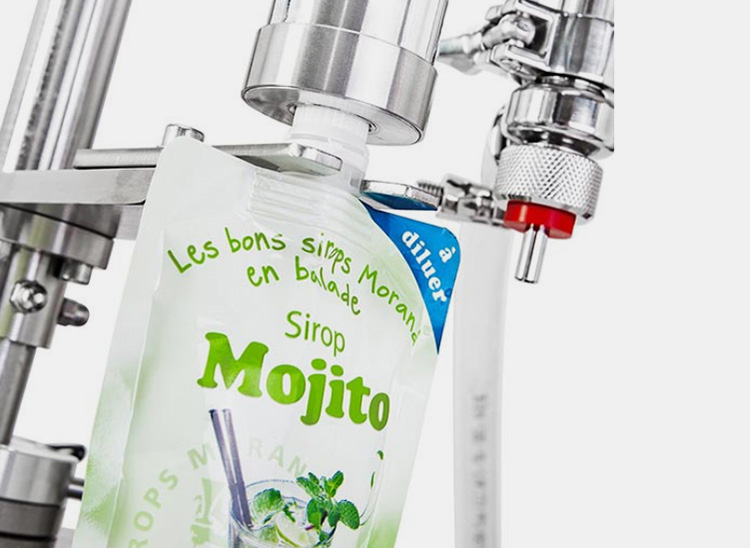 The precision and accuracy of these machines is their biggest advantage. These are furbished with measuring sensor and filler devices which assists in filling and loading precise volume of liquids in pouches. Encoder systems in these machine help in a bag formation of precise length.
Reduced contamination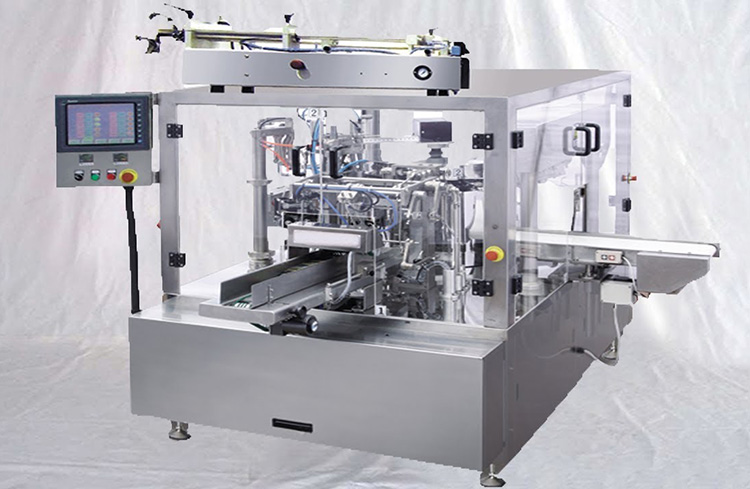 Liquid pouch fillers have an aesthetic design and are made up of stainless-steel construction which reduces the chance of contamination. This ascertains product sanitation and assures GMP compliance.
Sustainability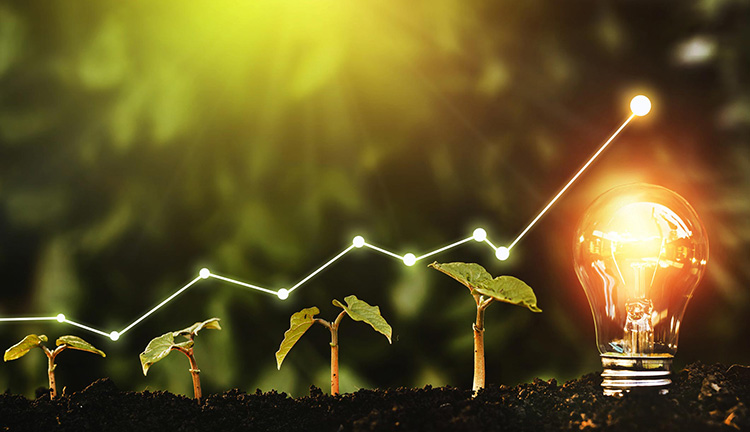 These machines are sustainable and environmentally friendly. These systems have reduced carbon footprint because they consume a minimal amount of energy consequently decreasing the fuel requirements of packaging plants.
Efficiency
These machines have high efficiency and can process large batch in short time. Liquid pouch fillers are equipped with servo-pull belts and servo horizontal seals which assist in quick filling and sealing.
3.What Are The Industrial Uses Of Liquid Pouch Filler?
Liquid pouch fillers are widely used in various industries because of their efficiency and robustness. The industrial uses of this handy equipment are detailed below:
Pharmaceutical Industry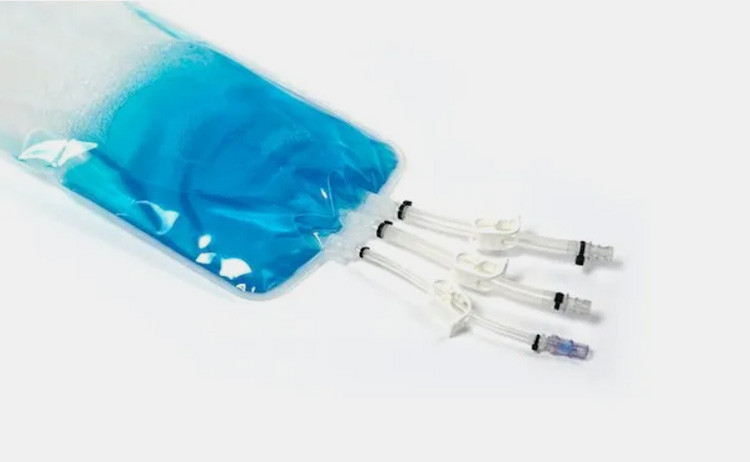 Liquid pouch fillers are commonly employed in pharmaceutical industries for packaging single-dose pharmaceutical emulsions and syrups in sachets. These are also used for filling creams and ointments.
Food Industry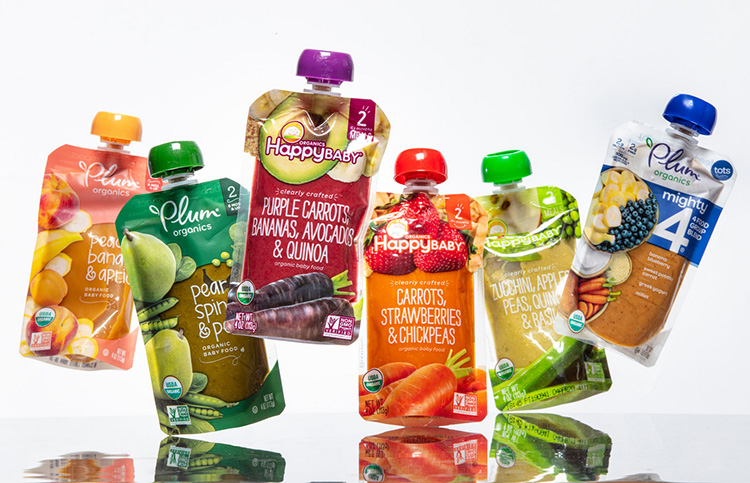 These machines are an integral part of the food industry. Both free-flowing and viscous liquids such as sauces, pastes, dressings, soups, condiments, milk, cream, honey, oil, etc. are packed into multipurpose pouches and sachets using liquid pouch fillers.
Beverage Industry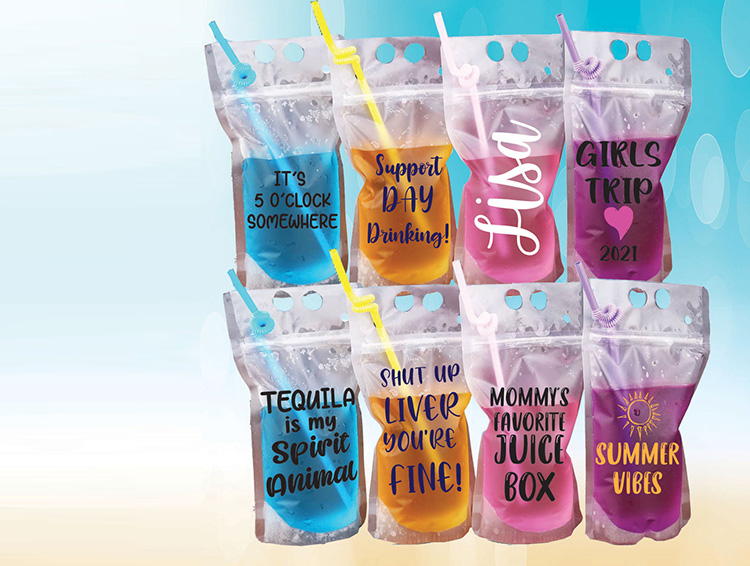 In the beverage industry, these machines are routinely employed for the packaging of different types of beverages, juices, drinks, water, iced tea, lemonade, energy smoothies, etc. for easy usage and transportation.
Cosmetic Industry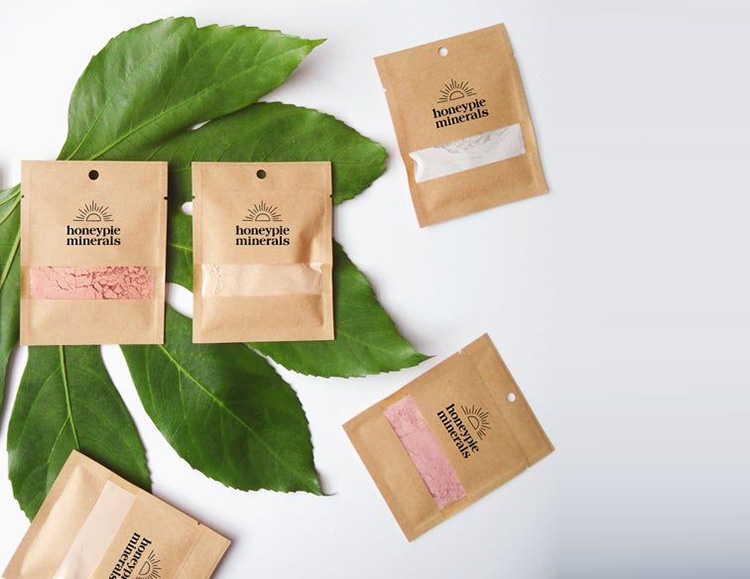 Aesthetic-pleasing cosmetic pouches are filled with liquid pouch fillers. These systems load precise volumes of creams, dyes, lotions, hair oil, body washes, face masks, and perfumes in different style pouches. This packaging increases the shelf-life of cosmetic products.
Chemical Industry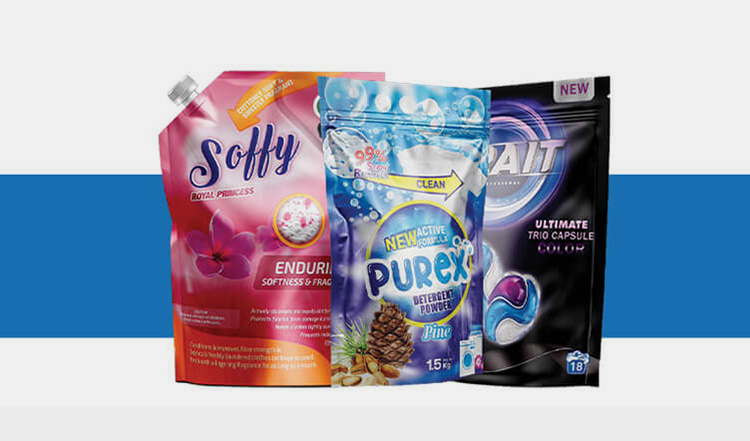 In the chemical industry, chemical solvents, solutions, and suspensions are packed in a variety of pouches for their protection against temperature, humidity, odor, oxygen, and UV light. Chemical cleaning solutions, liquid detergents, and household bleaches are packed inside sturdy pouches that protect against puncture.
Personal Care Industry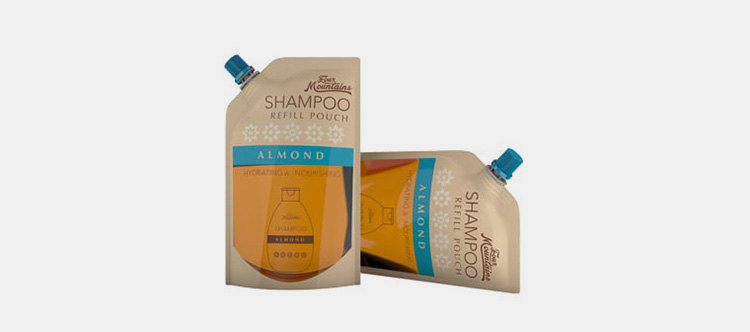 No personal care packaging is complete without the use of liquid pouch fillers. These machines are used for packaging shampoos, body washes, liquid soaps, hand sanitizers, and toothpaste in eye-catching and attractive packaging.
Agriculture Industry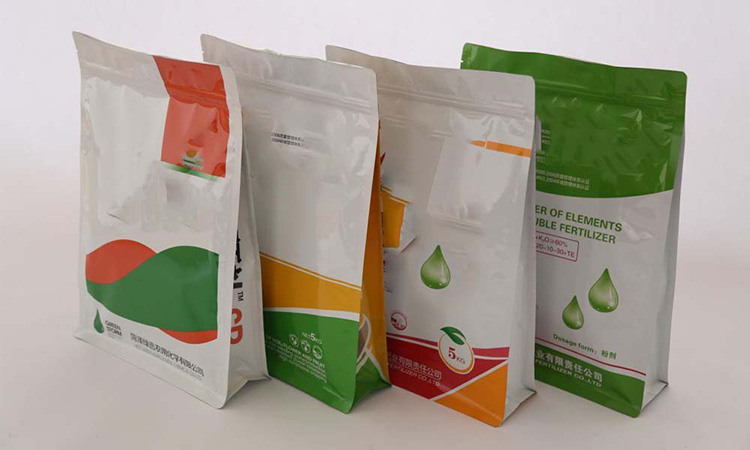 These machines are routinely employed in the packaging of agriculture liquids such as pesticides, feeds, insecticides, fertilizers, etc. for their protection against vermin and environmental elements.
4.What Are The Different Basic Components Of Liquid Pouch Filler?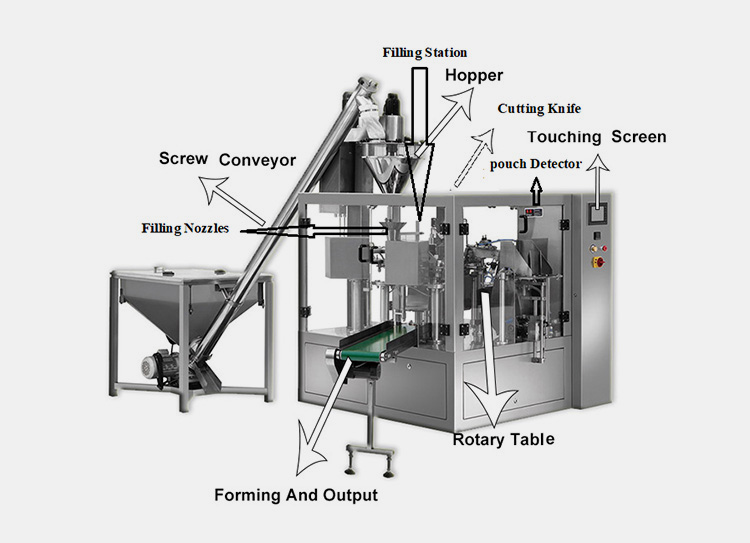 Some basic components of liquid pouch fillers are detailed below:
Hoppers
These are conical-shaped structures, usually located at the upper side of the machine. These are made of stainless steel and are often used for holding liquid products before filling. This is an optional component that you can integrate with the machine up to the type of product for e.g, piston or volumetric for liquid and auger for powders.
Filling Station
This consists of different kinds of fillers such as volumetric, gravity, piston fillers, etc. to fill the required volume of liquids inside the pouches.
Filling Nozzles
It is fixed to the valve of a metering device via hose. It is used for filling liquids in pouches gradually. It is designed according to the shape of liquid pouch to reduce liquid dripping. Filling nozzles controls the speed of filling and flow of liquid.
Touch Screen
It is the brain of liquid pouch fillers and is an interactive touchscreen display where program parameters are adjusted before the start of packaging operation. These screens make operational supervision easy and alert the working force in case of machine failure. Multiple programming recipes are stored in the memory of HMI software.
Pouch Inflators
These are equipped with pincers, vacuum systems, and air blowers for inflating the pouches before liquid filling.
Grippers
These parts of liquid pouch fillers pick pouches one by one and transfer them to the filling station. These are two kinds of pull belts-left and right. These are used for the gripping film in high dust or moisture environment. These offer a force for pulling the film through the system and maintaining the necessary tension of film on forming and sealing stations.
Rotary Table
This part of liquid pouch fillers is composed of a registration sensor and positioning adjusting mechanisms. The registration sensors are used for detecting registration marks on film and helps in smooth movement of pouches for filling process.
Sealing Jaws
These sealing jaws have heating elements and thermocouples for heating and maintaining the temperature of sealing jaws respectively. Cross-sealing jaws in liquid pouch fillers are pneumatically controlled.
Cutting Knife
This cutting blade is present between the sealing jaws. Its function is to cut and trim the edges of filled pouches. This cutting knife is also used for the separation of two successive pouches. These blades are pneumatically activated by an actuator.
Pouch Detector
This is a sensor that detects the presence of pouches before the commencement of filling. If no pouch is detected then the filling operation is stopped.
Screw Conveyor
This unit is basically used to integrate storage tank with machine ensure ease of transferring filling material to the pouch filler.
Forming and Output
This section allows final discharge of filled pouches out of the system.
5.What are Various Types of Liquid Pouch Filler?
There are different kinds of liquid pouch fillers which are detailed below:
Classification Based on Automation
There are two kinds of liquid pouch fillers based on automation:

Automatic Liquid Pouch Fillers
As the name indicates, these machines can perform every filling and sealing function without any human assistance These are customized with HMI, PLC, and automatic filling systems that makes operation supervision easy.
Semi-Automatic Liquid Pouch Fillers
These machines are small-capacity systems mostly used in small and medium-scale businesses because of their lower filling capacity. The loading of pouches is performed manually in these machines while filling and sealing are done autonomously. They use pneumatic systems for filling.
Classification Based on Design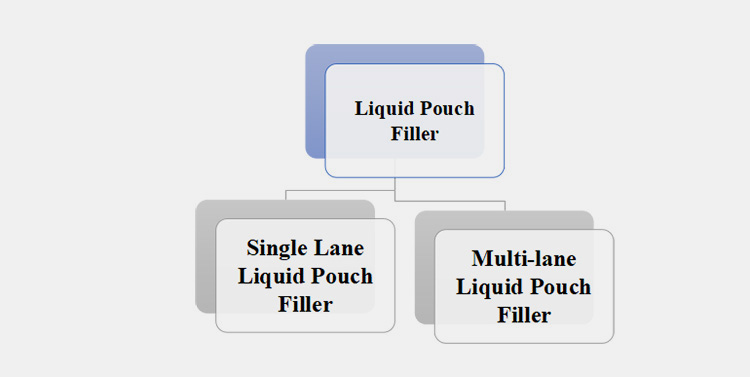 Single Lane Liquid Pouch Filler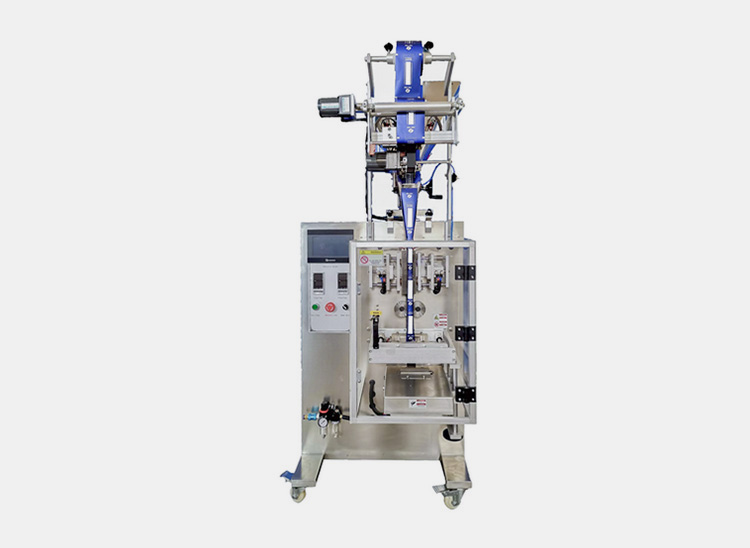 These machines have only one forming tube and a pair of sealing jaws for forming and filling liquid pouches. They have less output capacity and can fill one pouch in each cycle.
These liquid pouch fillers are commonly employed for loading liquids with different viscosities in pouches.
Multi-Lane Liquid Pouch Filler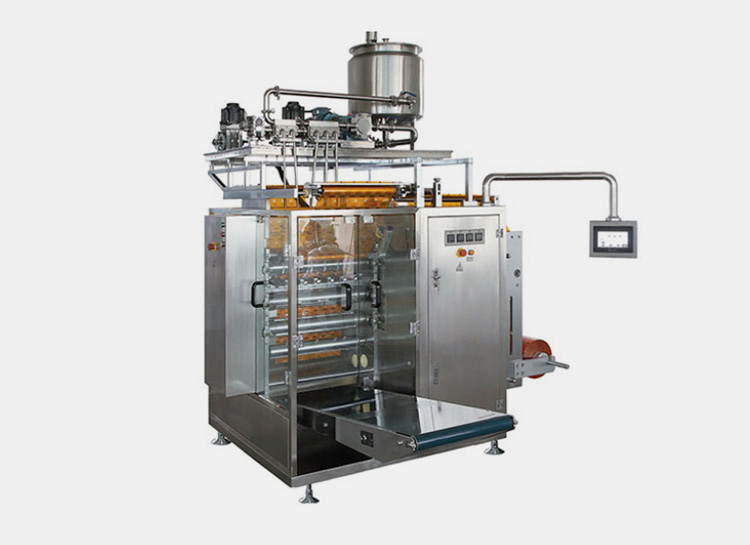 Multi-lane liquid pouch fillers have more than one lane such as 4, 6, 8, or 12 lanes for filling pouches. These machines have several forming tubes and sealing jaws for packaging many pouches in a cycle. Their output capacity is high and thus these are mostly used in large-scale production plants.
Classification Based on Working
There are two types of liquid pouch fillers based on the working. These are: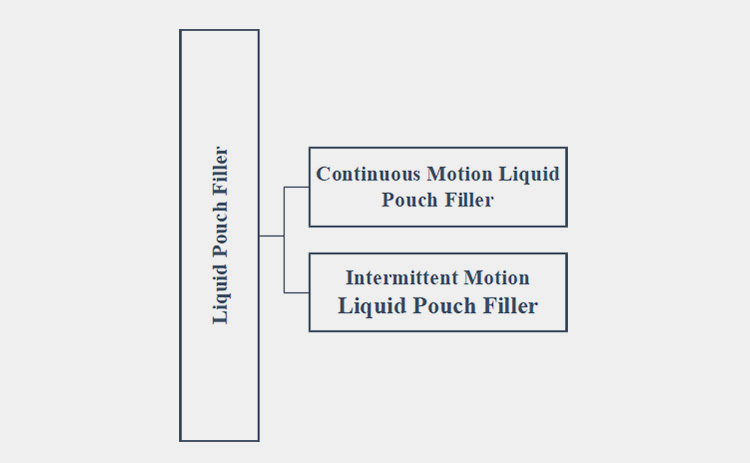 Continuous Motion Liquid Pouch Filler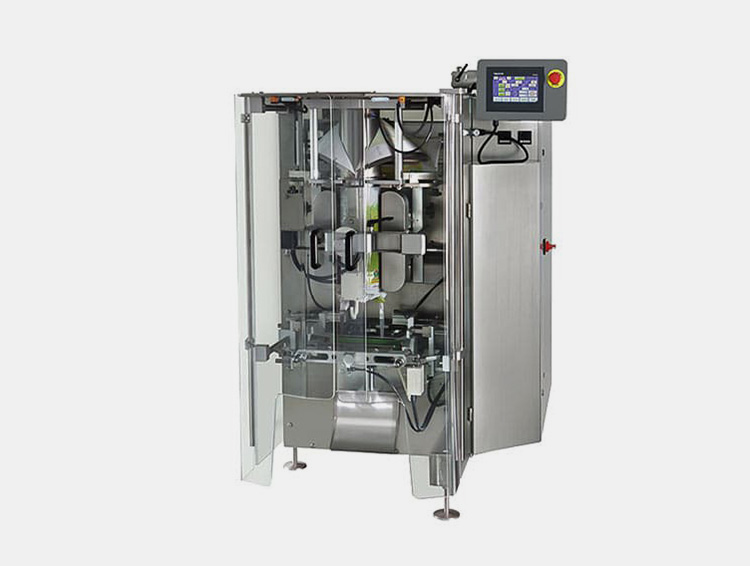 These machines are capable of filling liquids without any interruption. The motion of feed rollers, sealing bars, and cutters is in perfect synchronicity for uninterrupted filling and sealing operation.
The speed of these machines is high and these systems can fill numerous pouches per minute.
Intermittent Motion Liquid Pouch Filler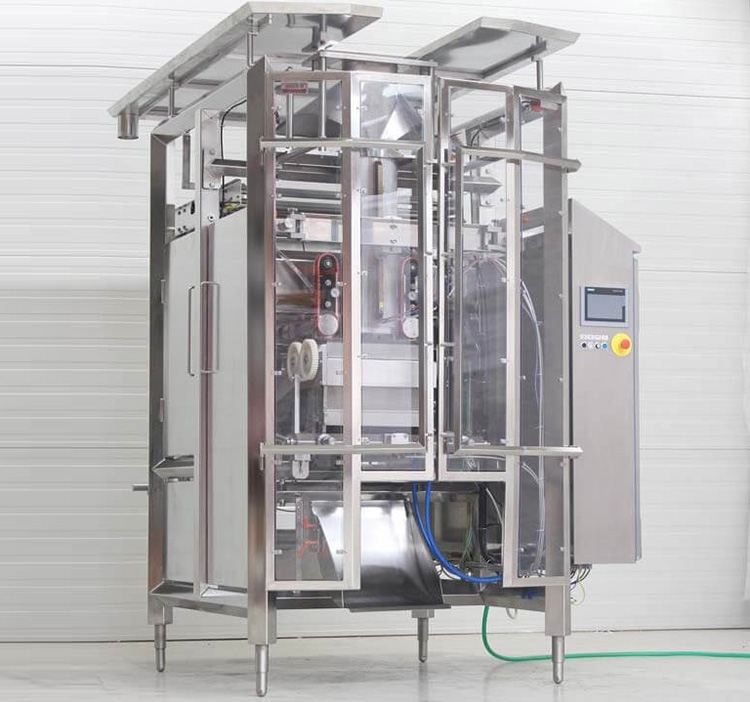 These liquid pouch fillers take periodic breaks during packaging operations. The seals- top and bottom- are formed in the stop cycle of the machine. The sealing bars in these machines are static thus these liquid pouch fillers are used for forming different-styled pouches.
The filling speed of these machines is low.
Classification Based on Bag Formation
Based on bag formation, there are two kinds of liquid pouch fillers: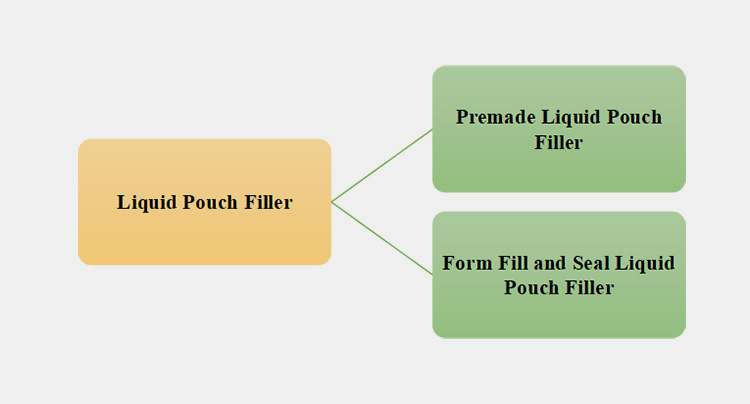 Premade Liquid Pouch Filler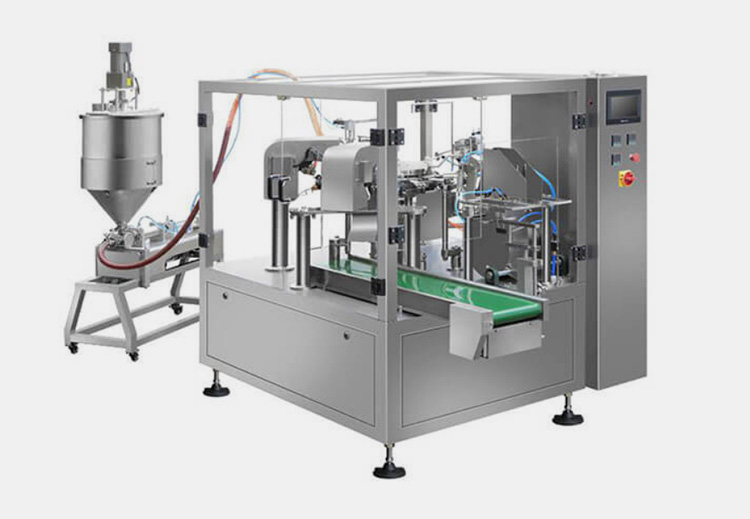 These machines fill already-formed pouches with liquids. They can fill a variety of pouches like doypack, pillow, standup, and zipper within a short duration. These have high packaging speed and are routinely employed in industries due to their ready-to-fill feature.
Form Fill and Seal (FFS) Liquid Pouch Filler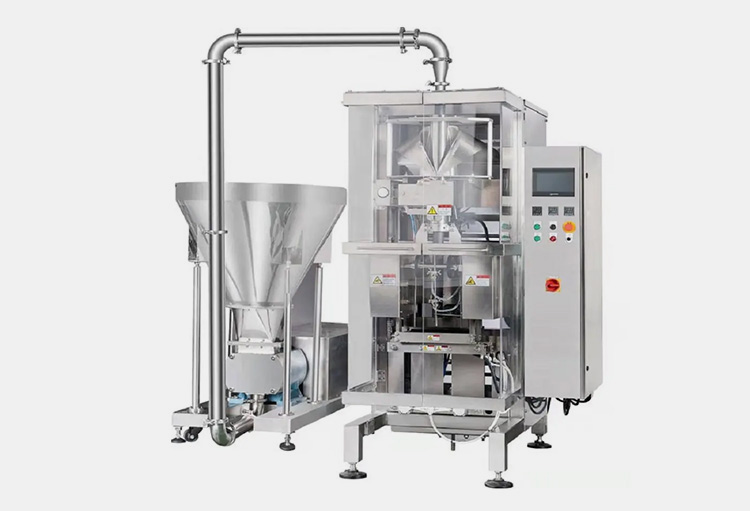 As the name indicates, these machines make pouches, fill them with liquids and then seal them. These have forming station which is not present in premade liquid pouch fillers. These systems can process several packaging films and are used for designing pouches according to requirements.
Classification Based on the Pouch Style

Spout Liquid Pouch Filler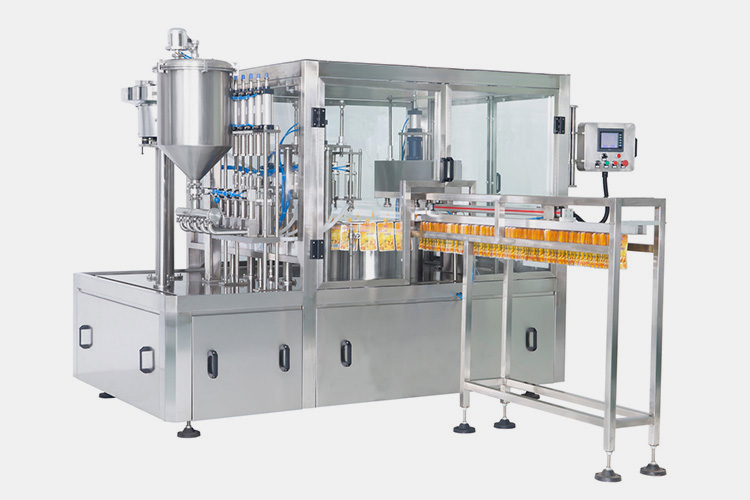 It is the type of liquid pouch filler in which spout standup pouches are filled with liquids and sealed by capping. This machine is used for filling juices, milk, and oils in pouches. Spout liquid pouch fillers can cap pouches as well as seal the opening at the top of pouches by heat.
Doypack Liquid Pouch Filler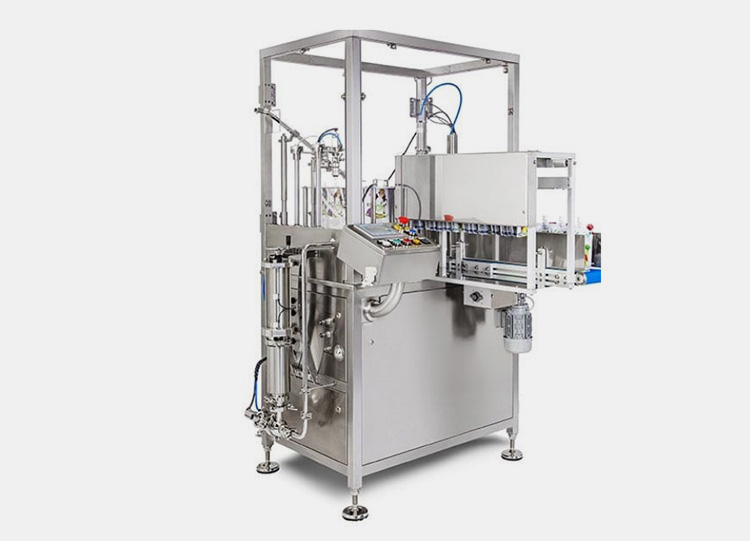 This machine is used for filling and sealing standup flexible pouches. It was originally designed for filling juices. Doypack liquid pouch fillers can form multiple kinds of doypacks such as S-type and W-type with zipper. It is available in both vertical and horizontal configurations.
Sachet Liquid Pouch Filler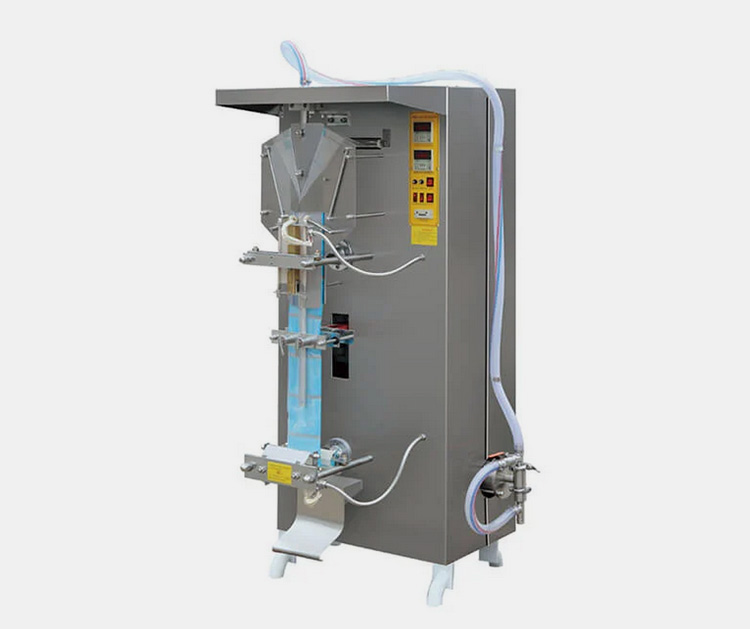 These machines form 3 or 4-tear easy-sided pouches (sachets) and are used for filling small volumes of liquids. These have unique forming stations for creating special design sachets. They have advanced sealing systems that minimize liquid leakage.
Stick Liquid Pouch Filler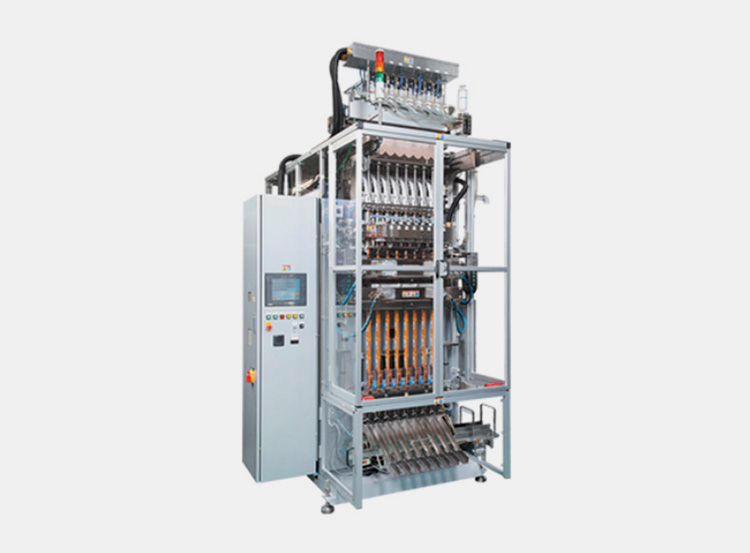 These kinds of liquid pouch fillers are employed for filling small and narrow-sized single-serve packs. Up to 10 ml of liquids in filled in these stick packs with stick liquid pouch fillers. These machines can have single or multiple lanes.
Classification Based on Sterile Filling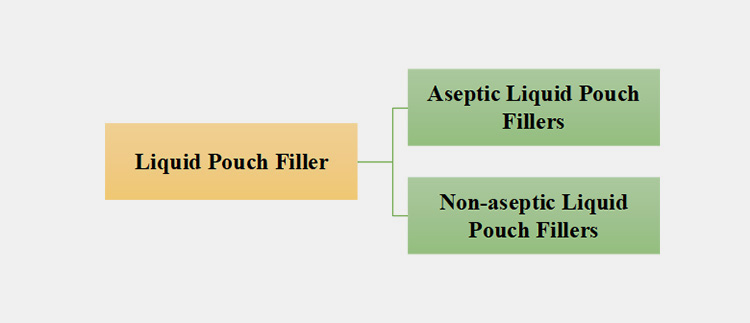 Aseptic Liquid Pouch Fillers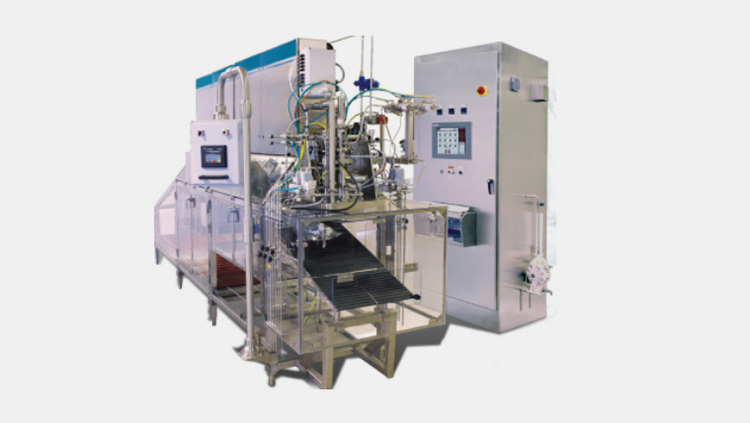 These liquid pouch fillers are low-acid aseptic fillers that offer high production capacity. These machines use hydrogen peroxide in the vaporized form to increase the sterility rate. Aseptic liquid pouch filers are used for filling vitamin drinks, energy drinks, milk, low-fiber drinks, etc.
Non-aseptic Liquid Pouch Fillers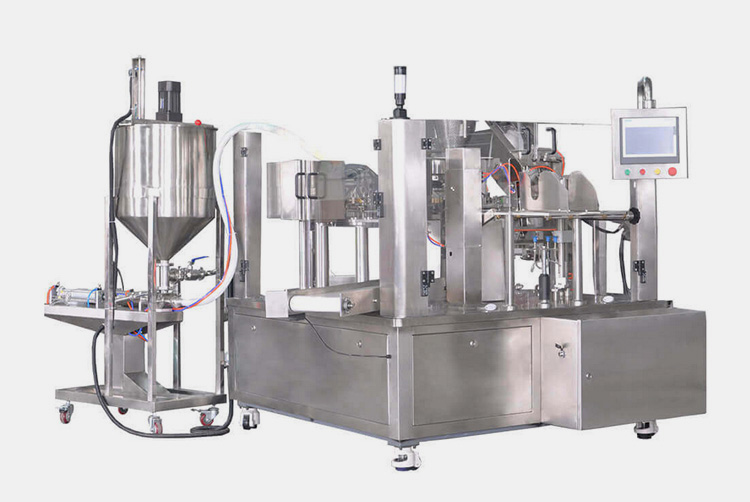 These machines are used for filling non-sterile liquids such as syrups, emulsions, creams, etc. are packed into pouches, sachets, and sticks. These liquid pouch fillers use vacuum systems for the non-aseptic filling of these liquids to minimize the chance of foaming.
6.What are the Different Steps Involved in Liquid Pouch Filler Working?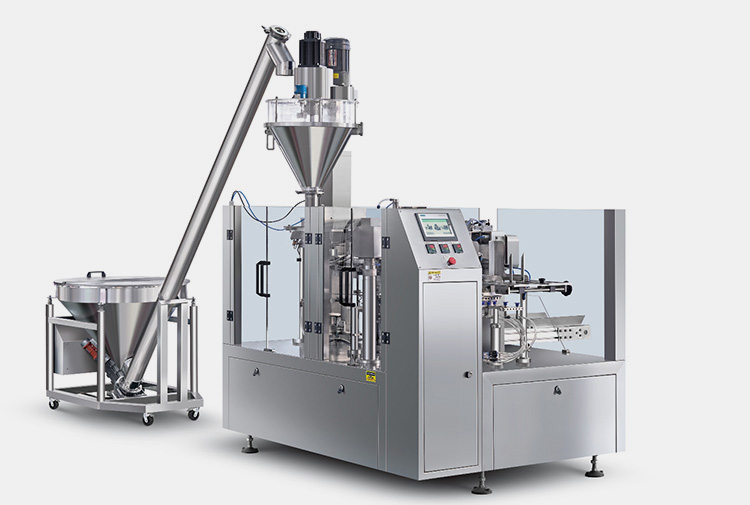 The working of these machines is fairly complicated in which every machine part plays an important role. Different steps involved in liquid pouch fillers working are:
Packaging Pouches or Film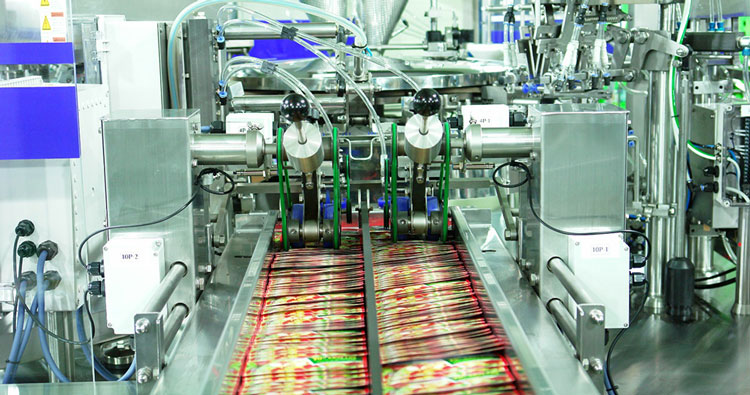 At the start of the packaging operation, the film is loaded on the film roll stock. This film is unwound using unwinding systems.
In the case of premade liquid pouch fillers, the empty bags are placed on the bag infeed systems or bag magazine. It is a manual process in which pouches are placed at regular interval. these pouches are then transported to the interior of the equipment by the bag infeed system.
Pouch Gripping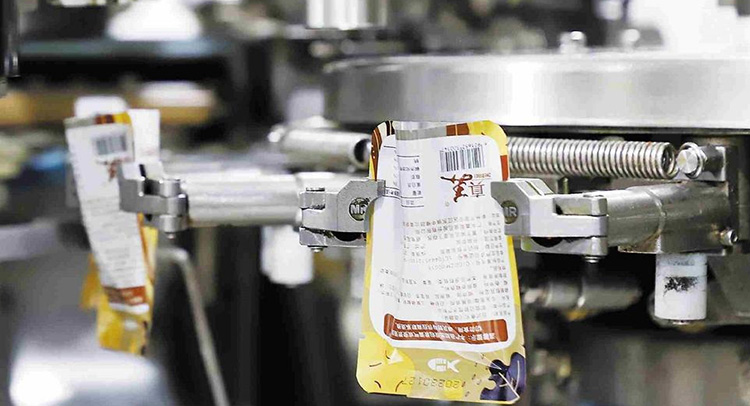 The proximity sensor detects the presence of pouch in magazine and vacuum pad suction system is used for lifting the pouch by the gripper systems. These grippers hold the pouches for complete filling and sealing cycle.
Pouch Opening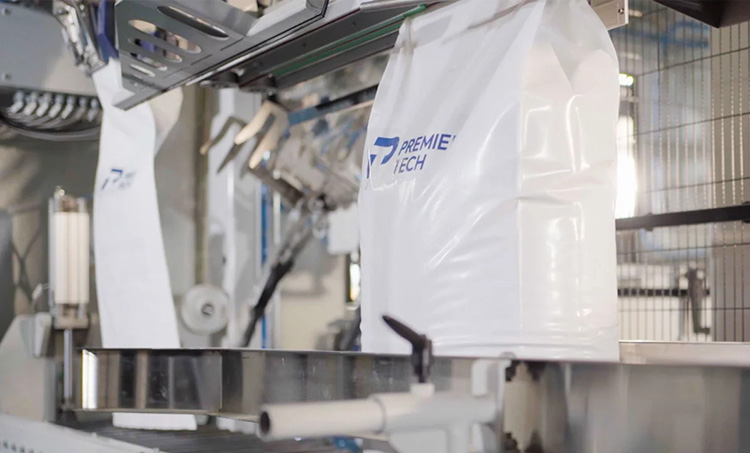 The grippers transport the premade pouches to the opening station where vacuum suction systems are employed for the partial opening of pouches. If the pouch has zipper, then it is opened gently by the opening jaws. Afterward, the air is blown inside the opening for the complete inflation of pouches.
Filling of Liquid Product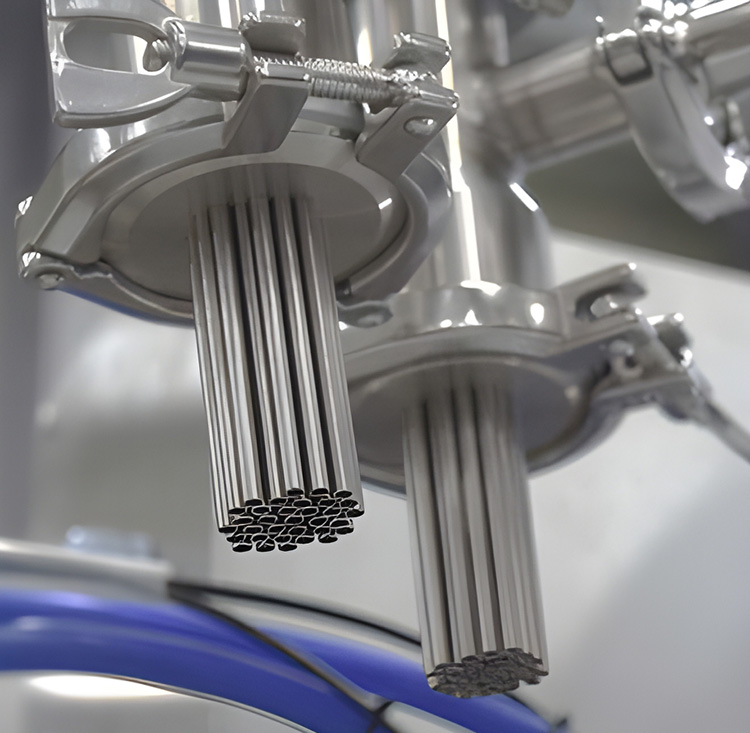 The filling of pouches is the same in both FFS liquid pouch fillers and premade liquid fillers. A dosing system whether volumetric fillers, gravity fillers, or piston fillers are used for filling the exact volume of liquids inside the pouches.
First Sealing and Deflation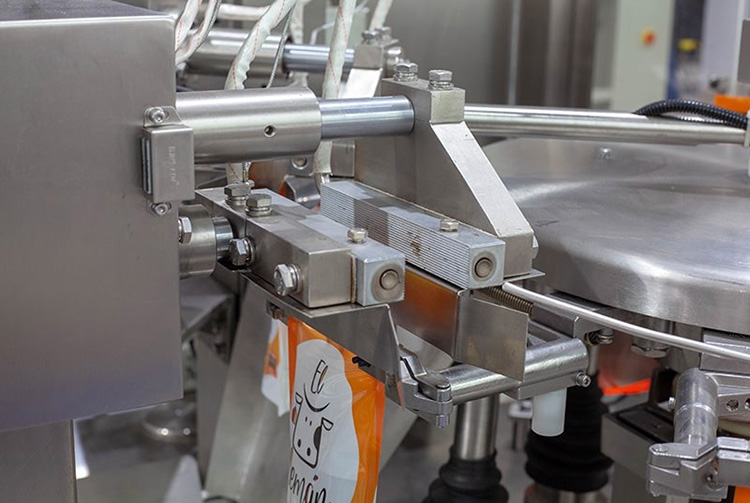 Before sealing, two wire deflators are employed for deflating the pouch. These deflators forced extra air from the pouch. After deflation, heat-sealing jaws are used for closing the top portion. These sealing jaws are heated via electrical heaters and they seal and join the two edges by melting them to form a closed seam.
Ultrasonic sealing can also be used for creating sealing instead of sealing jaws. This uses vibration to generate friction which heats the gap between film layers. It forms a more effective seal than heating elements.
Second Sealing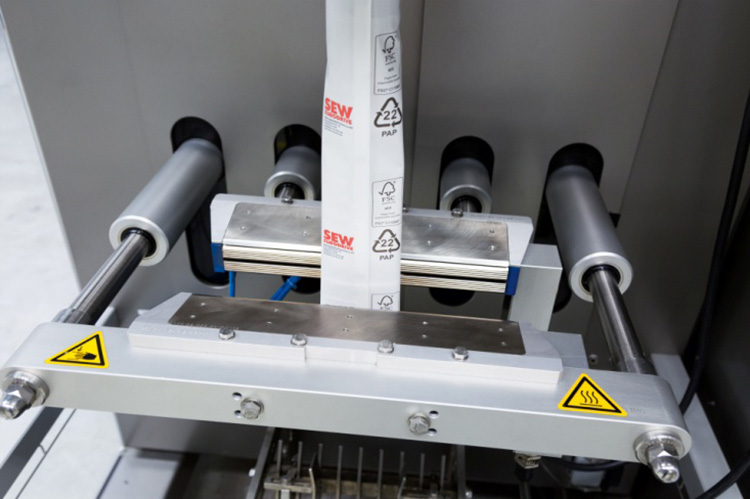 This is used for reinforcing the first seal to prevent liquid leakage. This creates a permanently closed clean.
Cool Sealing and Discharging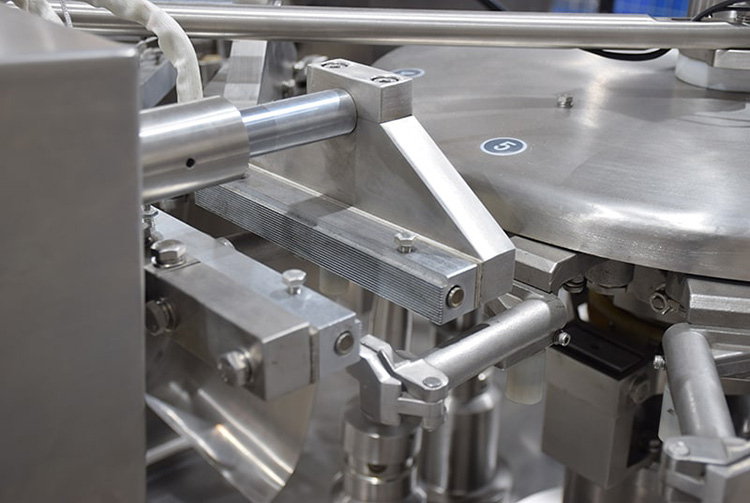 To increase the strength of the sealing and to press the seam, a cooling element is pressed on the sealed area of the pouch. Now end pouch is removed from the machine by placing it on a conveyor. This pouch is held in a collecting bin or moved to ancillary systems such as cartoners or case packers.
7.What Are Materials Processed By Liquid Pouch Filler?
There are different kinds of materials processed by liquid pouch fillers for making and filling pouches such as:
Plastic
There are various types of plastics used for liquid filling such as:
High-Density Polyethylene

This material is hard and denser and can be easily molded into any shape for making pouches. It is one of the most durable plastics.
Low-Density Polyethylene
These are cost-efficient and one of the most common plastics used for pouch making. These have strong protective properties.
Polypropylene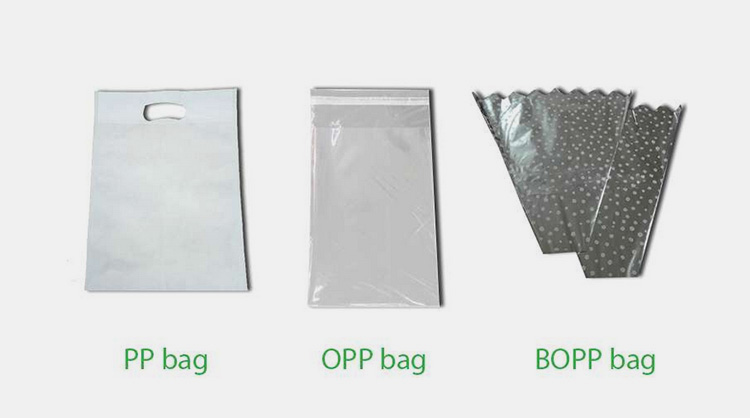 It is clearer plastic-type than its counterparts and is non-porous. Polypropylene has a higher melting point and is more resistant to damage.
Biaxially Oriented Polypropylene
It is the kind of Polypropylene that is overextended in both directions for higher stiffness, tensile strength, and ideal moisture-protective characteristics. It is easy to dye and print.
Aluminum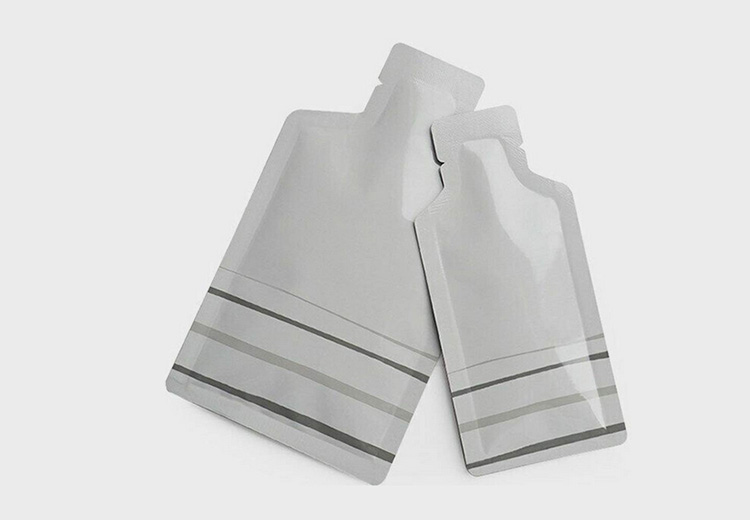 It is a lightweight, flexible, versatile, and ductile metal. It is generally used for making standup pouches. Aluminum pouches are known for their recyclability.
Nylon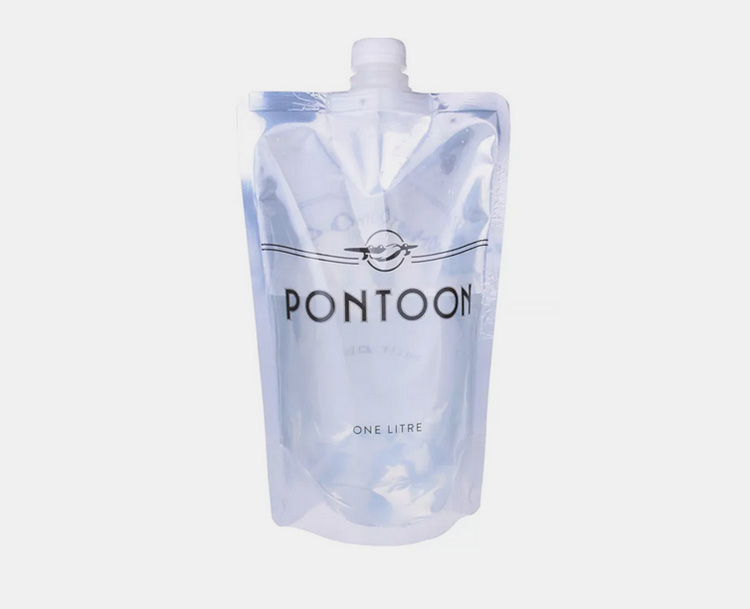 It has high toughness and perforation resistance. It is used for forming multi-layer pouches because of its excellent tensile strength and moisture resistance.
8.What Are The Different Kinds Of Liquid Filler Equipped With Liquid Pouch Filler?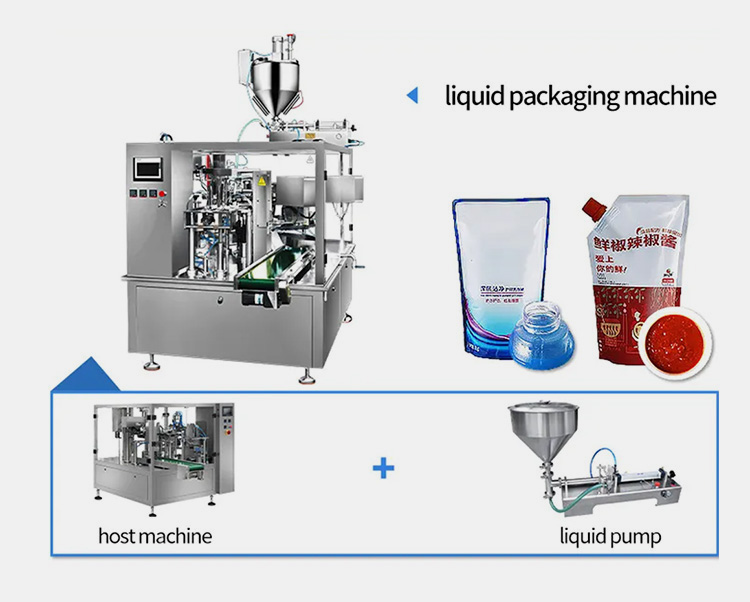 There are several filling approaches for liquid pouch fillers such as:
Pump Fillers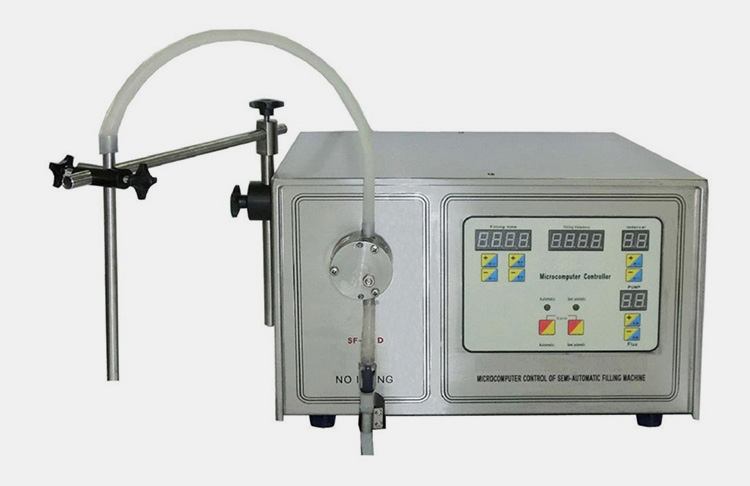 These kinds of fillers are perfect for filling viscous products such as oils, gels, etc. They use pumps for either pulse-based filling (number of gear revolutions) or time-based filling.
Volumetric Fillers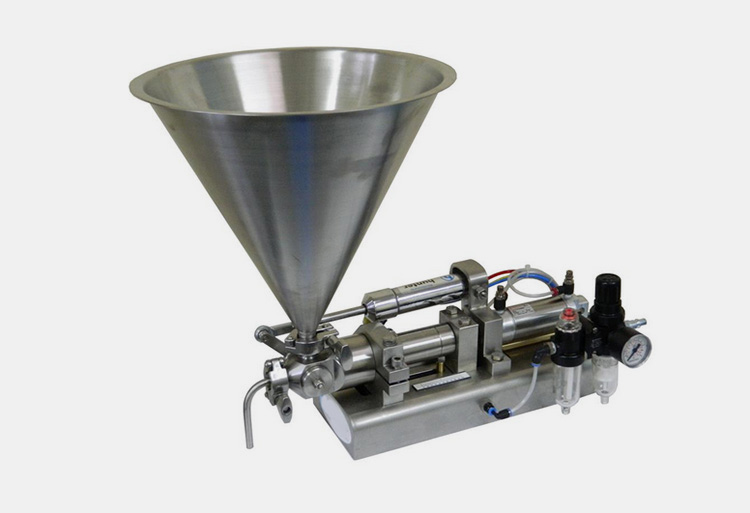 These fill the products in the pouches by the means of volumetric filling. There are two kinds of volumetric fillers installed in liquid pouch fillers:
Gravity Fillers
These fillers in liquid pouch filers fill liquids inside the pouches using gravitational force. The operator set a specific time limit for this volumetric filling. The exact volume of liquid is trickled through nozzles. These are suitable for filling free-flowing liquids.
Piston Fillers
In piston fillers in liquid pouch fillers, viscous liquids present in hoppers are drawn inside the piston cylinder using pressure, generated by the movement of the piston. The piston then retracts for dispensing liquids in pouches. They have an accurate filling.
Vacuum Fillers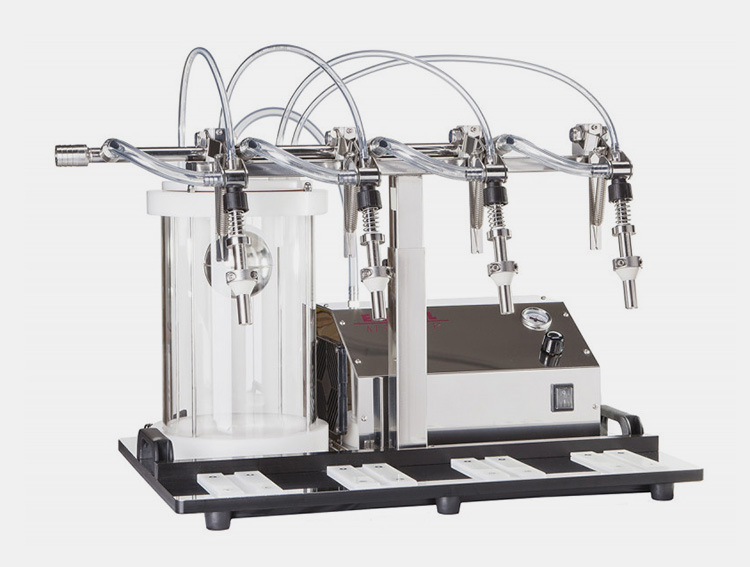 This uses vacuum feeding as well as vane cell systems for filling viscous or paste kinds of liquids in pouches. The liquid is gradually sucked into the vane cell from the hopper by the means of a vacuum pump. This is useful for the continuous filling of products.
Overflow Fillers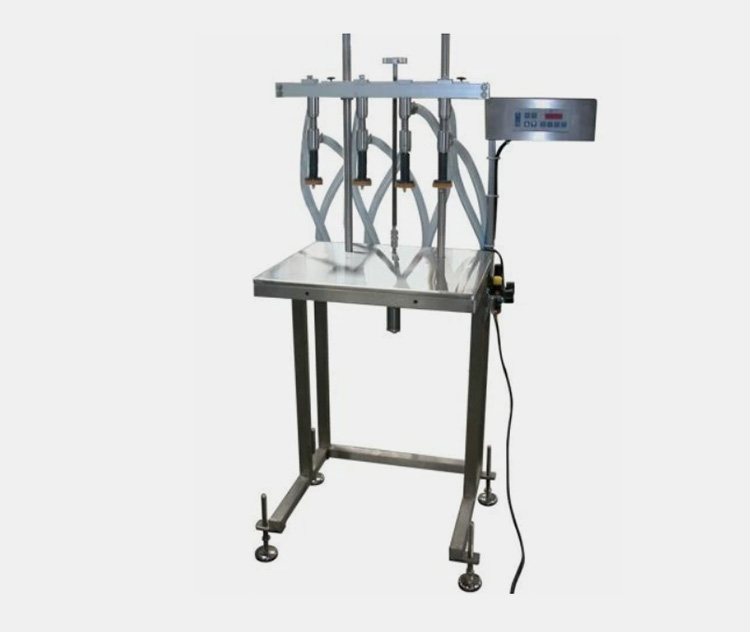 These fillers are alternatives to gravity fillers. These are often used for filling liquids up to a certain level in pouches rather than filling specific volumes of products. These are also known as liquid-level fillers. These are ideal for filling liquids in clear pouches to boost the shelf appeal.
9.What Is The Difference Between A Volumetric Liquid Pouch Filler And Liquid-Level Pouch Filler?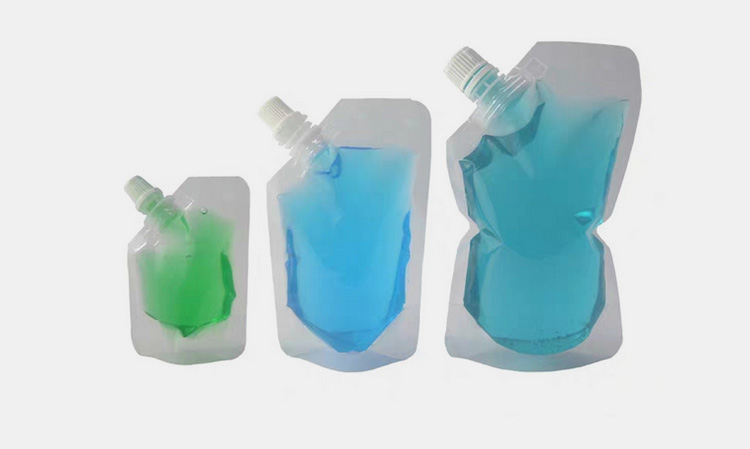 There are some major differences in these types of liquid pouch fillers for instance:
| | |
| --- | --- |
| Volumetric Liquid Pouch Filler | Liquid-Level Pouch Filler |
| These machines are used for filling accurate volumes of liquids in pouches. | These machines fill the liquid up to the required level. |
| There are no variations in filling the liquids from batch to batch. | By using these machines, there can be variations in different batches due to minor shape differences in pouches. |
| These are used for filling viscous and foaming liquids. | These are used for filling free-flowing liquids. |
| Different kinds of nozzles are used for filling depending upon the type of products in volumetric liquid pouch fillers. | The machines use nozzles that fix over the mouth of the pouch so that liquid can go back to the hopper after filling. This lowers product waste. |
| Volumetric liquid pouch fillers are more suitable for filling opaque pouches. | These liquid pouch fillers work best for filling clear or transparent pouches. |
10.What Is The Difference Between Premade Liquid Pouch Filler And FFS Filler?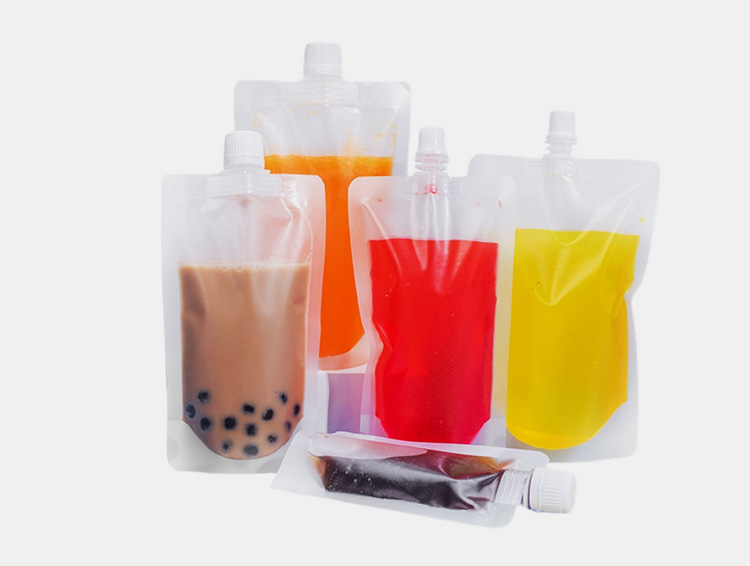 Although, these both are the kind of liquid pouch fillers involving the same basic principles yet these machines are not different from each other.
Some of these differences are:
| | |
| --- | --- |
| Premade Liquid Pouch Filler | FFS  Filler |
| These machines fill premade pouches. There is no need of forming pouches in these machines | These machines make pouches from scratch and fill and seal them. |
| These are formed by bag grippers, bag inflators, and sealing jaws. | FFS fillers are made of film unwinders, rollers, dancer arms, forming tubes, and sealing bars. |
| premade liquid pouch filler can fill diverse kinds of pouches having unique styles, shapes, and features. These machines can fill aesthetically pleasing pouches with liquids. | These machines are designed to form a limited range of pouches. |
| They can neatly and beautifully seal the pouches. | The edges are not neatly sealed by the FFS pouch machines. |
| These do not use film roll stock. | These use large rolls of film roll stock to make pouches. |
| The cost of buying these machines is quite high. | The buying cost of FFs pouch fillers is less than that of premade liquid pouch filler |
| The labor required to manage these machines is less. | More labor is required to manage these machines. |
| These machines do not produce much waste. | As these machines form pouches from the film, hence they produce more waste. |
11.How To Troubleshoot Liquid Pouch Filler?
Some problems with liquid pouch fillers and their troubleshooting are discussed below:
Problems
Causes
Solutions
Failure in Pouch Cutting

Incorrect setting of cutting parameters

Faulty or old cutting blade with a blunt edge

Air-compressed systems are defective

Adjust and input proper cutting values

Install a new cutting blade

Repair or install compressed air system

Failure in Pouch Opening

Dirty air filter

Bags are not properly loaded into the machine

Faulty vacuum pad

Defective air valve

Properly load bags on the machine

Replace or repair the damaged vacuum pad

Repair air valve or solenoid

Replace air filter

Poor Pouch Sealing

The temperature of sealing jaws is too high

Inadequate pressure of sealing bars

Dust or debris on the exterior of sealing bars

Pouches are not properly positioned or centered in grippers

Correct the temperature of sealing jaws

Make proper adjustments to the temperature of the sealing jaws

Properly wipe out sealing bars before the operation

Adjust the positioning of pouches in grippers

Sealing Jaws Fail to Work

Decreased air pressure

Faulty piston position sensor

Defective air distribution

An unclean or dusty sealing jaw assembly

Adjust air pressure

Properly adjust the reading of the piston position sensor

Properly clean and adjust the air compression system

Clean sealing jaws assembly for proper working

Film Does Not Track

Rollers and dancers are not in line with each other

Film tension is not proper. It is loose from one end and tight on the other end

Rollers are not moving easily

Film pull belts are very tight

Dust or debris on brake rollers

Worn out or damaged forming tube

The film is not accurately positioned on the spindle

Properly align rollers and dancers with each other

Adjust the film tension

Un-tauten the roller assembly

Relax tension in the film pull belt

Clean the brake rollers

Replace the forming tube

Correctly position film on a spindle

Non-uniform Pouch Length

Improper film webbing

Inaccurate tension of film on un-wind rollers

Debris accumulation film belts

Adjust the level and position of film unwinders, rollers, and dancers

Properly fix the film tension

Remove debris from film belts with a clean cloth
Conclusion
Liquid pouch filler is a need of every industry. These are quick, versatile, and robust. They are available in different styles, models, designs, levels of automation, and filling principles. These machines can process a wide range of different pouch styles such as standup pouches, doypack, sachets, etc., and materials like plastic, aluminum, etc. If you need further information about liquid pouch fillers you are more than welcome to contact our customer services.
Don't forget to share this post!
Premade Pouch Filling Machine Related Posts
Premade Pouch Filling Machine Related Products
Premade Pouch Filling Machine Related Videos
CONTACT US
Tell us your raw material and project budget to get quotations within 24 hours.
WhatsApp Us: +86 189 7157 0951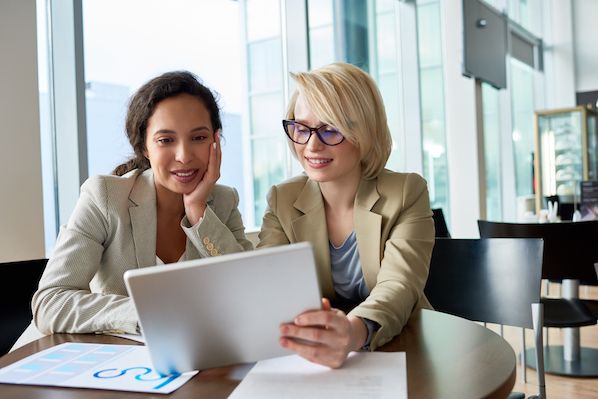 Want the best price & newest pharmaceutical machinery buying guide,tips and trends sent straightly to your box?Sign up for Aipak's monthly newsletter,we're free for your consultation and Offer you the most suitable solutions!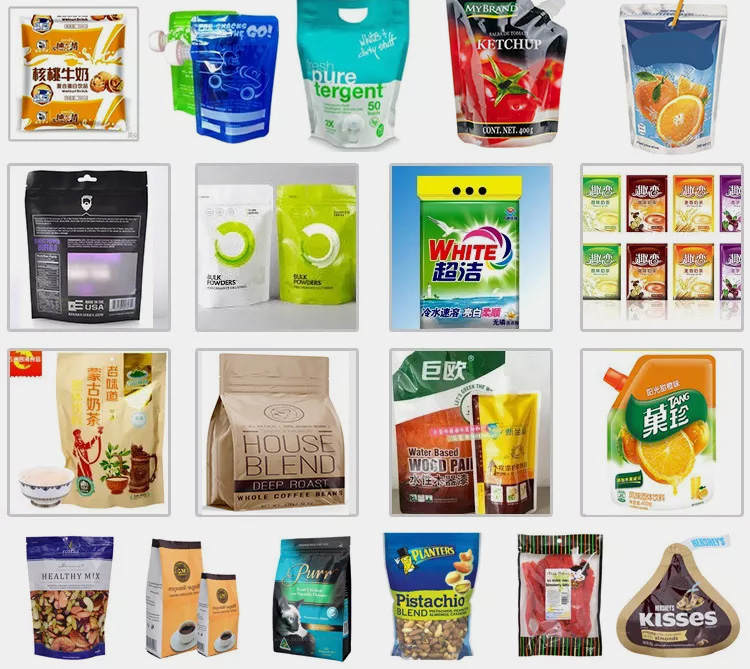 Tell us your material or budget, we'll reply you ASAP within 24 hours