Turmeric Powder Packaging: The Complete FAQ Guide In 2023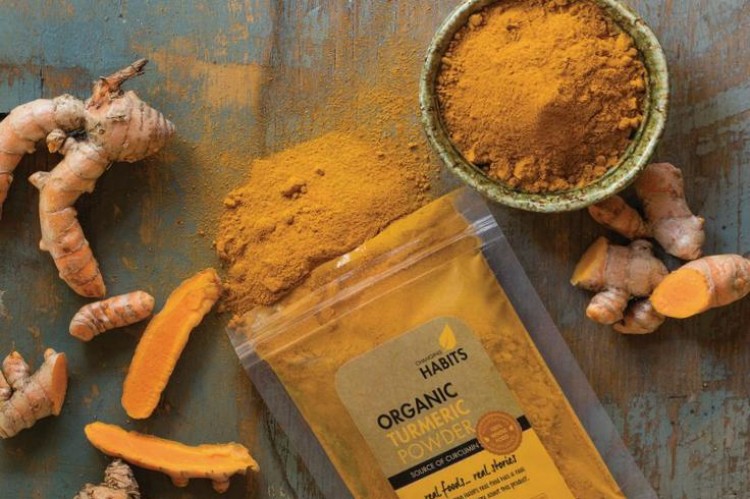 When it comes about Indian spices, Turmeric or Haldi cannot be neglected. Since ancient times turmeric in raw or powder form has been used as a culinary ingredient , medicinal agent, in religious ceremonies, as a dye and also in some cosmetic purposes. About packaging, it is essential to portray a brand's uniqueness and their effective communication through labeling for successful promotion and marketing.
Various packages of turmeric powder are now packaged as per the customer's requirement for a health supplement, as beauty products, and as a condiment. Reading this blog you'll be knowing all that you search for related to Turmeric powder's packaging.
Add a header to begin generating the table of contents
1.What is Turmeric Powder Packaging?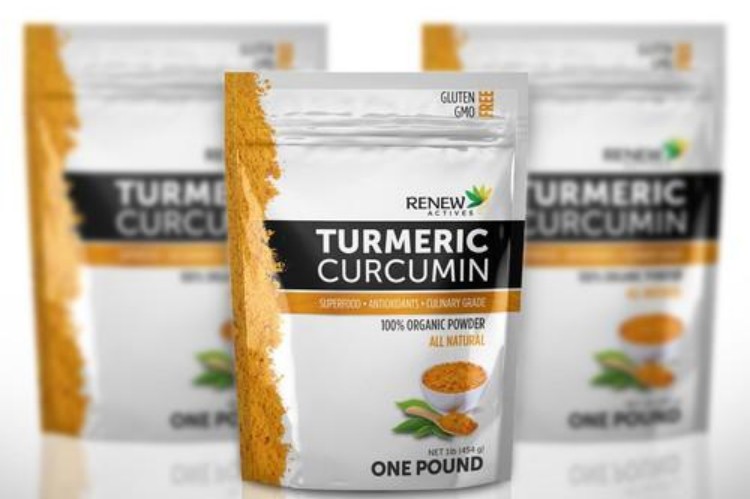 Turmeric powder is obtained after grinding dried rhizomes portraying a bright yellowish orange colour and owes to a strong spicy and bitter taste. It is packaged into suitable pouches or packets, glass or plastic bottles, Kraft paper boxes, and big sized bags if to be packed in bulk quantity.
Packaging of any spice needs to confirm that it will preserve the spice's flavors, odor, freshness, and quality so that to deliver the authenticity of taste as the product label might often claim. Usually, it is accepted that airtight sealing of such spice powders as turmeric prevents staleness and moisture penetration which results in its spoilage.
2.What is the History of Turmeric Powder Packaging?

The emergence of Turmeric or Curcuma longa it's botanical name, dates back as old as about 4,500 years ago used as medicinal plant for it's miraculous healing and anti-inflammatory activity. Turmeric powder began to be an essential part of Indian medicine in 500 BCE. It is said to be originated from the lands of Southern India and Indonesia.
The rhizomes or fingers of Turmeric were used firstly packed into bulk quantities in jute bags and bought directly in raw form from the markets and ground in powder form.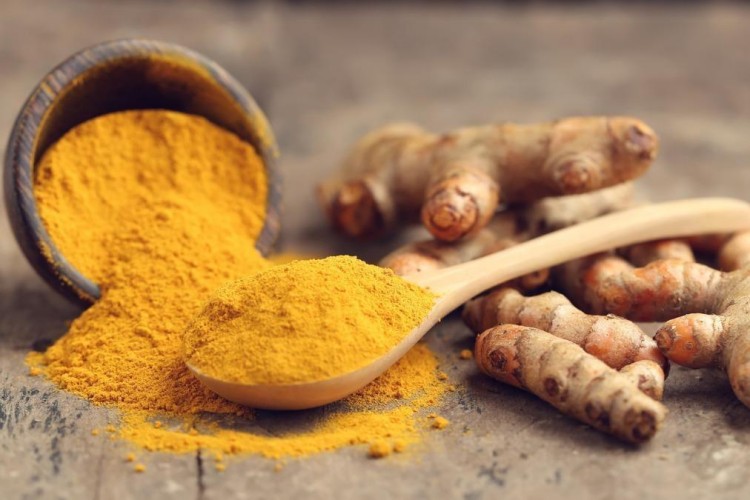 It then began to come in powdered form, available in large or small bags and people started buying as per the quantity they desired from local markets in transparent, plastic packets.
Gradually the packaging styles were modified and different designs of turmeric packs were found in the market such as transparent plastic packets, paper bags, stand-up pouches, sachet packs, glass or plastic bottles, cardboard boxes, and many more.
3.What are the Basic Requirements of Turmeric Powder Packaging?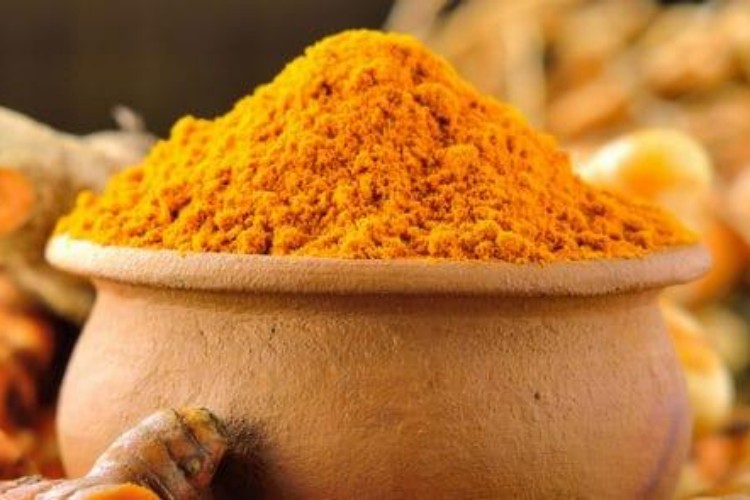 To consider the packaging of turmeric powder, you must be aware that there are some mandatory requirements to be fulfilled while packing any spice.
The packaging must be such that it protects and prevents the powder from any spoilage and spillage.
It must ensure that it provides a secure barrier against external environmental factors such as heat, light, oxygen , moisture etc which might cause the content inside to lose its actuality.
The barrier of the packaging material should enclose the turmeric powder in such a way that it preserves its freshness and does not allow to lose its flavor and aroma. It should be airtight.
The material used in the packaging must be grease resistant which doesn't allow the oiliness of the product to interfere with the packaging's layer and smudge the printed part of the packaging.
The packaging material chosen must be appropriate for printing and easily available.
4.What is the Importance of Turmeric Powder Packaging?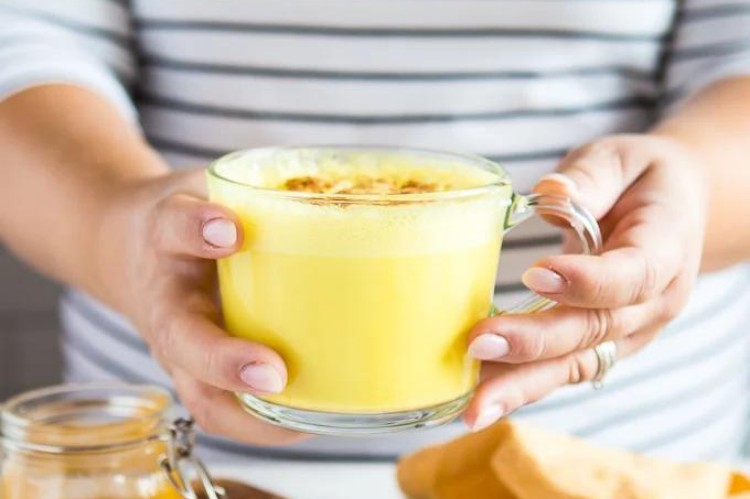 As turmeric also belongs to the spice category, it is important to ensure that the spice maintains its taste, freshness, and odor. Therefore, comes the packaging of such products.
Turmeric powder's packing as mentioned above requires to:
Protect the enclosed powder from spoilage and leakage.
Offers protection against moisture and oxygen which might cause spoilage of the spice by invasion and growth of insects and microorganisms damage.
It can offer an economical solution if the packaging material selected is widely available and conveniently disposable.
Turmeric powder inside the well packaged packet holds a claim to satisfy the food regulatory laws.
The packaging offers a highly durable mechanical strength that can withstand hazards during transportation and storage.
5.What are the Different Types of Turmeric Powder Packaging?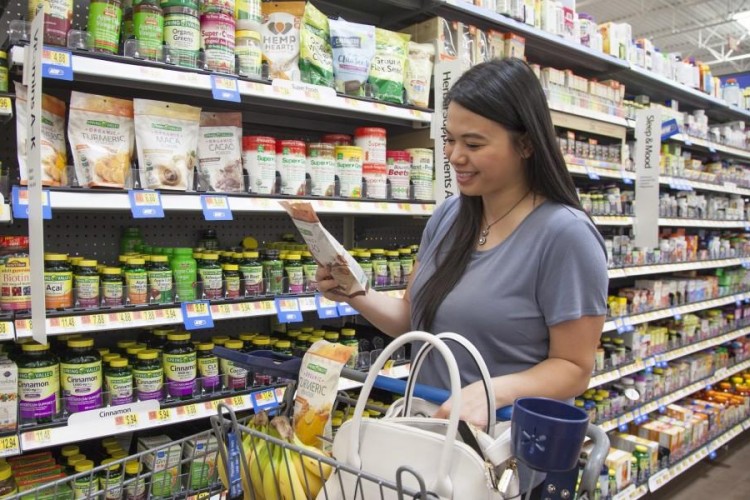 There are various forms of packaging designs that present turmeric powder in easily available packets or containers for consumer use. We'll see some of the types of packaging that are chosen for turmeric.
Doypack or Stand-up pouches
Doypack or Stand-up pouches are the most flexible type of packaging that comes convenient as well due to its strong gusseted or flat bottoms it delivers an eye-catching appearance when being placed on shelves. It does not allow Turmeric powder's leakage, preventing any spillage and food wastage. Doypacks have puncture resistant barrier which helps for locking in the flavor, aroma, freshness and nutrients, also disabling the penetration of moisture, light, and oxygen that would harm the quality of the product.
Cans or Composite Packaging
Composite packaging refers to a material having high strength to weight ratio offering excellent packaging encompassing a high barrier to environmental degradation factors, therefore, providing amazing shelf life stability and reduced food wastage/spoilage. Cans are a good option for packaging turmeric powder or any of your spices due to the property of metal or sometimes even plastic, they possess strong durability and protection. They are mostly easy to carry, recyclable, and offer you hygienic products.
Glass Jar Packaging
Glass presents be the most reliable packaging style available in terms of the preservation of Turmeric powder. You might've often noticed its common use in home kitchens for storing different types of spices. Glass Bottle or jar packaging allows a customer to see through and appeal to them due to its unique and special designs. It restricts environmental factors to interfere with the product's quality and maintains its freshness.
Kraft Pouches
Kraft paper pouches are sustainable type of packaging that can be used to pack Turmeric powder in bulk quantities and so these packages are available in different sizes. Kraft Pouches offer an easy tear option, a zip lock feature, and an inside layer of film that protects the product from UV light deterioration, harmful contaminants, and microorganisms.
Cardboard Box Packaging
Cardboard boxes made up of Kraft paper or high quality paper packaging material is used to provide protection to the Turmeric powder as it prevents adverse external factors such as light and oxygen to harm the product. Usually, it is used as an external packaging material to enclose a sachet packet of any spice powder.
Sachet Packaging
Sachet packaging is composed of a flexible style, easy to tear or pull open sealed bags that are used to store usually small quantities of powder or any liquid products.
Bulk Packaging
The large bags you might've often seen in markets holding an enormous quantity of spice powders are used actually as bulk packaging of a certain condiment. Jumbo bags or Flexible Intermediate Bulk Containers (FIBC) are used for the purpose of export. These bags are usually made of cloth or plastic such as Polypropylene and can also be laminated with an inner liner of some other material, having a capacity up to 1 tonne.
Institutional Packaging
They can hold up to 1 to 10 kg of turmeric powder and are composed of tinplate containers or jute bags, laminated flexible pouches, and plastic woven bags are also used.
6.What are the Various Machines used for Turmeric Powder Packaging?
Sachet Packing Machine
This machine is utilized for packaging economical small quantities of powder or liquid products. A sachet packaging machine can also be customized to suit your requirements whether you need a four sides sealed , three sides sealed , back sealed, or stick pack type of packaging for your product.
Working: A loaded film forms a sachet by unwinding. An unwinded film is cut from the front and back while sides and lower end are sealed with help of sealing bars. After loading the powder into sachet final sealing is done at the top end.
Vertical Form Fill and Sealing Machine
This machine is popularly used for packaging type of pouch or packet enclosing many different products. A VFFS machine operates automatically, filling bags and then sealing it.
Working: This machine starts functioning after its film is rolled off by the transport belt and moves over the dancer arm which moves up and down to create tension under the film. Later it moves through the printer (if installed in the machine) to emboss any marks or graphical prints.
Film tracking and positioning is the next step. Then comes the bag forming process in which the seal is formed, and bag length is decided. Sealing jaws comes forward and seals in open and close motion. Once the sealing jaws are closed, whatever type of filler is required fills the package with desired quantity of product and releases them finally.
Horizontal Powder Filling & Packaging Machine
Horizontal powder filling and packaging machine is equipment that can fill and seal products into a number of different packaging options. These packaging options include sachets, packs, and other popular primary containers. These horizontal powder filling and packaging machine come in semi and fully automatic versions having different price tags.
Working: Horizontal powder packaging machine develops a packaged product by unwinding the roll of film and that film travels in a horizontal direction to seal the packet in the bag forming process. Sealing jaws seal the packet from top and bottom respectively in each turn and then the desired product is filled and sealed again for final delivery of the packaged product.
Doypack Packaging Machine
Pre-formed packets or doypack packaging machine generally comes in two formats available for packaging of solid / powder products or for packaging liquid products.  The machine parts are made up of stainless steel. It can be flexible with the packaging of doypacks, sachet packs, zip lock bags, and spout pouches.
Working: Its working principle involves fill and seal mechanism. An empty packet is utilised for filling of the powder and then sealing it, and printing of any details and then again sealing it. It has a PLC control system that enables easy operability and smooth functioning.
Can Packaging Machine
Can packaging machine serve as an effective equipment for packaging metal or plastic cans that are nowadays widely used in many industries. This machine's affordable means of packaging ensures 100% dust-free operation throughout the process.
Working: Can Packaging machine operates through the manual loading of cans, each container travels through a conveyor belt to reach at the filling area. After filling containers, sealing is carried out by a sealing plate. A high temperature and high vacuum are required for this process.
7.What are the Effects of Turmeric Powder Packaging on Storage Material?
A research was conducted to study the effects on storage quality of different types of packaging materials used to pack the turmeric powder. Materials that were chosen were:
High Density Polyethylene (HDPE),
Low Density Polyethylene (LDPE),
Polypropylene (PP),
Plastic containers,
and laminated aluminum foil.
They were being analyzed to check any sort of change such as in moisture content, color or texture, aroma, and nutritional value. Moisture content was seen to be maximum in Polypropylene bags and least in aluminum foil packets. Under the refrigerated conditions, aluminum foil packets had shown very minimal or no color change, followed by plastic containers and then HDPE bags.
Nutritional value was not found to be lost under refrigerated conditions especially in plastic bottles. Aluminum foil packets were examined to be most suitable for a longer time period of storage for turmeric powder, followed by plastic jars and then HDPE.
8.What is the Best Choice for Turmeric Powder Packaging?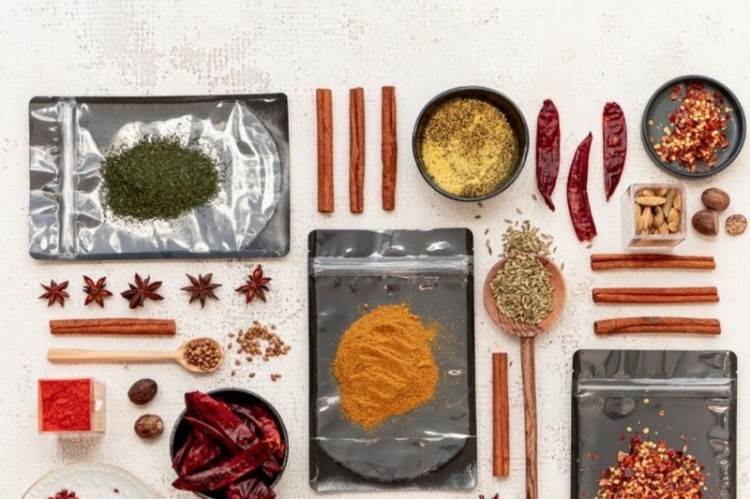 Indeed, turmeric and other spices delight your palate with vibrant colors and inducing delectable flavor in your meal. Whether looking for health or beauty packaging; manufacturers mostly prefer pouch packaging.
These are extremely versatile and adds a beautiful touch to product. Moreover, they are recyclable and resistant to heat and moisture. They are affordable and keep product fresh under airtight sealing is an ideal alternative to bulky containers, cans, or jars.
9.What Information Should Give on Label of Turmeric Powder Packaging?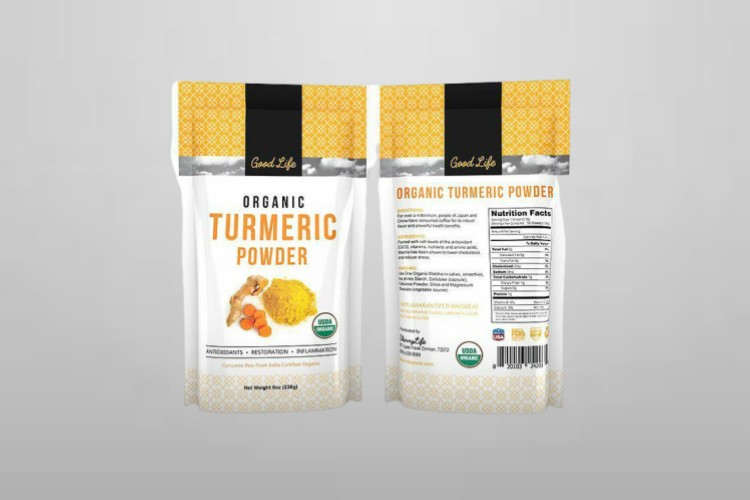 For good reasons it is mandatory that labeling requirements of any product's packaging is fulfilled, similarly food items need authentic labelings to be regulated by Food and Drug authorities.
Information that is supposed to be given on labeling of a Turmeric Powder Packaging includes:
Name of the brand and manufacturer's details such as company's name and it's address.
Source of Turmeric Powder and it's nutritional value in terms of whether it is pure and organic or additives are added.
Directions for storage must be mentioned.
It should be mentioned if any colouring agents or preservatives or other chemicals might be present.
Date of expiry or Best Before be clearly indicated along with the date of manufacturing.
10.What are Variable Types of Turmeric Powder Packaging Products?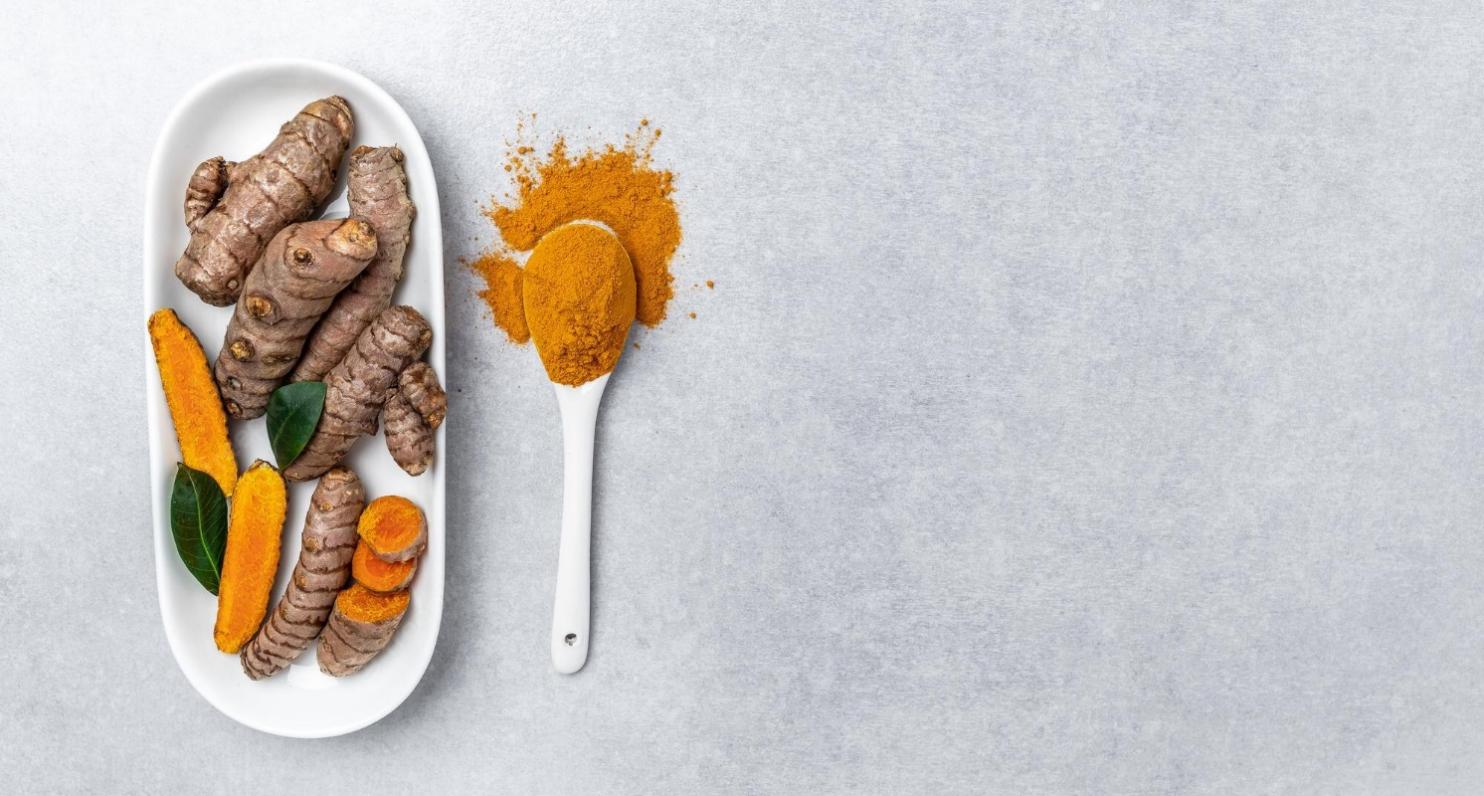 Variably packaged types of Turmeric products are now found in the market. Not only they are available in the spice category, but they are present today in the forms of beauty and cosmetic products, supplements, turmeric extract in the form of oil, turmeric powder, and many more. Let's see some of them.
Beauty and Cosmetic products
Turmeric powder is well known for its antioxidant and anti-inflammatory properties which makes it suitable for use on the skin to revitalize and bring a healthy glow when mixed with milk serving as a natural cleanser. It is beneficial for reducing acne and its scars. It can also be used in soaps and ubtan for giving a new look to your skin.
Health supplement
The extract of turmeric Curcuma is said to possess many pharmaceutical advantages and therefore has become a natural health supplement. Turmeric powder mixed with milk is said to heal many painful injuries and gives an immune boost to your system. It helps to relieve joints and muscular pains as well. It has great anti-inflammatory benefits which help to detoxify the body.
Household
Turmeric powder can be said as one of the essential spices present in the house. It's used in many recipes and dishes and as emergency medical aid in the house cannot be ignored such as for being placed on wounds, for fighting infections, etc.
11.What Considerations to be Taken for Turmeric Powder Packaging?
There are some concerns that are associated with the manufacturing of turmeric powder that must be paid attention to, to prevent the formation and delivery of poor or hazardous quality of your product.
Selection of Product Supplier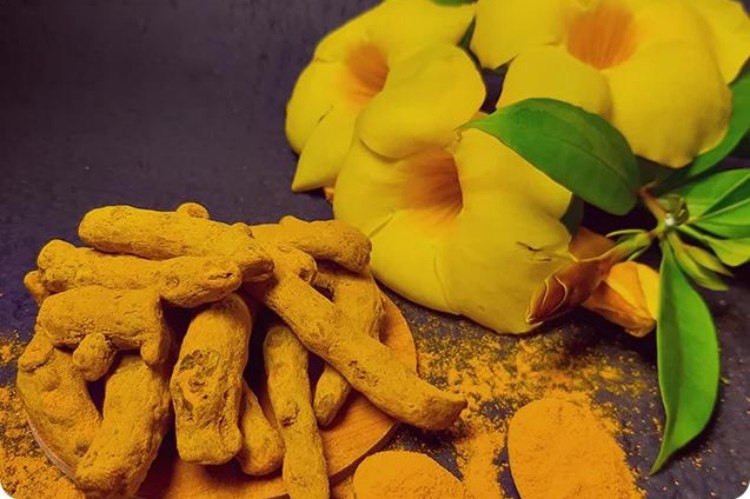 One of the largest concerns can be contributed to the selection of suppliers of raw materials related to source of turmeric obtained and other additives (if added) and also relates to packaging materials procured from that supplier.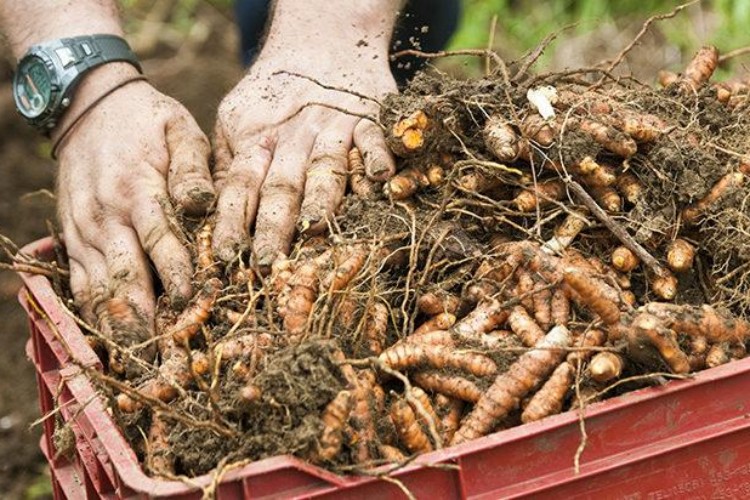 Other considerations that must be taken during the manufacturing process such that the processing should be monitored for controlling any errors that could result in the deterioration of the machine as well as the product, and to assure about quality of your product it is necessary to check for any accidental or intentional adulteration. 
12.How Is Turmeric Powder Packaged in A Supplemental Form?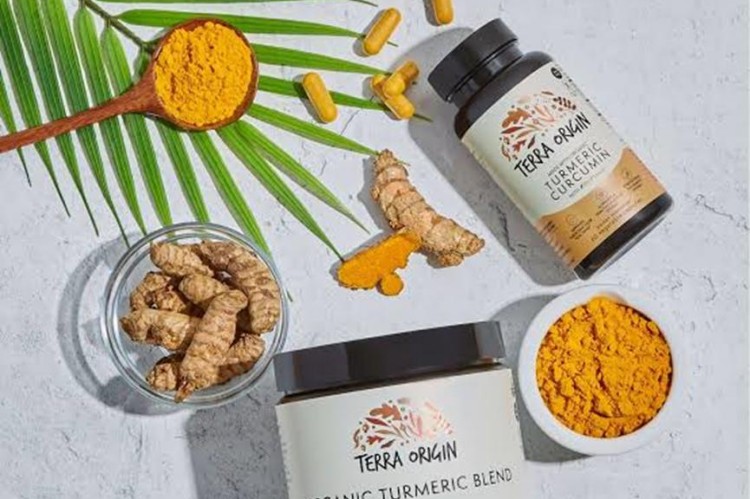 Turmeric powder packaging can be manufactured as per the required customer's demands. Nowadays turmeric has been widely used as a health supplement because of its miraculous healing and pain-relieving properties, immune boosting effects, and many more. Manufacturers work on the formulation by selecting the source of turmeric either organic or traditional, its dosing format, and its available delivery form.
Once the extract is acquired of turmeric it is measured in the required amount and mixed with other ingredients and processed into a desired dosage form. After its formulation, it is inspected for quality assurance and then packaged after being declared as fit for use. 
13.How Can Turmeric Powder PackagingStored?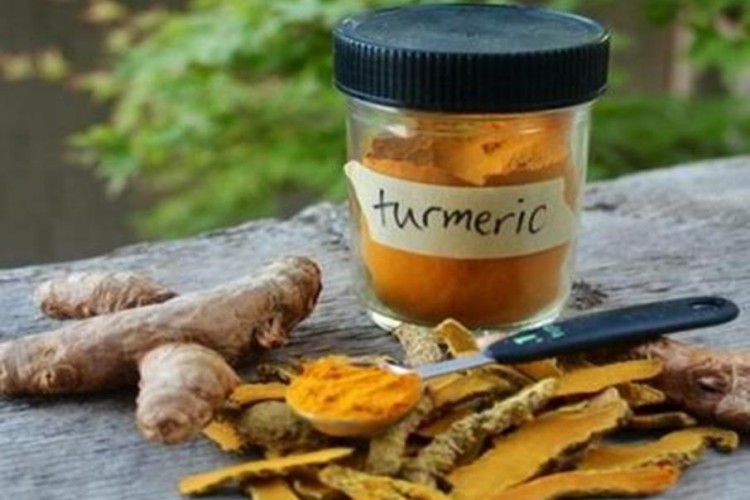 In order to preserve Turmeric powder for a good time period it is necessary that you follow below mentioned points, to do so:
Keep your powder away from heat and sunlight. It is better if you store your turmeric in a cool and dry place.
Make sure that no moisture content is allowed to invade your turmeric powder packet or container and heat does not penetrate inside, otherwise, the volatile essential oils will dissipate losing their aroma and forming pellets or cake of the powder particles.
Try to use older stock first so that it doesn't turn stale and unusable.
Ensure that the lid of the product's container or the packet containing the turmeric powder is well closed to lock its aroma and flavors inside only.
14.What is Turmeric Powder Export Value In The International Market?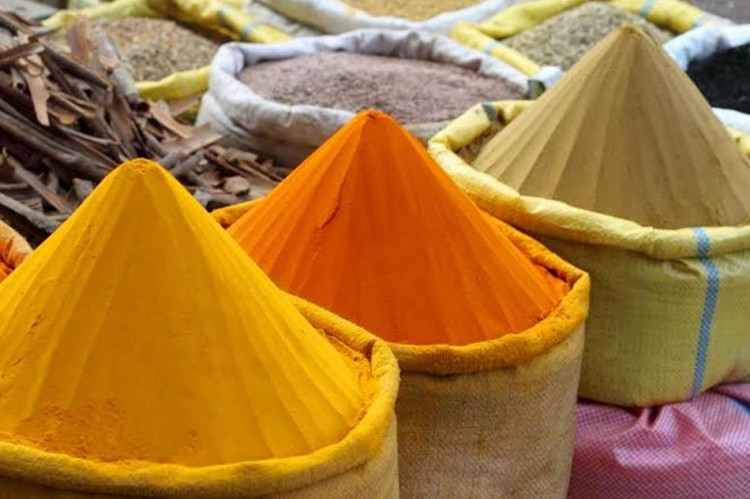 According to a research report, the international market growth rate of turmeric powder packaging or turmeric products shall be increased by 6% in the period of 2022-2029.  About 225.54 USD Millions accounted for India's export of turmeric and next came to the Netherlands.
North America due to increased demand for Curcuma has also been found to generate good revenues owing to its use in food and supplements as well as the cosmetic industry. Some other common producers of Turmeric are Pakistan, Bangladesh, China, Thailand, Taiwan, and SriLanka.
Conclusion
Today, turmeric powder packaging offers a stylish range of stock that directly boosts its market value across the globe. Side by side, there is on-the-go demand for high-class packaging machines. Whether you're looking for individual/unit packaging bags or bulk seasoning bags- Aipak pharmaceuticals offer a huge collection of world-class packaging machines. Our Hi-Tech, Well-Engineered, and Automatic Range of Turmeric Powder Packaging Lines is an Excellent choice to Add to Your Production Line. In addition, we offer multiple discounts and free training on all of our packaging machines. Contact us Now.
Don't forget to share this post!
Powder Filling Machine Related Products
Powder Filling Machine Related Posts
Powder Filling Machine Related Videos
CONTACT US
Tell us your raw material and project budget to get quotations within 24 hours.
WhatsApp Us: +86 189 7157 0951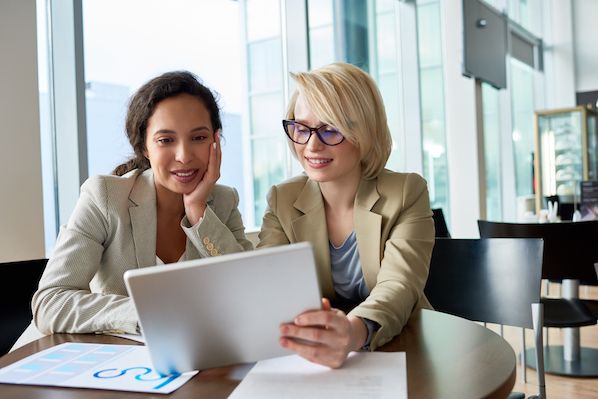 Want the best price & newest pharmaceutical machinery buying guide,tips and trends sent straightly to your box?Sign up for Aipak's monthly newsletter,we're free for your consultation and Offer you the most suitable solutions!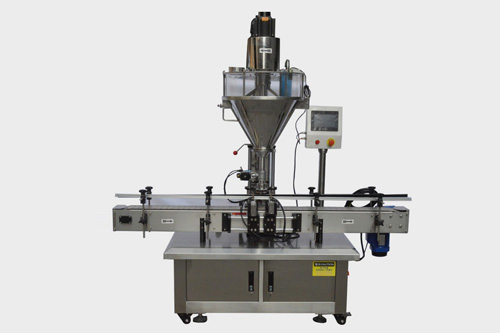 Tell us your material or budget, we'll reply you ASAP within 24 hours