APK-130S/240DS Horizontal Cosmetic Juice Premade Pouch Filling Machine For Energy Drink
APK-130S/240DS premade pouch filling machine is designed for doypack packaging need, it can make standard special shapes,doypack pouches, as well as with special additional functions like zipper, hanging hole, spout or special shapes. It also has big size and duplex series, which can meet packaging requirement of big volume and high speed.
The APK-130s premade pouch filling machine is fast in packing, stable in operating, which is durable machine with reasonable price.It is flexible to fill and pack various product such as fruit juice,energy gel,energy drink and wolfberry original pulp.It is widely used in food, beverage, cosmetics, personal care, household, chemicals and pharmaceutical industry.
Pouch Example


Machine Application
The APK-130S/240DS premade pouch filling machine is suitable for irregular shaped sachet standup pouch and flat bag,used in a wide range of applications and are suitable for many different industries,such as orange juice,tomato paste,fruit juice ,beverage,jelly, detergent,honey,fruit drink,energy drink,apple juice,TomatoSauce,Washing Liquid,Milk Beverage,Water,ketchup,peanut ketchup,jam,chili sauce,Juice ,yogurt, Fresh Milk, Chili Sauce,Viscosity Paste,Viscosity,oil,Mango Juice and more.


Packing Process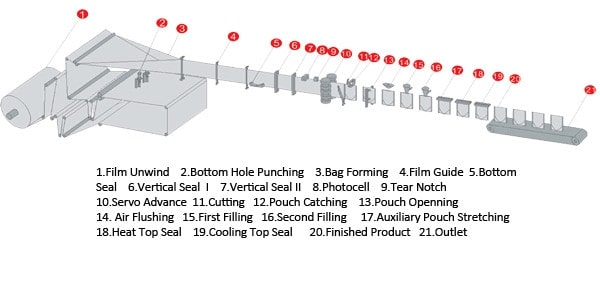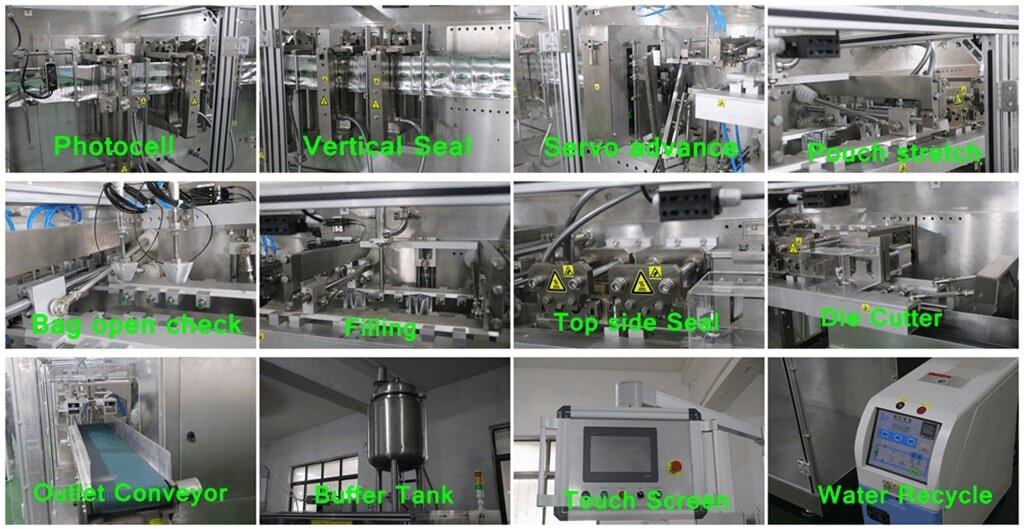 Servo Advance System
1.Easy Computerized Specification change
2.Big torquemoment of pouch advance
3.Stable Pouch advance with less deviation
Unique Piston Filler with Filling Nozzle
1.High filling accuracy
2.No drop after filling
3.High velocity
Light Walking Beam
1.Easy computerized specition change
2.Longer operational life span
| | | | | | | | | | |
| --- | --- | --- | --- | --- | --- | --- | --- | --- | --- |
| Model | Pouch Width | Pouch Length | Filling Capacity | Packaging Capacity | Function | Weight | Power | Air Consumption | Machine Dimension(L*W*H) |
| APK-130S | 60-130mm | 80-190mm | 350ml | 35-45ppm | Doypack,shape | 2150kg | 6kw | 300NL/min | 4720mmx1125mmx1550mm |
| APK-240DS | 80-120mm | 120-250mm | 300ml | 70-90ppm | Doypack,shape | 2300kg | 11kw | 400NL/min | 6050mmx1002mmx1990mm |
                                                   Get in touch with an expert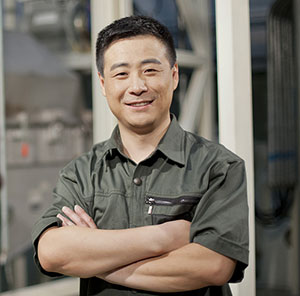 We´re looking forward to find the suitable solution for your product. Please contact:
Andrew Yang
Engineer Director
Phone: +86 189 7157 0951