Aipak Gummy Making Machine
Aipak Gummy Making machine is an advanced and continuous production line for making different sizes of gummy candies.It is an ideal equipment which can produce out good quality products with the saving of both the manpower and the space occupied. This depositing line consists of jacket dissolving cooker, gear pump, storage strainer, storage tank, discharging pump, color & flavor jigger, color & flavor mixer, depositor, cooling tunnel, electric control cabinet, etc.
Aipak Gummy Making Machines
Aipak APK-GM80Q small scale gummy making machine is fabricated based on the similar equipment of NID company from Australia. After being localized, the machine features easy operation and steady workng. The processing for the whole line include cooking, depositing (servo central-filled depositing included), finished product transfering, powder disposing and recycling system.
Automatic steam control system
Customized moulds
Easy operating
Aipak APK-GM150Q medium scale gummy making machine is fabricated based on the similar equipment of NID company from Australia. After being localized, the machine features easy operation and steady workng. The processing for the whole line include cooking, depositing (servo central-filled depositing included), finished product transfering, powder disposing and recycling system.
High accuracy
Customized moulds
Easy operating
Aipak APK-GM300Q large scale gummy making machine is fabricated based on the similar equipment of NID company from Australia. After being localized, the machine features easy operation and steady workng. The processing for the whole line include cooking, depositing (servo central-filled depositing included), finished product transfering, powder disposing and recycling system.
High accuracy
Customized moulds
Easy operating
Aipak Gummy Making Machine Details
Gummy Making Machine Gelatin Melting Machine
Aipak Gummy making machine gelatin melting machine is made by many parts that include the reducer, motor, agitator, electric heating pipe, scrap shear,control electric cabinet, machinery seal, clean ball. temperature detector and Teflon scraping mixing.Each part performs different function that complete the function of dissolving and cooking syrup together,that is pectin dissolving.Generally,Aipak offers 100L gelatin melting machine.
Gummy Making Machine Transfer Pump
Aipak gummy making machine transfer pump also can be called LOBE pump,which is also made by slurry pump body, motor.Tjis part is mainly used to transfer syrup to the storage tank or Depositor.
The transfer pump's capacity is formed by the synchronous reverse rotation of the two rotors and the pump cavity changes from larger.With continuous rotation that makes the material transfer to the independent space of the rotor and pump cavity.And at the exit, the space formed is reduced by the synchronous reverse rotation of two rotors.
Gummy Making Machine Storage/Mixing Tank
Aipak Gummy making machine storage/mixing tank consists of many parts that include the reducer, motor, agitator, boiled water circulation insulation,scraper shear and clean ball.It is mainly used for storing the syrup solution after dissolving, but also has the function of syrup temperature holding.
Gummy Making Machine Depositing Machine
Aipak gummy making machine depositing machine is the critical parts of the gummy bear manufacturing that is made by many components including the independent electric cabinet,Depositing head (2 hopper),24 plungers, Manifold plate, Dynamic mixer,4 dosing pump, Heating pipe, Chian transmission, temperature detecter,demold plate. demold brush, cylinder, aviation socket.electronmagnetic vale.Among which its frame is made by SUS304 and food touch part is made by SUS316.
Gummy Making Machine Cooling tunnel
Aipak Gummy making machine cooling tunnel adopts sanitary design structure and has IP65 electrical standard makes the tunnel washable by washing water.It includes the AHU,heating transfer device. wider demold plate,demold brush, PU conveyor.automatic chain tension device.All frame and plate of the gummy bear manufacturing machine are made of SUS304 with thickness 3mm.
Aipak Gummy Making Machine Main Technical Parameters
Model
APK-GM80Q
APK-GM150
APK-GM300
APK-GM450
APK-GM600
Capacity
80 kg/h
150kg/h
300kg/h
450kg/h
600kg/h
Candy weight
As per the candy size
Depositing Speed
25~35 n/min
25-45n/min
Steam requirement
80kg/h,

0.4-0.6MPa

250kg/h,

0.5-0.8MPa

300kg/h,

0.8-1.2MPa

400kg/h, 1.2-1.6MPa
500kg/h, 1.6-1.8MPa
Compressed air requirement
0.2m3/min,

0.4-0.6MPa

0.2m3/min,0.4-0.6MPa
0.2m3/min,0.4-0.6MPa
0.25m3/mi,0.4-0.6MPa
0.3m3/min,

0.4-0.6MPa

Working condition
Temperature 20℃-25℃;Humidity45-55%
Electric power needed
55kw/380V
65kW/380V
75kW/380V
80kW/380V
85kW/380V
Total Length
8m
16m
18m
18m
20m
Weight of machine
2500kg
3500kg
4000kg
4500kg
5000kg
Gummy Making Machine Product Samples
Gummy Making Machine Videos
Are you looking for more information or want to get an accurate quotation?
If you need a professional business partner to provide you high quality, cost-effective, timely, and risk-free manufacturing services, we are the first step towards success.
How To Make Sugar Coated Gummies: The Complete FAQ Guide in 2023
You have made your gummy bears and they turned out great.
Then you add the sugar to coat them and after a while these gummy bears look wet and sticky.
What happened,were they still safe and perfect?
Today,I am going to use this article to explain why these gummy candies melt when sugar coating them and tell you when and how to make sugar coating to prevent them from melting.
Reading through,you will get some of the best ways to make your sugar coated gummies.
Let's go to the topic directly.
Add a header to begin generating the table of contents
1.What is Sugar Coated Gummies?
Sugar-coated gummies are sweet and sour candies which are used to be given as a gift on a happy occasion like valentine's or you can use them anyway for your purpose to eat or to celebrate.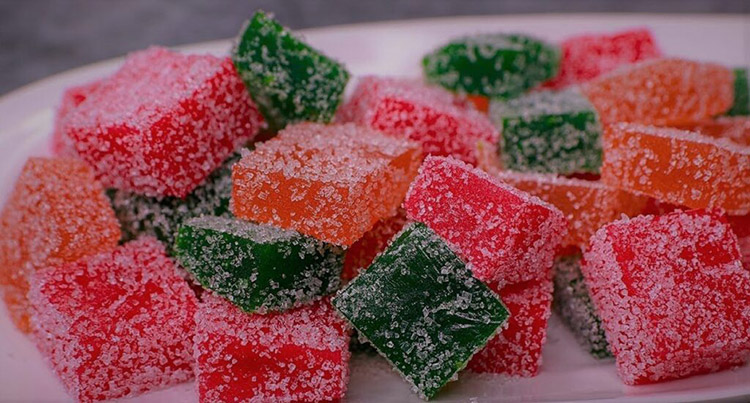 Gummy Candies
Sugar coated gummies are sticky flavored candies available in different flavors. Peppermint oil is used in them to make them gummy most of the people like the stickiness in them.
There is Sugar Coating on them which makes them sweeter and gives candies an attractive look.
To be honest they are not that sticky as a pack of gum but soft and jelly-like which makes them perfect to eat.
2.Why should you Make Sugar Coated Gummies?
There is citric acid used in Gummy candy in the process of Molding when you remove them from mold there is moisture present in them.
Which makes them soft and jelly based and then you coat them with the sugar mix so that they won't melt but if you won't coat them with sugar all of the moisture will go out and they will be melted and become sticky.
With the help of Sugar Coating, the Quality of the Gummy Candies will be increased and they will remain in perfect shape.
Sugar act as a barrier between the outside environment and the inside material of the candy to save your Gummy Candies from any damage/contaminants.
As you know sugar Suck all the moisture from the candy it will also help your Gummy Candies against the sunlight.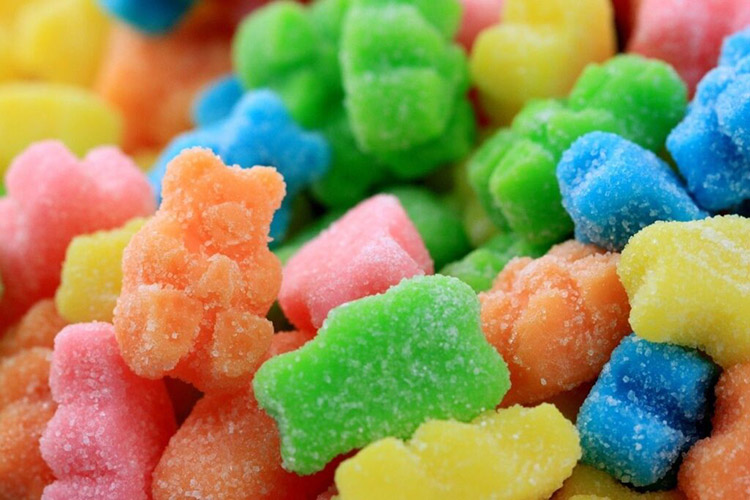 Sugar Coated Gummy Bears
So that's why the sugar coating is necessary for gummy candies so they won't melt and remain in perfect shape and taste.
3.Why Gummy Candies Melt when Sugar Coating?
During the molding of Sugar Coated Gummy candies if you won't add sugar mix after removing them from molding there is a Gelatin inside which produce moisture in them.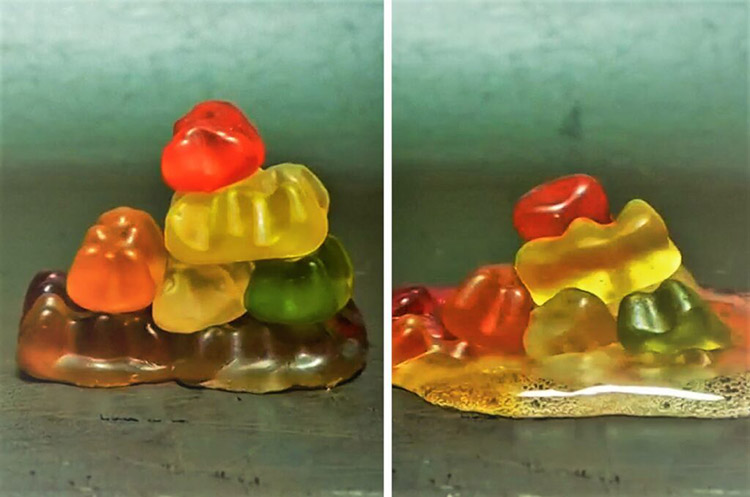 Melting Gummy Candies
And when you do sugar coating the sugar mix helps them to hold the moisture inside by providing a layer from outside and if sugar mix is not coated they will start melting because of that gelatin which makes the moisture come out.
4.What is Citric Acid for Gummy Candies?
Citric acid is water-soluble mostly found in citric fruits like lemon, grapes, pineapple etc . Which is used in Sugar Coated gummies for the purpose to make an alloy.
Citric acid work against the moisture so that your Gummy Candies remain perfect in shape and do not meltdown.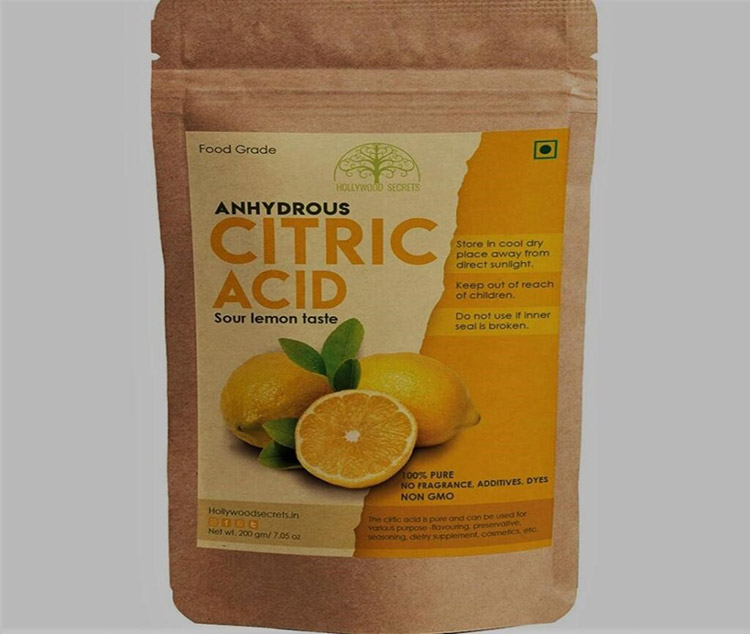 Citric Acid
When mixed with sugar it gives some sour taste in candies and helps to make moisture which further made the sugar coated gummies soft.
5.What Ingredients do you use for Making Sugar Coated Gummies?
There are some of the ingredients used for making the Sugar Coated Gummies.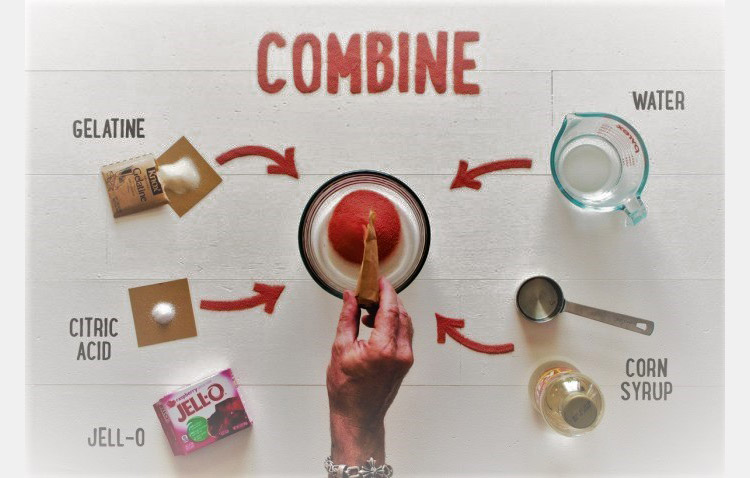 All ingredients for Gummy Candies
Gelatin Powder/Sheets or you can use leaves

Gelatin Powder
Gelatin is a yellow-colored odorless and tasteless substance that is found from the animal's skin and bones.
It helps your Gummy Candies to make them chew like the bubble gum but not that chew they are soft enough to chew.
So, it is one of the main ingredients for your Gummy Candies.
Caster Sugar or Sugar Mix
Granulated Sugar or Caster Sugar is the main ingredient that is used in making Gummy Candies.
It is not that difficult for you to buy this ingredient usually it is available in our homes for daily use.
Sugar is used to give sweetness to the Gummy Candies which people like the most.
Corn Syrup/Glucose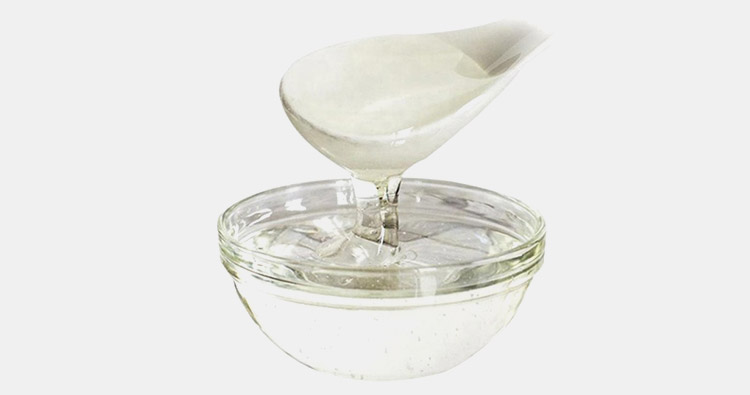 Corn Syrup
Corn Syrup or Glucose is used to bring the softness in the Gummy Candies.
It also works against the crystal forming inside the candies so they can remain soft and chew easily.
Water
Used for making syrup with Granulated Sugar.
When mixed with sugar made the perfect sweet mixture for Gummy Candies.
Any flavor of your choice
With the help of this ingredient, you can choose in which flavor you want your Gummy Candies to be made of.
Any flavor of your choice or you like the most you can use
I would like to have the Gummy Candies in Peach flavor.
Lemon Juice take it as optional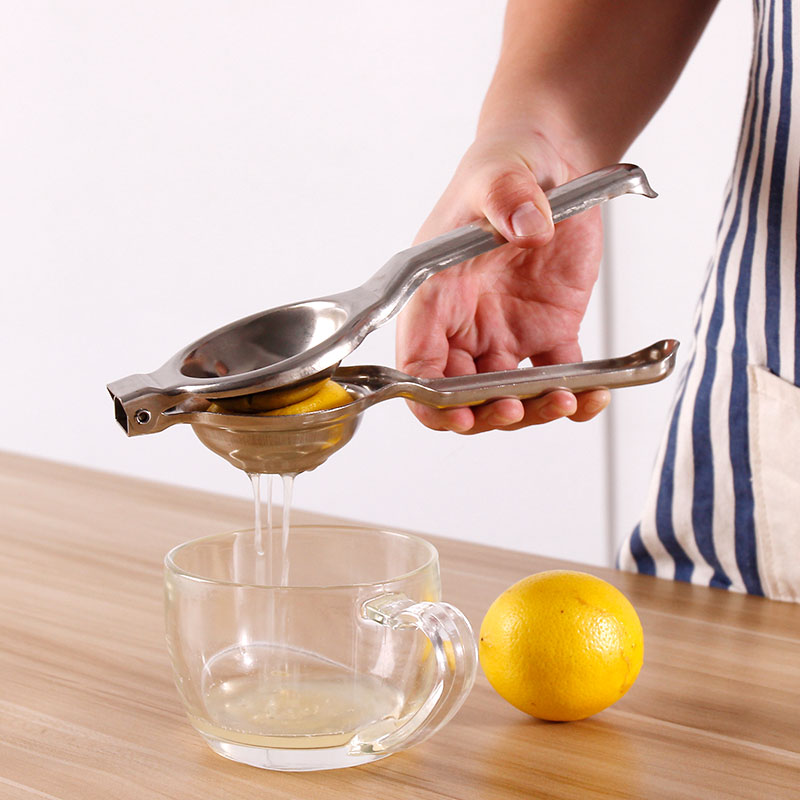 Lemon Juice
It is an optional ingredient but if you want your Gummy Candies to have a little bit sour taste too then, you can use the lemon juice.
It will add some sour taste to your Gummy Candies if you want to not necessary.
6.When and How to Make the Sugar Coated Gummies?
Mostly people used to make the sugar coated gummies on the day of celebration for something like Christmas or Valentine's so they can gift each other's and celebrate with each other or you can make them for someone special to you and give them as a gift.
You may have experienced eating these chew, soft and jelly like sugar coated gummies in your life.
You can have them sour in taste or sweet so the thing is these sweet candies are very good in taste and quality as well so here is the recipe for Sugar coated gummies.
Preparation Stage:
First of all, you must have gelatin. Gelatin is an abundant gained from the skin of a pig or you can use gelatin powder if you want to.
You might be thinking is it necessary to use gelatin so the answer is Yes! But you can use gelatin from other animals if you want to.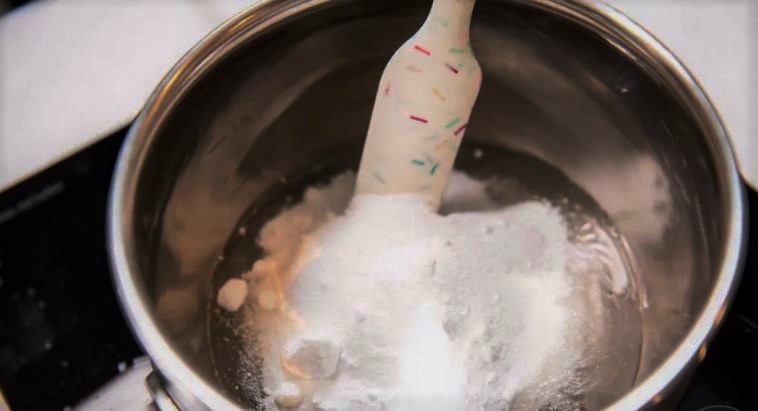 Gelatin and Water mixture
In the bowl of water of 5 or more cups add the gelatin and left it for some time for water absorption.
You have to let the gelatin sock the water and let it to get soft with water absorption and if you are using the gelatin powder instead of gelatin sheet then the method is a bit different.
You have to stir the gelatin with water for at least 22 minutes until the gelatin becomes soft and water is absorbed.
Mixing Stage/Compounding:
In the Second Step just add the hot water sugar mix and juice of a lemon for a bit of sour taste juice can be used as it is there is no need for advanced heating stir the mixture well until they get dissolved perfectly.
After that heat the mixture at low flame for 12-15 minutes to be honest!
There is no fixed time for the mixture to be heated but if you are making it for the first time then I will tell you one thing if your mixture is thick that is a good sign for your Sugar Coated Gummies.
Thicker the mixture of your gummies harder the sugar coated gummies will be, so,  do it accordingly.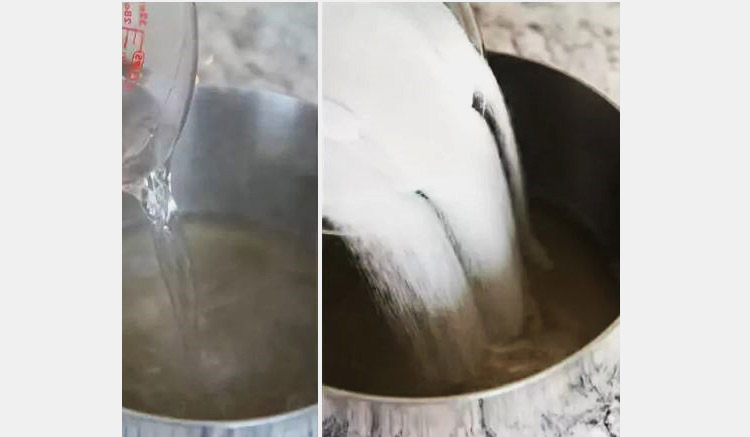 Now moving on taking the gelatin that you soften with water in the beginning add the gelatin with water in the mixture of sugar mix, hot water, and lemon juice stir the mixture.
And gelatin for up to 3 minutes without turning off the flame so that the gelatin can get some heat and let them dissolve perfectly.
After that, the mixture will be getting thick so remove the saucepan from the flame and add the mixture into molds of your own choice (it is recommended to oil the mold sides so that it will be easy for you to remove the Sugar Coated Gummies).
After putting the mixture into mold let the mixture/alloy cool in the refrigerator for at least 4-hours of time 
Final Stage:
In this step when you see that the Gumm/Paste is perfectly cold try to remove it from mold use a knife and a bowl of boiled water to remove the Gumm/Paste.
Then take knife put it in hot water and then use the knock of a knife around the edges of the mold to remove the Gumm/Paste from the mold after removing from the mold cut it into pieces of your choice.

Sugar Coated Gummies
Sugarcoating after cutting the candies into pieces roll them onto the Caster sugar but keep in mind your candies must be dry enough otherwise the sugar will not be coated and will form lumps.
Place the candies somewhere safe and let them completely dry and let the sugar be coated on perfectly for 1-2 days accordingly.
Here is the complete method for you to give a try and enjoy the sweet and soft Sugar Coated Gummies.
Click on the link to view the full video of how to make Sugar Coated Gummy Candies
Video Credits: Savoury Days Kitchen
7.What should you Take Note when Making the Sugar Coated Gummies?
Try to use a rack that will be less sticky as compared to a steel plate or something like that.
It will also help your Product to dry quickly.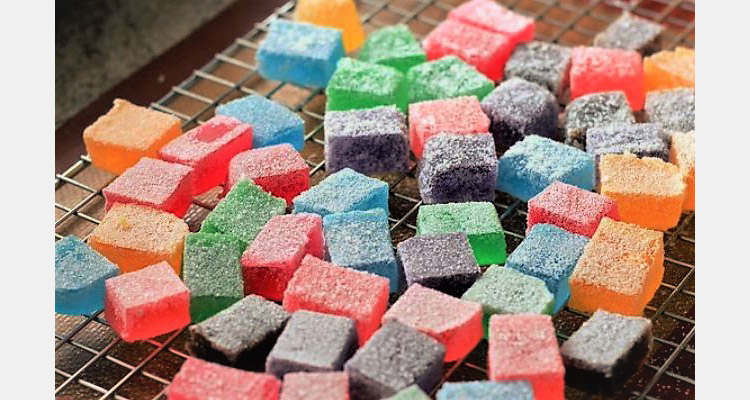 Rack use to Dry the Gummy Candies
In the end, the process when you are coating the candies with granulated sugar/caster sugar for the dry process uses a rack instead of a plate or a dish.
Because if you try to dry them in a plate they may get stuck with it and all your effort will be ruined so take it as a note to use a rack rather than a plate for better result.
8.What are the Benefits of Using the Gummy Candy Sugar Coating Machine?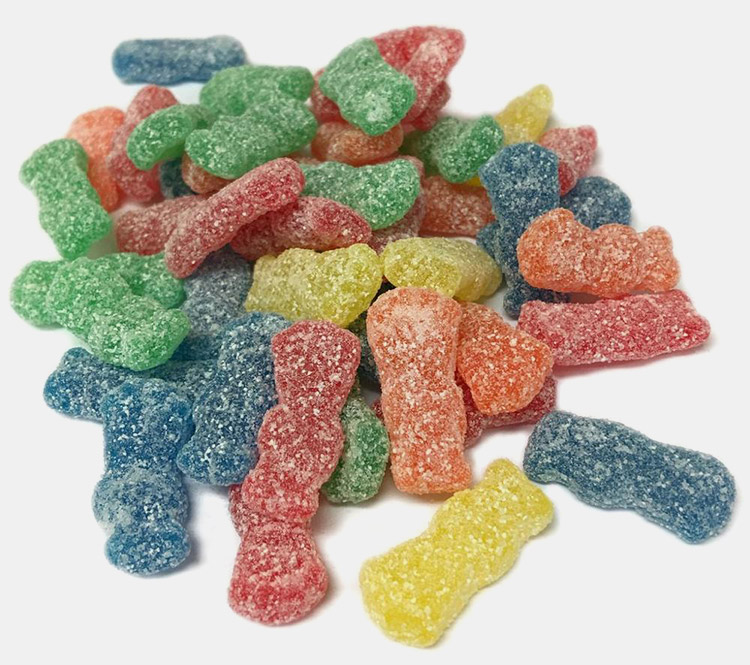 There are some benefits or you can say the advantages of using a Sugar Coating machine. 
Safety of Products
Firstly the machine will help your candies to have a perfect shape and help you to reduce the time of packing without getting any damage.
And also help you from any kind of dust forming with sugar so your product will remain fresh.
It is not that expensive because you will use only water and sugar these are the two materials which the machine is going to use to give a perfect look to your Sugar Candies.
With the help of sugar-coating machine, your candies will be perfectly coated and will help to absorb the moisture so the quality and taste will remain the same.
Faster Production
The Gummy Candy Sugar Coating Machine will increase your production rate by making thousands of Gummy candies in a very short time frame.
The Machine holds the complete PLC Control Panel with a touch screen which can help you to control the complete working mechanism completely and effectively.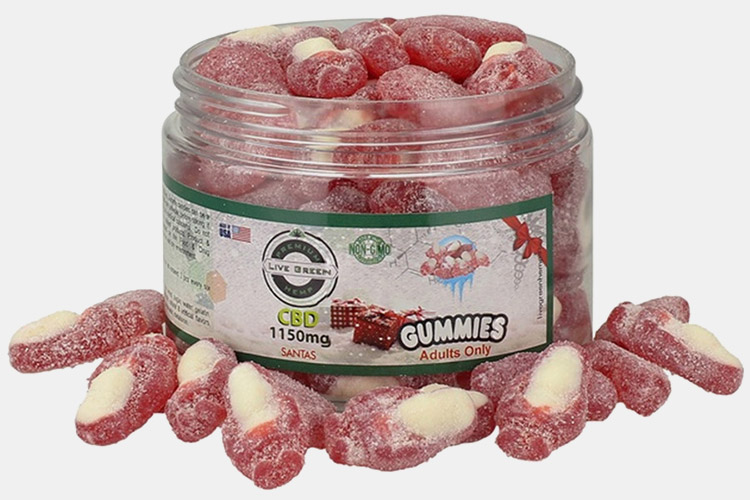 Contamination chances for your product are also lowered when you use the Sugar Coating Machine because the inside material of the machine is stainless steel which helps the product from getting contaminated.
Easy Maintenance
It is easy for you to maintain the machine in good shape because the maintenance is cheap and easy for you to remove the parts for cleaning and oiling.
You know that machinery is very expensive these days and the maintenance is also expensive but this machine is very reliable and easy for you to maintain.
Perfect Production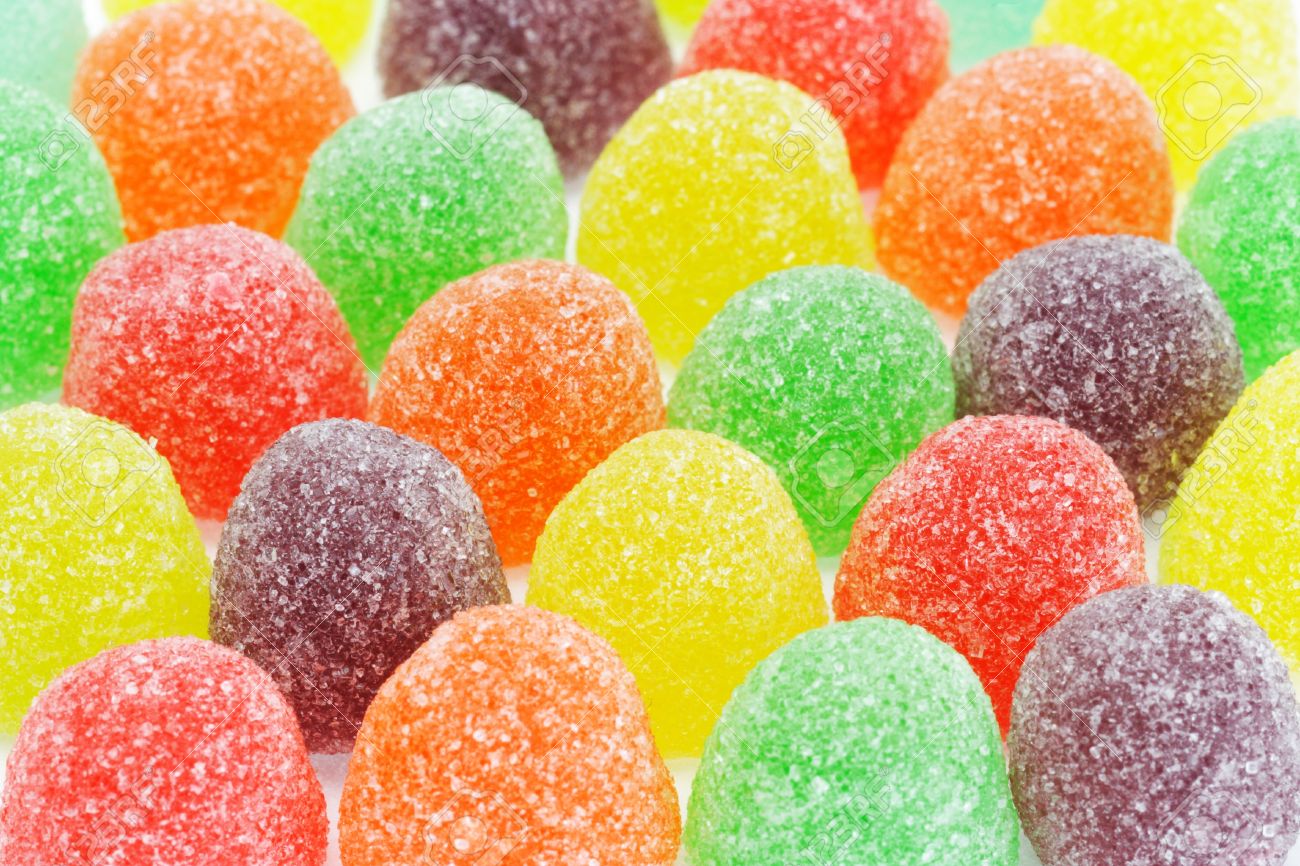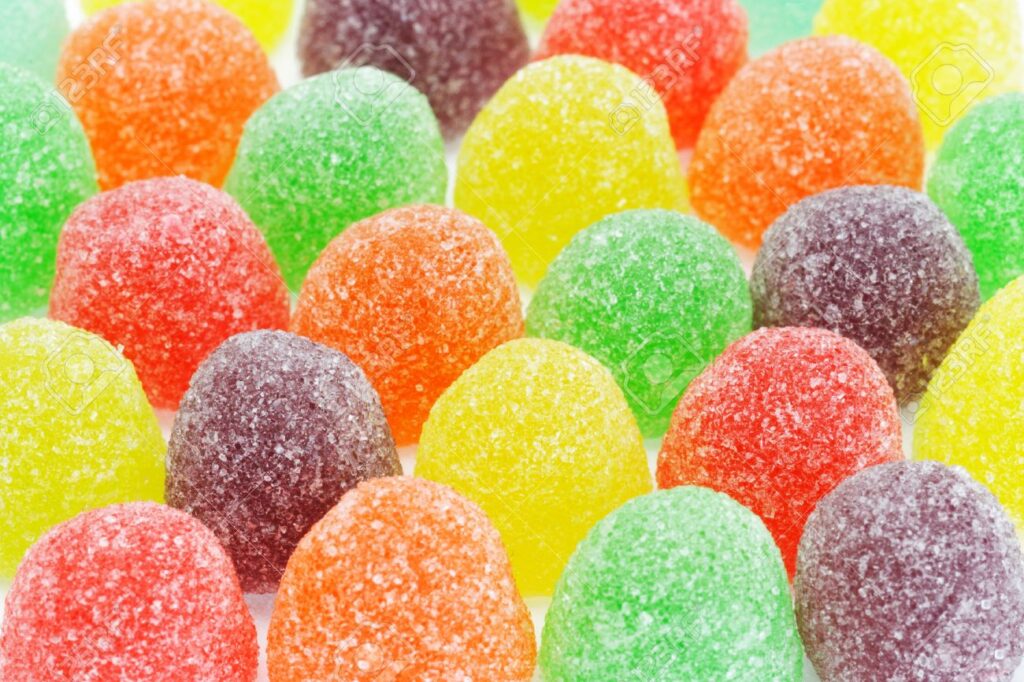 The machine will help you to have a moderate amount of sugar coating on every candy with a specific amount of sugar.
Because if you try the sugar coating without a machine some of your candies may have more coating material and others may have less so that is the difference.
There is no hydraulic play in the machine system so there will be no chance for hydraulic leakage and your products will remain in good shape and taste. 
Time-Saving
The machine is very important in every field of life because every firm uses their technology to do the work in less time by using good and solid machinery.
Sugar Coating Machine will help your product to remain stable for much time.
Time Factor is also one of the main important parts which a machine will help you with to consume less time and less effort.
9.What Other Equipment do you need to Cooperate with the Gummy Candy Sugar Coating Machine?
Pre-mixing tank.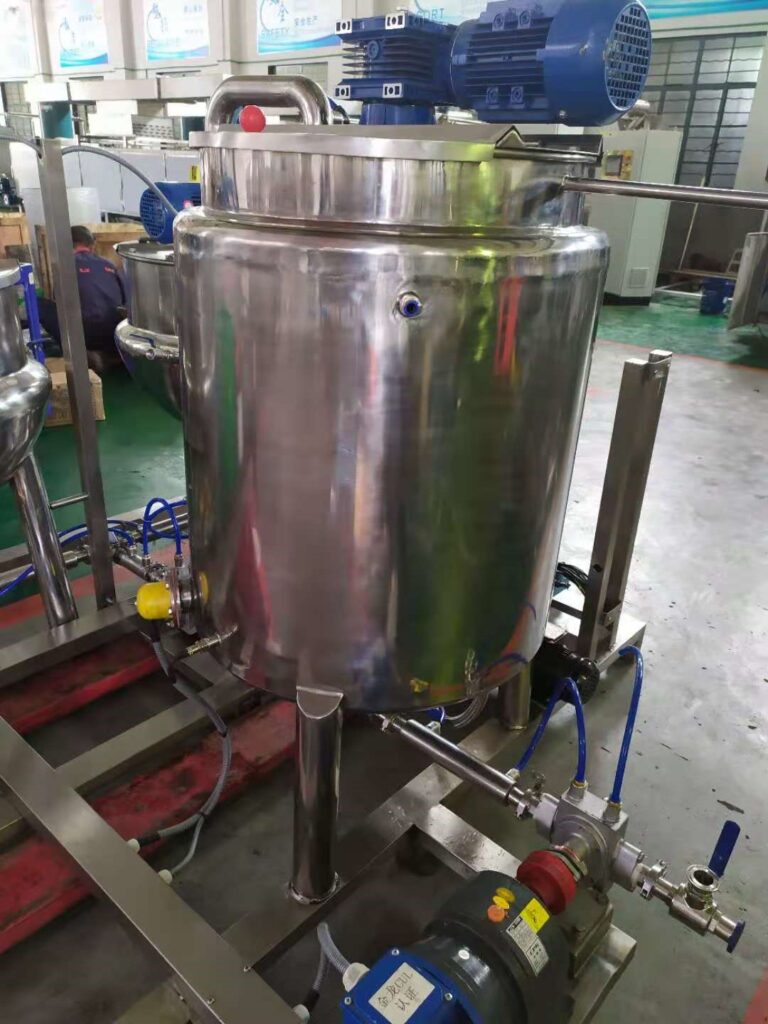 Low weight steam jacketed pot with a surface scrubber.
With recycling framework
With pH meter in line on the recycling pipe.
Temperature control to carry the essential mix to 140-150F
Holding pot
Low weight steam jacketed pot
Slow speed surface scrubber.
Recycling framework
Temperature control framework to keep 140-150F
Persistent Cooker by plate heat exchanger or shell and cylinder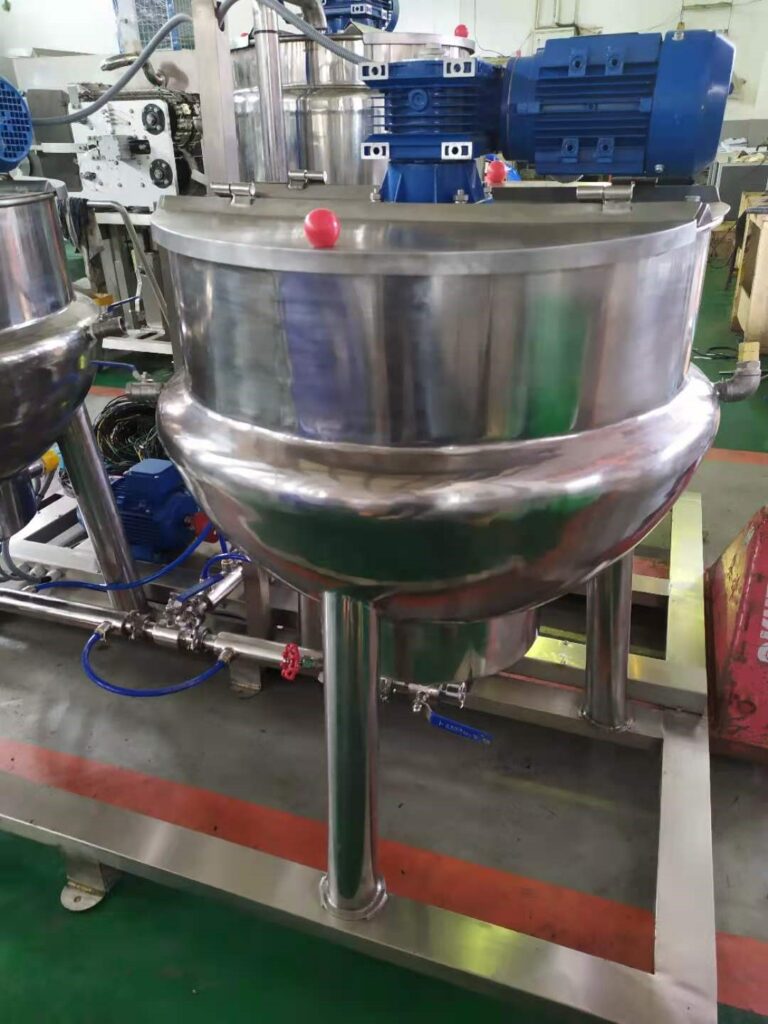 Cooking limit 5kg/minute most extreme
Stam pressure accessible 10 bar max
Temperature control of definite cook administering the weight controller.
Back weight valve releasing into the vacuum chamber.
Vacuum chamber
Standard steam Jacketed vacuum chamber with dry air drain valve.
Jacketed with low steam strain to hold 200-220F
Holding pot for the cooked vacuumed sticky base (normal hold time in pot 20 minutes)
Steam jacketed pot
Slow speed surface scrubber
Temperature control to hold 200-210 F
Sidestep valve to restore an item to holding pot when the contributor isn't working.
In-line blender or static blender.
In-line blender mounted on the contributor container
Limit 8-10 kg
Variable speed
Jacketed for temperature control 200F
numerous passage port for the expansion of Flavor, Color, Actives, Acid and so forth
Depositor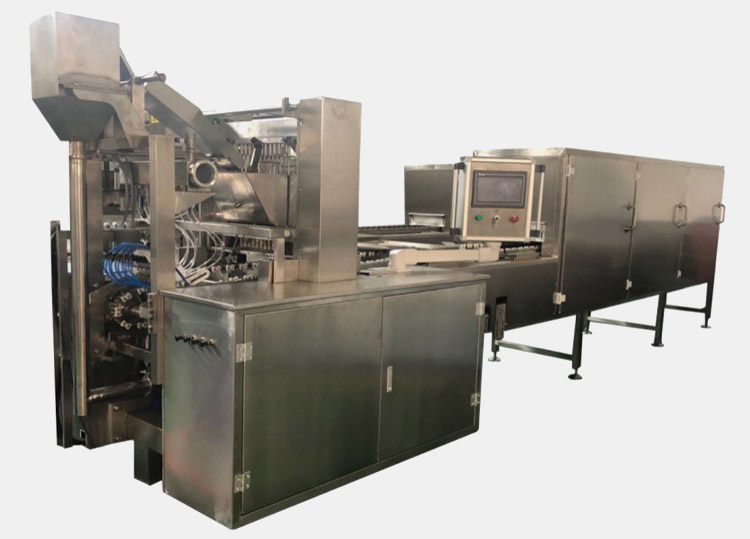 Steam jacketed container at a temp of 220-230F
Dry air spouts blowers to diminish item following.
In line airless shower framework for molds oil.
Silicon and aluminum teflon covered molds with discharge pins. 
Demolding
Demolded items will be passed on to structure the contributor release point.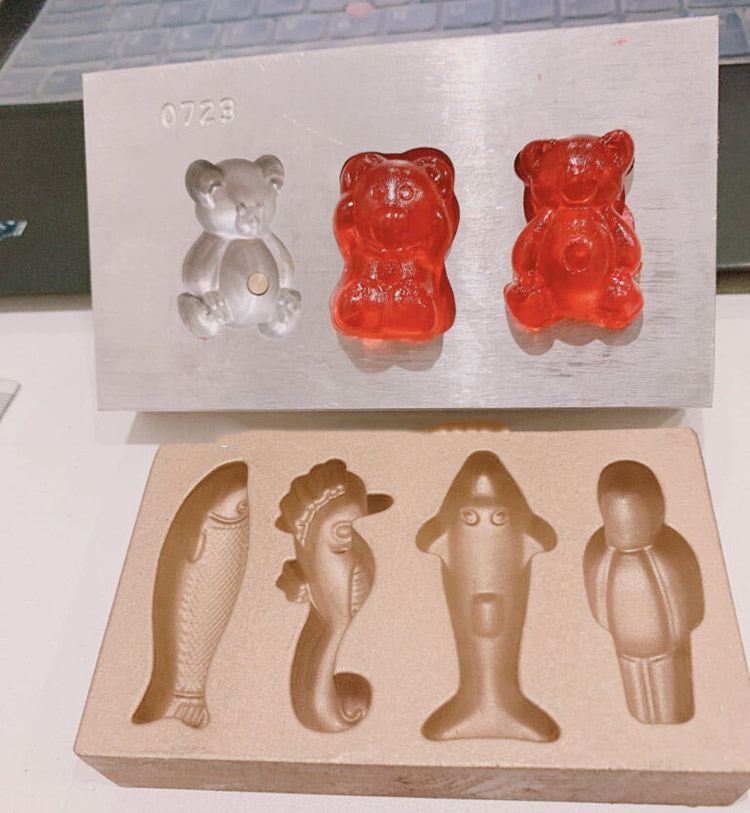 Manual stacking of shallow (low shoulder) plate with ss wire crush base plane.
Stacking of plate onto pastry specialists type trucks with wheels. (40-50 plate/truck)
10.What is the Cost for the Gummy Candy Sugar Coating Machine?
The range of Gummy candy sugar Machines lied in three categories.
Small Scale Purpose Semi-automatic: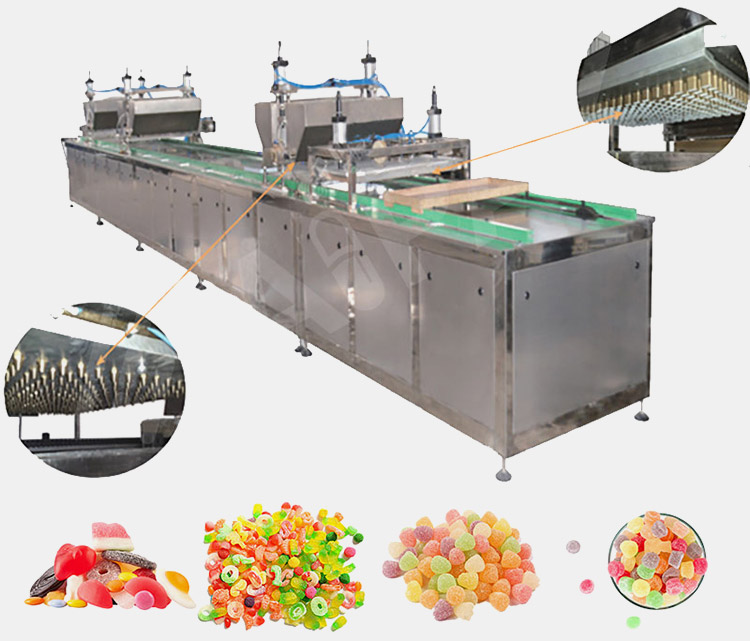 Aipak Small Scale Gummy Making Machine
The machine which is used for a small purpose or at a small scale will cost you from $10,000 to $30,000 US dollars and it will be semi-automatic as someone must have to operate the machine after every step.
Of course, this machine will not have that many function's as compared to those which are used on large scale for industrial use.

This machine will be for a library use or somehow you can produce a small number of gummy candies from it.
Moderate Scale Purpose Automatic:
In this category there lies an automatic machine for you to have more products with less consumption as compared to the semi-automatic.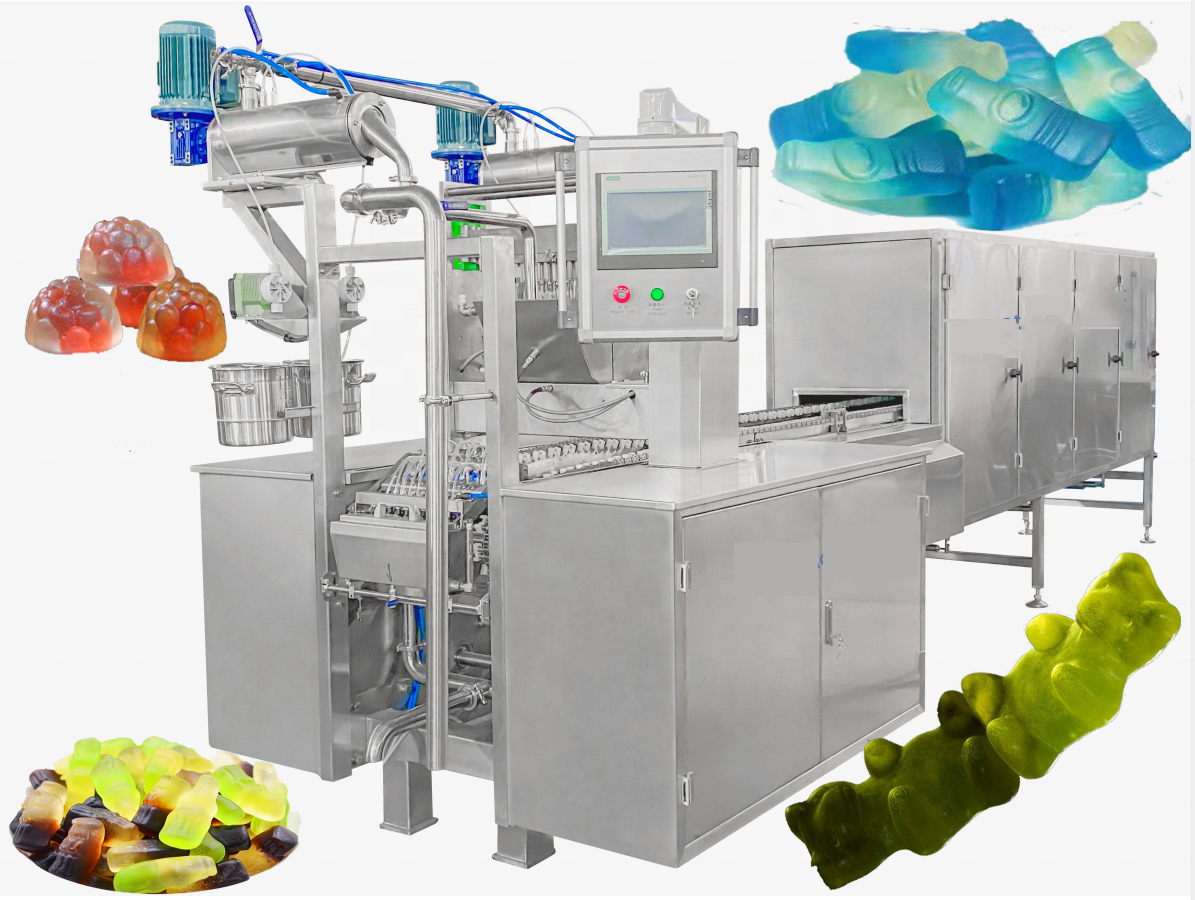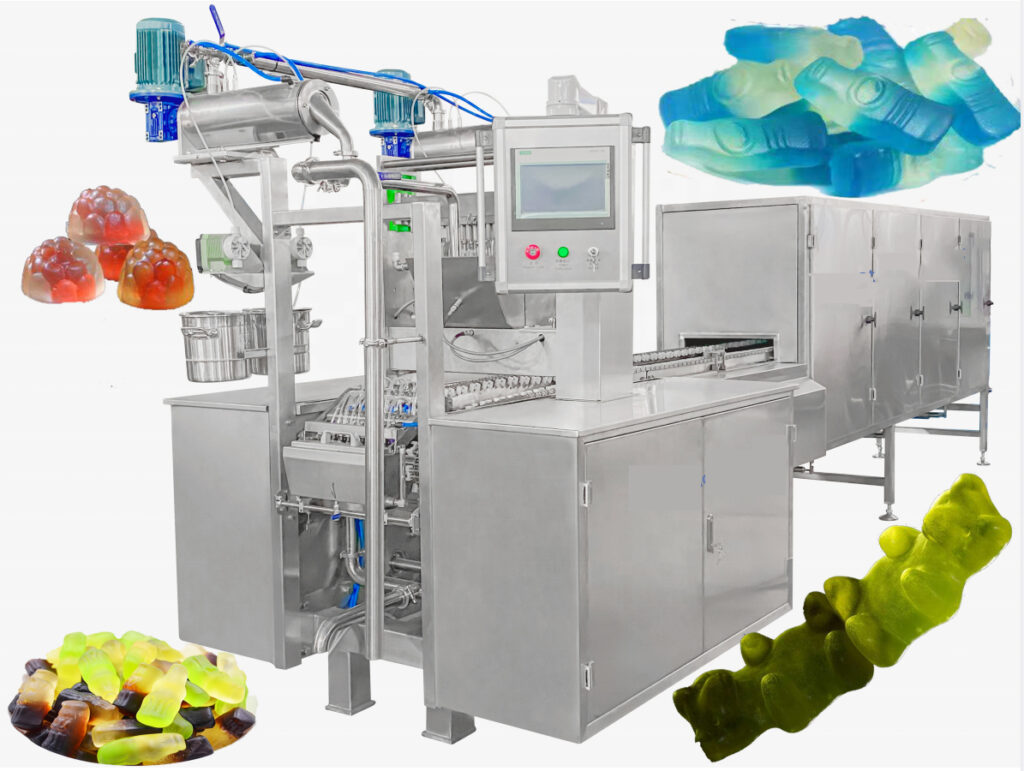 Aipak Medium Scale Gummy Making Machine
This automatic machine will cost you from $60,000 to $160,000 US dollars. With the help of this machine, you can produce more quantity as well as quality for your production.
It will increase your production rate and will consume less electricity as compared to semi-automatic.
Large Sale/Industrial use fully Automatic:
If you want to take this business to the next level then you need to buy the Fully automatic Gummy machine for a large scale it will give you all the needs.
This machine will cost you between $120,000-$280,000 US dollars.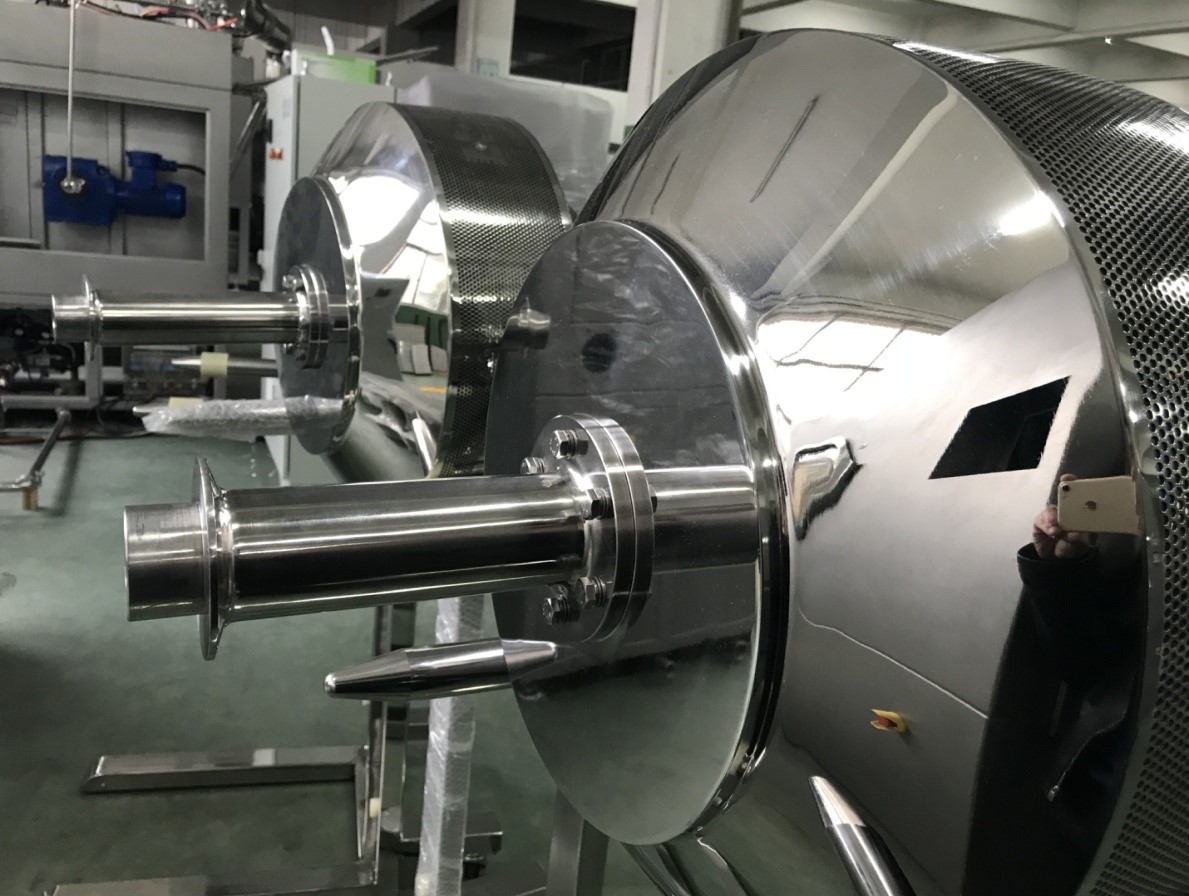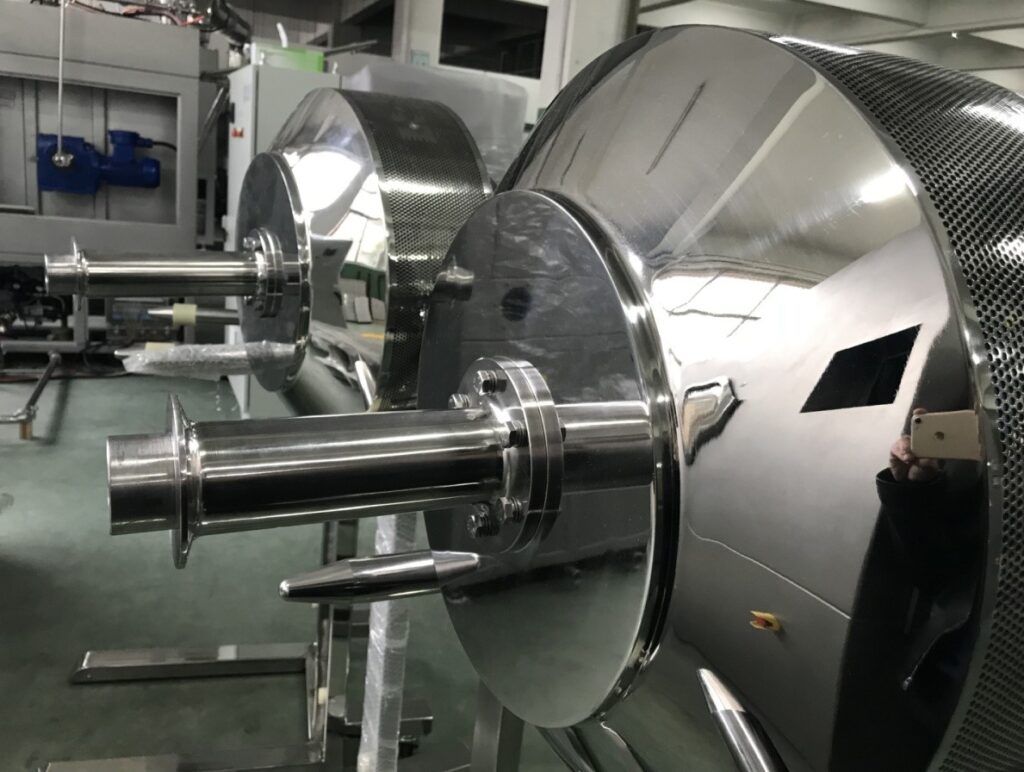 Fully automatic Sugar Coating Machine-Picture Credits:Ruiancity&co
This machine will give you more comfort as compared to the other ones for example it will have a function for you to add the amount of Sugarcoating you want to be coated.
11.How to Choose the Best Gummy Candy Sugar Coating Machine?
First, you see then you compare:
Always read the market value visit every supplier met other persons who know about the machines and their pricing Seeing is Believing, so choose after seeing.
In General: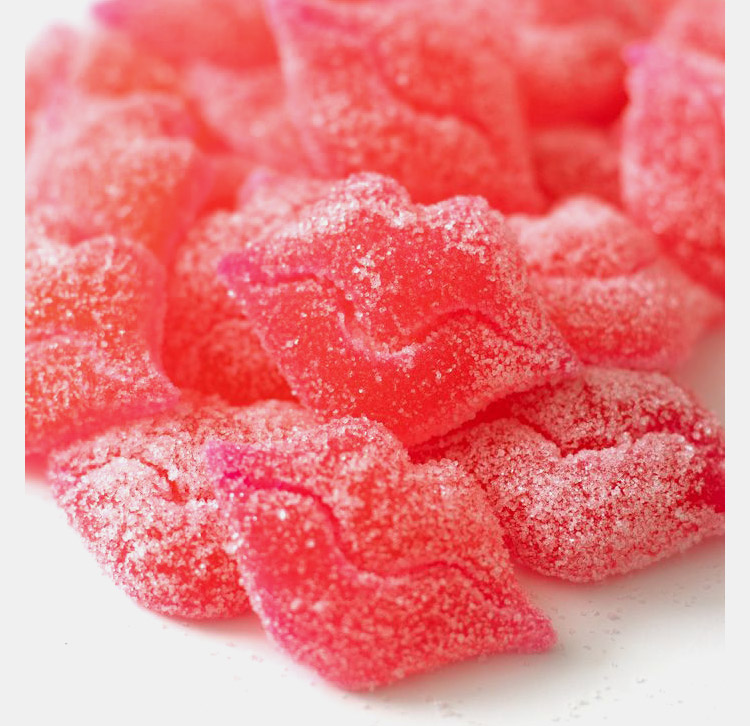 There are a lot of Gummy Candy Sugar Coating Machines in markets so you must see all them from every brand then buy the most suited one.
Certification
Check the supplier must provide you a certificate for your machine provide by some firms like CE, SGS, etc.
Compare the material used inside the machine with other brands and then select the suitable one with your choice.
Go to the other suppliers read the customer reviews and feedbacks about the production rate and time with the amount of time.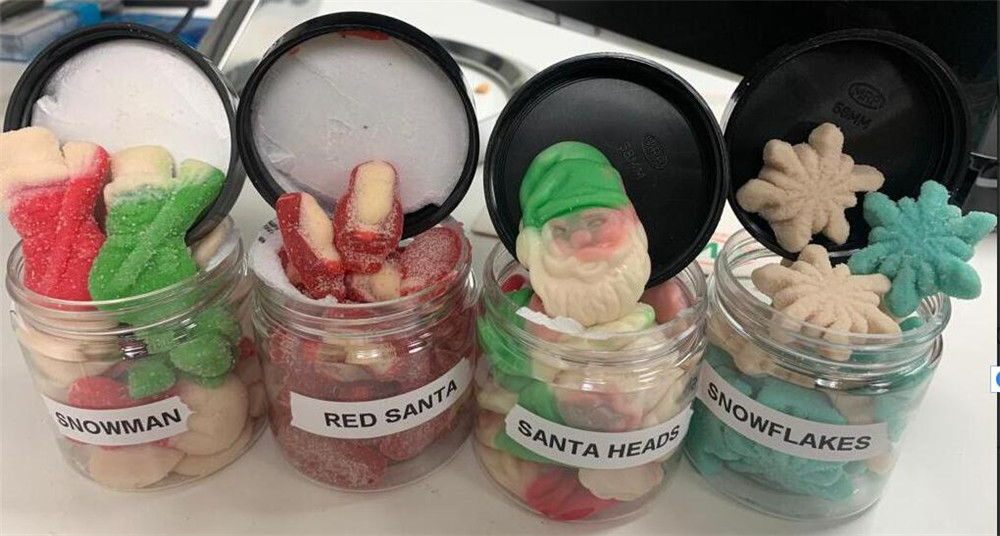 Heating Quality:
It is up to you to choose according to the market value for the heating purpose like you want to choose electrical heating or steam heating after selecting the heating method compare the cost according to market value and choose the economic one which suits you best.
If you want to increase the production quality of your product then steam heating will be your primary choice as it is cheaper as compared to the electrical one. 
Production Rate/Hour:
You must know how much the capacity of the machine will have to produce the gummy candies do not forget to check the final shape of your candy along with the shape and size so that it will help you to judge the production quality as well as quantity at the same time.
For example, I will give you an example of how you can check the best production rate as per your need.
If you want to make candy of 2.5 grams and 2 cm long then your output will be just like this (2.5 grams*50 strokes/min*10*2*60 min=150 KGs/hour).
And if you want to make it up to 5 grams of weight and 2 cm long use the same method and calculate the output result this will help you to buy the best one (5 grams*50 strokes/min*10*2*60 min=350 KGs/hour).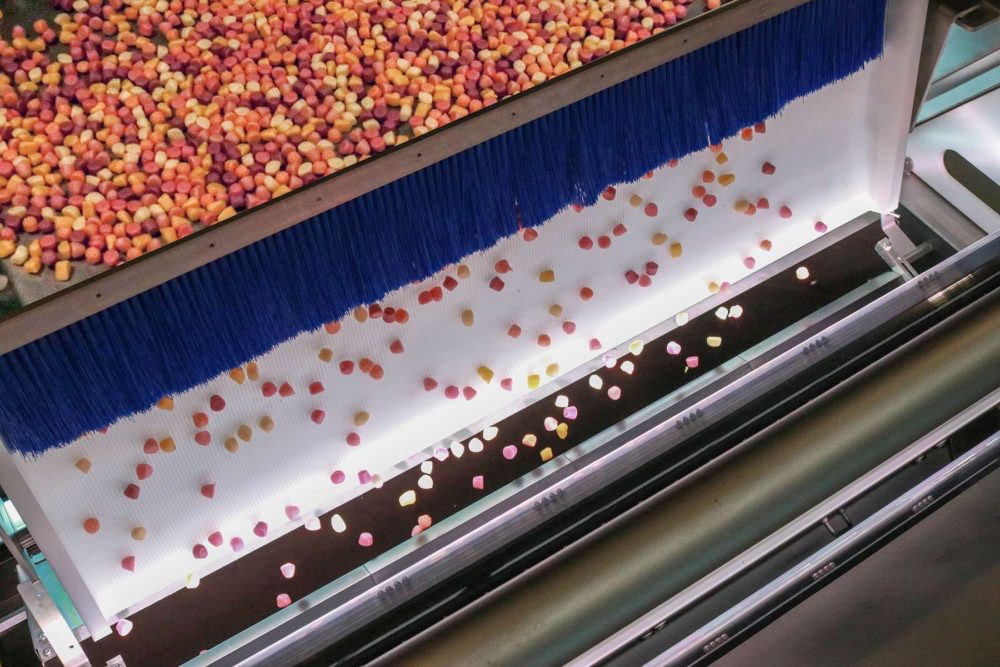 Production of Sugar Coated Gummies
Gummy Machine Dimensions: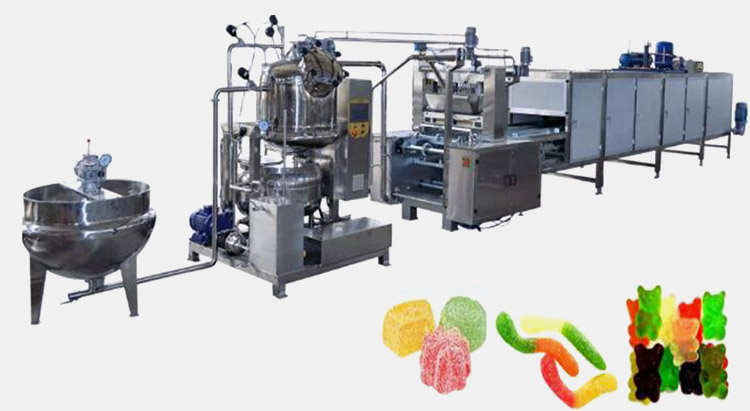 Aipak Large Scale Gummy Making Machine
The dimensions and size of gummy candy machines are different and they three types of Dimensions one is U-type second one is L-type and the third one is linear dimension.
You can choose the dimensions with the space that you have for your machine to set like the U-type and the linear dimension machine will occupy less space as compared to L-type.
Electricity Consumption:
If the machine has a higher capacity of production rate then it will consume more electricity as according to its need to give you more production.
You will also need laborers to hold the lines when your machine is working and in the de-molding state, you will need compressed air, and the steam which will be required for de-molding and packing will be from 0.2 to 0.6 m3/minute (as in cubic meter per minute).
Always select that machine that will give you more quality rather than quantity that is one of the most valuable factors in choosing a machine.
The machine must be quick in operating the candies and take less shut downtime when any problem occurred due to something bad.
12.How to Maintain the Gummy Candy Sugar Coating Machine?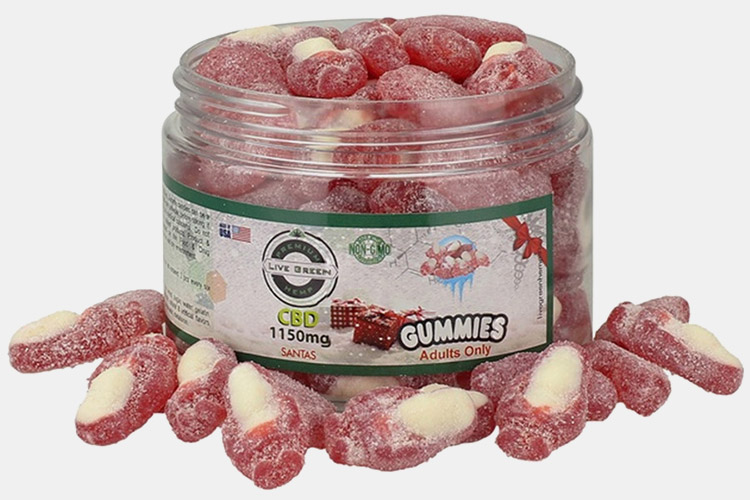 Every Machine uses Electric Power for a specifically given time frame.
Disconnecting the Power Supply
Whenever you are going to shut down the machine always use the power button to turn it off.And after that use the electric power button from where the electric supply is coming.
After doing this left the machine for quite a time and let it to cool down.
Removing the Parts
Always careful when you are separating the machine parts use the right equipment for this purpose because by using false equipment machine parts may be dislocated.
Remove the parts according to the given manual and be careful while doing this.
Cleaning
Cleaning is as important as a machine because if you do not clean the machine may get rusted and will be useless in no time.
Always utilize some energy to clean the machine thoroughly after doing the work.
You can do the cleaning with some brush, detergent or by using a cloth and remove the harmful stains from the machine to get good quality work.
After doing the cleaning process uses a dry piece of cloth and dry every wet part which you left over after the cleaning and be done with it. 
Replacing the Damaged Parts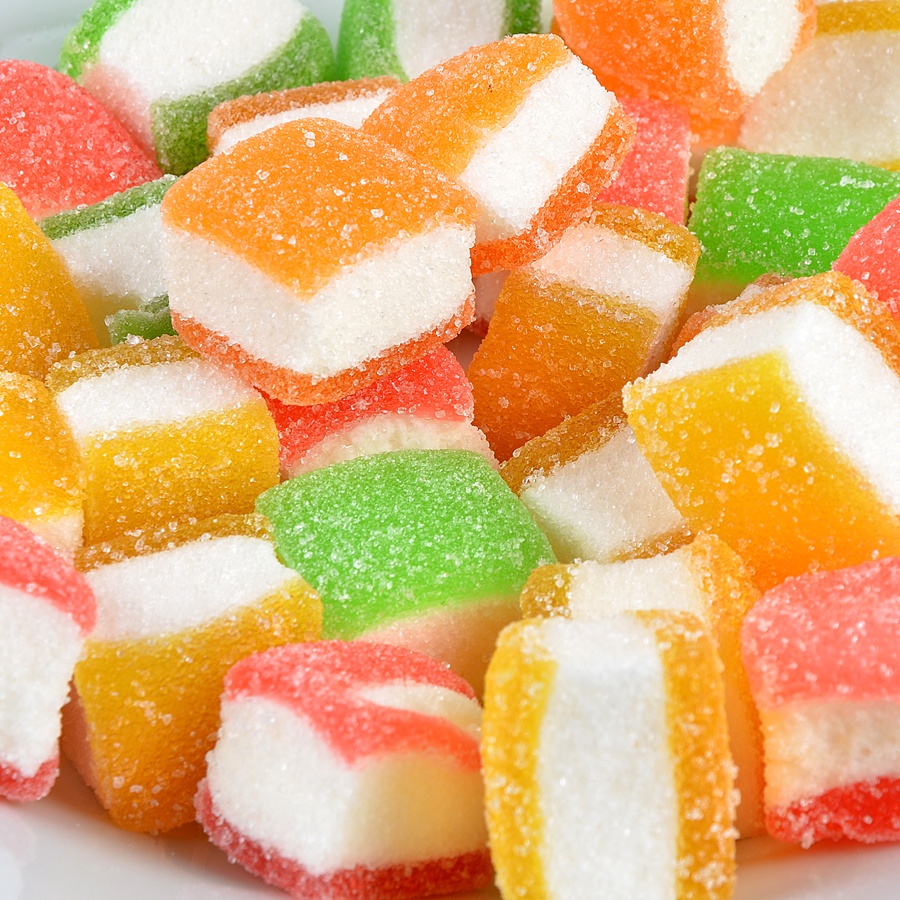 If you notice that the part of the machine is not working or not working properly use to replace it with the new one BUT keep in mind!
Use the same part from the same brand for better output.
Use the manual while replacing the Damaged Parts.
Oiling/Grease
There will be some moving parts inside the machine that will need some oil or grease for their fluidity and better movement.
Use the lubricants to give them proper treatment if you saw them working slowly.
Assemble the Machine
After you are done with everything about the Gummy Candy Sugar Coating Machine try to operate it for some time without making any product.
Let the machine to move its parts for some minutes and see if there is any problem if not,then you are good to GO.
13.What will Happen During the Sugar Coating Process and How to Solve them?
There will be some problems that may occur during the Sugar Coating Process.
Problems with the Sugar Coated Gummies
Chipping of the Gummy Candies
When your concentration is low then this will happen.
This may also be caused because of low Sugar Mix.
So, the solution to these problems is this:
Whenever you work use your full concentration and use your mind with some small effort.
Always check the Sugar Mix chopper if there is less amount of Sugar add it up to the given level and check it before coating the Gummy Candies.
Melting of Gummy Candies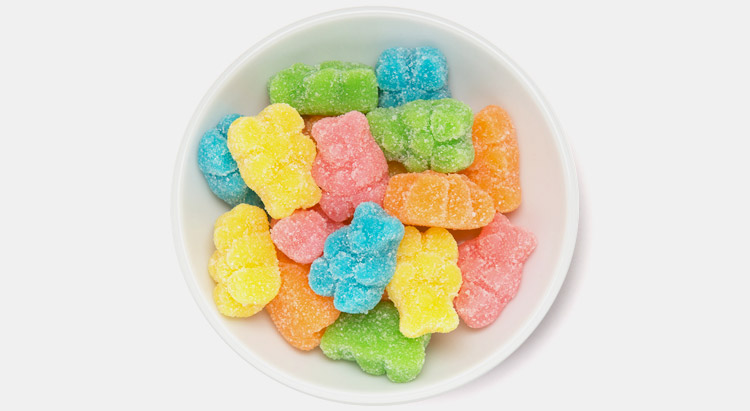 Inside Pressure of the Sugar Coating can Cause the melt in Candies.
Sugar Grains size can also damage the candies with more pressure.
So, the solution to these problems is this:
Before doing the coating check the inside pressure of the Sugar Coating area according to the given manual and try to maintain it accordingly.
Sugar Grains must be in proper size when they are loaded into the Sugar Coating barrel.
Non-Dry Candies
Non-dry candies will get stuck on the Sugar Coating Surface Machine.
Try to see if your candies are properly dried then Sugar Coat them so they may not get stuck on the edges of the steel.
Moisture Free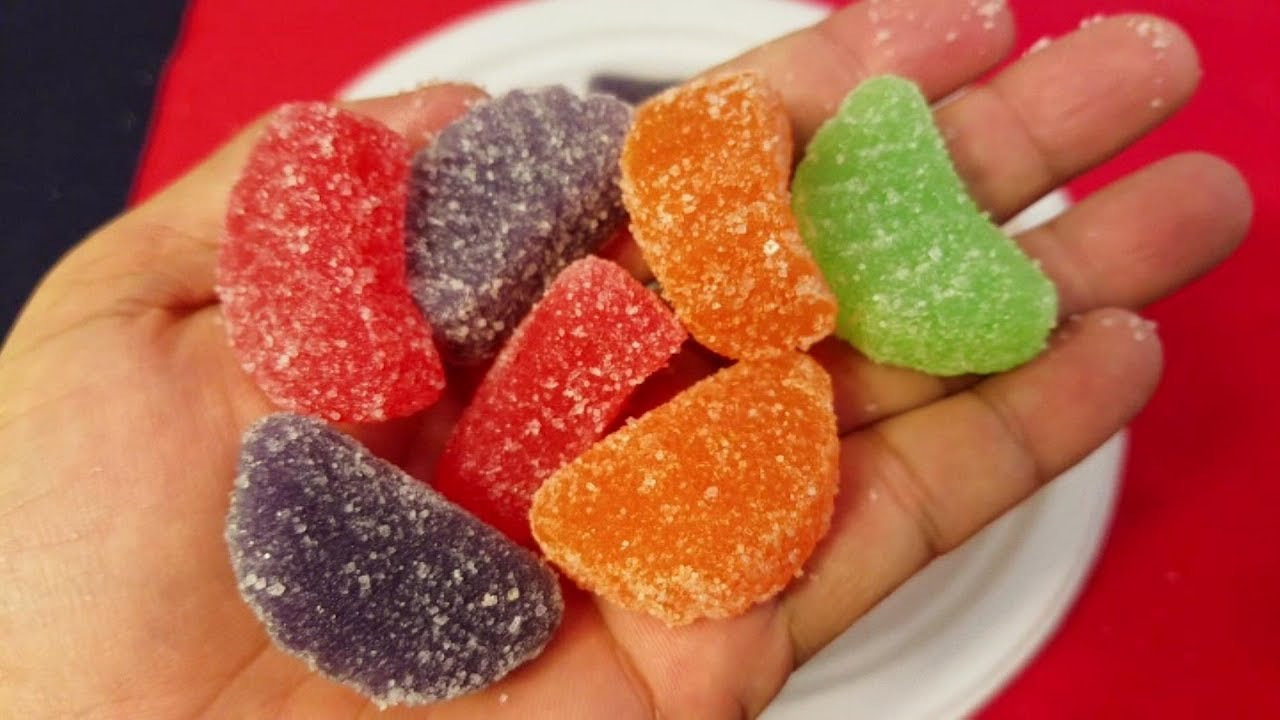 Moisture will get your candies to change the shape and size.
So always check they are dry and moisture-free before doing the Sugar Coating.
14.What is the Prospect for Sugar Coated Gummies?
In the starting time and until now the Production rate of Gummy Candies is increased because people are starting to like this product.
In the coming days, their production rate will be increased in many ways.
The best thing about the Gummy Candies is that they can be made in any flavor of your choice.
They can also use as a sweet gift for many occasions like Christmas or Valentines. People have started a business of making gummy candies in different countries.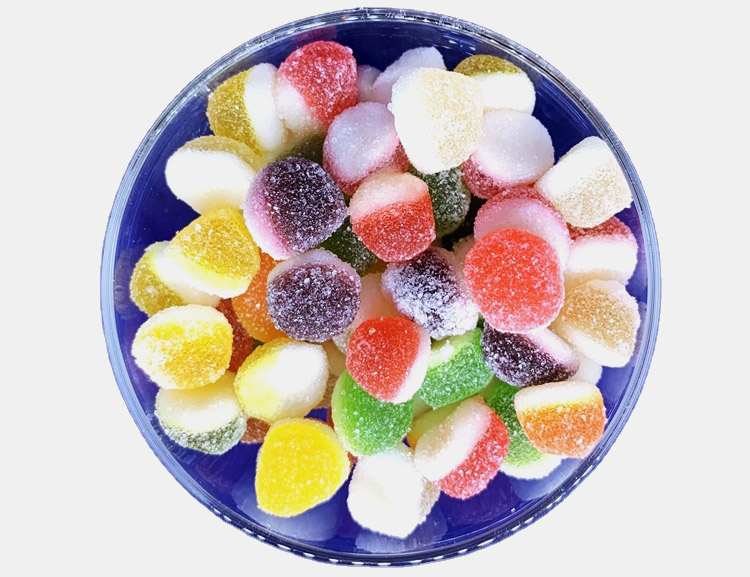 As they hold 75% of sugar so almost every person likes to have them after the meal.
The main thing about these candies is to give them a proper shape and that sweet texture which every person is going to like.
They are sweet and soft candies which makes them easy to eat for every person including old ones.
In some countries they are sticky and chew on the other hand some countries made them soft and chewier.
They are not like the gum-like chewier but soft and jelly type so that you can easily gift them to your children the likeness more the product will be.
Gummy Making Machine Related Products
Gummy Making Machine Related Posts
Gummy Making Machine Related Videos
CONTACT US
Tell us your raw material and project budget to get quotations within 24 hours.
WhatsApp Us: +86 189 7157 0951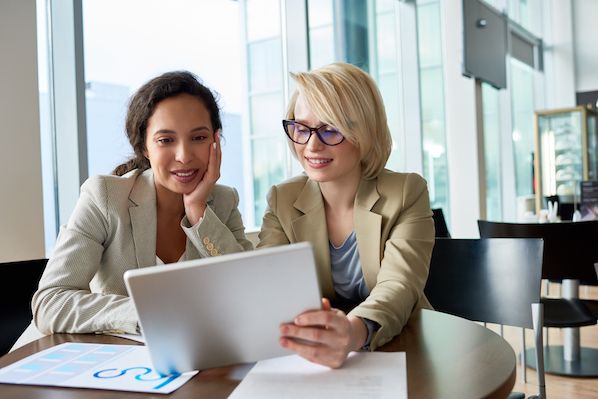 Want the best price & newest pharmaceutical machinery buying guide,tips and trends sent straightly to your box?Sign up for Aipak's monthly newsletter,we're free for your consultation and Offer you the most suitable solutions!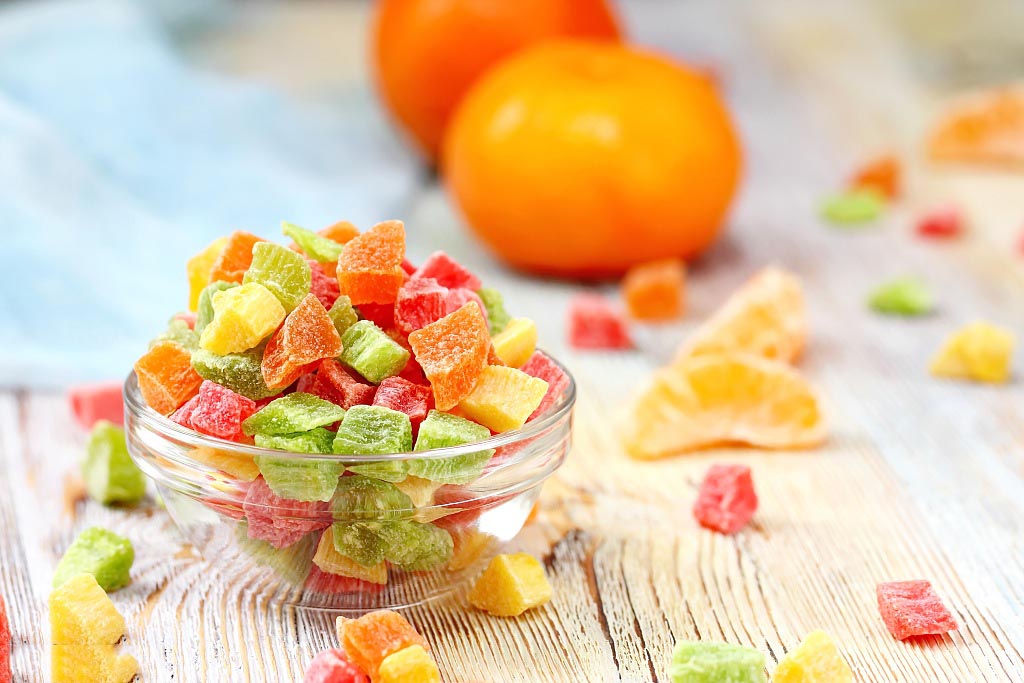 Tell us your material or budget,we'll reply you ASAP within 24 hours