APK-GM150Q Medium Scale Gummy Making Machine Up to 150kg Gummys /hr
Aipak APK-GD150Q medium scale gummy making machine is fabricated based on the similar equipment of NID company from Australia. After being localized, the machine features easy operation and steady workng. The processing for the whole line include cooking, depositing (servo central-filled depositing included), finished product transfering, powder disposing and recycling system.
Customers can choose the candy size. Then, we offer our professional layout design for the customer to reach the largest production capacity by approving steady running and stable starch moulds.This production line is controlled by PLC system with automatic starch molding feeding and unloading. The candy and the powder are separated automatically.
Starch adjusting system covers independent drying and cooling template. They are connected by spiral conveyor driven by motor.
Gummy Candy Samples: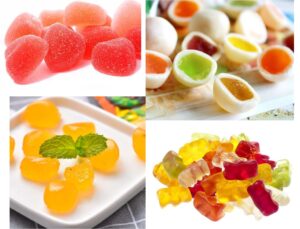 Moulds Photo(You can choose Silicon Rubber Moulds):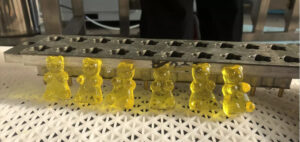 Flow Chart:
Sugar and carrageenan/ gelatin/ pectin dissolving
→ mixing→cooling
→ transporting
→ depositing
→ cooling
→ de-moulding
→drying
→milk coating
→packing

PLC /computer process control available;
An LED touch panel for easy operating;
The production capacity is 80,150,300kgs/h(based on 4.0g gummy candy ) or more;
The contacting food parts are made of hygienic Stainless Steel SUS304
Optional (mass) flowing controlled by Frequency inverters ;
In-line injection, dosing and pre-mixing techniques for the proportional addition of liquid;
Dosing pumps for the automatic injection of colors, flavors and acids;
One set of extra jam paste injection system for making fruit jam-center filled candies(optional);
Use an automatic steam control system instead of the manual steam valve which controls a stable steam pressure supplying to the cooking.
Moulds can be made according to the candies samples provided by the customer.
Model

APK-GM80Q

APK-GM150

APK-GM300

APK-GM450

APK-GM600

Capacity

80 kg/h

150kg/h

300kg/h

450kg/h

600kg/h

Candy weight

As per the candy size

Depositing Speed

25~35 n/min

25-45n/min

Steam requirement

80kg/h, 

0.4-0.6MPa

250kg/h,

0.5-0.8MPa

300kg/h,

0.8-1.2MPa

400kg/h, 1.2-1.6MPa

500kg/h, 1.6-1.8MPa

Compressed air requirement

0.2m3/min,

0.4-0.6MPa

0.2m3/min,0.4-0.6MPa

0.2m3/min,0.4-0.6MPa

0.25m3/mi,0.4-0.6MPa

0.3m3/min,

0.4-0.6MPa

Working condition

Temperature 20℃-25℃;Humidity45-55%

Electric power needed

55kw/380V

65kW/380V

75kW/380V

80kW/380V

85kW/380V

Total Length

8m

16m

18m

18m

20m

Weight of machine

2500kg

3500kg

4000kg

4500kg

5000kg
                                                   Get in touch with an expert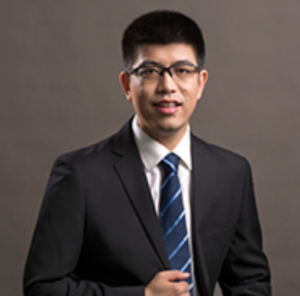 We´re looking forward to find the suitable solution for your product. Please contact:
Andrew Yang
Engineer Director 
Phone: +86 189 7157 0951