Top 10 Global Tablet Counting Machine Suppliers:the Definitive Guide in 2022
Tablet counting machines are basically rely on innovative technology to sense and count tablets in bulk. That's why significance of these machines is immense, but at same time you need to learn important manufacturing companies that deliver premium quality tablet counters. That's exactly the objective of this blog.
Tablet counting machine is encompassing different industries such as pharmaceuticals, chemicals, agricultural, food etc. That's why their quality and adaptability is paramount. Although you can find several options to buy a decent tablet counting & filling machine. But to choose a right brand for your production is confusing.
We have enlisted world's best tablet counting machine manufacturers and suppliers entrusted by thousands of industrial consumers.
Read on to see top suppliers of tablet counting machine across the globe.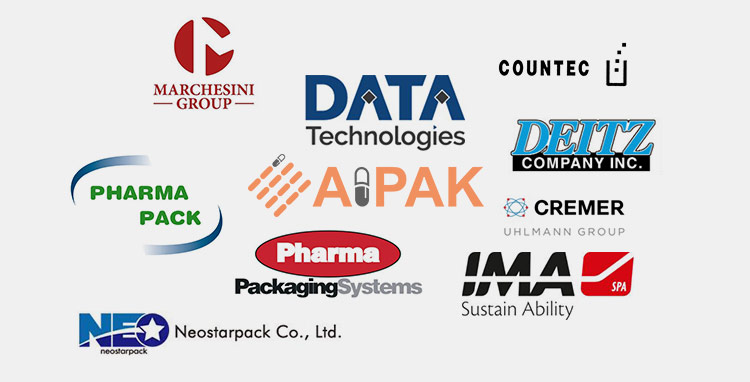 COUNTEC Background: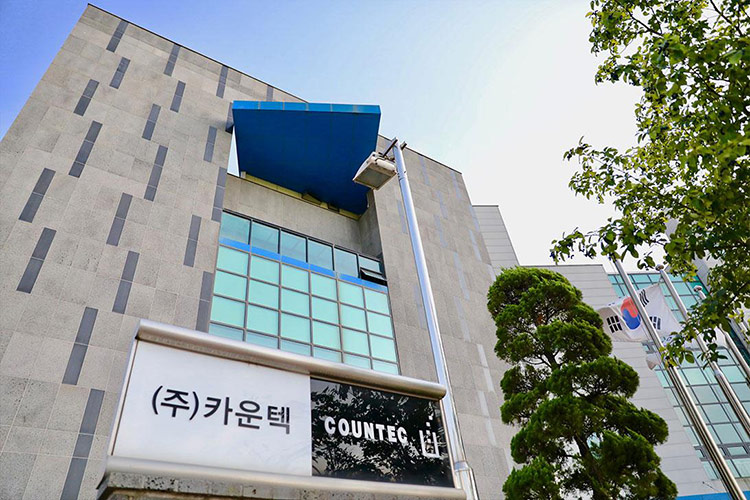 COUNTEC is top class packaging manufacturing industry that was established four decades ago that offers wide range of pharmaceutical equipment. For instance, tablet counting machine, bottle packaging and visual monitoring for pharmaceutical production units.
COUNTEC, is first leading company who introduced electronic tablet counting system. Due to this innovation COUNTEC highly encourages their engineers to expand the state- of -art beyond the limits.
COUNTEC value their customers with superior services, that's why they have estimated up to 600 highly prominence customers worldwide with 1300 installations. Not only this, loyalty, quality services and high consumer demands have been the key for long term success of this company. Due to these reasons, COUNTEC meet with highest quality demands of pharmaceutical, nutraceutical and food industries.
Key Products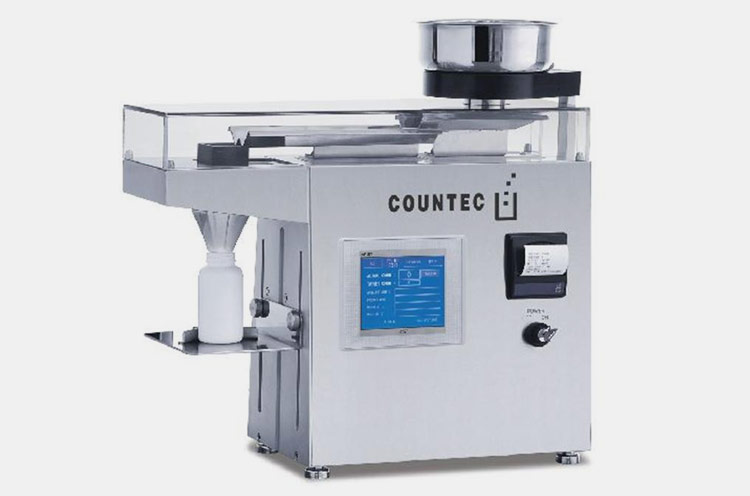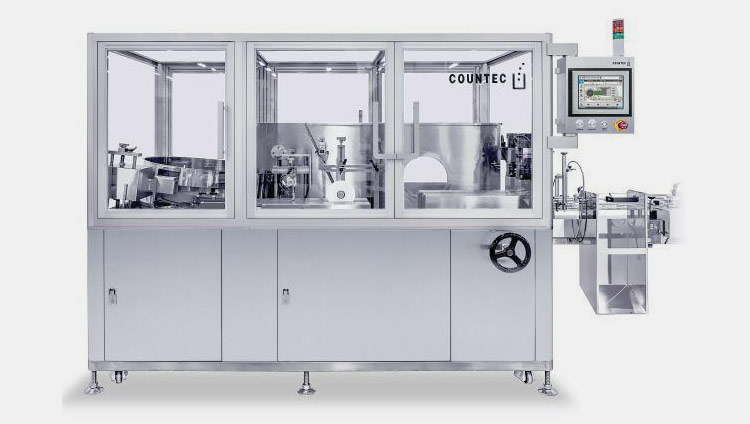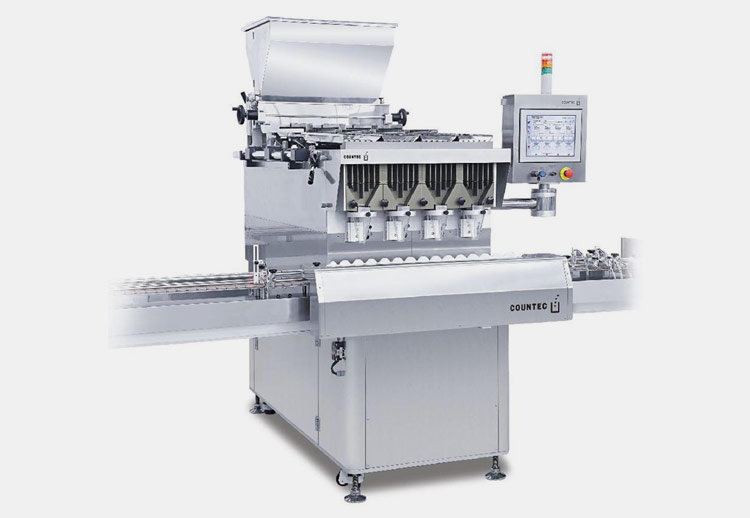 In this era of technology, COUNTEC offers world class tablet counting machine with fully counting and filling jobs. The counting capability of COUNTEC machinery yield 100% accurate and precise results. Furthermore, they now represent the most advanced double rotating tablet shutter construction ensuring fastest and accurate tablet counting and operating jobs.
They have several key products for tablet counting, such as:
VICOB
DMC-300
DMC-200
DMC-120T
DMC-120T Double
DMC- 120
DMC- 60T
DMC- 60S & much more
COUNTEC VISION SENSOR
Tablet counting machine by COUNTEC is built with finest operational specifications with maximum reliability ratio and output.
COUNTEC tablet counting machines features infra-red-electronic counting sensors that ensure 100% counting accuracy. Furthermore, their adjustable stroke frequency ensures no escaping of any tablet or blockage of lager tablets.
Prime reason for recommendation COUNTEC is provide extensive tablet counter ranges from pilot to mass production scale with easy cleaning and maintenance.
Their vision sensor ensures vision inspection to identify defects when they move on vibratory trays of tablet counting machine.
Cremer Background: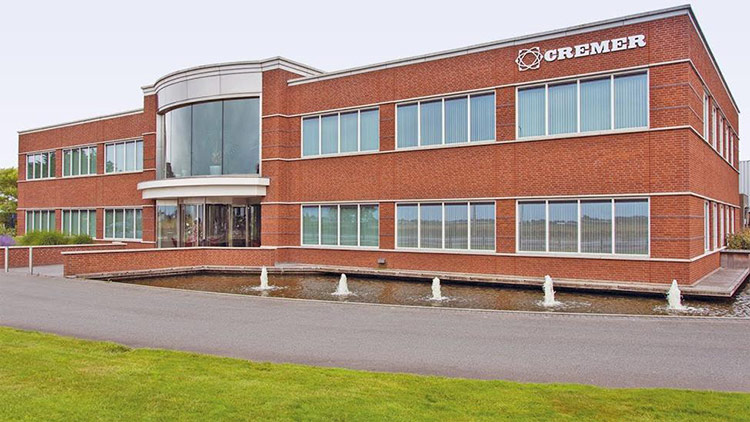 Cremer is in business since 1947. This company is a part of Uhlmann Group.  It has seven decades of experience in providing counting and packaging parts.
They design the machines and also provide the service of on-location installation of machine. They provide their customers with cutting-edge solutions that offer safety in use of products. These tablet counter are of modular design and have unparalleled expertise.
The machines designed by this company are high in demand in wide variety of fields like healthcare, agriculture, household, and food industry. These machines are equipped with latest technology that makes easy for handling of machines.
Key Products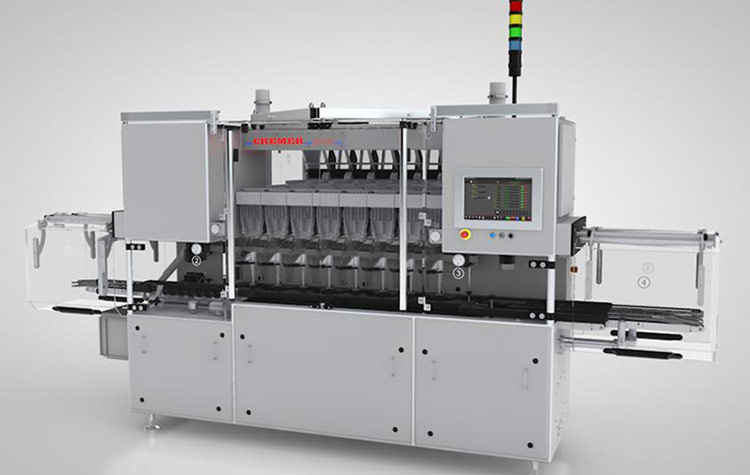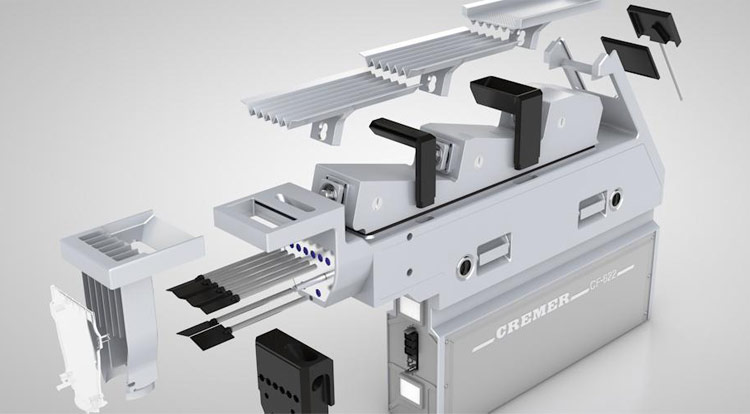 Cremer machines can count any kind of tablets. These are fully automated machines and are used for small, medium, and large-scale production lines. These machines count tablets very rapidly.
Some of useful products of this group are:
IBC Series
CBU 300
CFI Series
CFS Series
Recommend Reason
These machines are made up of stainless steel and are fully automated. These machines are best suited from pharmaceutical, food, and nutraceutical industry.
High accuracy in counting of tablets.
Fully enclosed machines to avoid product contamination.
Have GMP safety compliance.
Vacuum system and compressed air for cleaning of bottles.
Touch screen HMI is used to adjust operation setting.
Counting operation is visible through transparent screen.
Suitable for small floor space.
Rapid change-over
DATA Technologies Background: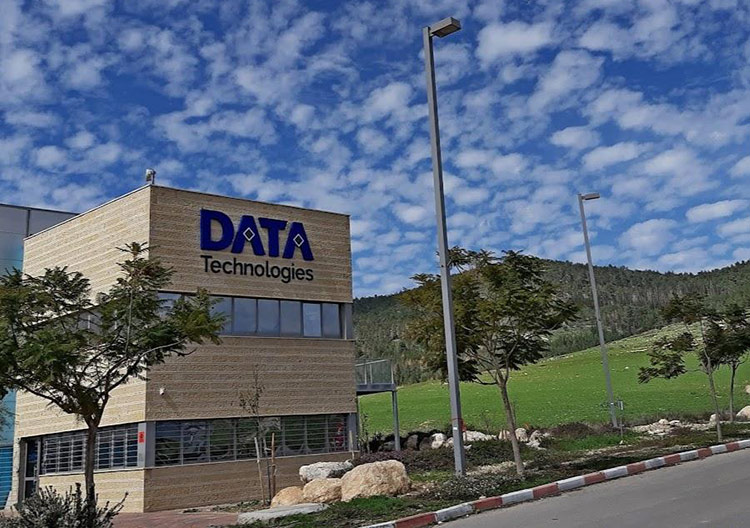 DATA Technologies is leading manufacturers and suppliers of tablet counting machine and packaging unit established in 2002. DATA's multidisciplinary team of professionals associated with electro-optic, electronic mechanical as well as software allow them to make best quality equipment for regional and international market. Based on experience of two decades, DATA established unique real time image that ensure unparallel tablet counting speed with accuracy. A DATA's registered counting and packaging systems are significantly known by more than 1500 consumers across the globe used in pharmaceuticals, foods, nutraceuticals, agricultural, and small manufacturing industries. Their breakthrough bulk tablet counting machine technology has recently implemented as pharmaceutical solution for for manufacturing and packaging of pills.
Key Products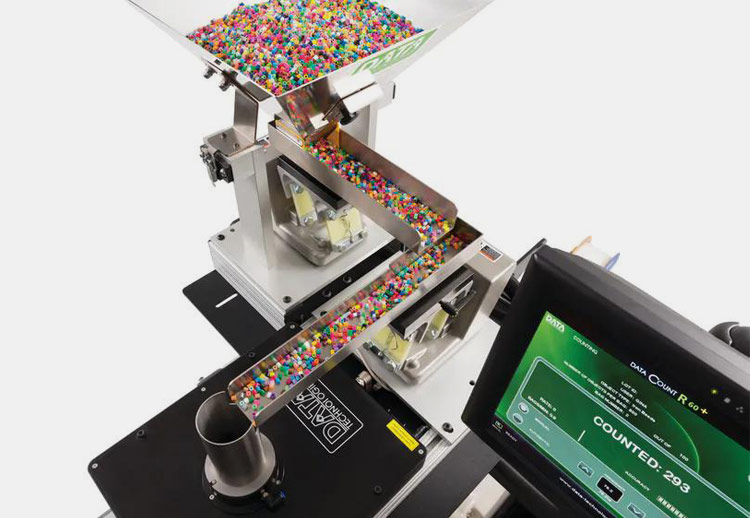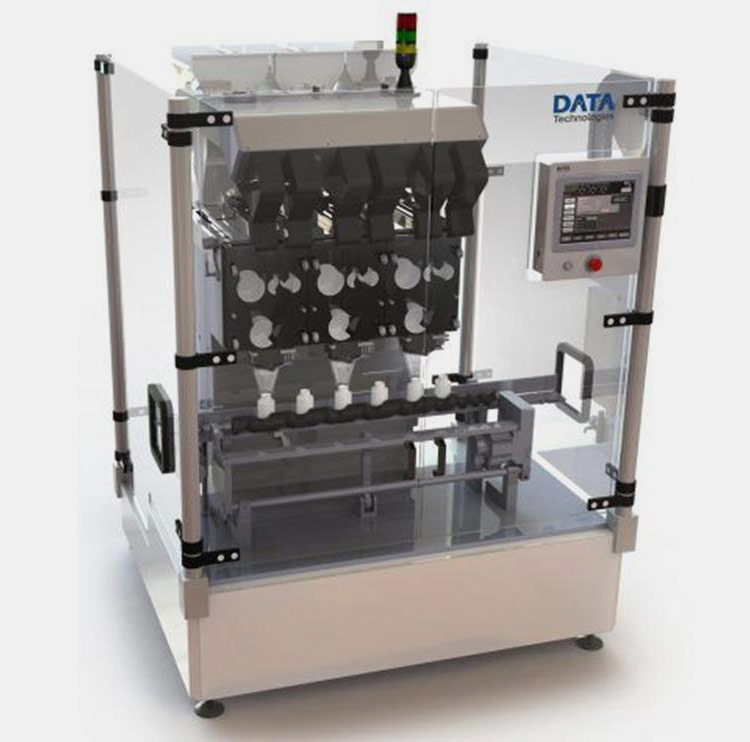 DATA's proprietary counting machines enables companies to obtain unprecedented accuracy & precision for processing high speed activities with compromising either.
Mentioned below are the innovative products lined by DATA that facilitates unique and superior solution to face counting complications with ease.
Tablet Counter Icu 1-40
Tablet Counting [40 Bpm]
Tablet Counting [80 Bpm]
Tablet Counting [120 Bpm]
Tablet Counting [160 Bpm]
Tablet Counter Icu 2-80
Tablet Counter Icu 3-120
Tablet Counter Icu 4-160
Recommend Reason
DATA technologies counting machines are considered as most advanced counting technology across the globe.
There is free-fall vertically counting unit comprised of detection unit that allows counting process at continuous and uniform pace.
DATA ICI counting machine works at high speed that has counting rate up to 25 thousand objects/minutes.
DATA tablet counting machine is designed with detection capabilities to detect small object ranges from 0.5 mm to wide range that can reject the tablet to rejection station, saving your time and money.
DATA counting machines are well-suited for other applications as well, for e.g., plastic molds, medical components, and many more.
They have introduced separate counting track that ensure minimum dust accumulation. OR, once dust accumulate the system alert takes only 15 second to clear it without disassembling the unit.
Their calibration tool and scanner allow automatic product calibration that minimize human errors.
DATA tablet counting machine are easy to handle, clean and require extremely low maintenance.
Pharma Pack Technologies Background:

Pharma Pack Technologies Corporation is a recognized leader in manufacturing and supplying packaging and coding machines established in 2002. This corporation has two successful brands PHARMA PACK that focus on manufacturing and integration of packaging systems and EC-JET involved in marking systems such as laser printers, high resolution, and continuous inkjet printers, etc. Both brands are popular in pharmaceutical, food, confectionery industries throughout the globe.
Pharma pack technologies provide a cost-effective solution for pharmaceutical packaging aiming to become a leader in the packaging industry. They offer flexible packaging line and smart way bottle packaging along with coding stations.
Pharma Pack has an excellent consumer satisfaction record and is associated with the successful market and installation setup with top-class pharmaceutical companies such as Pfizer, GSK, AstaZenca, L'Oreal, and many more.
Key Products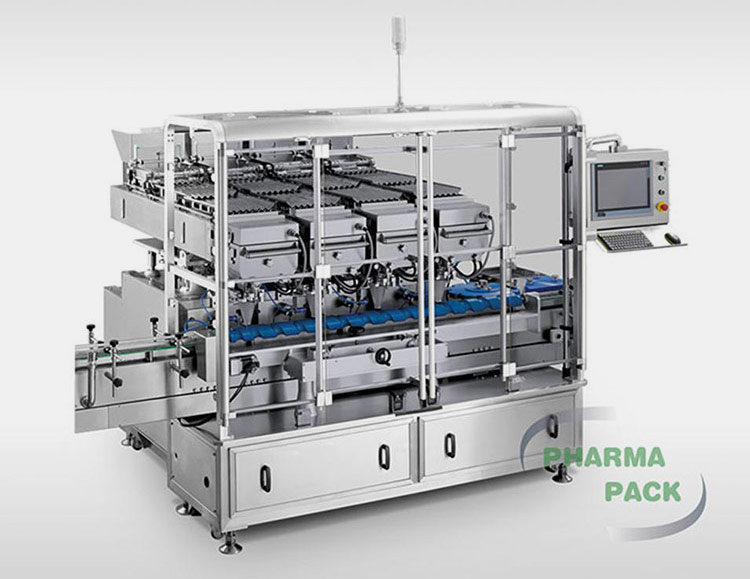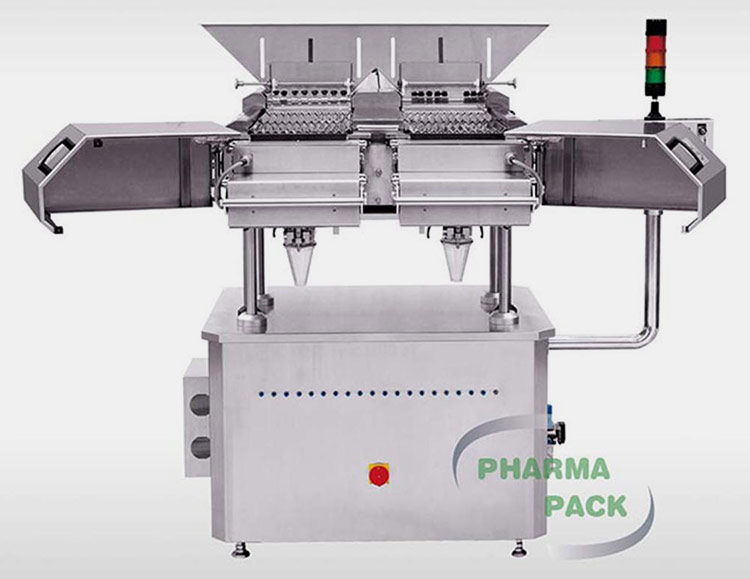 Pharma Pack Technologies Corporation top-class automatic tablet counting technology is broadly comparable to European and US grade specification. Automatic tablet counter machine by Pharma Pack is applicable to tablet, capsules, softgel, transparent capsules and so on. That's why their equipment is preferred by consumers and delivered to all part of the world.
Their key products are followed as:
Automatic Modular Counter PP-24M
Electronic Automatic Counting Machine pp-16
PP-12 Electronic automatic counting machine
PP-08 Electronic Automatic Counting Machine
PP-06 Electronic Automatic Counting Machine
PP-01V Tabletop Counting Machine
Pharma Pack's innovative tablet counting machine lines provides exceptional solution to the challenges faced by every pharmaceutical industry when it comes to counting the pills.
Pharma Pack Technologies have strictly controlled equipment that certifies international certification standards.
Pharma Pack Technologies offers a high-speed automatic tablet counter with high counting and filling efficiency of over 400 bottles per minute while tablet pieces range from 1000 to 24000 pieces/minute.
Easy to clean, quick, simple with no hidden traps for pills.
Fault diagnosis efficiency and real-time visual inspecting alarm display station enable to store 100 products records.
Pharma Pack Technologies tablet counting machine features an auto-dust compensation unit as well as dual dust extraction ports.
IMA Background: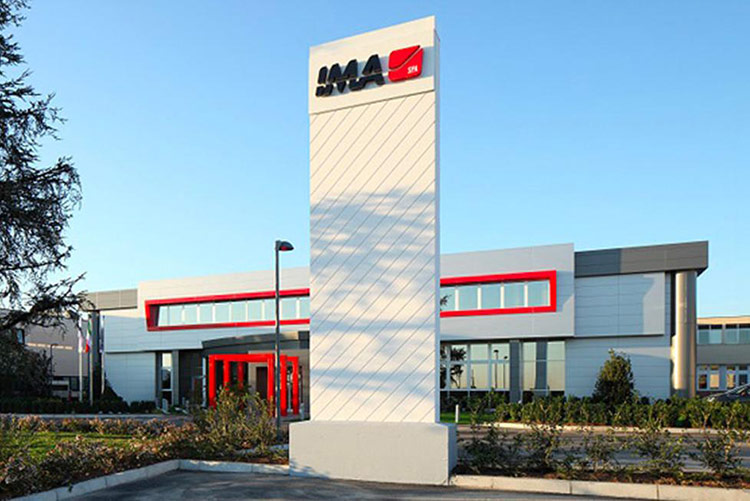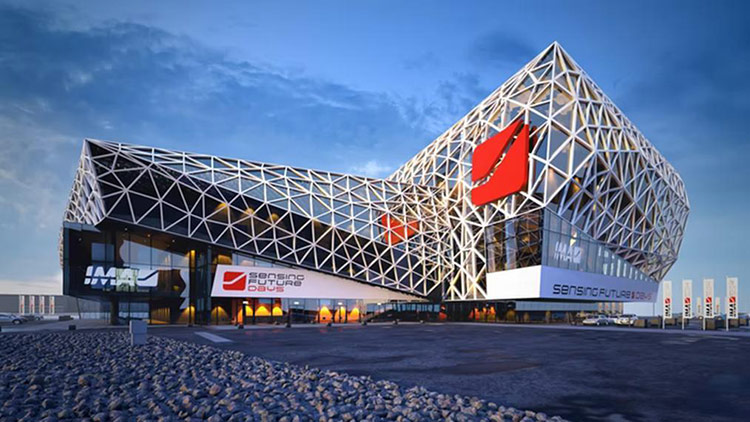 IMA is a global manufacturer of automatic machines for processing as well as the packaging of pharmaceutical, nutraceutical, food, and chemical industry since 1961.
IMA history features a continuous and smooth growth that has enabled this organization to close 2010 with a strengthened turnover of 91% of destined export and 503.3 million Euros.
IMA Group has associated with 2200 employees out of which more than 1600 are overseas employees and is in 6 states that are supported by a huge sale network comprised of 16 branches while representative branches in central Europe and over 50 agencies.
IMA is also interlinked with joint venture in China. This group has more 16 significant production plants in Italy, Germany, USA, UK, India, and China.
Key Products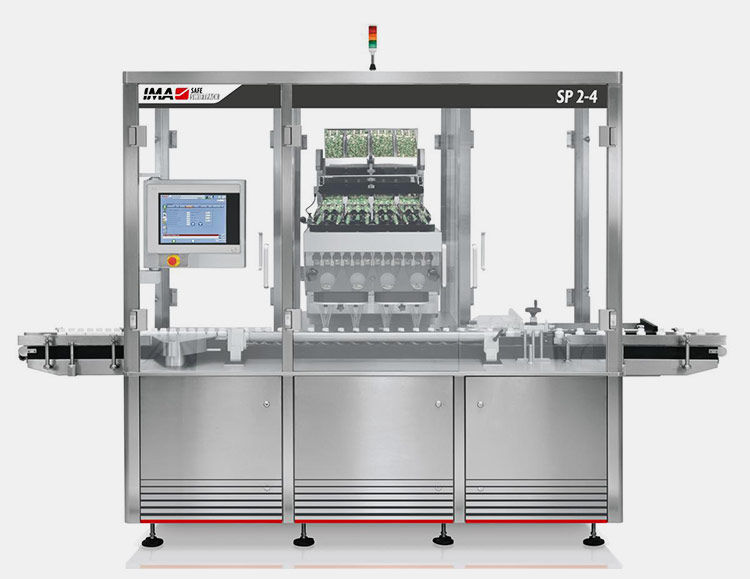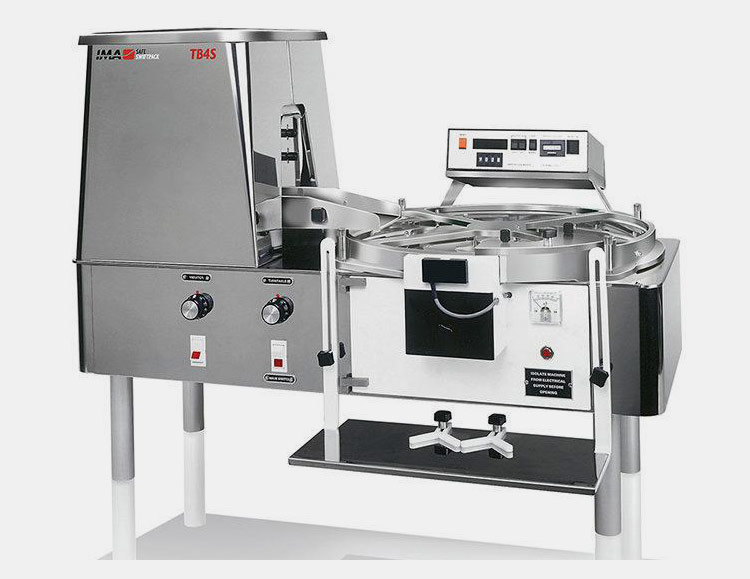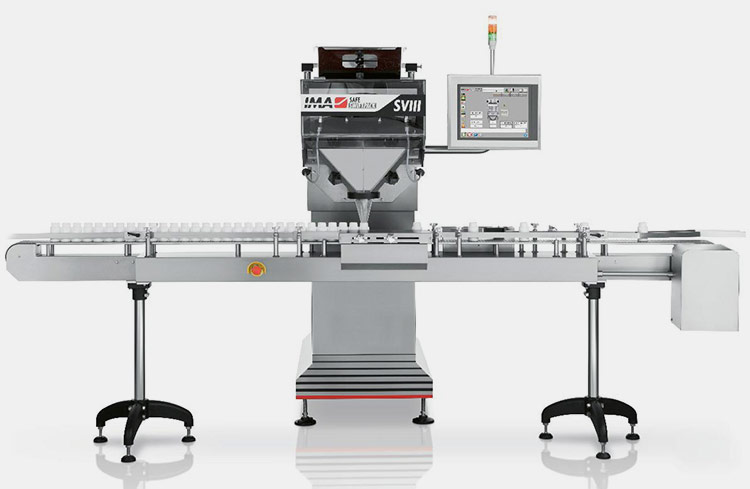 IMA tablet counter is versatile, fast, and accurate solution for wide range products that ranges from 6000 tablet/minute to 40,000 tablets/ minute.
The IMA tablet counter is designed to comply with consumer demand for quick and flexible cleaning affinity.
IMA tablet counter offers an optional replacement filling head that drastically lowers the changeover time of equipment.
Automatic high speed tablet counter ensures fast tablet scanning, measures, counts, prior to introduces in bottle and guarantees 100% counting accuracy.
AIPAK Background:
Aipak is a well-reputed market player of China that is interlinked with all main pharmaceutical manufacturing markets worldwide. Over the past 10 years, Aipak has established an outstanding profile for innovation and development of highly specialized pharmaceutical tablet counting machine for medical and healthcare fields.
Aipak has worked with the world's top-class pharmaceutical companies and gained 100% satisfaction by implementing high-quality control solutions. That's why customers value them and prefer their machinery for the filling value products.
Key Products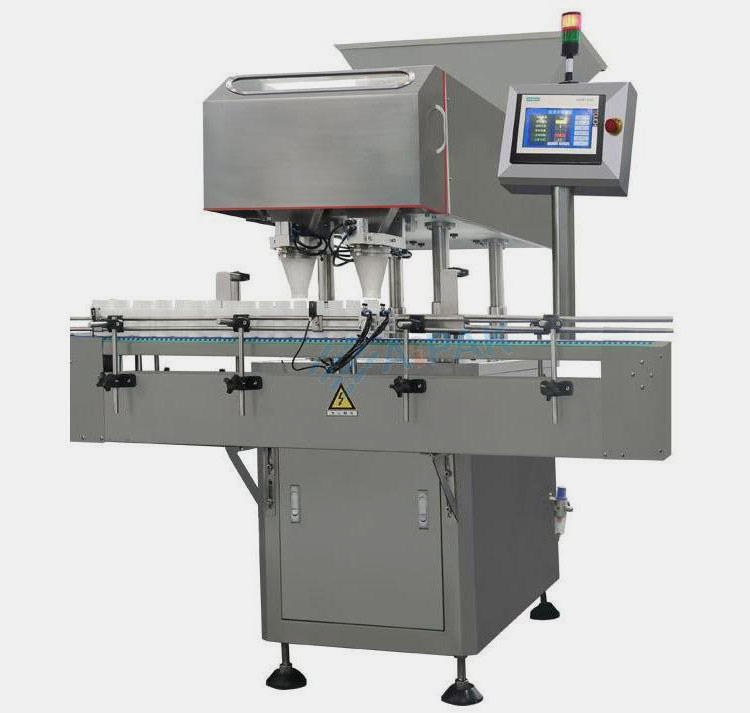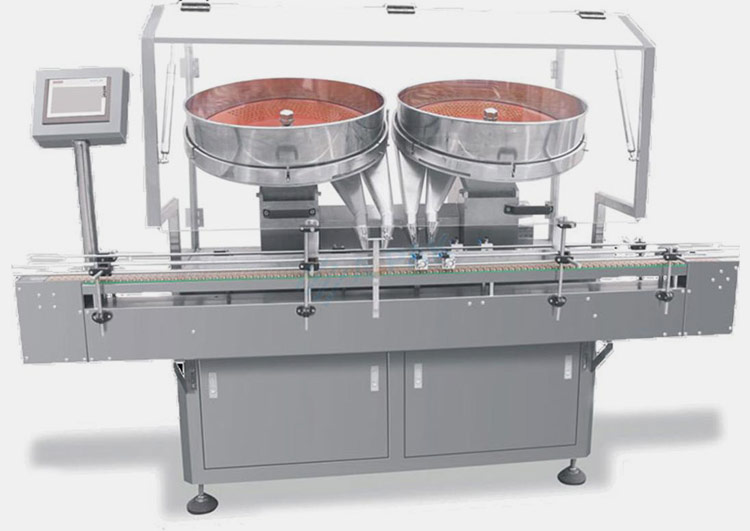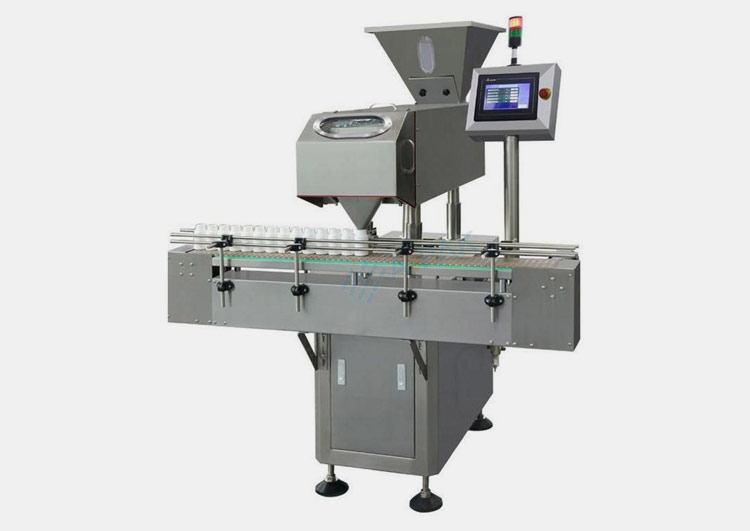 Aipak is the China's leading pharmaceutical tablet counting machine manufacturer and supplier that ensures a gentle operation.
Following are major tablet counting machines:
Low Speed Multifunction PLC System Industrial Gummy Tablet Counting and Bottle Filling Machine Line
Medium Speed Automatic Electronic Capsule/Tablet Counting Machine Line
High Speed Automatic Electronic Capsule/Tablet Counting Machine Line
APC-8 Automatic Tablet Counting Machine
APC-B8 Desktop Electronic Tablet Counting Machine
APC-12 Automatic Tablet Counting Machine
APC-16 High Speed Tablet Capsule Counting & Much More.
Aipak is leading manufacturers of tablet counting machine that have been partnered with top-notch pharmaceuticals industries.
Aipak has an extensive range of tablet counting machine that minimizes downtime, ensure rapid and accurate throughput.
Their automatic tablet counting machine can accurately detect broken or unwanted pieces and rejects faulty tablets, thus ensures high consumer satisfaction with pride.
Aipak pharmaceutical offers full installation and training support, hence you will get 100% technical support whenever you require.
They provide high quality control services before and after delivery with lifelong consultation during processing.
Their high-speed automatic pills counting machine features customized solution to support individual requirement to meet consumer needs.
Marchesini Group Background:
Marchesini is global pharmaceutical equipment manufacturing and supplying corporation established in 1974 Pianoro. Since the company has grown up gradually from small to major industrial enterprise. Despite, their multinational dimension, this group never betrayed their artisan production and trait.
Marchesini group is a leading manufacturing designer of packaging machines that offer extensive range of automatic packaging machinery, sterilization tunnels, filling devices, blowers etc., that specializes in generating equipment for pharmaceutical organization in aseptic environments. This multinational enterprise is a recognized pharmaceutical supplier worldwide aiming to meet a high growing demand for unstoppable unit even with more passion and efficiency.
Key Products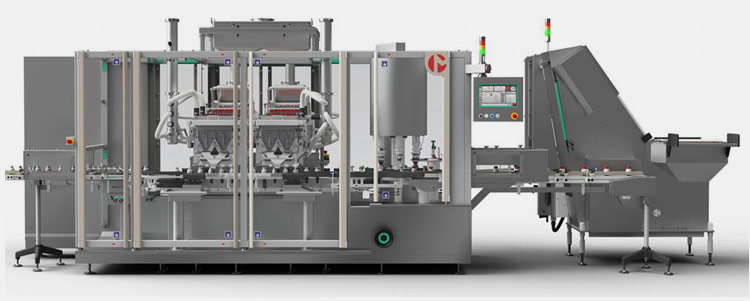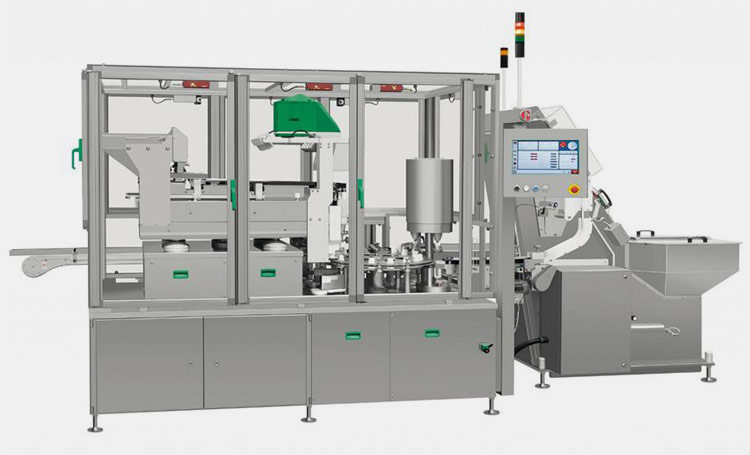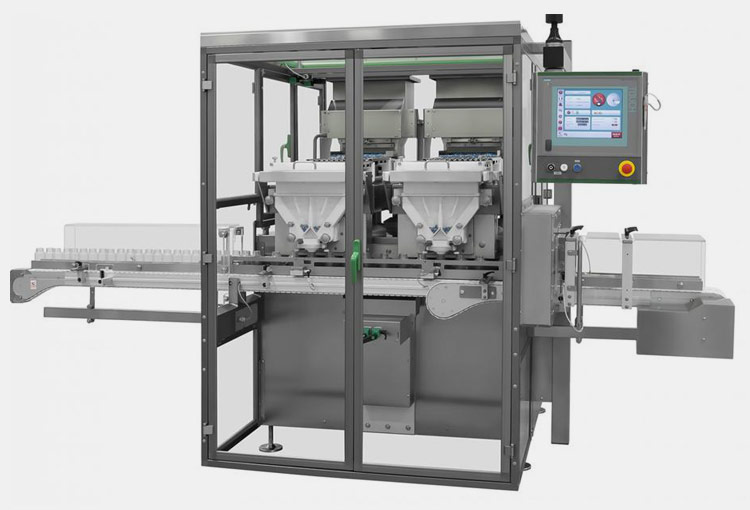 COMPACT-24
COMPACT-12 VALIDA
FTC SERIES
SYNCHRO 24
ELECTRA
Marchesini machine offer automatic counting, filling, capping bottles with pills in a simplify format in order to maintain high quality standard and consumer demand.
Counting machine is comprised of 12 channels out of which it is divided into 6+6 by 'twin flap' function. This ultimately allow counting and bottle filling up to 150 bottle per minute.
Machines are well-equipped and constructed in according to cGMP norms.
Their machines are equipped with 2D, and 3D control due to presence of cameras offers product verification.
All parts of machines that are in contact with products are easy to remove and clean.
Automatic adjustment with scale and digital indicator, easy and quick size changeover without requirement of tools.
8.PHARMA PACKAGING SYSTEMS
Pharma Packaging Systems Background:
Pharma Packaging systems is leading packaging industry that offer excellent and advanced technology and high-quality solution to meet customer and regulatory demand in pharmaceutical and healthcare system since 2002.
Today, Pharma packaging systems offers more than 850 excellent automatic tablet counters along with integrated packaging lines that are installed across the globe through their stronger network system of distributors, and sale management.
Their all-tablet counters are featured with latest electronic control system and comply with cGMP norm.
Key Products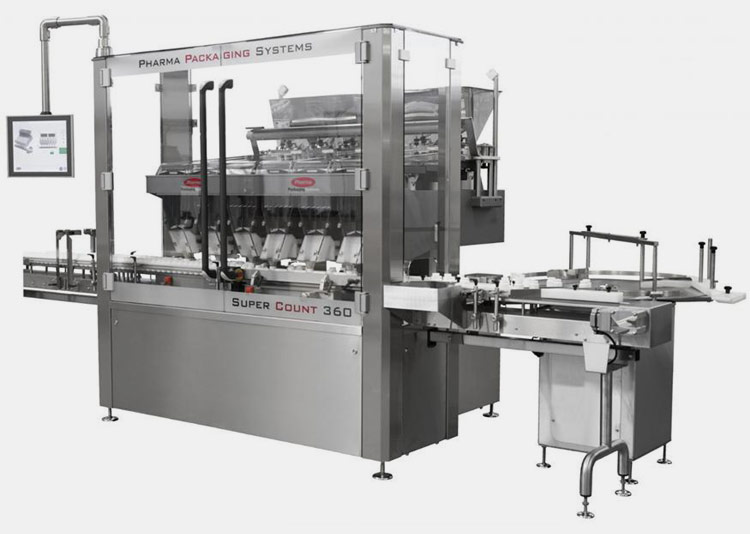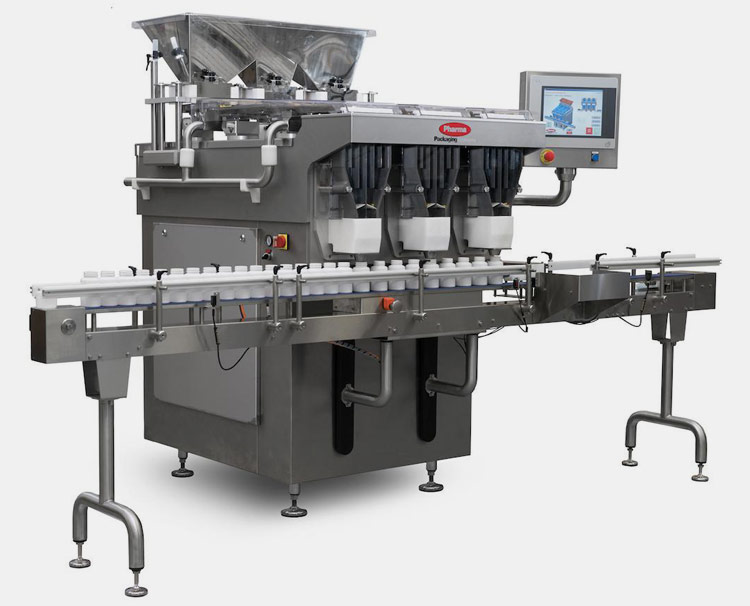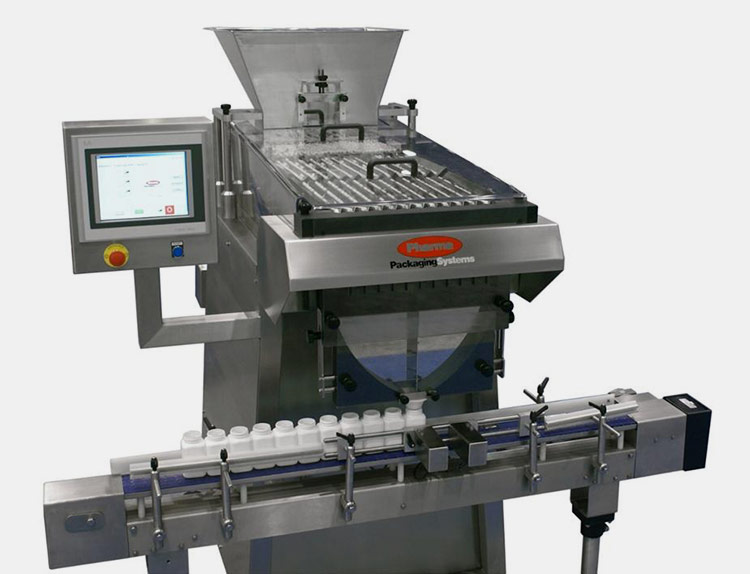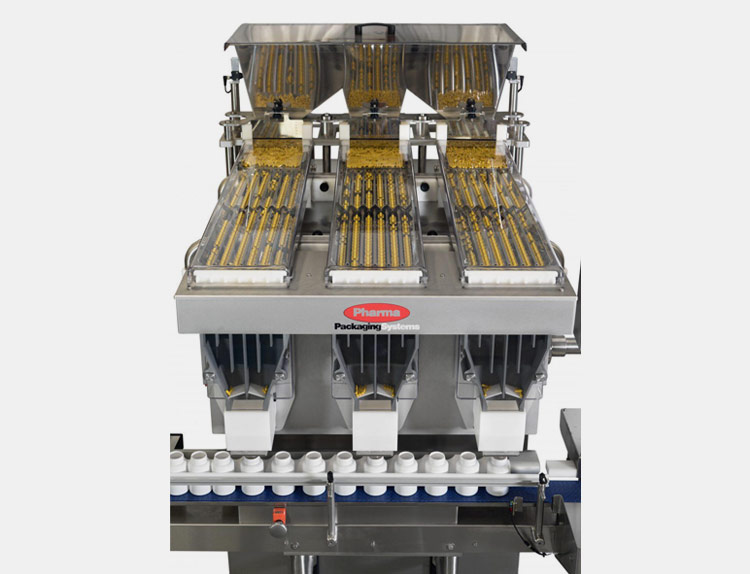 Pharm Packaging system is established as world leader in design and manufacturing latest electronic counters suitable for wide range speed demanding products, offer cost-effective services.
Some key products by these manufacturers are:
PHARMACOUNT 180
PHARMACOUNT SC RANGE
VISCOUNT 8/1 - 12/1
Their high-speed infrared sensors scanning has ability to scan at 34000 times/second for highest accurate counting for pills as well as transparent gelatin capsules.
Tablet counters are high speed and reliable and easy to operate
The product can be speedily changed over.
Count control is adjusted without any difficulty.
Integrated with dust and chip system to remove dust easily &effortlessly.
Mechanical head lifts the product.
DEITZ Company Inc Background: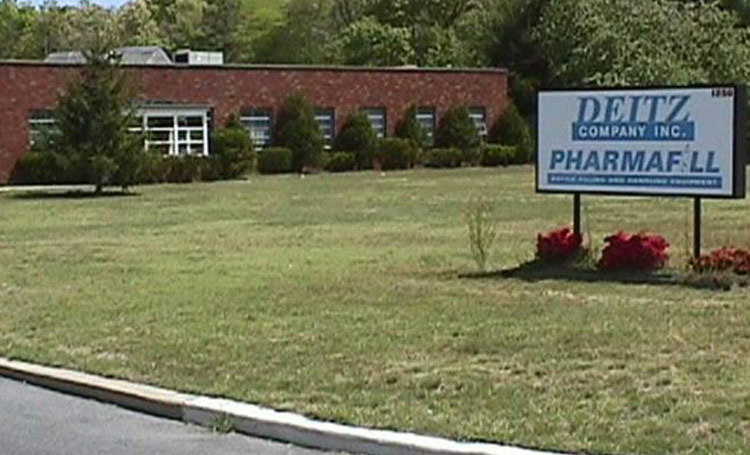 Deitz Company is a family company that was started in 1949. They were first launched as a company that manufactured photoelectric registration control for packaging lines. Then they started designing capsule counting machines.
They have vast experience in producing various packaging solutions like conveyors, tablet counting machines, and neck banding machines. They also manufacture turntables and inserters that are used in pharmaceutical companies.
The turnkey solutions provided by Deitz Company are valuable in packing materials. These excellent quality machines are installed in several sectors such as healthcare, food, beverage, nutraceutical, and Pharma industry.
These world-class technologies boost production efficiency and are decidedly reliable. These machines are very long-lasting and easy to afford.
Key Products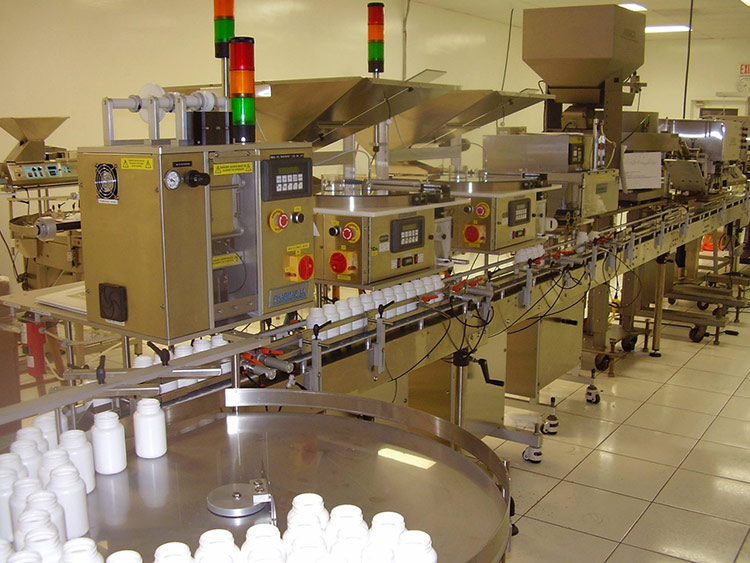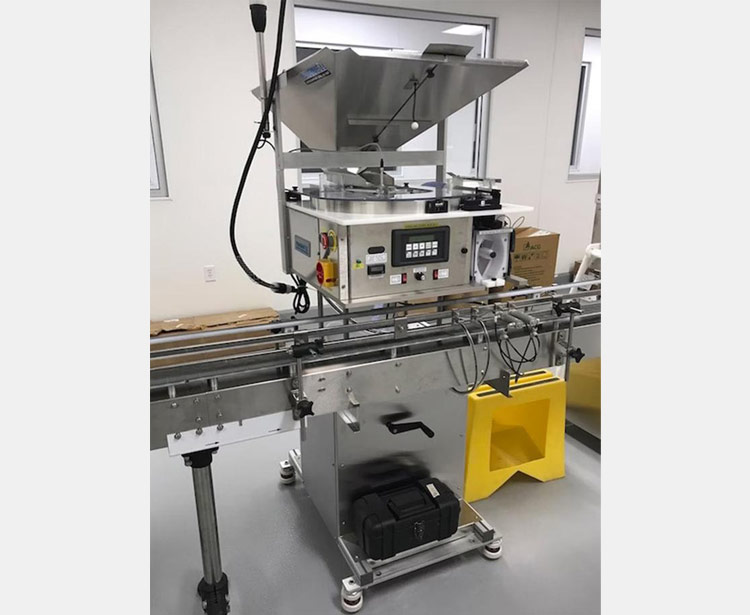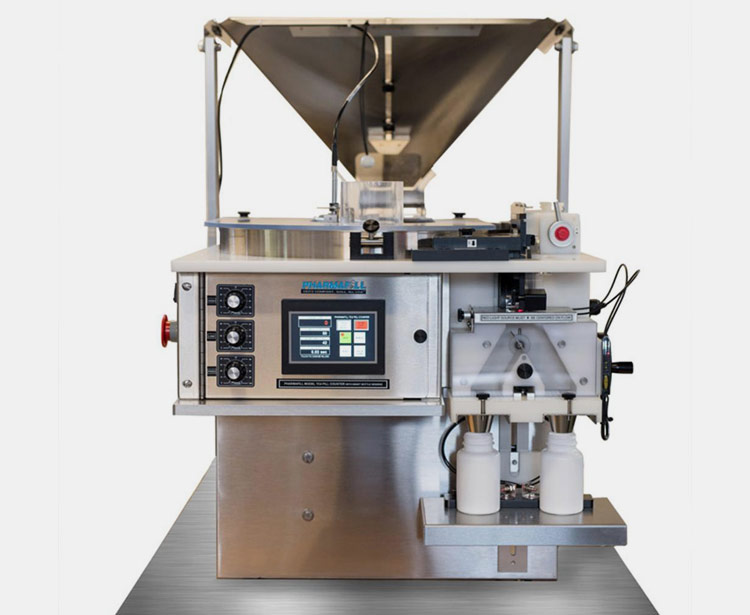 The tablet counters produced by Deitz Company are very fast and give consistent performance. These machines are robust and valuable in non-stop production and packaging assembly.
Some characteristics products are:
Tablet Counter TC3
Tablet Counter TC4
Recommend Reason
These machines are extremely efficient in counting any type of tablet from capsule to soft gels. These can accurately determine the number of lozenges, gelcaps, and caplets.
Some of the useful features of these products are described below:
Count any kind of solid oral medicine with 100% accuracy.
Count translucent and opaque doses with 99.99% precision.
These machines are meet FDA compliance.
Occupy small areas so that multiple machines can be placed side by side.
Equipped with single and double-lane conveyors to boost the speed of production.
Provided with PLC control.
Easy maintenance, no need for lubrication.
Machines can be automatically stopped.
Neostarpack Background:

Neostarpack is global leading pharmaceutical machinery manufacturer and supplier specialized in labeling, filling and capping system from Taiwan since 1998. From then till now Neostarpack has been effectively and flexibly active in entire packaging solution to their customers. With twenty years of experience Neostarpack keeps on focusing innovative mechanical demand and supplies domestic and international market exceeding their business domain more than 40 states like USA, Europe, Asia, and Africa.
Key Products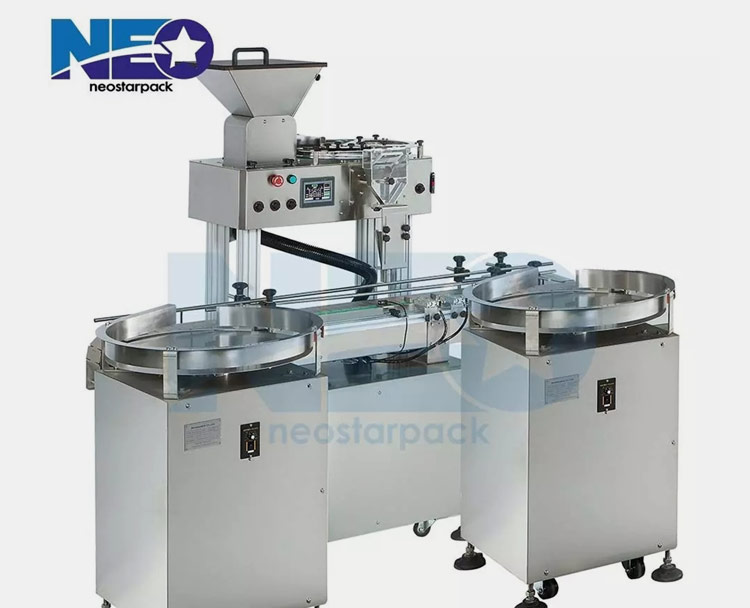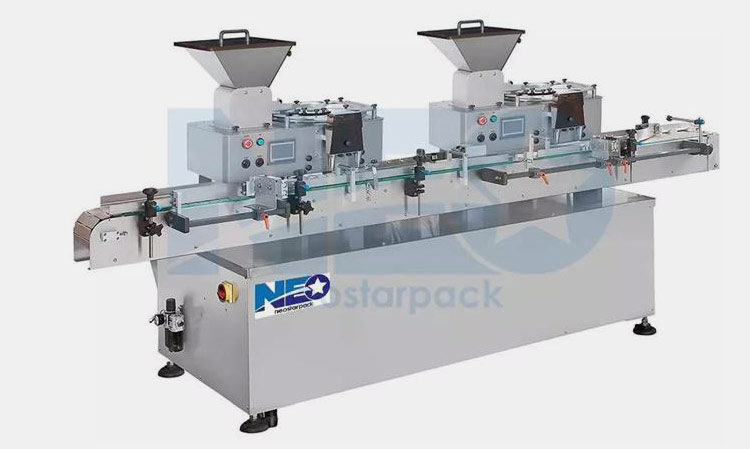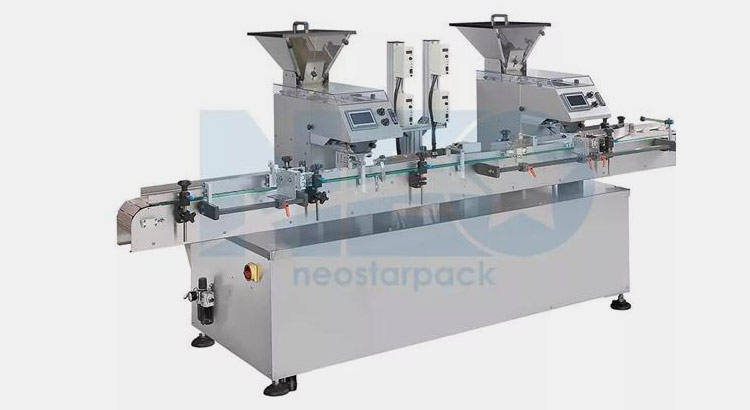 Neostarpack believes in manufacturing and delivering excellent and valuable pill counting and bottling solution for mutual benefits of pharmaceutical and consumer demand.
Automatic Capsule Tablet counting machine line
High Speed Automatic Capsule Counter
High Accuracy Tablet / Capsule Counting Machine
Fixture Rotary Counting Machine
Tabletop Capsule and Tablet Counting Machine
Tabletop Tablet Counting Machine (Capsule, Pill, Tablet Counter)
Neostarpack equipment design are strictly accordance with customer demand.
They have high precision in counting services up to 100%.
Their tablet counting machine advanced design allow double rail units that make two counters' stations.
Automatic counting, filling, capping offer efficient and fast-paced output decrease labor cost.
Automatic feeding and simple input data using touchscreen set up, machine has ability to store and memorize parameters rapidly and easily.
Conclusion
Tablet counting machines are specially designed and developed that enable you to count the tablets automatically, no matter what size and shape they have.  The ever- growing emerging of pharmaceutical industry highly influences their demands to ensure the continuous process in the future. As seen through out this blog, the leading manufacturers of tablet counting machine that is trusted by many. Remember accuracy is essential and correct dosage is primary objective of deliver medication to patients.
Don't forget to share this post!
Tube Filling Machine Related Posts
Tube Filling Machine Related Products
Tube Filling Machine Related Videos
CONTACT US
Tell us your raw material and project budget to get quotations within 24 hours.
WhatsApp Us: +86 189 7157 0951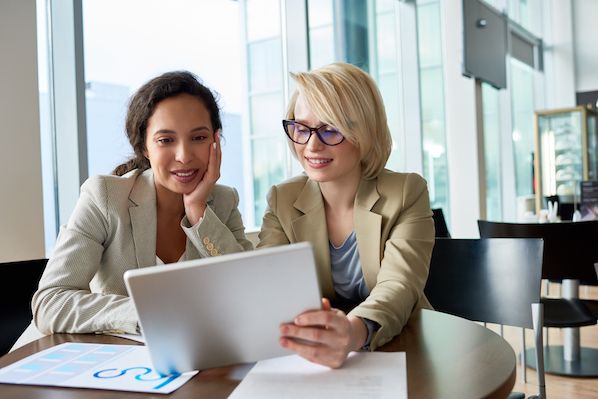 Want the best price & newest pharmaceutical machinery buying guide,tips and trends sent straightly to your box?Sign up for Aipak's monthly newsletter,we're free for your consultation and Offer you the most suitable solutions!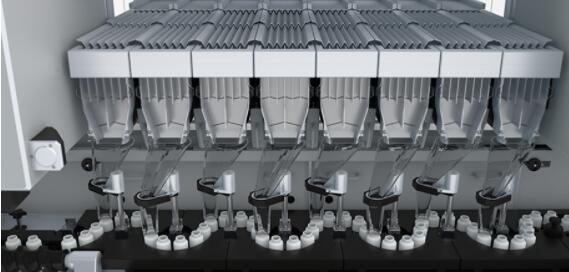 Tell us your material or budget,we'll reply you ASAP within 24 hours