NF-80 Automatic Al Aluminum/Plastic Soft Tube Filling and Sealing Machine Lotion
This machine can be used for filling cream and liquid materials, and it is characterized with firm filling and high precision of dosage. The three functions of filling, sealing and batch embossing can be completed automatically. It's widely used in pharmacy, daily chemical, food, chemical industries, (e. g., ) pharmacy cream, hair color, toothpaste, leather oil, glue, nanp-epoxy adhesive etc.
With the design, manufacturing, assembly, debugging, as well as main parts and materials being fully in accordance with GMP requirements, the automatic tube filling & sealing machine produced by our company has such features as smooth and flat surface, free of dead corner, being innoxious and non-smell, free of pollution, easy cleaning, and easy maintenance and servicing.
The compact structure, simple and convenient operation, the machine is applicable to the demands of users from the industries such as medicine, food and daily chemical industry etc. The machine can smoothly and accurately fill various paste, ointment and viscous fluids etc. materials into the tube. Hot air heating will be carried out inside the tube through the heating head (made in Switzerland) and the operations such as sealing and batch No. printing etc. can be finished for plastic tubes and composite tubes. The highest production capacity of the machine can reach different customer's requierment with an error of filling volume not more than 1%. The equipment is a kind of filling & sealing machine used to carry out internal hot air heating for plastic tubes and composite tubes through the operations of touch screen.
The Product has 12 locations and matching with manipulator, the machine is able to meet different type of tail folding, sealing requirements of plumbum tube, ALU tube, plastic tube and laminated tubes. It is a multi-purpose machine.
Tube feeding, eye marking, tube interior cleaning (optional), material filling, sealing (tail folding), batch number printing, finished products discharging can be performed automatically (the whole procedure).
With external reversal feeding system, makes tube charging more convenient and tidy.
The mechanical linkage photo sensor precision tolerance is less than 0.2mm. The chromatic aberration scope between tube and eye mark is reduced.
Photo-electronic, electric, pneumatic integrative control is applied with the machine. No tube, no filling. It gives an alarm when low pressure occurs. The machine stops automatically if tube error or open the safety door. 
Three-layer jacket instant heater with inside air heating, it won't damage the pattern outer wall of tube and achieves firm and beautiful sealing effect.
                                                   Get in touch with an expert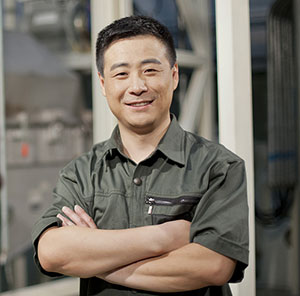 We´re looking forward to find the suitable solution for your product. Please contact:
Andrew Yang
Engineer Director
Phone: +86 189 7157 0951
Tube Filling Machine Related Products
Tube Filling Machine Related Posts
Tube Filling Machine Related Videos