Gelatin V Pectin – Which One Is Best For Your Gummy?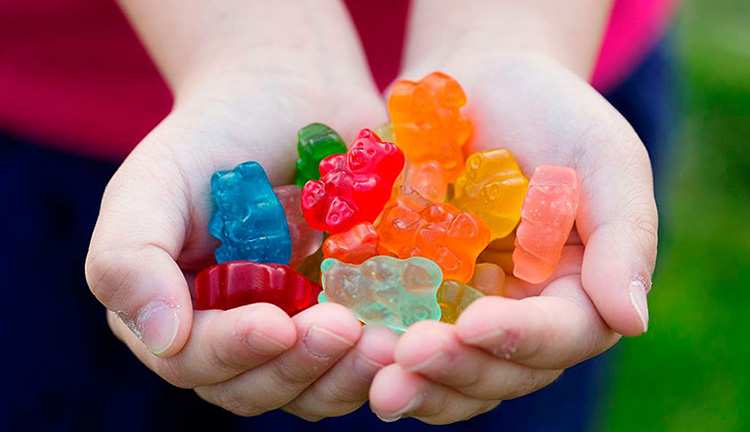 Pectin OR Gelatin? Which would be your tongue's favourite type of gummy?
Is it hard to decide? Let us help you! As a child or grown ups, jellies are  everyone's "The best" mouth treat.
Whether it be Pectin or Gelatin, both hold their separate values in savouring your taste buds when they are attractive gummies, but the choice entirely depends on you. Gelatin and pectin are the acceptable gelling agent widely used in their making. If you are new in formulating gummies it is important to have prime knowledge between these two. To understand, we have developed 'Gelatin vs Pectin- Which one is best for your gummy?' Read on learn some insight about gelatin V pectin.
Add a header to begin generating the table of contents
1.What is Gelatin Gummy?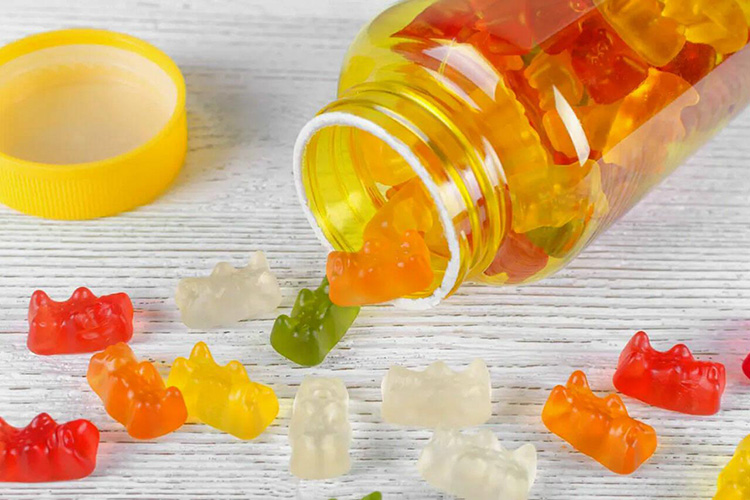 Gelatin is a non-vegetarian based or animal derived product which is extracted from animal sources such as collagen from bones and ligaments. Gelatin is rich in protein (amino acids) , usually glycine and proline. Notably it's highlighted feature for health benefits is the presence of amino acids which accounts for 98-99% of proteins.
They are able to produce bright and clear colours , even though sometimes powdered sugar is also added to increase the appealing visualisation. When heated with sugar it causes the consistency to thicken, which is a characteristic of jellies and jams. Gelatin gummies are good when choosing a diet that is rich in protein.
2.What is Pectin Gummy?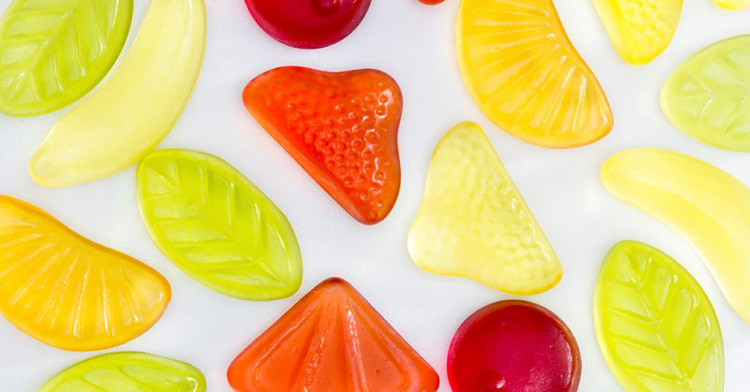 Pectin is a carbohydrate present in the cell of some fruits and vegetables making it a perfect choice for vegans! It contains a dissolvable fiber which also has health benefits like reducing cholesterol, maintaining blood sugar and a role in appetite.
Pectin is a purely vegetarians' choice for gummies as they're made from fruits and vegetables peelings.. Pectin gummies are a source of fibre, however for consumers to increase the nutritional supplement for fibres they would require to consume a great amount for equivalent requirement of dietary needs.
3.Gelatin V Pectin: Nutritional Profile
Gelatin
It is an execellent nutritional dose at every age. The most abundant protein extracted from animals include:
| | |
| --- | --- |
| Amino Acid | Concentration in percentage % |
| Glutamic acid | 11 |
| Glycine | 27 |
| Valine | 14 |
| Proline | 16 |
| Hyroxyproline | 14 |
Pectin
It is a perfect source of obtaining soluble fibre and carbs. Side by side, it helps to limit chlosterol and blood sugar level (improves feeling of fullness). The nutritional profile of pectin is:

| | |
| --- | --- |
| Content | Concentration in gm |
| Calories | 162 |
| Fats | 0 |
| Dietary Fibre | 4 |
| Copper | 0.0002 |
| Carbohydrates | 45 |
| Sodium | 0.01 |
| Chlosterol | 0 |
| Zinc | 0.0002 |
| Magnese | 0.00001 |
4.Gelatin V Pectin: Which one is more Chewy?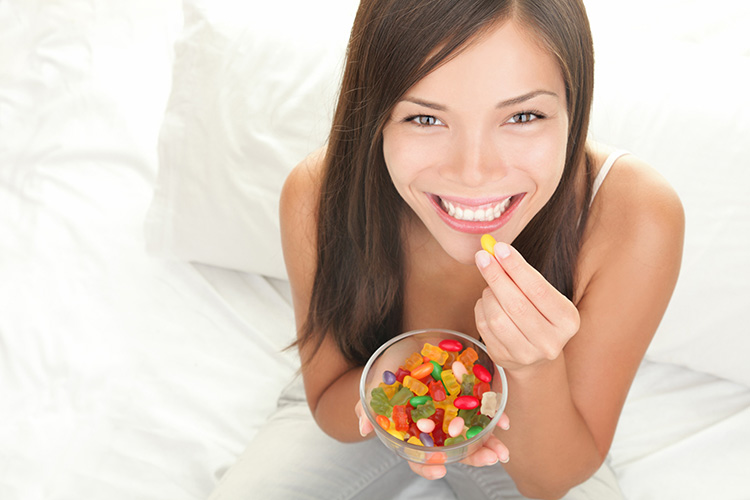 Gelatin
Won't you love those type of candies and gummies that melt in your mouth as soon as you put them inside? Sounds deliciously exciting! This benefit is brought to you by the gelatin gummies, which makes it stand out as a formulating ingredient for orally taken foods and supplements.
Gelatin requires minimal temperature to set and that's why it could easily melt in hot weather! The fibrous texture which makes it delicately chewy is achieved once the gelatin gummies are set. It takes about 2 to 3 hours for them to fully set.
Pectin
Pectin gummies are not that chewable in texture and so presents shorter bites. It enjoys the benefit of being high temperature resistant and so your pectin gummies won't melt right away if you kept them in heat
5.Gelatin V Pectin: Taste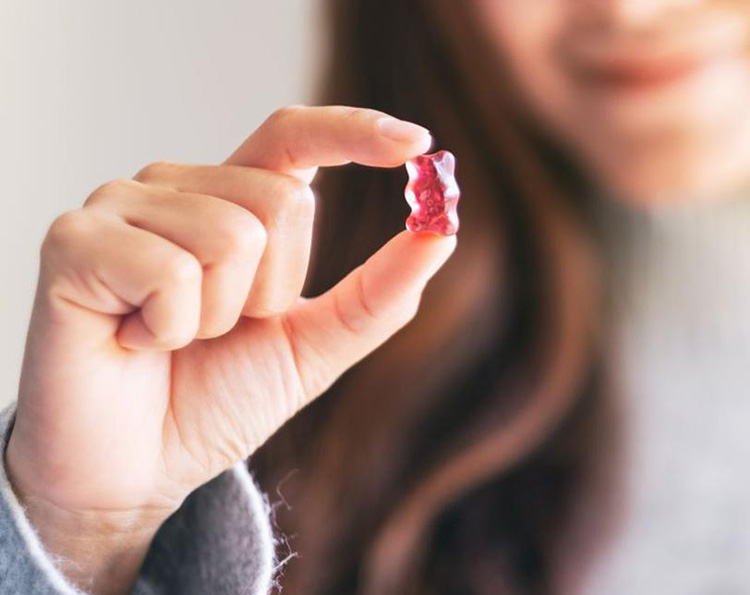 Gelatin
It is a colorless and flavorless substance that has jelly like consistency which enables it's easy coloring and flavouring.
Pectin
Pectins are bitter in taste which makes it necessary for sugar to be added , and makes flavoring a little harder. These gummies are set at a relatively higher temperature than  Gelatin gummies and within 30 minutes they are fully set.
6.Gelatin V Pectin: Sources
Gelatin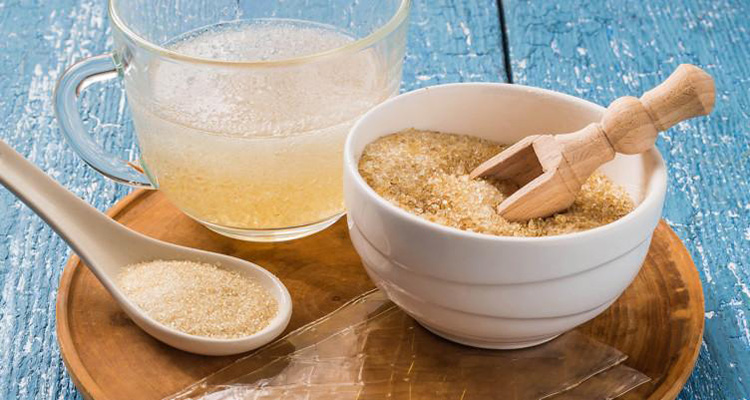 Gelatin is mainly extracted from meat based products such as raw collagen which is then processed. It comes from different animal origins, like cattle, bovine, pig and rarely fish too. This poses a problem for those who consider religious restrictions for certain types of meat.
Pectin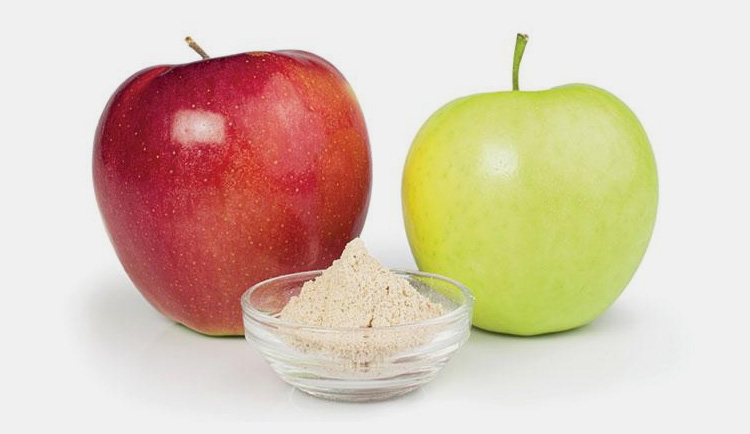 Different sources of Pectin include apple, citrus fruits like oranges, mango wastes, cherries,carrots, apricots, sunflower residues, amaranth and sugar beet. This natural fiber is present in great amounts in apples and oranges, with high concentrations found in seeds, core of the fruit/vegetable and the skin peelings.
7.Gelatin V Pectin: Health Benefits
Gelatin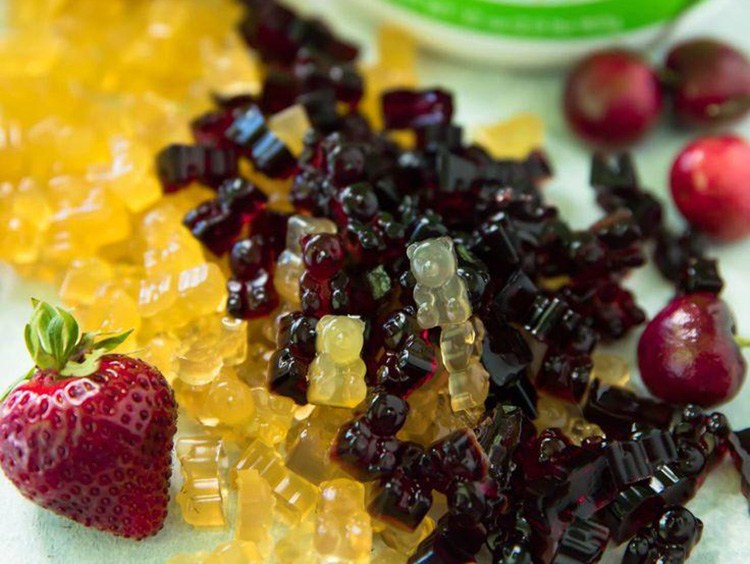 The nutritional advantage of gelatin includes:
It allows easy swallowing when formulated as a supplement ingredient.
It helps in the betterment of your quality sleep.
It plays a good role in improving digestion.
It takes care or maintains your skin .
Pectin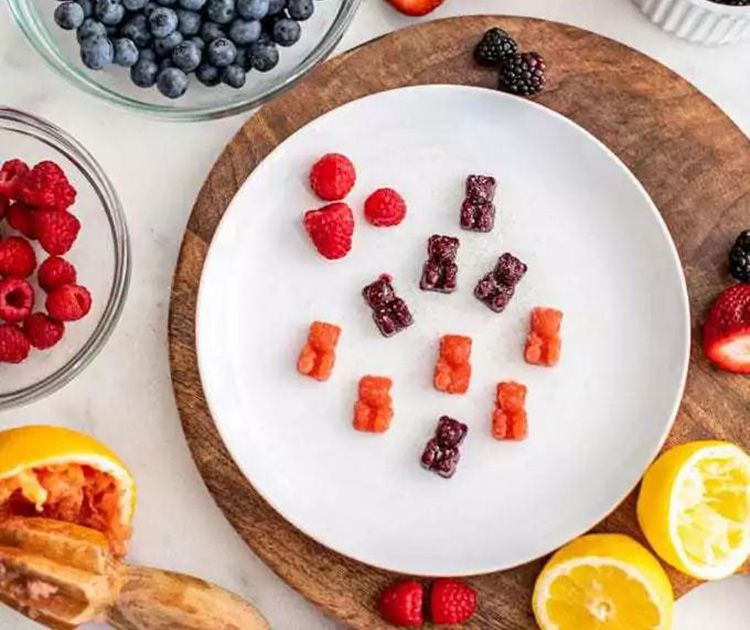 The nutritional advantage of pectin includes:
Apple pectin is known to aid against Colon Cancer.
It is beneficial in reducing or maintaining high cholesterol levels.
Pectin is used to regulate bowel movements and so is good to use in Irritable Bowel Syndrome.
It is beneficial for Constipation, Diarrhea, Diabetes, and Heartburn.
8.Gelatin V Pectin: Temperature Fixing For Setting A Good Gummy
Gelatin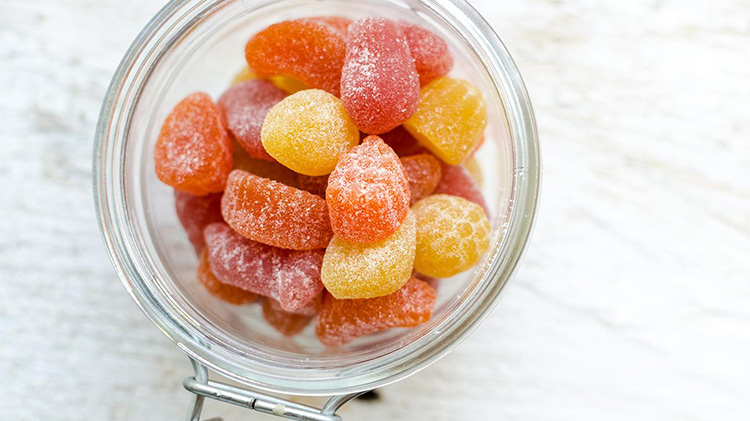 Gelatin requires minimal temperature for them to set. The mixture of all ingredients you're going to combine for your type of gummies' recipe is supposed to be simmered on low-medium heat for few seconds, probably of you select the microwave oven it would come real quick.
It takes about two to three hours of time , later on, when you have to cool them down. The best is to refrigerate the mixture after emptying them into your desired molds, while your gummy bears enjoy a cool sleep for 24 hours (which is the optimal time for them to set). If you desire gummies that are good enough to not melt, you would need three days to allow them drying, after heating at a temperature of 85°C which would prevent the gummies from dropping out of their moulds(1 gram gummy).
Pectin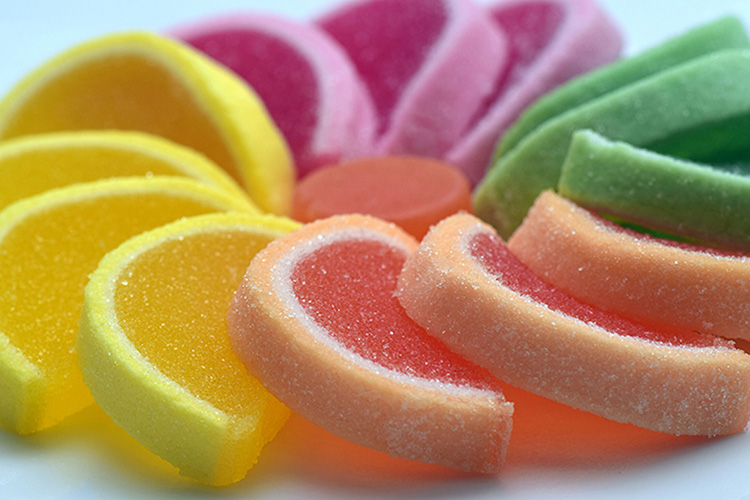 Pectin unlike Gelatin needs a relatively higher temperature for its setting. The mixture of ingredients you are going to use in your recipe should not be heated exceeding 240° F, which would result in a stiff texture of the gummy. The mixture of sugar and water should not be overheated at the aforementioned temperature which would cause your teeth to be stuck with melted gummies.
9.Gelatin V Pectin: Which one is trickier to formulate?
Gelatin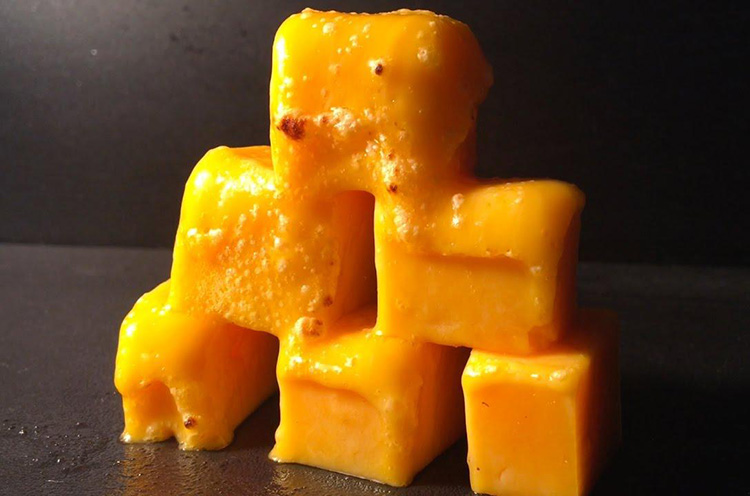 Problems arising while formulating gummies based on gelatin are sweating and sticking of jellies, stiffness of their texture, unsuccessful blooming, unsuccessful setting, uniformity in sizes of gummies and unwanted browning in some scenarios.
But no worries, if there are problems there are solutions too!
The expiration date or precisely shelf-life of these candies depend on the sugar content added in their formula, excess of which leads to its stickiness and sweating. Insufficiency in drying, high level of humectant are some reasons which might also contribute. For avoiding this, you can dip them into ethanol , dry them and later coat them with citric acid. If it comes out harder than expected, you can rehydrate those candies by immersing them in a bowl of warm water.
The premature setting may be due to inappropriate temperature, so it should be 170°F to let the gelatin stay warm.
Failure in setting might also be due to the protease enzyme present in fresh fruits like mango, papaya, pineapple and kiwi. To avoid uniformity issues , mould sizes should be checked for any deformation and the machine be regulated for uniform settings.
Pectin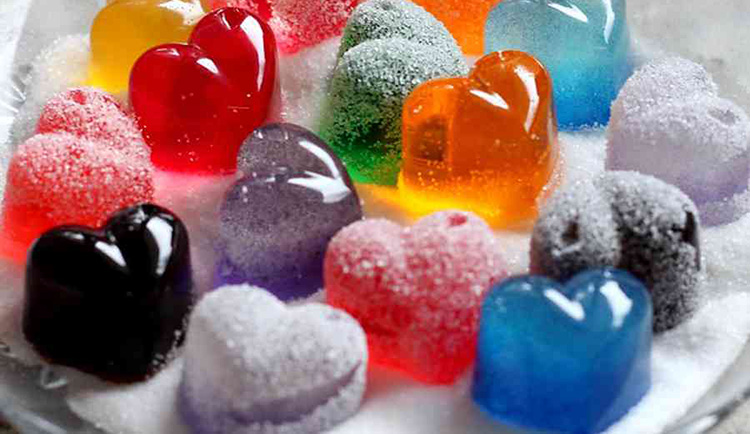 In pectin based gummies, the usual problem that arises is the maintenance of precise pH of 3.5. While gel setting and not exceeding the temperature limit more than 240°F, in case of which the candies would turn caramelized.
The chosen fruits should not be rich in pectin content. Another problem is the cloudy appearance which may sometimes be present due to improper straining of fruit pulp, pouring the mixture too slow, hence they should be avoided.
While the manufacturing of gummies faces issues whether be it gelatin or pectin based, there are definitely suitable strategies as discussed above to help in their smooth preparation.
10.Gelatin V Pectin: Side Effects
Gelatin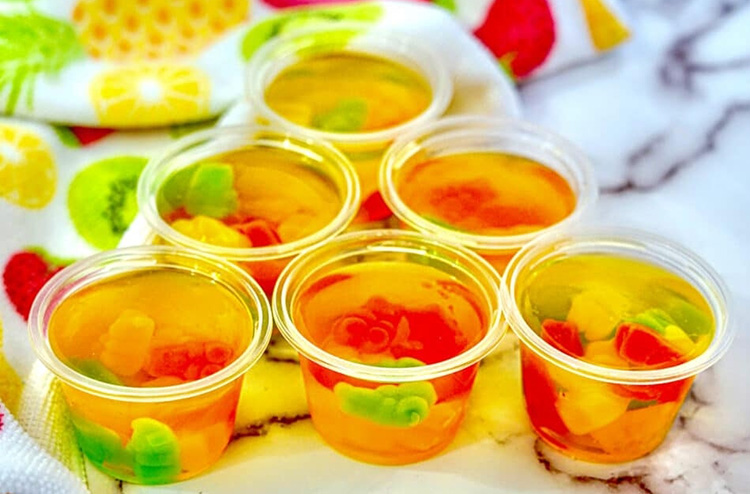 Consuming a high concentration of gelatin e.g 10 grams per day can result in stomach upsets, heartburn, and bloating. In some people, gelatin can cause allergic reactions.
As it is obtained from animal sources, it may be unsafe if not cooked properly which could result in mad cow disease.
Pectin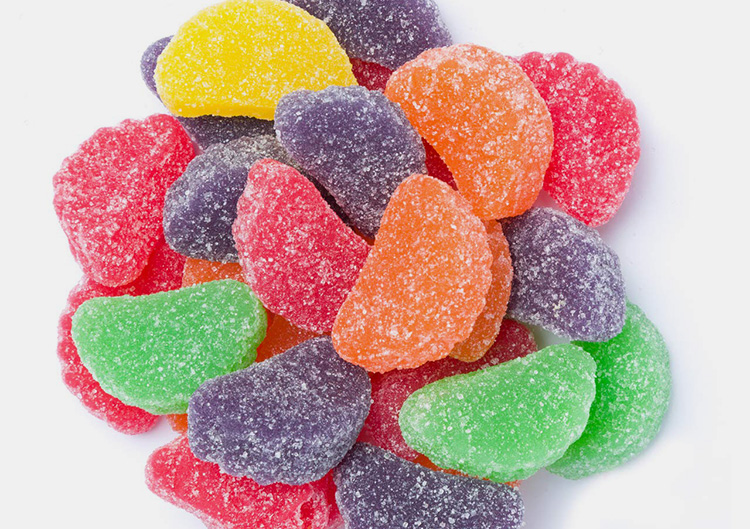 As compared to gelatin, pectin is considerably safer with fewer side effects. When pectin gummies are taken in combination with insoluble fibers and guar gum; it causes stomach upset, loose stool, and bloating.
11.Gelatin V Pectin: Market Value
Gelatin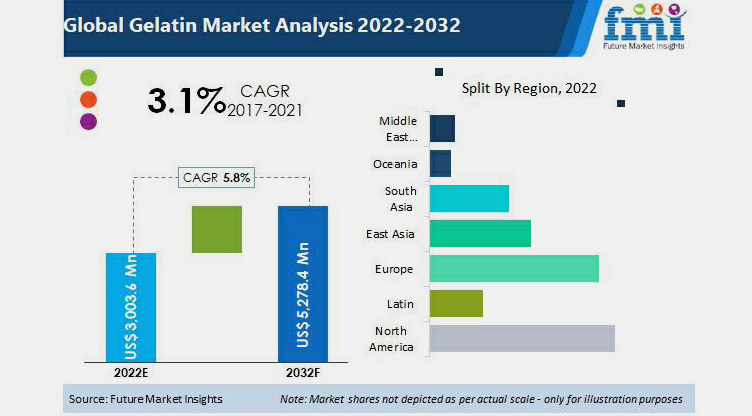 Gelatin find it's sales in marketing through it's usage in food preparation, cosmetics, fruit gelatins, preparation of medicines, shampoo etc. It's expected growth rate in 2022 is about USD 2.6 Billions. The worldwide market 's supposed forecast value for 2026 is USD 3.48 Billions. However, it's rise in demand is accounted because of it's extensive uses among huge population.
Pectin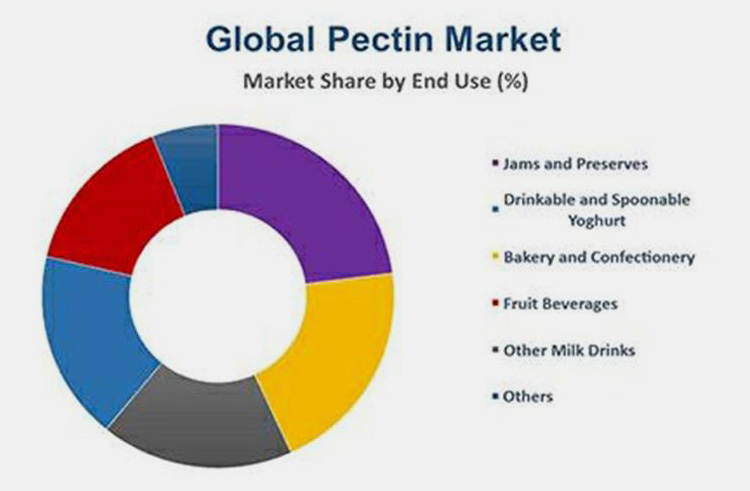 The pectin market value estimated worldwide in 2022, is around USD 998.7 Million. The market is expected to develop due to the increased usage of pectin in juice for flavorful taste, acidic purposes in dairy for some jams, and oxidised proteinous drinks. Pectin is being used as a gelling agent in vegetarian friendly options, OTC gummies, etc. The market's supposed forecast value for 2032 is USD 1.6 Billion.
12.Gelatin V Pectin: Summary 
Characteristic
Gelatin
Pectin
Description
Gelatin gummies are non-vegan, water soluble proteins produced from collagen.
Pectin gummies are vegan gummies with gelatinous polysaccharides taken from ripe fruits.
Nutritional Value
Gelatin gummies offer high protein content.
Pectin gummies are rich in carbohydrates and fiber.
Chewy
More chewy and stretchy
Not chewable texture.
Taste
They are tasteless
They have bitter taste.
Source
They are obtained from connective tissues of chicken broth, beef, and pork.
They are obtained from the cellular structure of vegetables, and fruit sources.
Health Benefits
Gelatin gummies improve:

Skin

Sleep Cycle

Joints pain

Blood sugar

Pectin Gummies improves:

Blood cholesterol

Blood Sugar

Improves immunity

Symptoms of constipation
CONCLUSION
Whether you love gummy bear or gummy worm, or you just love colorful gummies; It's chewy, delicious, and gelatinous texture has always remained popular in the world of confectionery.
Gelatin V Pectin - Which one is best for your gummy? Still not sure which gummies are best for you? Our high-tech experts have experience in guiding and consulting the pharmaceutical, wellness, and nutraceutical industries. We are here to support you in understanding the gummies process, troubleshooting, and choosing of formula best for you. Send us a short message to avail our free support services right now.
Don't forget to share this post!
Gummy Making Machine Related Posts
Gummy Making Machine Related Products
Gummy Making Machine Related Videos
CONTACT US
Tell us your raw material and project budget to get quotations within 24 hours.
WhatsApp Us: +86 189 7157 0951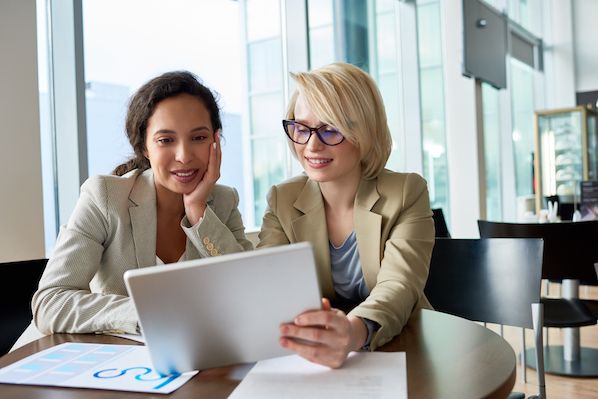 Want the best price & newest pharmaceutical machinery buying guide,tips and trends sent straightly to your box?Sign up for Aipak's monthly newsletter,we're free for your consultation and Offer you the most suitable solutions!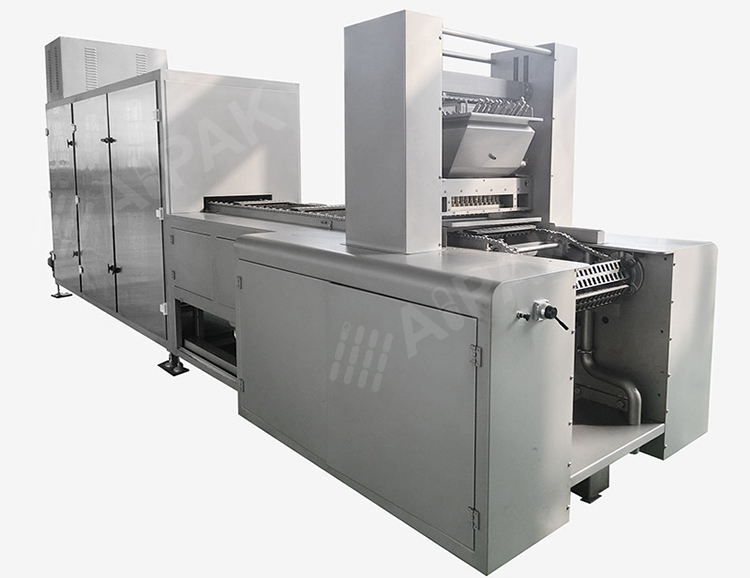 Tell us your material or budget, we'll reply you ASAP within 24 hours