Standard Guideline Before Buying Tablet Coating Machine in 2022
Do you know high-quality tablet machines like tablet compression, film coating and deduster are the secret of success behind every well-reputed pharmaceutical industry?
To achieve patient compliance modern medicines are always contemplating an appropriate pharmaceutical dosage formulation.
Unfortunately, there are many unappealing and unpalatable drugs available in the market that may promptly need the incorporation of approved additives such as flavor and colors.
For this purpose, pharmaceutical industries allow recognizing the technique of tablet coating. You can use this technique for solid oral dosage formulations such as coating of tablets, pills, or multiparticulate for drug delivery.
Surprisingly, you will find a multipurpose tablet coating machine that can coat pharmaceutical products with sweet organic film, water-soluble film, and a sugar film.
Tablet coating machines enable the integrating elegance, energy-saving, safe and clean equipment for coating procedure.
High standard of GMP compliance with quantitative instructions for smooth operation in fulfilling the production of pharmaceutical medications.
There, it provides you the right and perfect drug until it reaches the patient.
But have you noticed some people are habitually used to pop their tablets into other storage containers for easy handling?
So, at this time tablets are exposed to the atmosphere, and uncoated tablets lose their sophistication in comparison to coated.
Thus, film coatings are beyond a pretty look.
Because tablet coating machines are not only meant to enhance the look of tablets but also protect them. Also, the film surrounds the tablet lets you have a safe medication.
On another side, an uncoated tablet can be efficient if you take it in the right way.
Nowadays, the pharmaceutical industry prefers film coating. Because a film coating tablets simply offers an aesthetic look with a smoother, more finished appearance and helps maintain the tablet integrity.
Especially, "When it comes to remembering a tablet, no doubt color is the most important aspect".
Choosing a distinct color may stop medication errors. The more unique and complicated tablet design makes it more challenging to counterfeit a winning copy.
Today, the most common type of tablet coating is that applied with a polymer film.
Moreover, uncoated tablets are unappealing and uninspiring as well. Because they can be chalky and may stick in the throat because they begin to integrate the moment they are exposed to moisture.
This blog will help you to learn the ultimate buying guidelines for tablet coating machines covering broad aspects features, uses, classifications, basic working principles, and FAQ related to this machinery.
Let's drive the subject directly.
Add a header to begin generating the table of contents
1.What is a Tablet Coating Machine?
Tablet coating machines are advanced mechanical equipment that generally facilitates a thin uniform layer coating surround a tablet to accelerate therapeutic efficiency over uncoated products.
Tablet Coating Machine -Picture Courtesy :Aipak
The working principle of tablet coating machines is based on air regulation for controlled drying and tablet production.
2.Where do you frequently use tablet coating machines?
The commonly used areas of tablet coating machines are mentioned below.
1.Pharmaceutical Industries:
It is well understood that tablet coating machines are commonly used in pharma industries for formulating a perfect tablet.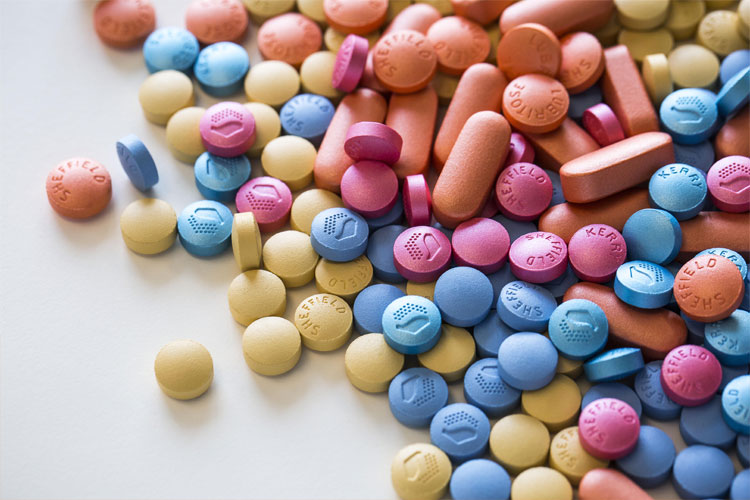 A Perfect Batch of Coated Tablets- Picture Courtesy
The tablet coating machines intended for various pharmaceutical dosage forms to attain:
100% drug stabilization from the harsh environment
Modify or slow releasing of drug profile.
Mask color, smell, and other organoleptic properties.
Protect the drug in the stomach.
A unique appearance.
2.Food Industries:
Indeed, tablet coating machines are broadly used in food industries such as water-soluble film and sugar coating for sweets.
This is suitable to achieve a high-quality coating for many food products such as chocolate, candies, sugar pellets, peanut coating, and confectionaries.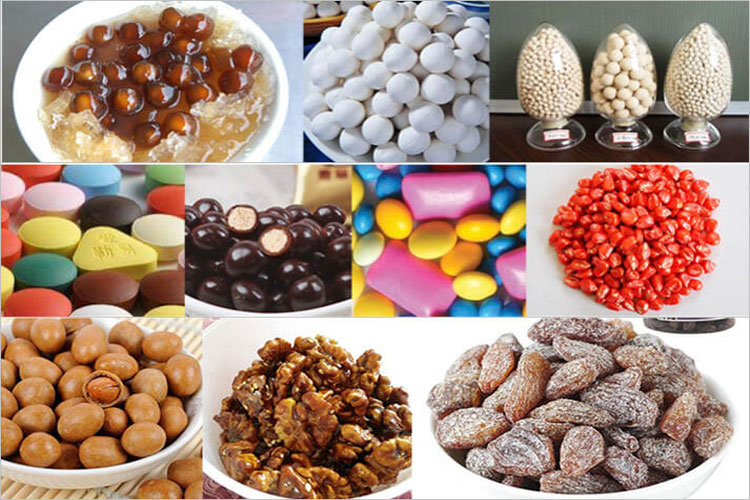 High Quality Coated Foods- Picture Courtesy
Moreover, tablet coating machines help you to provide uniformly sprayed sugar around many tasteless dried fruits to enhance taste and appearance.
3.Cosmetic Industries:
Tablet coating machines offers specialize coating applications during the manufacturing of various cosmetic products.
Beyond the aesthetic dimension, a sophisticated coating enhances color and stability.

Film Coating for Cosmetics- Picture courtesy
Choosing the right coating of product for the final finished form yields maximum product sale.
4.Agriculture Industries
The film coating technique is applied on post-harvested fruits and vegetables for longer shelf life.
Furthermore, the use of these edible coatings on seeds developed in the mid-1980s to encourage the better production and harvest of the agriculture system.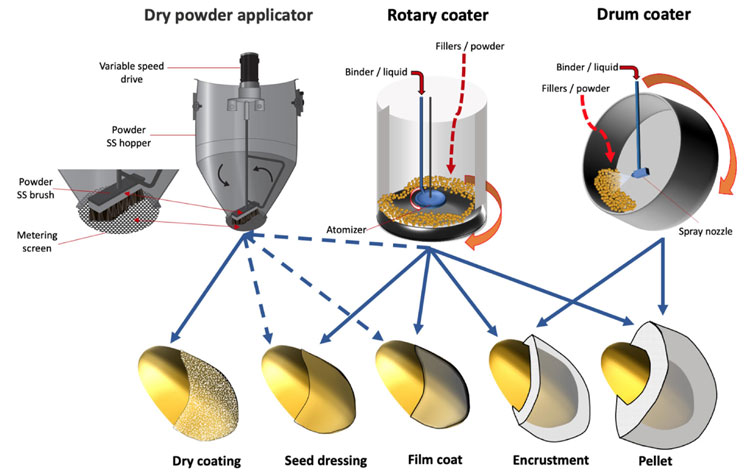 Film Coated Seeds- Picture Courtesy
The working principle of seed coating is generally the same for farmers and industries. Although their applications may vary for farms and industrial procedures.
3.Is coating necessary for your tablets?
Of course, tablet coating is mandatory for several purposes.
1) If you take a film-coated drug it facilitates protection against stomach enzymes and allows absorption at the small intestine to get 100% drug bioavailability. You should keep in mind; the small intestine has largest surface area that serves as a target site for drug absorption.
Your stomach has an acidic environment if you take an uncoated oral drug. It is rapidly released in the stomach before reaching the intestine. Hence, bioavailability of drugs gets disrupted.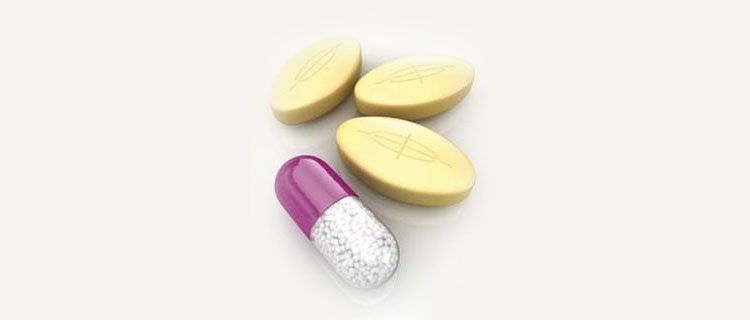 Enteric Coated Tablets- Picture Courtesy
2) Certain drugs cause damage to the stomach and intestinal lining and develop an erosion in the form of an ulcer. In a simpler word, your stomach lining begins to form holes. For this, you need to acquire a safe medication that protects the stomach or intestinal lining from harsh chemicals. Delayed-release tablets are intended to inhibit the release of drugs when the dosage form goes through the stomach. But it permits a rapid release of drug once it attains an upper part of the small intestine.
An enteric-coated drug like aspirin is used for this purpose. Enteric-coated drugs provide maximum protection to the delicate lining of the stomach and intestine.
3) Depending upon the situation, sometimes you may require an immediate, delay, or augment drug delivery. For this purpose, you must require a film-coated tablet.
A film-coated drug is mainly comprised of certain essential components like polymer, colorant, vehicle, and plasticizer that are used to deliver a drug at their active sites such as the intestine. That's why you need coated tablets.
4) You probably do not prefer those drugs that retain a bitter taste.
Therefore, a film-coated tablet is considered an efficient approach toward masking the bad taste and enhance patient compliance.
Thus, you can protect the bitter sensation of your taste buds by taking a film-coated drug.

5) Most often elderly patients may experience an impaired memory and vision problems. They are hard to remember an uncoated or ordinary tablet. Therefore, excellent product appearance helps you to remember them and allows easier and error-free administration.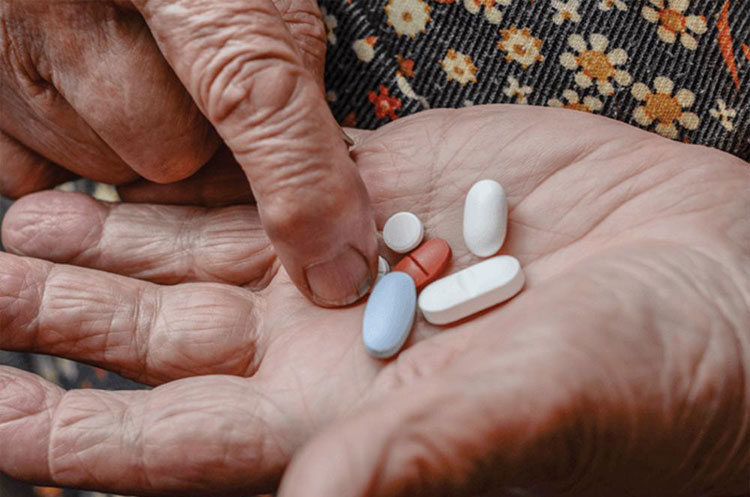 Film Coated Tablets- Easy- to -Remember- Picture Courtesy
 6) Every tablet contains active pharmaceutical ingredients or APIs. These APIs are sensitive to environmental instability such as light, oxidation, or humidity.
Therefore, the drug stability factor can be attained by film coating during the manufacturing process.
4.Do you know the major advantages of tablet coating machines?
With the advancement of drug development and designs, you will find attractive variations in drug coating to enhance their outlook. The tablet coating process has many advantages over conventional tablets. Let's discuss.
 Tablet coating is an easier and simpler process.  Through the coating process, you will get a stable and safe tablet from negative effects such as air, moisture, or waterproof and light resistance.
Tablet coating is a well-cleaned process, as their manufacturing process does not create dust in the working environment.
Film coating is a time-effective process that saves your time with a greater degree of automation.
 You will get a broad range of tablet coating applications by using tablet coating machines depending upon human physiology. As each organ of the human body has distinct physiology. Therefore, drug formulation required different characteristics like controlled released coating, enteric film, immediate release, and so on.
Most active pharmaceutical ingredients have an inherently bitter taste. Film coating machines applications can significantly mask their taste by certain flavoring additives.
Additionally, compact, smooth-shaped, colored tablets can be easier for children and elder patients to accept.
Film coating requires a polymer material. These are non-reactive and nontoxic to health and significantly allows an efficient bioavailability, dissolution rate and induce shelf life.
5.Do you know the major disadvantage of tablet coating?
Just like everything, coating a tablet also has some disadvantages.
1.Big Budget
Unlike conventional tablet processors. Tablet coating process costing a high price. Because the manufacturing procedure of film coating is a multifaceted and complex process that requires expensive and advanced equipment than conventional tablets.
Unacceptability of Active Pharmaceutical Ingredients
Not every drug or excipients is suitable for film coating. They should design separately and should not be filled with polymer coating.
Furthermore, an amorphous, hygroscopic, or low-density drug is not appropriate for film coating processing. Due to the stability problem, exceeding two or three APIs are formulated in capsules than tablets.
Intricate Handling Procedures
Tablet coating requires high expertise and procedures to attain a great finished product. Moreover, evidence shows that it carries a high probability of batch failure than the traditional batch.
6.What type of material do you use for coating a tablet?
Film coating of tablets is a well-established process of pharma industries. Many pharmaceuticals prefer to coat every product. While some of them prefer to coat those products if they feel that is necessary.
There are a variety of different materials used in coating a tablet. Have a look!
1.Polymer
Conventionally tablets were coated with sugar to mask their bitter taste. But as tablet coating was replaced with a film-coated polymer such as Methylcellulose, ethylcellulose, etc., are introduced for coating a tablet.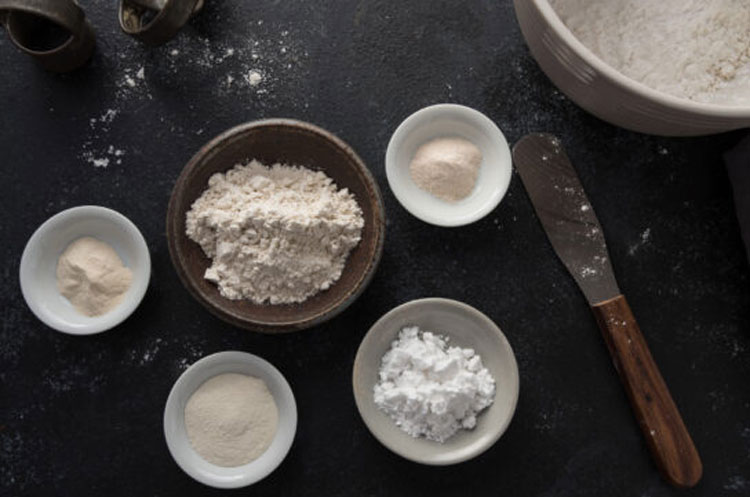 Polymers- Picture Courtesy
Polymers are substances with high molecular mass and repeated subunits. As result, these polymers induce a high impact on the final properties of tablet coating. For instance,
They alter the water solubility of pH-dependent tablets.
Polymers facilitate stability to drugs against environmental factors such as light, humidity, oxygen.
Polymers possess high mechanical strength that boosts film formation capability smoothly.
Polymers have strong compatibility properties with additives used in the film coating process.
They are non-toxic and may not interfere with pharmacological activity
Polymers can create an elegant product yet in the presence of additives
2.Plasticizers
Plasticizers are low molecular mass substances that are incorporated into formulations of film coating.
Plasticizers promote the physical properties of polymers hence plasticizers are an essential component used in the film coating process.
Plasticizers work by weakening inter-molecular bonds between polymer chains and allows blending of a discrete polymeric sphere of the aqueous dispersed medium.
As result, it increases the flexibility of the film and lowers the residual stress within the coating as it shrinks surround the core during the drying process.
Some common examples of plasticizers are Polyols (glycerol), Organic esters (Diethyl phthalate), and oils such as fractionated castor or coconut oil.
3.Colorants
Colorants are used to create a distinguished appearance of the finished product as well as improves product identification. The colorant used in the film coating process protects active ingredients against light and optimizes the unique properties of pigments.
Colored Tablets- Picture Courtesy
Commonly used coloring agents in film coating formulations are beta-carotene, carmine lake, iron oxide, titanium oxides, etc.
4.Solvents or Vehicles
Solvents are employed to dissolve coating material and spread them surround the tablet core. Initially, the tablet coating process required a huge number of organic solvents for achieving rapid drying. But their utilization concerned a high environmental and staff safety with a huge cost. Therefore, utilization of aqueous-based film-coated is considered as a preferred and safe option.
Commonly used solvents in film coating are water, alcohol, ketones, easter, and chlorinated hydrocarbons.
7.Can you describe different kinds of tablet coating procedures?
There is a different kind of coating procedure that might depend upon your requirements. The coating procedure is generally developed to adjust how rapidly your drug dissolves and is absorbed in your body after administering them.
1.Sugar Coating
Sugarcoating is a conventional method used to seal a drug by applying a sugar coat. In this way, it protects your drug from moisture and other environmental factors.

Sugar Coating Machine- Picture Courtesy
This process involved following sub-categories
a) Sealing;Initially, shellac was used for sugar coating, later replaced by zein.
b) Sub-coating; This process is done to get uniform edges of the tablet as well as building up the size.
c) Syrup Coating; syruping is done to achieve perfection via masking the rough surfaces of a tablet. This is a technical step that requires maximum expertise.
d) Coloring:to give a final look, coloring of tablets is done.
E) Polishing; For polishing of tablets, beeswax or carnauba is applied over tablets to achieve a desirable luster.
2) Film Coating
Sugarcoating is an extremely laborious and time-consuming process that requires huge technical skills and operating steps. Therefore, many pharmaceuticals have replaced this technique with a film coating procedure.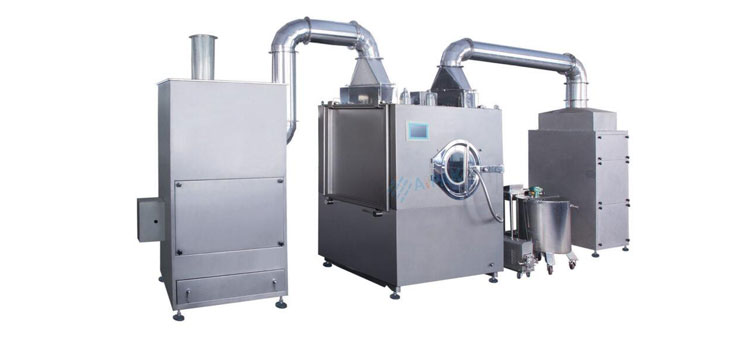 Film Coating Machine- Picture Courtesy
Many pharmaceuticals opt for film coating procedures for their entire products, as it enhances look, taste, and other organoleptic properties.
The film coating process requires several steps such as the application of polymers, plasticizers, and pigmentation over rotating tablets that ensure uniform application around the tablet.
The choice of the polymer depends on drugs release site and rate of releases, such as stomach or intestine.
Some common examples of polymers are Hydroxy-propyl methylcellulose, povidone, etc. (Non-enteric coated). Cellulose acetate phthalate, HPMC phthalate, etc.  (Enteric coated).
An ideal film coating material comprises the following characteristic.
1) Coating should be solubilized completely in a selected solvent.
2) It must an elegant coat.
3) Coating material should be heat and moisture resistant.
4) It must possess non-degradable color, taste, and smell.
5) All ingredients should be non-toxic and inert.
3) Organic Film Coating
Today, organic film coating is more advanced techniques used to coat solid dosage forms.
It involves a liquid solution contains a mixture of polymer, pigments, and excipients dissolved in organic solvent or water. Solid dosage forms are sprayed using the liquid mixture in a pan coater and by running continuous heat drying process occurs.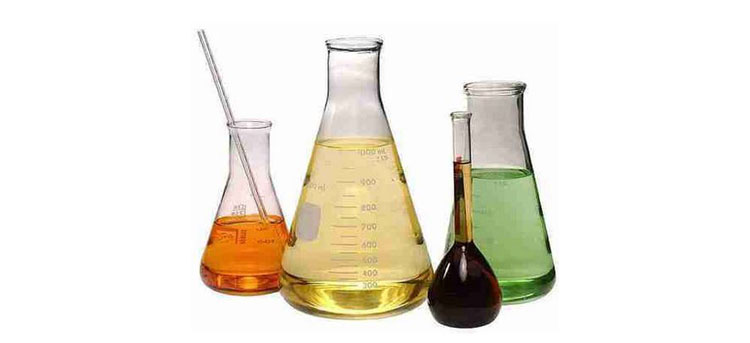 Organic Solvents- Picture Courtesy
Applying hot air is a commonly utilized drying method.
Due to certain toxicity and cost factors, pharmaceutical formulations avoid using this method.
Therefore, many pharma industries prefer using solvent/aqueous film coating over organic film coating.
4) Aqueous Film Coating
Certain drawbacks associated with organic film coating resulted in the development of water coating as the most preferred coating solvent. Now, aqueous coating solutions are the most demanding unit over organic solvent due to their economical and safety profile.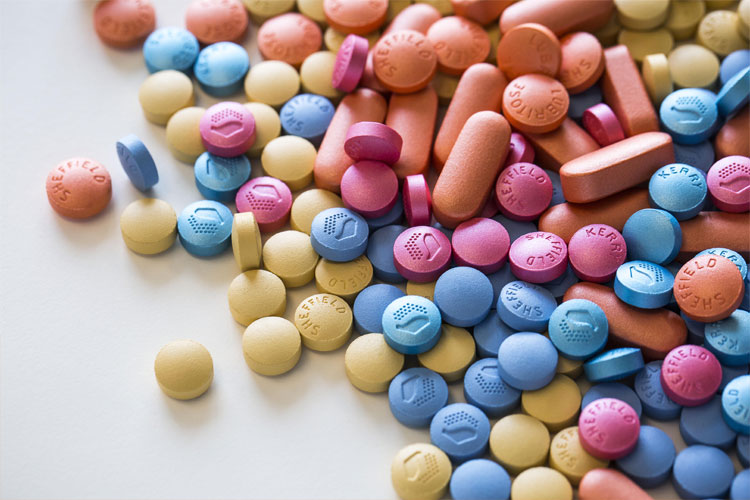 Aqueous Coated Tablets- Picture Courtesy 
Initially, aqueous film coating required a little investment to upgrade equipment facilities. The basic need of upgrading is required due to the higher need for drying energy. You all are aware of the latent heat of water which is 2200kJ if compared with an organic solvent which is only 550kJ used for methylene chloride.
This suggests that this system would require 4 times extra energy for the drying process contrasted to organic solvent.
5) Enteric Coating
Enteric coating is aids protection against stomach acids. This coat bypasses the stomach and delivers the active ingredient to the small intestine.
Generally, it retains a common substance such as aspirin which is also available as a conventional tablet form. You cannot chew or crush this tablet because it may affect the curative effects of your drug. Furthermore, it can also destroy the mucosal lining of the stomach due to countering with stomach acid and interrupt blood flow.
6) Gelatin Coating
Have you ever heard about an enriched protein-based coat?
Gelatin coating is an advanced coating derived from protein via partially hydrolyzing collagen.
This type of coating is mostly used to coat nutritional supplements. Furthermore, collagen is originated from various animal parts. Such protein is used to develop a gel cap as an outer shield around a tablet.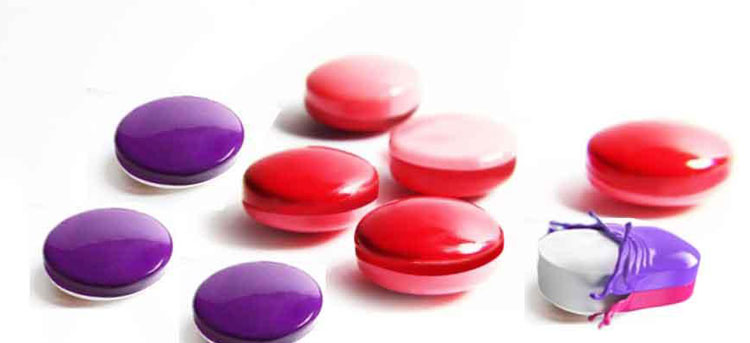 Gelatin Coated Tablets- Picture Courtesy
Gelatin is a biological binding, coating, and disintegrating mediator. It allows the basic requirements of those users who are concerned about the utilization of chemically altered ingredients.
8.Do you know the basic difference between a film and enteric coating tablets?
The most important difference between film and enteric coating are as follow. Film coating is a layer of polymer uniformly applied around surface of the tablet which improves taste, protection and inhibits bad odor.
On the other side, enteric coating is applied to protect the drug by reacting with gastric acid secretion and bypasses the stomach. Enteric-coated tablets transports active drug products to the small intestine and release effects.
9.Do you know the fundamental types of tablet coating machines?
There are three basic types of tablet coating machines:
1) Standard coating pan:
This is possibly one of the very popular types of coating pans, that every time you'll find across in the market. Standard coating pan comprises metallic circular pan allowing the diameter of 6-80 inches.

Standard Coating Pan- Picture Courtesy
This pan is slightly tilted at 45 degrees toward the benchtop. It contains an electric motor that facilitates the rotation of the metallic pan horizontally toward the axis. During the coating process, heat is introduced inside the pan via inlet air and exhausts using ducts.
The application of coating solution is taken place via spraying or lading.
The drying procedure using a standard coating pan is achieve using several ways. Such as an immersion sword, or immersion tube system, and baffled pan & diffuser.
a) Immersion Sword; drying is achieved via perforated metal sword which is immersed in bed.
b) Baffled Pan & Diffuser; allows distribution of hot air uniformly around the covering of tablet.
c) Immersion Tube System; a tube produces heated air from spray nozzle while the tube is immersed in bed.
2) Perforated coating pan:
The perforated coating pan contains a fully or partially perforated drum that allows a horizontal axis rotation. It exhibits an effective drying system also a high-level tablet coating machine capability.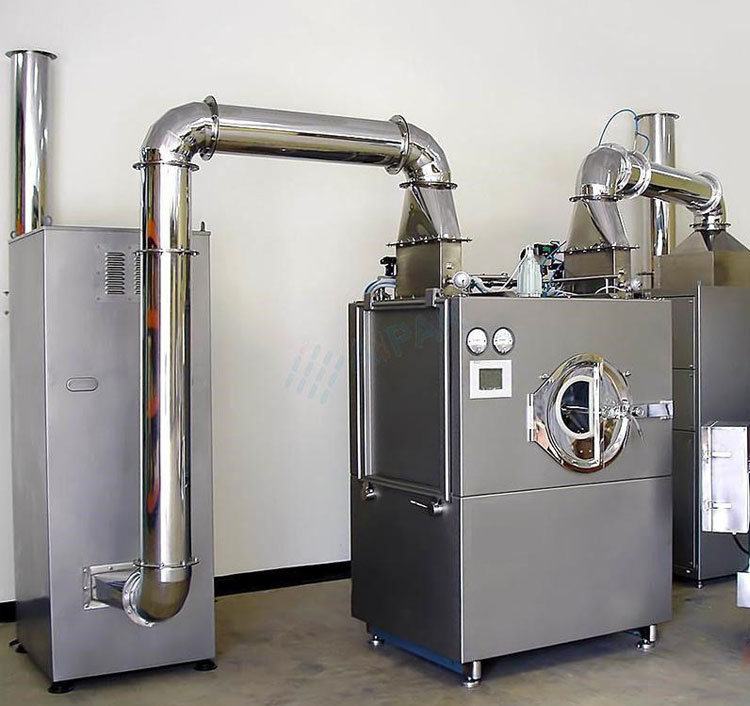 Perforated Coating Pan- Picture Courtesy
Typically, it works using a spray gun that applies solution while tablets are rotated in a pan via baffle air at an angle of 45 degrees.
3) Fluidized bed coater
The working principle of fluidized bed coater is based on coating of particle into fluid while a chamber is a vertical cylinder.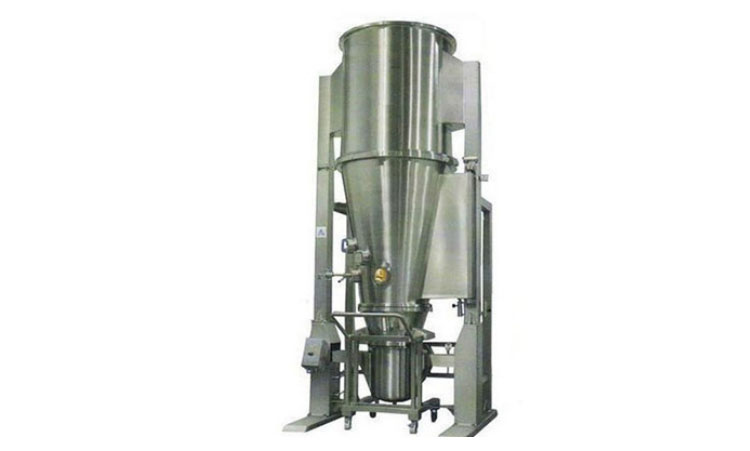 Fluidized Bed Coater - Picture Courtesy
The fluidization is attained via the flow of air coming from the upward column toward the bottom of the cylinder. In the center, tablet moves upwards, downward, and falls outward based on the flow of air. The spray nozzle for generating the coating material is located upward and downward of the chamber. There are two principal methods used to achieve a uniform coat. For instance, a high-pressure airless system and a low-pressure air atomized system that allows controlled fluid pressure for finely divided fluid spray.
10.Do you know the major components of tablet coating machines?
A film coating machine is a combination of various sections and modules. Each section of tablet coating machine has different sizes, operational procedures and models that can broadly be classified into distinct categories.
So, let's discuss the major components of film coating machine entirely.
1) Automated Control System:
The film coating procedure can be run by an automatic control system which include:
a) Selection of specific running program.
b) Operating different parameters such as machine acceleration, temperature, and its negative pressure.
c) Data recording and print.
d) Display of process data.
e) Spray gun & atomization.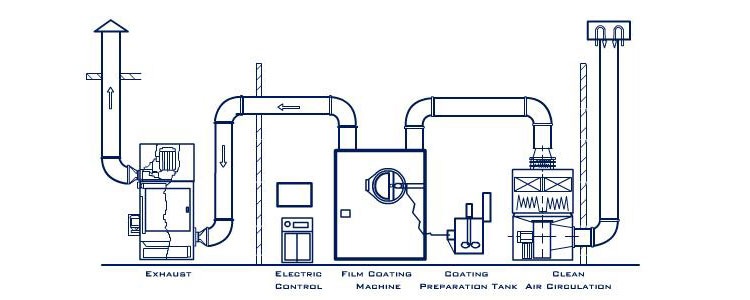 Components of Tablet Coating Machine- Picture Courtesy
 2) Electric Motors
Film coating procedure required major operations like generating a negative pressure, mixing of tablets and air driving. Therefore, it has been incorporated with various type and size of electric motors.
For instance,
a) A peristalsis pump:
Peristaltic pump facilitates an accurate solution of coating via spray gun. It is easy to adjust allows smooth operation.
b)Hot air equipment:
Hot air is introduced for rapid drying of coating medium. Hot air equipment allows a controlled temperature and volume via inlet fans.
c)Air exhaust section:
Because of avoidable fumes and dust which is generated by tablets and related material can be dissipated via help of exhaust pipes of coating pan.
d)Coating drum:
to perform the coating of particles coating drum are used. The basic application of coating drum is to promote product trait.
3) A Touch Screen Operational system:
An advanced equipment of tablet coating is supplied with easily operated Human Machine Interface or HMI. The HMI permits a seamless workflow attribute to  a best quality coating.
4) Guide Plate:
Tablet coating is a complex process that involves proportion of mixing solution and applications over tablets properly. To achieve this process uniformly a streamline guide plate is required. This process allows tablets batch to tumble easily and smoothly. During this process, solution from spray nozzle is allowed to collide with tablets whereas their protection is possible against breakage and chipping.
5) Spray Gun
The unique element of tablet coating machine is a set of spraying gun which include overall 3 set of spray guns.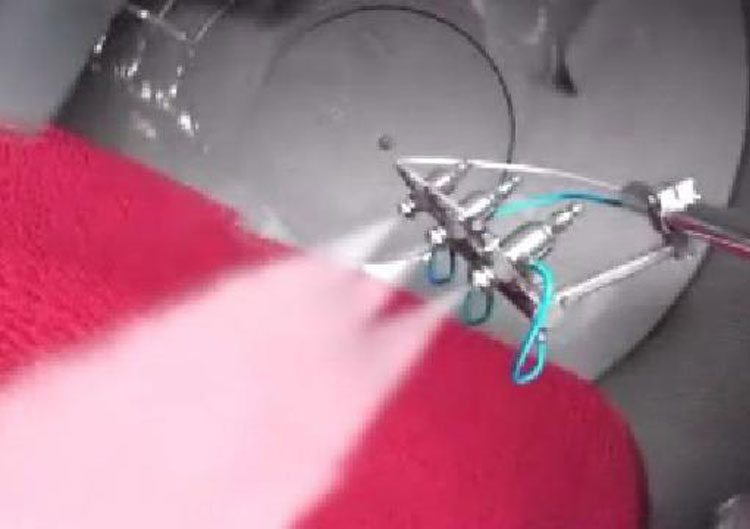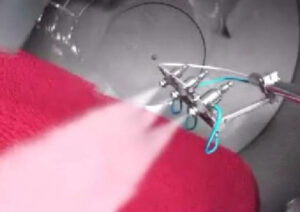 Spray Gun-Picture Courtesy
This section is comprised of a tank, nozzle with a pump. The entire structure is very simple to facilitates an easier way to conduct an atomization with lesser expenditure of coating solution.
6) Pan Cooling Surface
It has an air pipe, connector with a discharging tool. It has an automatic loading cell system which allow you to examine an accurate proportion of spraying solution. Their other parts include.
a) air distributing device
b) components associated with internal parts of drum
c) electronic pulse-valve
d) an air heating component
e) a magnetic stirrer
f) drum filter with a movable holder
g) an air pipes
h) exhaust dust- collector unit
i) discharging device
11.Can you explain the working principle of tablet coating machines?
The working principle of tablet coating machine is simplest and effortless.
Tablet coating machines perform their job through a mixture of coating ingredients which incorporate into a tableting batch which moves continuously in orbital motion within a closed drum.  With a simultaneous application of coating material, a stream of heated air under negative pressure enables evaporation of concerned solvents. The hot air absorbed in tablet core and discharge from bottom of equipment. In this way, the coated exterior of tablets becomes rapidly dry and forms a solid and polished filmed layer.
12. What is a Film Coating Machine?
Film coating machine are frequently used equipment in pharmaceutical industry originated from sugar coating machines. They are effectively used to bring a solid dosage formulation into an appropriate form for drug delivery. The entire theme behind film coating machines is to maintain an active ingredient in its potent and effective state.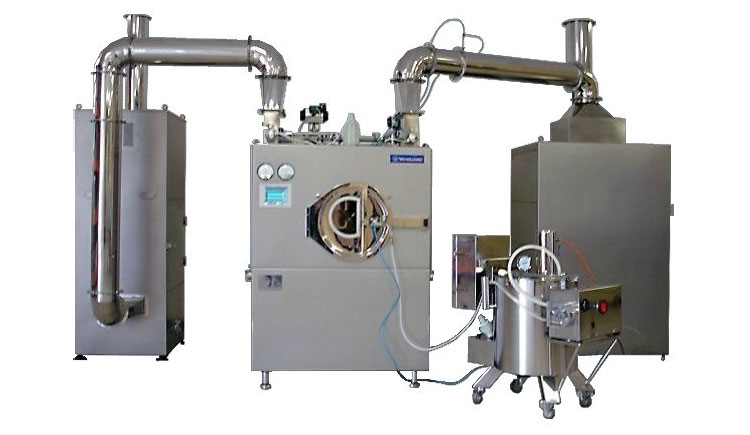 A Film Coating Machine -Picture Courtesy
Additionally, it displays an aesthetic and appealing look for tablet which boost the branding requirement and patient compliance for respective pharmaceutical firm. Furthermore, you can control the functional properties of drug delivery via modified coating applications. For instance, immediate release, sustain release or enteric coating based on type of polymer.
Film coating primarily entails the deposition of a fine layered film-forming polymer over tablets. This method is employed via conventional pan apparatus. But now a days to achieve this goal more advanced and modern equipment are employed. In this way machines can provide efficient drying, coating period and well automation smoothly.
13. What are the Parameters for BG series Film Coating Machine?
As discussed, earlier film coating machines are well-acknowledged, high definitions machines used in various pharmaceutical companies to be accompanied highly efficient, low energy consumption to manufacture tablets, nutritional supplements, sugar film and much more.  BG series tablet coating machines are highly controllable system that works unceasingly via programmable control.
Their repeated actions are taken place via rendering program in system.
The hot air received from hot air cabinets acts on tablets surface and sprayed via gun with a simultaneous drying that gradually occur from the bottom of drum. The hot air gradually drained by exhaust duct using an external fan to clean a surface.
 Important characteristic of BG series coating machines are as follow:
 The control system of BG series machines comprises of PLC (programmable logic control) and HMI (Human Machine Interface).
By help of streamline guide plate, process of tumbling take place. Furthermore, it helps in cracking, chipping of tablets and allows improving quality of tablet batch.
With help of continuous pressure a stabilized effect of atomization take place.
14.Do you know the basic advantages of using a film coat machine?
Previously, conventional sugar-coating tablets were utilizing a high cost in production and shipping. But due to advent of film coating machines the entire scenario improved because of certain reasons:
Film coating machine benefits the production of thin layered polymeric film along with certain low weight ingredients. So, it will only add up only 2-3% to its total weight therefore, it will not rise the tablet size.
They're safest and potent tablets for oral administration.
Customers prefer to take flavored medicines because they mask the bitter taste of active ingredient and other excipients.
They're well- efficient tablets because film coated machines protects your tablets from intense light, or humidity that may impede with efficacy of medicines.
Did you know, your drug will become inactive in stomach if they're film coated? Yes, because it serves as a potential barrier against stomach acids and protect the drug to react with stomach acids.
Film coating provides an effective and prolong shelf-life drug.
Your tablet becomes easily identified if they're coated with color and shape. Therefore, their exterior makes them acceptable to customers.
15.Can you explain important factors that every pharmaceutical industry should considered prior to choosing tablet coating machines?
Before choosing any tablet coating machines, you should consider important prime factors such as:
1.GMP compliant
Every pharmaceutical manufacturer should consider GMP complaint machines that meet with current mandatory requirements. Because any GMP compliant machine will assure your safe and quality manufacturing process.
2.Material type
Every equipment for tablet coating must be corrosion resistant type. Such as coating drum, spray gun or other important devices must be of good material.
3.Ergonomic Design
Every tablet coating machine should have a seamless movement for tablets to reduce unwanted incidents and achieve a smooth production batch. A good machine with an ergonomic structure will allow a reliable performance assuring a good manufacturing coat.
16.What are better solvents for tablet coating?
Selecting a good solvent for coating procedure has an important role in entire manufacturing process and quality of tablets. Such as:
1.Environment- Friendly
Organic solvents are highly reactive and producing unwanted pollutants in air that may affect the ozone layer. High concentration can seriously affect human skin and health, and expensive too. Therefore, the use of solvents should be based on inert and environmentally friendly.
2.Physical properties
An ideal solvent should be colorless and odorless. Additionally, their nontoxic, and inert behavior should also be considered.
3.Drying rate
A good quality organic solvent must be able to dry rapidly and efficiently. This property enables the smooth and perfect production of tablet coating
4.Dispersion
A good quality solvent should be able to disperse into the polymer system efficiently distributes into the coating mixture.
17.Do you know those factors that may affect tablet coating efficiency?
There are certain factors that you should always keep in mind to maintain tablet coating efficiency.
1) Air Volume/ Air Flow
Air volume refers to capacity of air that blows through bed. The amount of air determines by a concentration of solvent/water depleted during coating process.
This is a mandatory step in drying process. This process helps in achieve effective drying and prevents the occurrence of several problems.
Therefore, to get a significant efficacy your machine must facilitate an amount of sufficient air.
2) Coating Ingredients
The coating ingredients and solvent proportion must be estimated appropriately before applying on tablet surface. The solvent should be inert and removed properly with airflow. There should be constancy between ratio of applying and evaporating the liquid.
3) Spray Rate
Spray rate is an important parameter that affects the coating process. For instance, if you increase a spray rate it will spontaneously increase the droplet size and decrease the velocity. Therefore, spray rate not only affects the quality of coating but also other composition factors.
4) Effectiveness of equipment
You get a perfect coated tablet, if entire component of machines is working in a perfect state. Therefore, you must sure all component working in a good state. Otherwise, it can affect the output of coated tablets.
5) Gun-to-bed distance
It represents a distance between plane of coating drum that contains tablets to nozzle of spray gun which is mainly implemented by operator.

Spray Gun- Picture Courtesy
An agglomeration of coating layers occurs when a nozzle tip that coats a solution set away from subject.
As a result, velocity of spraying solution decreases that increases a diameter of droplet size of coated solution.
Therefore, a coated solution may dry before reaching to tablet bed resulting formation of a rough tablet surface.
Conversely, if the distance between nozzle tip toward the tablet bed is short. It can cause adherence of coated solution over the surface of tablets and takes a longer time to be in a dried state.
18.How can film coating protects the dampness of drug?
An ideal film coating must demonstrate significant qualities against humidity. Firstly, film coated tablet must display low permeability for water content.
Conventional tablets are prone to affect by environmental factors like humidity, light, etc., that cause premature drug delivery when ingested.
Thereby they release unwanted effects of drug or drug-induced adverse effects. on the other side, film-coated tablets have water-proof effects due to the polymeric sealing layer.
This protective layer works significantly to protect the drug in such circumstances. Because they're less likely to cause drug disintegration, or collapse.
Hydrophobicity is a well-known parameter of film coating. Those coating that has demonstrated high product stability are relatively based on cellulose polymers Therefore, it facilitates waterproof properties via delaying moisture absorption.
19.Can you explain the difference between Aqueous vs non-aqueous film coating?
An aqueous film coating is the one that uses water as a solvent medium. Conversely, non-aqueous film coating included organic solvents for film coating procedures.
If you consider an evaporation time, aqueous solvent takes longer time in evaporation and drying procedures. As non-aqueous solvents are most often organic solvents, which has low evaporation time and maximum affinity for dryness.
As aqueous film coating takes longer drying and evaporation time therefore, this type of film coating is associated with high risk factors that may affect coating procedure.
Non -aqueous coating procedure involved with type of substance that are hazardous to nature. But solvent used in aqueous coating are environmentally friendly with great safety profile. Thereby, you should always opt for those solvent ingredients that are environmental-friendly.
Non aqueous tablet coating is preferable for humidity-sensitive tablets. While aqueous tablet coating can be used to coat those tablets that are chemically reactive.
The process of non- aqueous coating required a ventilated environment. On other side, aqueous coating does not require certain terms.
20.How can you troubleshoot ordinary problem encountered with film coating machines?
Although number of problems confronted with every batch of tablets during the process of film coating can be fall broadly into few categories. This classification is related to visual defects, efficacy problems and finished products that may lose customer compliance. Let's discuss those problems:
1.Tablet picking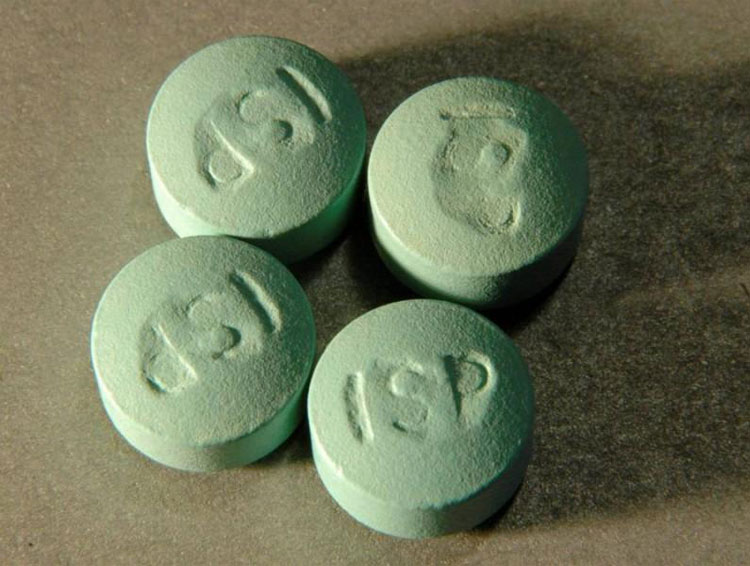 Tablet Picking- Picture courtesy
Tablet picking is a common problem which occurs when two tablets stick together, later breaks apart due to constant motion of coating pan leaving defective tablets surface. The primary cause of picking occurs due to wetting as well as when fluid rate surpasses then drying process.
Furthermore, uneven atomization and particle distribution can also arise this problem.
Problem Solution:
By reducing the rate of fluid application and modulating temperature and air control can overcome tablet picking issues.
On other side, to deal inadequate atomization you should focus to increase a nozzle air pressure and accelerate the pan speed and use an appropriate delivery of coating solution.
Excessive- Roughness/ Orange Peel
This is an important defect associated to film coating. In this condition, an uneven distribution of coating solution is applied that arises a bumpy effect over coating surface.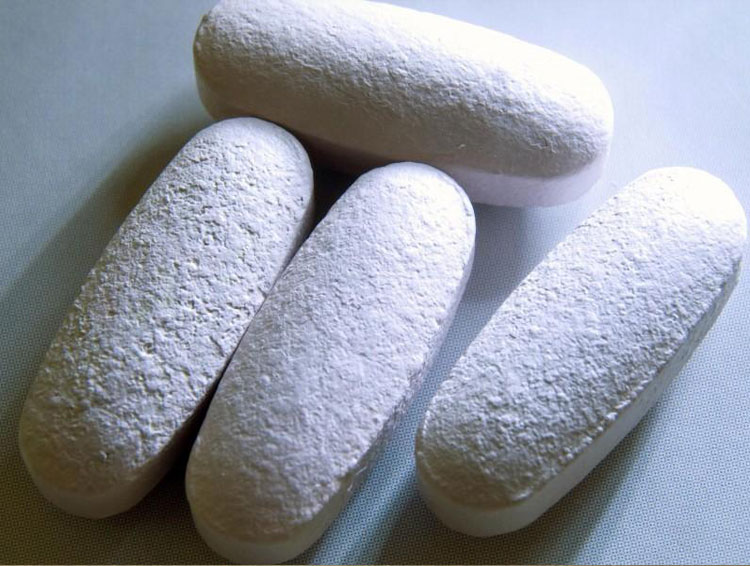 Excessive- Roughness -Picture Courtesy
This issue is typically occurred with low spray pressure or excessive drying like high temperature or air capacity, and excessive air pressure that likely to trigger formation of rough coating surface. Furthermore, highly viscous coating solution can also affect the smoothness of coating material.
Picture Courtesy
Problem Solution:
Use an optimized rate of spray, temperature, and air pressure to get a better distribution of atomization and improve drying process.
Adjust the thinning of coating solution by adding solvents that helps to reduce the viscosity rate hence improve atomization.
Use an adjusted speed of coating pan with moderate spraying time.
Tablet Erosion
Tablet erosion or chipping condition is associated with high degree of brittleness of tablets. High attrition rate is a target cause of tablet erosion which is accompanied by severe usage of fillers, pigments, and lesser concentration of polymers. As tablet edges are most frequent component that exposed to attritional effect, thereby fracture at this point is very common.
Tablet core with high friability or damage edges exaggerate erosion, so brittle tablet impairs the sufficient protection to tablets. Furthermore, excessive mechanical pressure or high pan speed can also contribute overall problems.
Problem Solution:
To reduce chipping problem, tablet core reformulation is required that may help in reducing brittleness and improve tablets robustness.
Improving compaction forces can reduce tablet friability.
Repairing of damaged tablet tooling can also overcome chipping problem.
Select an excellent formulating ingredient with high-mechanical strength can improve the flexibly of film.
Using a controlled speed pan movement throughout the process can provide protection against chipping.
4.Bridging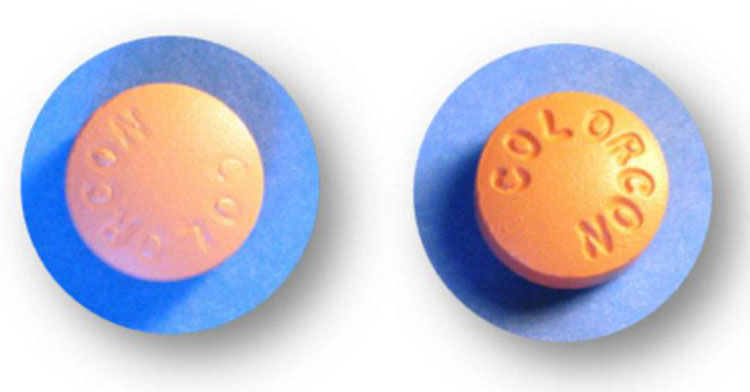 Tablet Bridging- Picture courtesy
If you apply excessive coating solution over the surface of tablets, an internal stresses/ strain which build within the coating. As they dry, the stress among attachment of coating become overcome and it trigger coating to move apart with region of logos or break lines, subsequently make them less visible.
Problem Solution:
By improving adhesion of film coating and reducing an internal strain, an appropriate punching of logos can help to alleviate this problem.
Cracking
When stability of film coating is interrupted over the surface of tablets, such condition is known as cracking. Cracking is occurred due to internal strain that develops during drying process.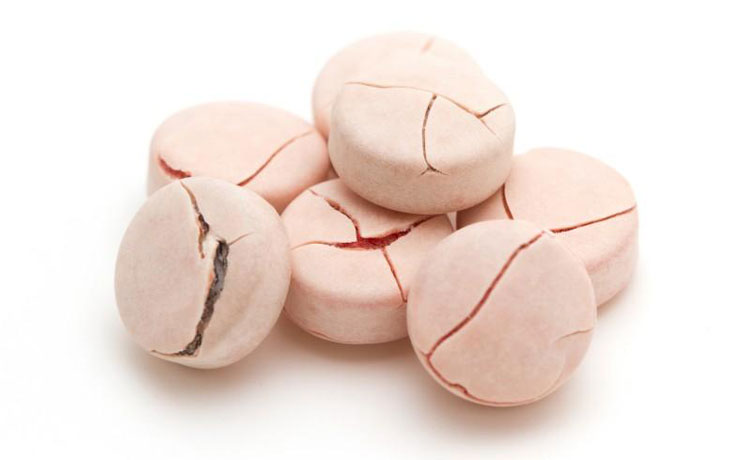 Tablet Cracking- Picture courtesy
This phenomenon is characterized as microscopic or macroscopic in nature. Although this problem is entirely unacceptable feature for product. This process is exacerbated due to thermal expansion which is associated between tablet core and coating.
Problem Solution
An effective approach to minimize cracking problem is to create film coating formulation that can be flexible to withstand thermal expansion.
21.What are tablet coating defects and how can you solve them?
The coating tablet within delicate film of polymer is an efficient way to cover and protect the tablet, as well as facilitating a professional edge.
The high-quality product is generated when all SOPs of tablet coating are strictly followed with correct proportion of excipients.
Unfortunate, you'll find several defects during tablet coating process.
The following complications are discussed below with appropriate remedies.
1) Blistering
When elastic and adhesive properties of tablet film are compromised blistering on surface can occurs. Therefore, film can detach from tablet.

Tablet Blistering- Picture Courtesy
Cause:
Due to high temperature during drying process may result in formation of blister.
Remedy
Use moderate temperature and ensure the temperature is maintained throughout the process.
2)Chipping
It is well known that if you provide an accelerated speed for spray gun, this can compromise the drying efficiency ultimately exaggerate over wetting. This phenomenon is very common when water solvent or aqueous solvents are used.
Tablet Chipping- Picture Courtesy
Causes:
Tablet deformity is associated with reduced machinery speed with excessive spraying rate. Furthermore, poor polymer ingredients or coating solution would be a cause of chipping.
Remedy:
To tackle this problem, you should increase hardness in film by adding correct proportion of plasticizers.
Choosing correct polymer carrying high-molecular weight may help to overcome chipping.
3) Cratering
This condition is associated with appearance of craters on tablet surface due to defect in film coating.

Tablet Cratering -Picture Courtesy
Causes: 
Due to improper drying of film coating or excessive coating solution over tablet surface, can cause this condition.
Remedy:
An appropriate drying time with optimized coating solution can overcome this problem.
4) Picking
This is a common condition with film coated tablet that sticks to the surface of pan eventually cause breaking of tablet edges from core.

Tablet Picking- Picture Courtesy
Causes: 
The main cause of picking is over wetting due to highly viscous polymeric solution.
Remedy:
If you increase the drying process or modulate solution viscosity, this process can be avoided.
5) Pitting
Pitting is a deformation, where pit occur on core of tablet with no appropriate signs of disruption in film coating.

Tablet Pitting- Picture Courtesy 
Causes:
When the core of tablet become extremely hot than melting point of other respective ingredients eventually results in pitting.
Remedy:
Pitting can be avoided, if you keep temperature of tablet core stable that must not exceed to melting point of other ingredients.
6) Color Variation
Tablet with non-uniform color distribution that causes color variation.
Causes:
This problem can arise due to multiple faults such as poor preparation of ingredient, improper mixing, uneven spray pattern of machinery, and improper drying.
Remedy:
Aim for equal symmetrical mixing.
Reformulate with different ingredients.
Proper drying.
22.How do you perform the maintenance steps for tablet coating machine?
The following important steps will help you to maintain a tablet coating machine.
Lubrication
Use lubricating oil for reducer casing while keeping to replacing the rolling bearings in every 6 months.
Cleaning
Clean the coating pan and lubricate the surface on regular basis.
Scrubbing of Spray Gun
Scrub the spray gun every time after processing. Rinse with water to avoid blockage, if blocked then clean residue with fine needle.
Proper Casing
Always check worm gear in 'reducer case' comply with standard of lubrication.
Furthermore, the temperature inside contain should not exceed 50℃.
Replacement of Oil proof gasket
It is crucial to replace oil proof gasket ring in every 6 months.
Connection Requirements
The machine must relate to ground wire. The main electric resistance must be ≤4Ω.
23.Do you know the basic cleaning methods for tablet coating machines?
To clean and maintain tablet coating machines efficiently can extend their shelf life. There are certain parameters that you should keep in mind during cleaning process.
Wipe off the dust and waste over exterior surface of machine.
Close the drainage pipe before cleaning
'ON' rotation of pan.
Allow portable water stream into it , ensure water supply is coming via nozzle.
Continue the process for 15 minutes.
'STOP' the washing process and washing pump.
For enteric coating, wash the pan with 20% w/v of sodium hydroxide solution and rotate it for 15 minutes. The entire volume should not exceed 15 liters.
After washing with alkaline solution, drain out the solution and clean the pan using portable water. Then use 2.5% of TEEPOL solution.
After achieving this, scrub off remaining particles with scrubber then finally wash with 100 liters of purified water.
'ON' the blower and hot air for final drying. Entire drying process should be 10- 15 minutes.
Using 70% IPA solution, wipe the surface.
24.How can you pick the most suitable equipment for tablet coating?
Before choosing any film coating machines for coating purpose, you must consider the following points:
A) Exhaust System:
It is an important factor that you must keep in mind, hot air that allows the proper drying of coating material should be drain out appropriate via efficient exhaust system.
It can play sufficient role in dropping down the temperature.
B) Electric Controller
Electric control system should significantly regulate all participating regions and components like heating, motors, and switches etc.
C) Film Coating Machine
This is the region where major processing occurs. The system effortlessly works with advanced control system for an accurate and effective outcome.
D) Coating Mixture Tank
This tank is suitable to prepare a coating mixture, followed by a system pump that can direct the solution into the spray gun.
E) Proper Air Circulation
It gets air from an outside the environment. It generates a suitable amount of heat outside prior to blow over coated surface.
25. What do you consider about future trends and prospect about tablet coating machines?
Film- coating machine has been evolved gradually by retaining a good pace for pharmaceutical application preferred over sugar coating.
In the global market, film coating machines has gone through several modifications and today it meets the demand related to pharma industry.
This technique is not only restricted to the pharma sector, but also commonly employed in food manufacturing industry.
Future Trends and Prospect of Coating Equipment:
With more advancement, at present the most preferable procedure is liquid coating for solid dosage formulation. Whereas usage of non-aqueous coating is significantly reduced due to generation of many hazardous substances during coating process. Furthermore, recently one of major progress that has been taken by film coating is reducing the process length. This improvement has positively brought a high impact on cost reduction.
Today aqueous film coating becoming firmly established. More work is done to make this procedure amenable with using high percentage of ingredients. In results, in no time and lesser energy, you can achieve high productivity. Thereby, whole process could be beneficial with less cost.
Moreover, with introduction of co-polymer and addition of distinct plasticizers and other ingredients will be reduced. Therefore, it will ultimately lessen the number of ingredients, cost and mixing time.
Going forward, era of pharmaceutical industry keeps on continually manufacturing advancement in coating process and a lot of research is progressing in many developed countries.
In conclusion, the future of tablet coating machine will be integrated to develop a unique positive way towards better production and energy saving.
CONTACT US
Tell us your raw material and project budget to get quotations within 24 hours.
WhatsApp Us: +86 189 7157 0951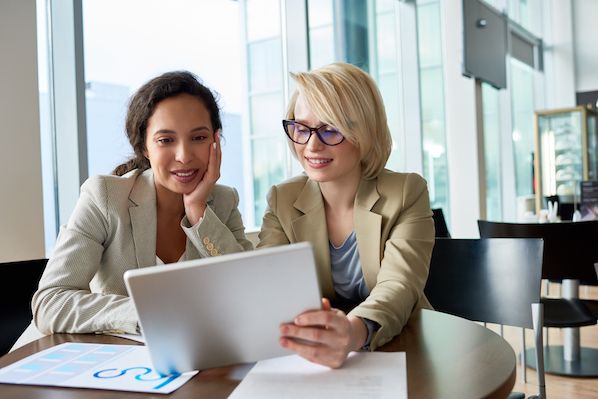 Want the best price & newest pharmaceutical machinery buying guide,tips and trends sent straightly to your box?Sign up for Aipak's monthly newsletter,we're free for your consultation and Offer you the most suitable solutions!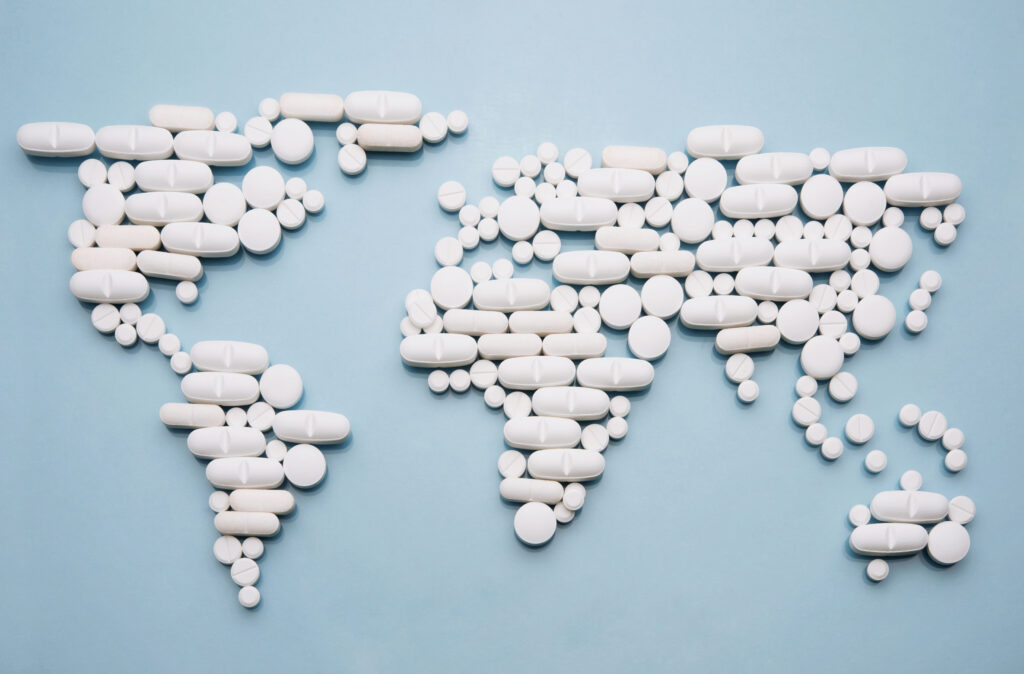 Tell us your material or budget, we'll reply you ASAP within 24 hours