GHL Series High Speed Mixer/Granulator
GHL high speed mixing granulator is a high efficiency equipment that can mix different powder materials and granulate granule in one procedure. It is widely used for pharmaceutical industry, foodstuff industry and chemical industry, etc.
The powder material and adhesive are mixed fully at the bottom to become humid soft material, the nit is cut through high speed crusher and become uniform granules.
1.The machine adapts horizontal cylinder structure. Its structures is reasonable;
2.Use air filled seal shaft to drive. When washing, it can be changed to water;
3. Use fluidization to Granulate and the granule is like ball. lts flowability is good;
4.Compared with the traditional process,25%) of adhesive can be reduced and the drying time can be shorted;
5. The time of mixing in dry is 2 minutes and the time of granulating is 1-4 minutes. Compared with the traditional process, 4-5 times of efficiency is raised;
6.In the same sealed container, dry mixing, humidity mixing and granulating can be finished, it is in conformity with the requirements of GMP;
7.The whole operation has strict safe and protective measures.
8.The mixing and cutting speed are controlled through frequency change, so the granules are more even.
                                                   Get in touch with an expert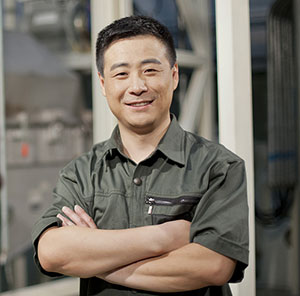 We´re looking forward to find the suitable solution for your product. Please contact:
Andrew Yang
Engineer Director
Phone: +86 189 7157 0951
Granulator Machine Related Products
Granulator Machine Related Posts
Granulator Machine Related Videos