HLSG Series High Speed Wet Mixing Granulator
The machine has consistent programmed technology(main-machine interface if option selected) and can get assured of stability in quality,as weel as easy manual operation for convenience of technological parameter and flow progress.
Adopt frequency speed adjustment to control the stirring blade and cutter,easy to control the size of particle.
With the rotating shaft hermetically filled with air,it can prevent all dust from compact.
With a structure of conical hopper tank,all meterials can be uniform rotation.The tank is laid with an interlayer on the bottom, in which water cooling citculation system featuring higher thermostatic performance than air cooling system is furnished,which leads to improve the quality of particles.
With automatic lifting of the pan cover,the tank outlet matching with drying devices,self-equipped arm-ladder,it is easy to operate,self-equipped arm-ladded,and easy to operate.
Lifting system with paddles is more benefical to clean paddles and pot body.
                                                   Get in touch with an expert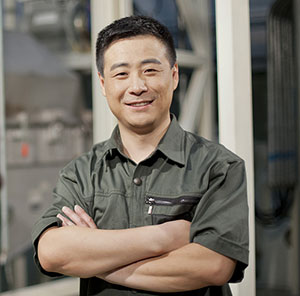 We´re looking forward to find the suitable solution for your product. Please contact:
Andrew Yang
Engineer Director
Phone: +86 189 7157 0951
Granulator Machine Related Products
Granulator Machine Related Posts
Granulator Machine Related Videos