As a new equipment that utilizes the crystallized water in the material to pelletize the powder into granulate, this machine features novel and reasonable structure, stable and reliable performance, easy maintenance and cleaning. Granulates made by the machine can be pressed into tablets or capsules, and it's mainly used for granulation inpharmaceutical, chemical, foodstuff and other trades, esp. for granulation of materials not suitable for wet method.
1 . The dry powder grain density is uniform .The disintegration is good .The grain making rate is high. 
2 .The special material conveyor structure will ensure the effective material sending . 
3 .The roll cool circulation will ensure that there is no phenomenon that the materials stick to the roll . 
4 .It is not necessary to use the water ,alcohol and other wet agent .There is no need of twice heating and drying .The operation procedure is less . The machine is high in operation efficiency and low in the cost . 
5 .The machine uses the advanced electric and hydraulic driving .it is simple and reliable in the operation and high in the automation grade. 
6 .With the enclosed operation ,there is no pollution ,which meets the pharmacy health requirements 
7 .The machine is especially suitable for the material grain making that can not be made by the wet method .
                                                   Get in touch with an expert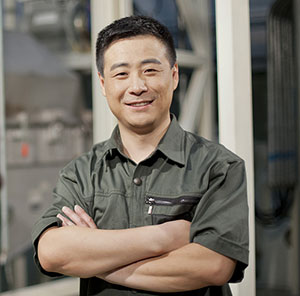 We´re looking forward to find the suitable solution for your product. Please contact:
Andrew Yang
Engineer Director
Phone: +86 189 7157 0951
Granulator Machine Related Products
Granulator Machine Related Posts
Granulator Machine Related Videos