High Efficient GHL Series drum Granulator with Good Price
Working principle
1.The whole process consists of two procedures: mixing and granulating.
2.The adhesive is charged into the material pot from the conical hopper. Along with the filling of adhesive, the powder raw materials keep rotating in the pot under the action of stirring paddles once the hopper is closed. In the meanwhile, they grow up the shape of liquid bridge under continuous effects of conical wall. Under the action of extrusion, friction as well as kneading by paddles and conical pot wall, all materials gradually turn loose and soft. At last, open the material outlet and the wet granules will be pushed out under the centrifugal force of paddles.
3.The soft materials are granulated via the granulating cutters but not the forced extrusion, which will be cut into tiny and uniform granules under the semi-fluid state, realizing the mutual transformation between two different materials.
1.The machine adopts horizontal cylinder structure, its structure reasonable.
2.Air wlled seal shaft for to drive. When washing , it can be changed to water.
3.Fluidized Granulation, the granule is around ball shape. Its low ability is good.
4.Compared to traditional process, 25% of adhesive can be reduced and the drying time is short.
5.The dry mixing time is 2 minutes and the granulating time is 1-4 minutes.
6.Compared to the traditional process , 4-5 times of effciency is raised.
7.Dry mixing ,humid mixing and granulating are finished in the same sealed container.
8.The whole operation has strict safe and protective measures.
9.Jacket type might be adopted on request.
ITEM

GHL-10

GHL-50

GHL-150

GHL-200

GHL-250

GHL-300

VOLUME(L)

10

50

150

200

250

300

CAPACITY (kg/batch)

   3

15

50

80

100

130

STIR SPEED (rpm)

300/600

300/210

270/180

270/180

188/130

160/110

STIR POWER (kw)

1.5/2.2

4/5.5

9/11

11/14

11/14

11/14

CUT POWER (kw)

0.85/1.1

1.5/2.2

2.4/3

3.3/4

3.3/4

4.5/5.5

CUT SPEED (rpm)

1500/3000

WOR TIME (min)

8-15

GRANULE SIZE(mesh)

20-80
                                                   Get in touch with an expert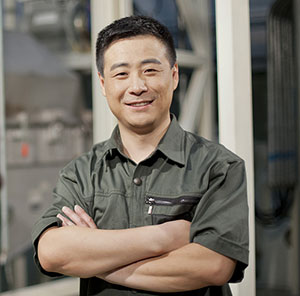 We´re looking forward to find the suitable solution for your product. Please contact:
Andrew Yang
Engineer Director
Phone: +86 189 7157 0951