Choosing the right packaging equipment is absolutely the final step of your business process. Importantly, executing them correctly will not only preserve your brand's identity and product's quality but makes it suitable for the end-user. For packaging machines, however, there are two commonly used machines; Form fill seal (FFS) and Fill Seal (FS). Both of them are suitable and efficient in their own ways but you have to choose them considering your business applications. We're here to differentiate between these two to assist you with which of the following is best for you!
Add a header to begin generating the table of contents
1.FORM FILL SEAL (FFS) & FILL SEAL (FS)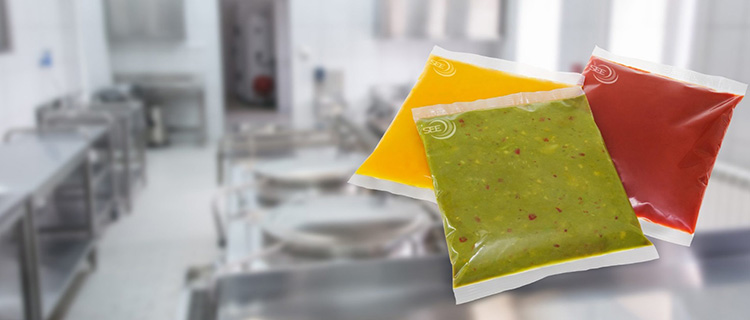 FFS makes custom packing containers from plastic polymers by using heat or pressure. The packs are then filled with solid or liquid consumer goods. The stretchable polymer film is used for creating primary packages for instance bags or pouches. They are also employed for making gable tops and aseptic boxed cartons. FFS automation is also called Thermoforming Packaging Machines.
FS machines use pre-formed containers or boxes to pack the products and then these packages are sealed by applying glue and heat. These equipment do not roll stock for making bags or pouches.
2.WORKING
There are a few key differences in the working principle of FFS and FS.
FFS
Step by step working process of FFS is as follows: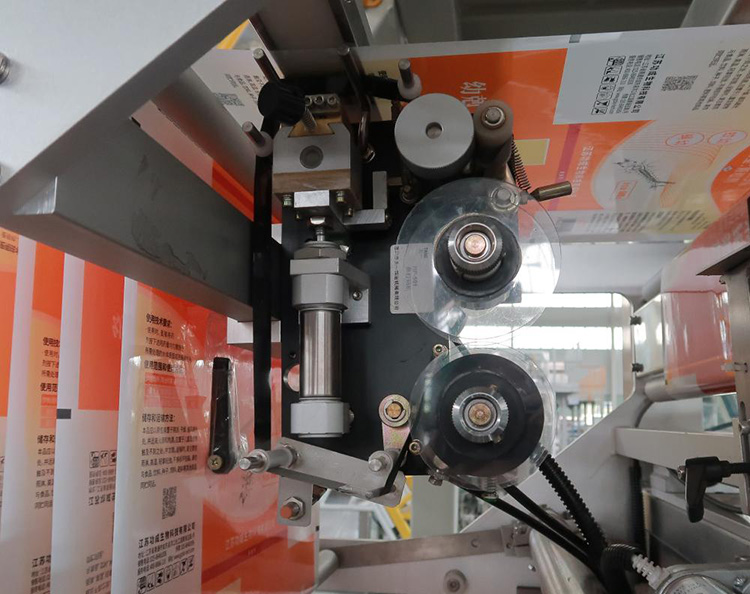 In the first step, the plastic or aluminum film is uncoiled from roll stock and then this material is fed into forming tube for creating tailor-designed containers according to manufacturer specifications.
The consumer's goods are filled in containers and then these packs are glued with 3 or 4-sided seal using heat and ultraviolet rays.
The sealed bags are trimmed and cut from each other by cutting knives.
FS
Following is a brief guide explaining the working of the FS machine.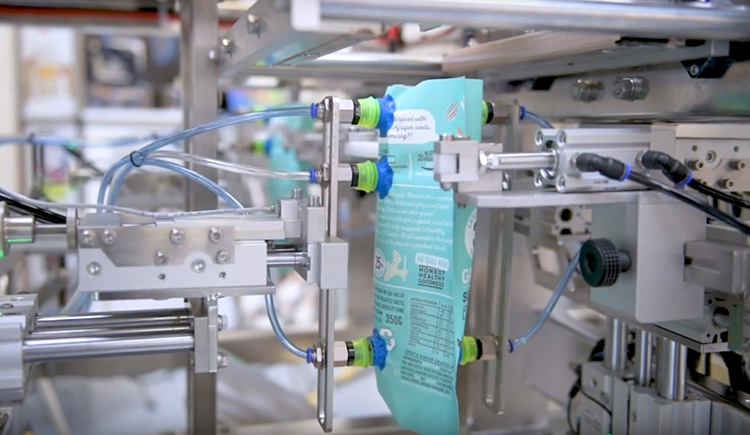 First pre-made boxes are loaded in a machine either by hand or by using robotic arms.
The grippers pick up empty packs. Opening jaws open container from top while air is blown inside the pouch to inflate it.
The products are loaded inside the inflated bag with auger or volumetric filling.
Hot sealing bars are employed for sealing upper side of container.
3.TYPES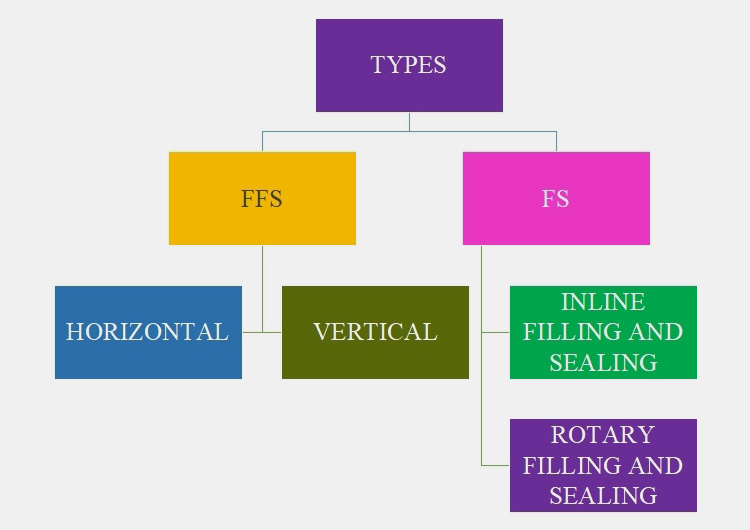 A) FFS
There are two main kinds of FFS machines depending upon the direction of operation.
Horizontal Form Fill Seal (HFFS)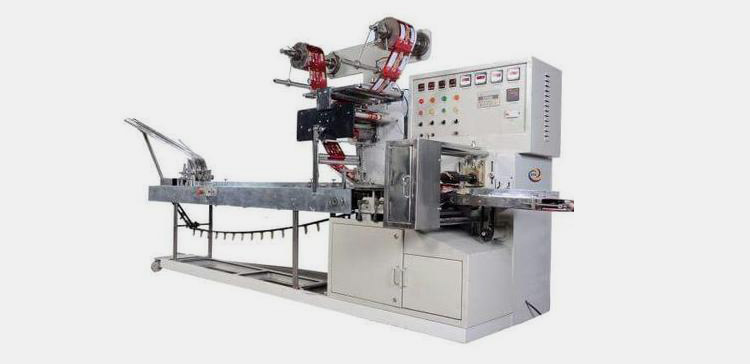 All the steps from pouch forming to sealing in HFFS are executed in horizontal direction. This machine is well-suited for packaging solid items. The fragile products that have chance of being damaged if loaded from top are filled using these equipment.
These machines consist of filling and bagging stations and are frequently used in manufacturing lines that have various changeovers. HFFS are used for forming and filling zipper pouch, and gusseted bags.
Vertical Form Fill Seal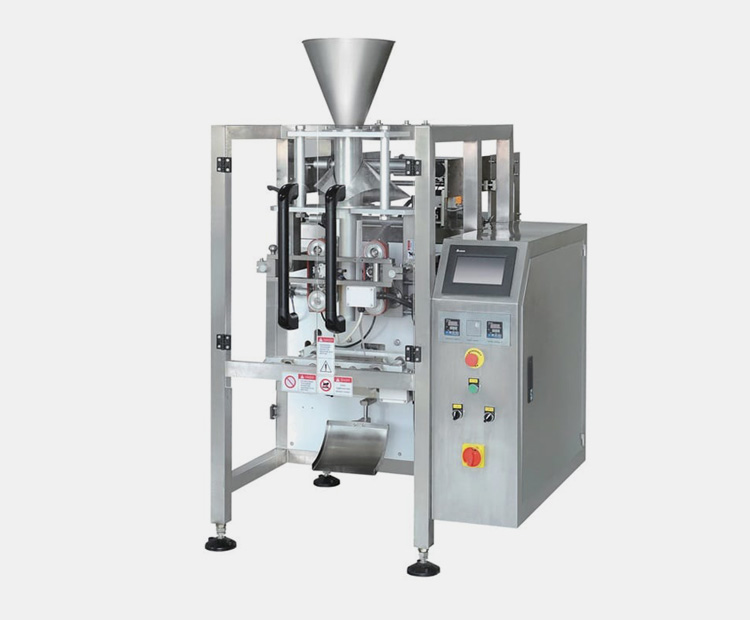 The orientation of operation in VFFS is vertical and this machine is suited for packing loose granular products. VFFS is widely used in the food and pharma industry for the packaging of sugars, grains, and pharmaceutical powders.
VFFS is also used for packaging liquid by volumetric and gravity filling.
VFFS is employed in applications involving the use of sachets such as 3 side sachet, 4 side sachet packing, back sealing, and stick packing.
B) FS
FS equipment are categorized into two principal kinds, such as:
Inline Filling and Sealing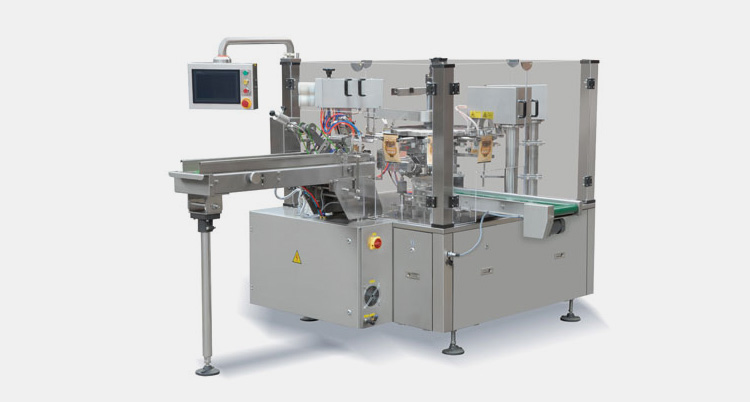 These equipments have a horizontal layout. The containers are loaded on conveyor belt and pass through various units in straight line. The packs are filled in sequence in these automations.
They are comprised of 1, 2, 4, and 8 filling heads and are more suited for small and medium sized businesses.
Rotary Filling and Sealing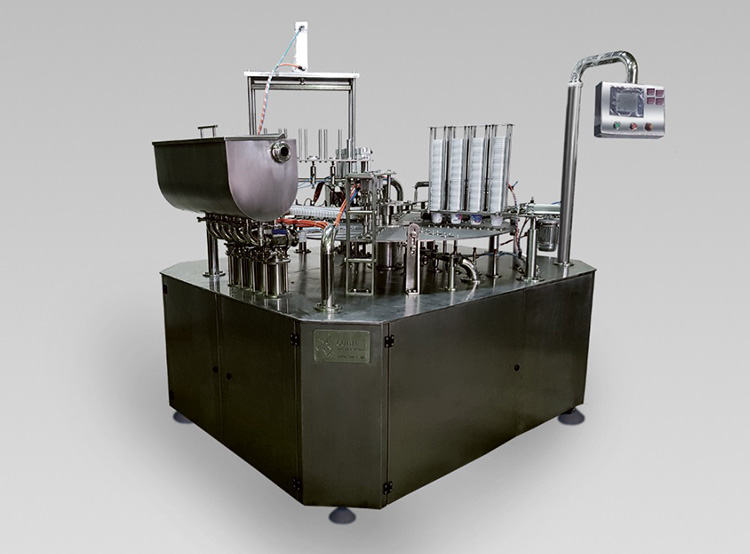 In rotary type of filling machine, the containers move in circular motion to different stations. The pouches are gripped, filled and sealed as they travel in anticlockwise direction.
It has 6 to 10 station with each station carrying out different packing function. Rotary filling and sealing equipment is most widely used kind of filling and sealing machine.
4.OPERATIONAL EXPENDITURE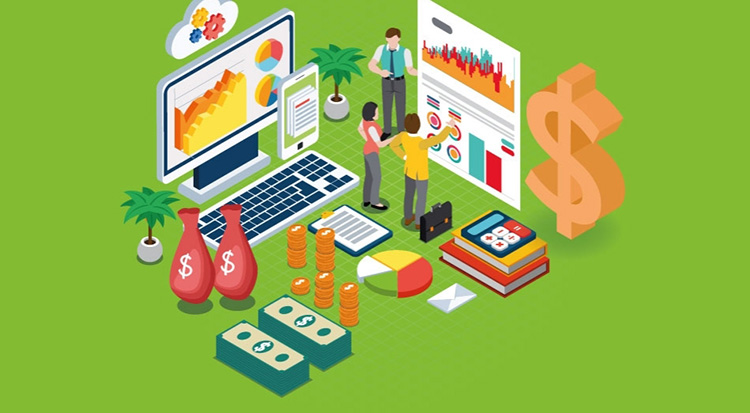 Operational expenditure of FFS and FS equipments depends upon production capacity of production lines. FS machines are favourable running cost for small scale productions. FFS machines have low production costs when packaging materials on large scale.
Raw materials needed for packaging in FS machines are pricier than those needed for packaging products in FFS equipments. Therefore, high cost of buying pre-made containers adds to running expenditures of FS machine.
FS devices have fewer parts so maintenance cost of these equipments is considerably less than FFS packaging equipments. The latter consists of large number of parts. The maintenance cost increases operational cost of FFS machines.
5.ADVANTAGES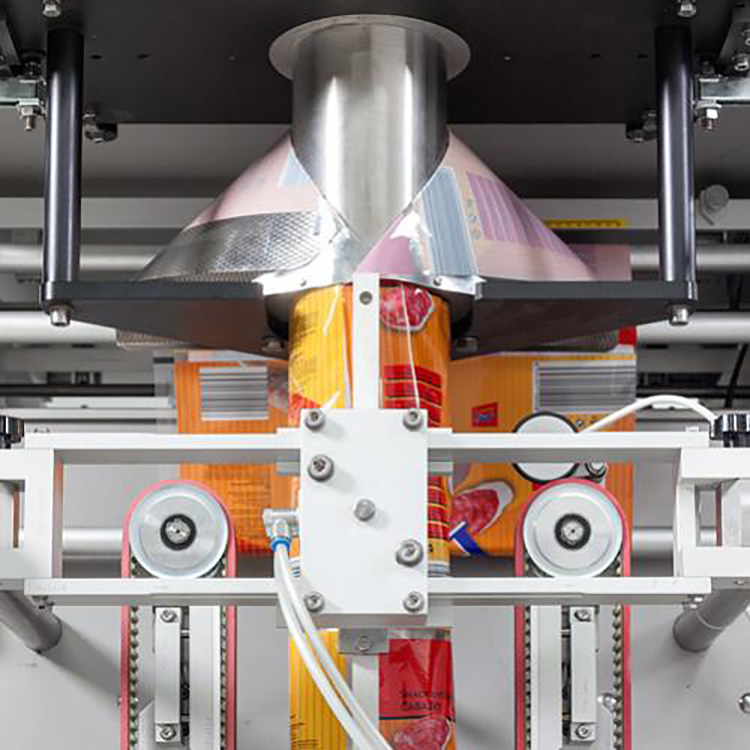 FFS

Some benefits of FFS machines for your production are penned below:
FFS packaging automation have more packaging speed than their FS counterparts. These can easily process higher quantities of products and package goods at much faster speeds.
Containers are formed and filled at the same time in FFS machine, leading to reduced risk of microbial contamination. They deliver ultra-clean and aseptic end products especially for the pharmaceutical and food industries.
Fewer operators are needed to manage and run the FFS packaging automation. Hence less workforce means reduced operational expenses.
Manufacturers can easily customized design of containers according to their preferences in FFS machines. The possibilities of designing pre-made packages are limited because of their stickability issue.
FS
Few benefits of FS packaging machines for businesses are: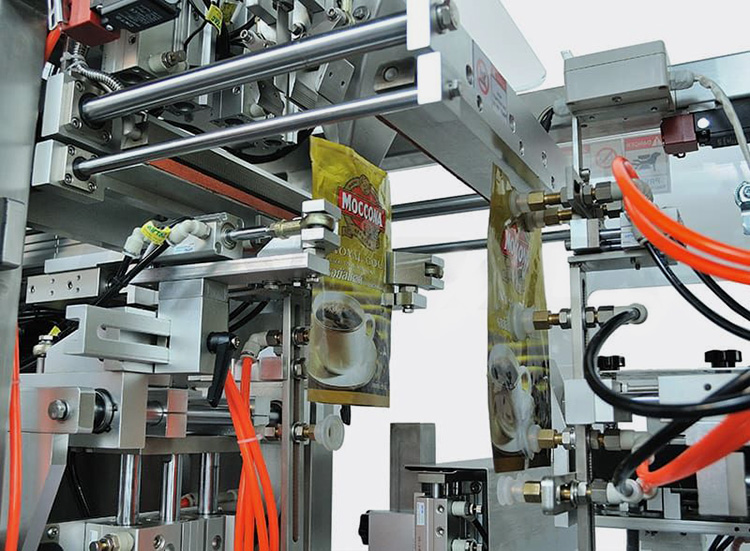 FS machines employed pre-made packs of multi-layered materials or of paper, jute, and threaded polypropylene. This is not possible with FFS machines.
Less technical expertise and training is required upon using preformed containers. Thus, FS equipment are easier to operate.
There is zero wastage of premade packages in FS automations. Almost every purchased container is used for storing inventory.
FS automations can easily handle less dense fine products that require 100% airtight packing. But it is difficult to remove trapped air in FFS equipment.
6.QUALITY SPECIFICATION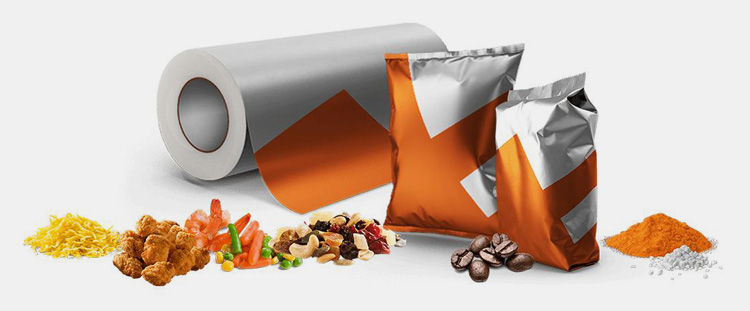 Packaging quality of products in FFS automation is greater than the end products manufactured by FS machines. You have the advantage of controlling quality specification of your packed goods by using FFS packaging machines in your production lines.
The manufacturer can easily determine and test the quality of forming film. They verify the durability of end products upon extreme pressure condition before shipment. This is the way of ensuring the stability of packaged material during transport and delivery.
High grade pre-made packages can be used in FS machines, but these containers have high purchase cost. Pre-formed packs are used in FS packaging when the manufacturing volume is small.
7.SUSTAINABILITY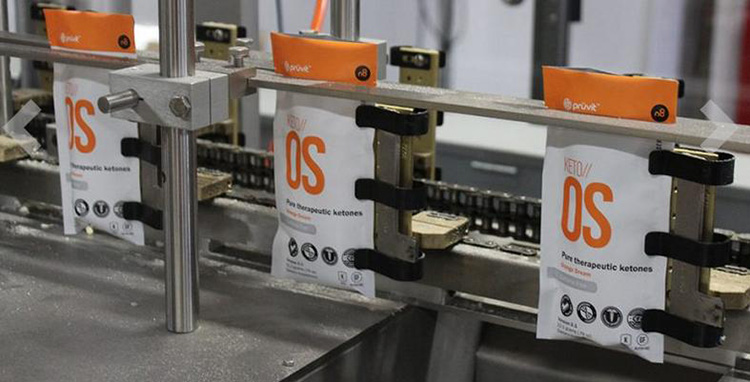 FFS packaging machine is more sustainable and environmentally friendly option than FS ones.  Less energy is needed for run FFS machines consequently these have lower carbon dioxide emission.
Transport of film requires less fuel than pre-made packages. Film stocks are light in weight thus needing less energy for its transportation. Shipment of pre-formed containers carries more weight so more fuel is needed for hauling of these containers.
Moreover, plastic thickness can be altered in FFS machines. This lowers plastic usage and waste. Packages in FFS machines are manufactured using PP, PET, glass, and cardboard which is easily recycled.
8.PACKAGING FORMATING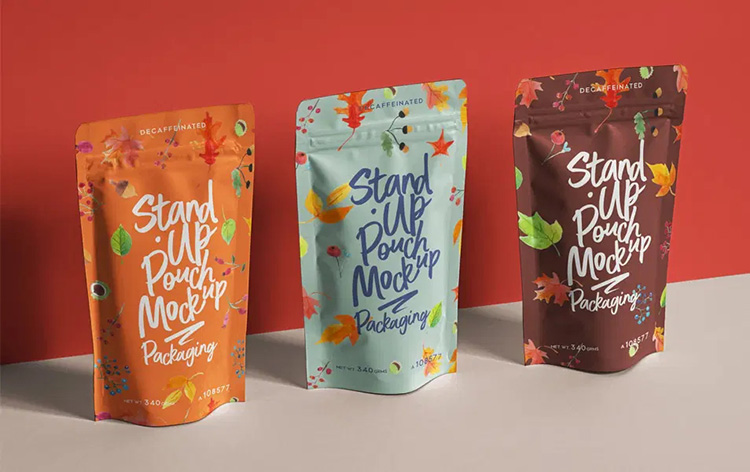 FFS machines are used for forming multipacks while FS machines are mostly used for manufacturing single-serve packs.
Various packaging formats are employed by stance single-serve, family packs, and multipacks. These devices can easily make large sized container or carton packs without requiring additional expenses.
The price of pre-made containers is usually depended upon their sizes. Large sized boxes mean additional expense. Hence FS systems are mostly used for packaging small sized containers that contain single quantity of product per container.
9.FUTURE PROSPECT
FFS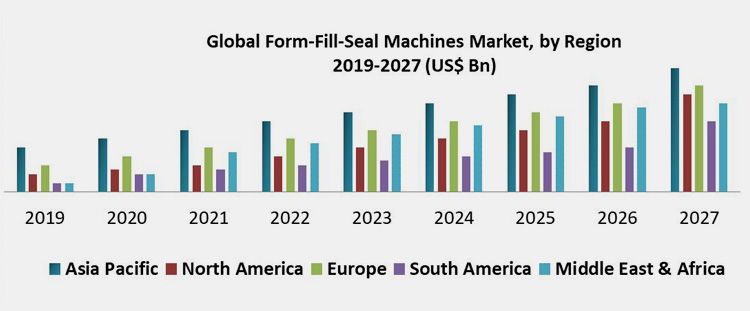 The market of FFS and FS machines will experience growth due to customers' demand of package goods.It was estimated that global market size of FFS automations was US$ 8,036.45 million in 2021. This will increase to US$11,175.18 million in 2027, gaining the CAGR of 5.1%.
Modern FFS packaging automation will be equipped with intelligent motion controls that autonomously alter packaging parameters upon experiencing environmental fluctuations of temperature, humidity, and pressure.
FS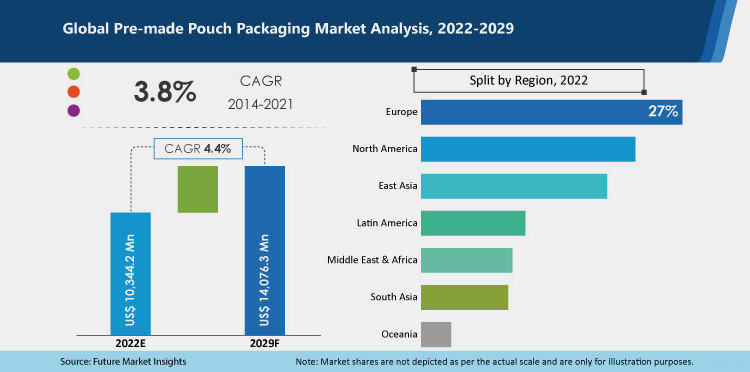 The market value of FS machines is predicted to expand from US$ 1.7 billion in 2020 to US$ 2.61billion in 2027 with an increase in CAGR of 6.3%.  The customer preference for flexible packaging is driving the growth of FS machine market.
Future FS machines will employ creatively design containers made up of recyclable eco-friendly organic and inorganic materials. These machines will be furnished with advance robotic technology that will reduce the need of workforce in manufacturing plants.
CONCLUSION
You cannot deny the significance of FFS over FS or vice versa. Both sealing technologies have special significance in pharmaceutical sterile production lines to limit the chances of contamination and high assurance of stability. Are you interested to add this sophisticated technology to your production line? We recommend contacting us for more information, Free consultation, and exploring our customized machine lines. Just send us a short message; our High-Tech Expert Team will Contact You Shortly.
Don't forget to share this post!
Stick Packing Machine Related Products
Stick Packing Machine Related Videos
CONTACT US
Tell us your raw material and project budget to get quotations within 24 hours.
WhatsApp Us: +86 189 7157 0951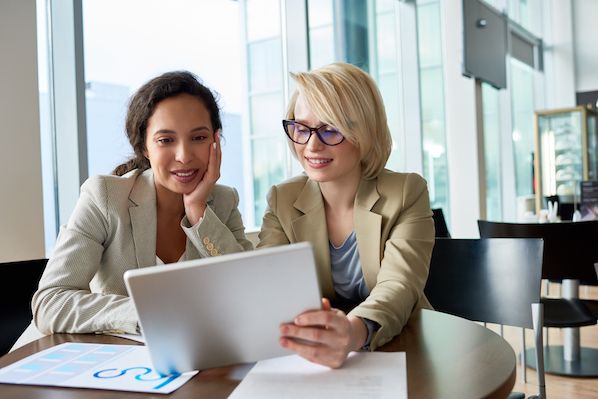 Want the best price & newest pharmaceutical machinery buying guide,tips and trends sent straightly to your box?Sign up for Aipak's monthly newsletter,we're free for your consultation and Offer you the most suitable solutions!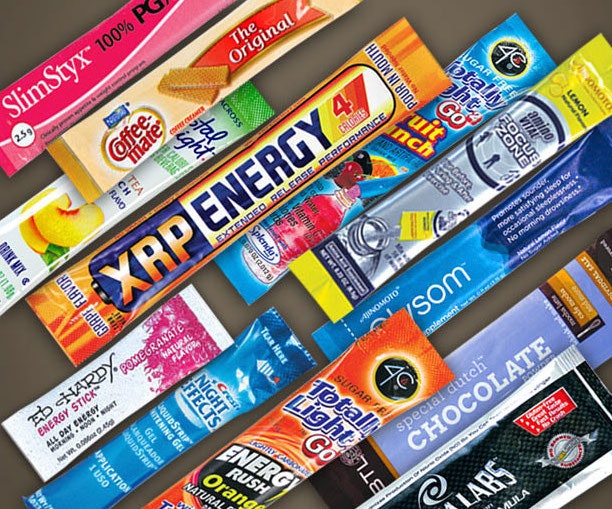 Tell us your material or budget, we'll reply you ASAP within 24 hours