WLDH- Horizontal ribbon Mixer
WLDH Horizontal Ribbon Mixer is a pioneer product researched and a new high speed powder mixer. It is widely used in the solid-solid (powder material) and solid-liquid (powder material & fluidity material) mixing in the field of chemical industry, pharmacy, foodstuff industry, etc.
WLDH series mixer is mainly comprised of mixing barrel , spiral ribbon and driven parts. The spiral ribbon is made of two layers. That is, the inner ribbon makes the material move outwards, while the external ribbon makes the material move inwards which forms a good circulation of material. Ribbon moves so circumferentially that the mixer could achieve fine mixing efficiency in a very short time.
                                                   Get in touch with an expert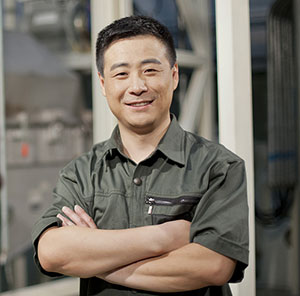 We´re looking forward to find the suitable solution for your product. Please contact:
Andrew Yang
Engineer Director
Phone: +86 189 7157 0951
Bin Mixer Related Products