Model EYH Series 2D Movement Mixer
The supplement powder mixer is suitable for the mixing of dry granule materials for pharmaceutical, chemical industries, etc., especially for the mixing of materials with high tonnage.
The mixing tank is a cylinder-shape barrel without any stirring device inside, which makes the self-rotation around its axis and also produces turnover swing movement around its plane axis synchronized, therefore, the target materials inside the barrel could be mixed diffusely and moveable, it is featured with short mixing time, good uniformity, big output, convenient to discharge, etc.
The rotating cylinder of EYH Two Dimensional Mixer can achieve two motions at the same time. One is the rotation of the cylinder and the other is swinging of the cylinder along the swinging rack. Materials to be mixed from left to right and vice versa when the cylinder is swinging. As a result of these two motions, materials can be mixed fully in a short time. It is suitable for mixing of all powder and granule materials.
| | | | | | | | | |
| --- | --- | --- | --- | --- | --- | --- | --- | --- |
| Model | Barrel volume | Max loading volume | Max loading weigh | Mixing time | No.of rotation | rotation Motor power | Overall dimension | Weight |
| EYH-50 | 50L | 25L | 25kg | 0-99min | 20r/min | 0.55kw | 900*730*950mm | 115kg |
| EYH-100 | 100L | 50L | 50kg | 0-99min | 20r/min | 0.75kw | 1365*810*1150mm | 190kg |
| EYH-150 | 150L | 75L | 75kg | 0-99min | 20r/min | 1.1kw | 1650*950*1250mm | 210kg |
| EYH-200 | 200L | 100L | 100kg | 0-99min | 20r/min | 1.1kw | 1850*1000*1340mm | 285kg |
| EYH-300 | 300L | 150L | 150kg | 0-99min | 17r/min | 1.1kw | 1800*1050*1450mm | 340kg |
| EYH-400 | 400L | 200L | 200kg | 0-99min | 15r/min | 1.1kw | 1950*1140*1550mm | 545kg |
| EYH-600 | 600L | 300L | 300kg | 0-99min | 15r/min | 1.1kw | 1990*1300*1650mm | 1150kg |
| EYH-800 | 800L | 400L | 400kg | 0-99min | 12r/min | 1.5kw | 2100*1350*1710mm | 1600kg |
| EYH-1000 | 1000L | 500L | 500kg | 0-99min | 12r/min | 1.5kw | 2500*1500*1850mm | 1700kg |
| EYH-1500 | 1500L | 750L | 750kg | 0-99min | 10r/min | 3kw | 2630*1670*2050mm | 2000kg |
| EYH-2000 | 2000L | 1000L | 1000kg | 0-99min | 8r/min | 4kw | 2840*1780*2170mm | 2600kg |
| EYH-3000 | 3000L | 1500L | 1500kg | 0-99min | 6r/min | 5.5kw | 3200*2100*2550mm | 3500kg |
| EYH-4000 | 4000L | 2000L | 2000kg | 0-99min | 5r/min | 7.5kw | 3670*2560*2980mm | 4100kg |
| EYH-6000 | 6000L | 3000L | 3000kg | 0-99min | 5r/min | 7.5kw | 4500*3900*3500mm | 6100kg |
| EYH-8000 | 8000L | 4000L | 4000kg | 0-99min | 4r/min | 11kw | 5000*3300*4000mm | 7900kg |
| EYH-10000 | 10000L | 5000L | 5000kg | 0-99min | 3r/min | 11kw | 5300*3800*4400mm | 9500kg |
                                                   Get in touch with an expert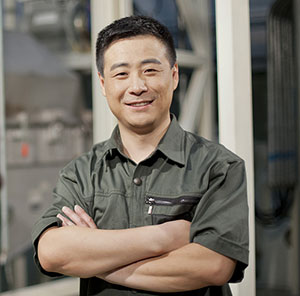 We´re looking forward to find the suitable solution for your product. Please contact:
Andrew Yang
Engineer Director
Phone: +86 189 7157 0951
Bin Mixer Related Products