CH Series Horizontal Tanker Typed Mixer
As a whole stainless steel horizontal tank type mixer, this machine is widely used for mixing of powdery or paste material in pharmaceutical chemical and foodstuff industries.
S type agitating paddle is rotated, through mechanical driving, which pushes the material turn repeatedly and mix uniformly, operate with electrical control, it can set mixing time to make automatic stop and electric discharge upon expiration, thus improving the mix quality of each batch of material and reaching the high homegeneous mixing.
New machine design, compact structure, beautiful appearance, degree of homogeneity of 99%, volume loading coefficient of 0.8. Rotary high low, smooth operation, reliable performance, easy to operate. Barrel outer wall of the body are mirror polished, no dead comer, easy to discharge, easy to clean, no cross-contamination to meet GMP requirements.
Model
Type of
paddle
Barrel
volume
Max loading
volume
Max loading
weigh
Speed of
agitating paddle
Turning
angle
Stir
Motor
Discharging
motor
CH-30
S Type single paddle
20L
20L
20kg
24r/min
﹤105°
0.75kw
0.12kw
CH-50
S Type single paddle
30L
30L
30kg
24r/min
﹤105°
1.5kw
0.18kw
CH-100
S Type single paddle
60L
60L
60kg
24r/min
﹤105°
2.2kw
0.55kw
CH-150
S Type single paddle
90L
90L
90kg
24r/min
﹤105°
3kw
0.75kw
CH-200
S Type single paddle
140L
140L
140kg
24r/min
﹤105°
4kw
0.75kw
CH-300
S Type single paddle
180L
180L
180kg
24r/min
﹤105°
5.5kw
1.1kw
CH-400
S Type single paddle
250L
250L
250kg
24r/min
﹤105°
7.5kw
1.5kw
CH-500
S Type single paddle
300L
300L
300kg
24r/min
﹤105°
7.5kw
1.5kw
CH-600
S Type single paddle
380L
380L
380kg
24r/min
﹤105°
11kw
2.2kw
                                                   Get in touch with an expert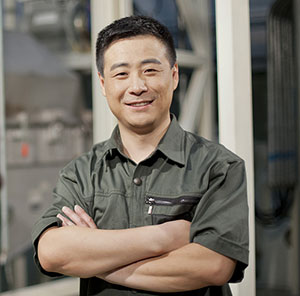 We´re looking forward to find the suitable solution for your product. Please contact:
Andrew Yang
Engineer Director
Phone: +86 189 7157 0951
Bin Mixer Related Products