Powder mixing machine material and the bottom of the binder in a cylindrical container by mixing oar mix into wet soft wood, and the offset of wet crushing blade cut into uniform particles.
The machine adopts the bedroom cylinder structure, the structure is reasonable. 
Inflatable, drive shaft sealing, when cleaning can be changed into water. 
Fluidized granulation, granulating approximate spherical, liquidity is good. 
The traditional process, 25% of adhesive can be reduced, the drying time shortened. 
2 minutes per batch for mixing, granulation, 1-4 minutes efficacy 4-5 times higher than that of traditional craft. 
Completed in the same sealed container, dry mixing, wet mixing, granulating, craft, conform to the requirements of GMP. 
The whole operation has strict safe protective measures. 
Mixing and cutting adopts frequency control of motor speed, make granulating more evenly.
| Model | volume | production | Mixing speed | Hybrid power | Cutting speed | Cutting power |
| --- | --- | --- | --- | --- | --- | --- |
| GHL-50 | 50L | 15kg/batch | 200/400rpm | 5.5kw | 1500/3000rpm | 2.2kw |
| GHL-150 | 150L | 50kg/batch | 180/270rpm | 15kw | 1500/3000rpm | 5.5kw |
| GHL-200 | 200L | 80kg/batch | 180/270rpm | 15kw | 1500/3000rpm | 5.5kw |
| GHL-250 | 250L | 100kg/batch | 180/270rpm | 15kw | 1500/3000rpm | 5.5kw |
| GHL-300 | 300L | 130kg/batch | 140/220rpm | 18.5kw | 1500/3000rpm | 7.5kw |
| GHL-400 | 400L | 200kg/batch | 106/155rpm | 22kw | 1500/3000rpm | 7.5kw |
                                                   Get in touch with an expert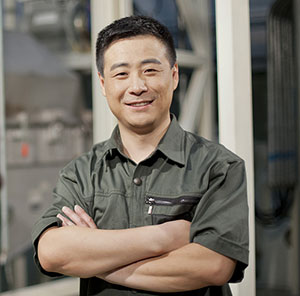 We´re looking forward to find the suitable solution for your product. Please contact:
Andrew Yang
Engineer Director
Phone: +86 189 7157 0951
Bin Mixer Related Products