APK-450A High speed full automatic food pillow packaging flow wrap machine
Aipak APK-450A flow wrap machine is widely applied for packaging various kinds of regular objects like food, medicine, daily appliances,cosmetic,metals, industrial parts, boxes, trays, toys and etc.
Now ,most of the flow wrap machine use double PLC control with 2 stepper motors in order to reduce machine production cost,but it is not smart packing machine; that is why we choose servo motors drive ,it has more efficiency than inverter system. And the machine run more precisely.What are the advantages of servo motor flow packing machine:
1.Accuracy:to achieve closed loop control of position,velcity and torque;
2.Speed: Generally rated speed can reach 2000-3000rpm;
3.Stability: Low speed running smoothly,it will not appear stepper run phenomenon.For high speed response to the request of the occasion.
4.Timeliness:the motor acceleration and deceleration of  the dynamic response time is short,usually within a few tens of milliseconds.
5.Comfort:heat and noise significantly reduced.
Double inverter control, the bag length is set and cut immediately, no need to adjust the empty run, one step in place, saving time and film.
Human-machine interface, convenient and quick parameter setting.
Fault self-diagnosis function, clear fault display.
High-sensitivity photoelectric eye color mark tracking, digitally input sealing and cutting position, making sealing and cutting position more accurate.
Temperature independent PID control, better suitable for various packaging materials.
Positioning stop function, no sticking knife, no waste film.
Simple transmission system, more reliable work and more convenient maintenance.
| | |
| --- | --- |
| Model | APK-450A |
| Bag size (mm) long*wide*high | 70~350mm*30~130mm*10~50mm |
| Vertical and horizontal sealing strength (Newton/mm ²) | > 15 n/mm squared |
| Packing speed (bags/min) | 30~160Bags/min |
| Packaging film width (mm) | 80~450mm |
| The power supply specifications | 220V 50/60Hz 3KVA |
| Machine weight (kg) | 800kg |
| Overall dimensions (length × width × height) | 4400×830×1700mm |
                                                   Get in touch with an expert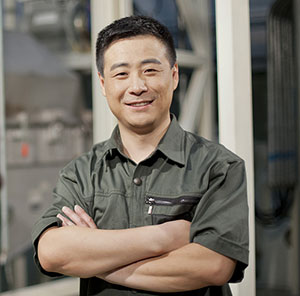 We´re looking forward to find the suitable solution for your product. Please contact:
Andrew Yang
Engineer Director
Phone: +86 189 7157 0951
Flow Wrap Machine Related Products
Flow Wrap Machine Related Posts
Flow Wrap Machine Related Videos