APK-350C High speed reciprocating capsule/tablet/blister plate flow wrap machine
Aipak APK-350C flow wrap machine is specially designed for moisture-proof bag packaging of capsule plate, tablet plate , aluminum-plastic blister plates and other similar material plates.With a super-intelligent touch screen and individual digital display temperature control system, it is simple to set parameters and convenient to change product size.With compact mechanical structure design, 4 servo drives control, the flow wrap machine can run stablely, it is easy to repair and maintain the machine, less breakdown, and low noise.
Reciprocating tool proof structure, less affection by the material.
Four servo control, the bag length is set and cut immediately, there is no need to adjust the empty walk, one step in place, saving time and film.
It adopts electrical appliances imported from Taiwan and Japan and touch man-machine interface, which makes parameter setting convenient and fast.
Fault self diagnosis function, fault display at a glance.
High sensitivity photoelectric eye color mark tracking makes the sealing and cutting position more accurate.
Temperature independent PID control, better suitable for all kinds of material coating.
Positioning shutdown function, no knife sticking and film consumption.
The rotating system is simple, the work is more reliable and the maintenance is more convenient.
All controls are realized by software, which is convenient for function adjustment and technical upgrading, and will never lag behind.
Servo blanking is adopted, which is easy to operate and fast. It only needs to be operated on the screen.
| | |
| --- | --- |
| Model | APK-350C |
| Bag size (mm) long*wide*high | 40-300 mm*30-130 mm*5-60 mm |
| Vertical and horizontal sealing strength (Newton/mm ²) | > 15 n/mm squared |
| Packing speed (bags/min) | 30-120 Stable between 150-200 (version 1-2) |
| Packaging film width (mm) | 80 ~ 350 mm |
| The power supply specifications | 220 v 50/60 hz 2.4 KVA |
| Machine weight (kg) | 1000kg |
| Gas consumption | 0.2 MPa |
                                                   Get in touch with an expert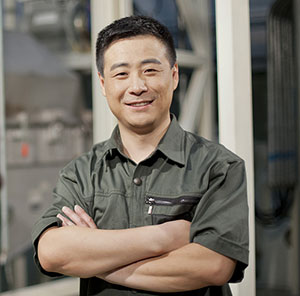 We´re looking forward to find the suitable solution for your product. Please contact:
Andrew Yang
Engineer Director
Phone: +86 189 7157 0951
Flow Wrap Machine Related Products
Flow Wrap Machine Related Posts
Flow Wrap Machine Related Videos