WCSJ Series Universal Coarse Crusher
Main Application:This machine is applied as supporting equipment, before fine crushing process in trades such as pharmaceutical, chemical and foodstuff ect., which has better crushing effect for any material without limitation on its viscosity, hardness, softness and fiber ect.
Working principle:This machine is made of stainless steel according to GMP standard, and the material is fed into the crushing chamber through a hopper, crushed by simultaneous cutting and impact of both fixed and movable knives, and flowed to the exit automatically under the effect of rotating centrifugal force. With the characteristics including high output, low noise and convenient cleaning, this machine has reached international advanced level.
Seasoning universal grinding machine has a simple structure design for long lasting, stable, low noise, high performance and easy maintenance.
The fixed and movable knives revolve in a high speed in the chamber.
Materials will then flow out from the bottom exit. The fineness is adjustable by adopting various sift.
Model
Production Capacity
Feeding Size
Crushing Fineness
Spindle Speed
Motor Power
overall dimension
weight
15BIV.V.VI
10-50kg/h
6mm
20-120mesh
6000r/min
2.2kw
550*400*850
mm
100kg
20BIV.V.VI
60-150kg/h
6mm
20-120mesh
4500r/min
4kw
550*600*1250
mm
280kg
30BIV.V.VI
100-400kg/h
6mm
20-120mesh
3800r/min
5.5kw
600*700*1450
mm
350kg
40BIV.V.VI
160-1000kg/h
10mm
20-120mesh
3400r/min
11kw
800*900*1550
mm
550kg
60BIV.V.VI
500-2000kg/h
12mm
20-120mesh
2800r/min
18.5kw
900*900*1880
mm
680kg
80BIV.V.VI
1000-5000kg/h
12mm
20-120mesh
2000r/min
37kw
1100*950*1960
mm
1500kg
100BIV.V.VI
2000-8000kg/h
12mm
20-120mesh
1500r/min
55kw
1350*1000*2100
mm
2500KG
                                                   Get in touch with an expert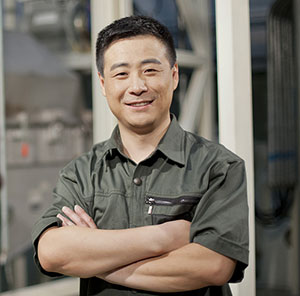 We´re looking forward to find the suitable solution for your product. Please contact:
Andrew Yang
Engineer Director
Phone: +86 189 7157 0951
Crusher Machine Related Products
Crusher Machine Related Posts
Crusher Machine Related Videos