Model WF Series Cyclone Pulse Dust-collecting Fine Pulverizer
Main Application:This machine is applied in such trades as pharmaceutical, chemical, foodstuff, magnetic material, powder etc., It is a new generation crushing equipment combining crushing, dust collecting and continuous discharge into a unit.
Working principle:This machine is made up of crusher, cyclone separator, pulse dust-evacuator box and induced fan etc., Material is fed into chamber through the hopper, and crushed by high speed rotating hammers. The crushed material flows into the cyclone separator by the induced fan and rotating centrifugal force, then discharge through gate blower, dust comes into the pulse dust-collecting box, filtrated and recycled by the filter cylinder. The crushing size can be adjusted by the screen. Designed by the standard of GMP the whole machine is made of stainless steel, and there is no flying dust during the process of production.
This machine is simple in structure, easy to assemble and clean the crushing chamber, and all parts contacting the material are made of stainless steel,acid and corrosion resistant, making crushed material be in conformity with hygiene requirement. In addition, this machine has smooth operation, convenient move, low noise, high crushing effect and low power consumption.
| Model | Production Capacity | Feeding Size | Crushing Fineness | Crushing motor | Dust collecting motor | Discharge motor | overall dimension | weight |
| --- | --- | --- | --- | --- | --- | --- | --- | --- |
| WF-250 | 50-100kg/h | ≤5mm | 80-400mesh | 5.5kw | 2.2kw | 0.75kw | 3000*880*2350mm | 580kg |
| WF-350 | 80-300kg/h | ≤5mm | 80-400mesh | 11kw | 3kw | 0.75kw | 3550*880*2350mm | 800kg |
| WF-450 | 100-500kg/h | ≤5mm | 80-400mesh | 15kw | 4kw | 0.75kw | 4200*880*2350mm | 1200kg |
| WF-650 | 300-1000kg/h | ≤5mm | 80-400mesh | 22kw | 5.5kw | 1.5kw | 6560*1100*2480mm | 2000kg |
| WF-850 | 500-2500kg/h | ≤5mm | 80-400mesh | 37kw | 11kw | 2.2kw | 7800*1100*2480mm | 3000kg |
                                                   Get in touch with an expert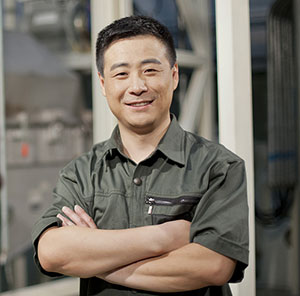 We´re looking forward to find the suitable solution for your product. Please contact:
Andrew Yang
Engineer Director
Phone: +86 189 7157 0951
Crusher Machine Related Products
Crusher Machine Related Posts
Crusher Machine Related Videos