WCSJ Series Universal Coarse Crusher(2011)
Main Application:This machine is applied as supporting equipment,before fine crushing process in trades such as pharmaceutical,chemical and foodstuff ect.,which has better crushing effect for any material without limitation on its viscosity,hardness,softness and fiber ect.
Working principle:This machine is made of stainless steel according to GMP standard,and the material is fed into the crushing chamber through a hopper, crushed by simultaneous cutting and impact of both fixed and movable knives,and flowed to the exit automatically under the effect of rotating centrifugal force.With the characteristics including high output,low noise and convenient cleaning,this machine has reached international advanced level.
This machine is simple in structure, easy to assemble and clean the crushing chamber, and all parts contacting the material are made of stainless steel,acid and corrosion resistant, making crushed material be in conformity with hygiene requirement. In addition, this machine has smooth operation, convenient move, low noise, high crushing effect and low power consumption.
| Model | Production Capacity | Feeding Size | Crushing Finess | Spindle Speed | Crushing Moter | Dust collecting Moter |
| --- | --- | --- | --- | --- | --- | --- |
| WCSJ-20B IV,V | 100-500kg/h | ≤100mm | 0.5-20mm | 960r/min | 5.5KW | 1.5kw |
| WCSJ-320B IV,V | 300-1200kg/h | ≤100mm | 0.5-20mm | 1070r/min | 11KW | 1.5kw |
                                                   Get in touch with an expert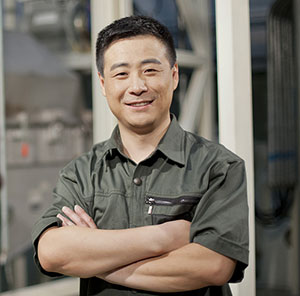 We´re looking forward to find the suitable solution for your product. Please contact:
Andrew Yang
Engineer Director
Phone: +86 189 7157 0951
Crusher Machine Related Products
Crusher Machine Related Posts
Crusher Machine Related Videos