Aipak APK-PB50B Semi Automatic Popping Boba Machine Production Line
Aipak APK-PB50A popping boba machine is made of 304 stainless steel and it is fully complies with the food sanitation standards. The popping boba made by this machine is in beautiful round shape, bright color and with very little waste material.The whole popping boba machine production line includes the cycle system of Sodium alginate liquid, automatically depositing system, filter, and product holding tank.
Popping boba made by Aipak popping boba machine can be used in bubble tea, ice cream, cake decoration and egg tart filling, and etc.
There is three liquid in the popping boba machine production line system, they are juice(the main ingredients are water, glucose syrup,calcicum lactate, white granulated sugar, Guar gum, xanthan gum, concentrated juice, Citric acid, and etc.. It is used to be the inner of popping boba),the Sodium alginate liquid(or you can call it solidification liquid, the main ingredients are water and Sodium alginate, it is used to forming the outer of popping boba),the Protection liquid(the main ingredients are water,fructose,and etc. It used to protect the popping boba in the packing box).
1)PLC/SERVO process control available;
2)An Touch scree (HM) is installed for easy operating;
3)The standard production capacity range is from 20 to 500kg/h;
4)The main parts is made of hygienic Stainless Steel SUS304, also can be customized to SUS316.
5)Continuous working and materials recycling design to avoid wastage.
6)Individual and Entirely adjust for different size boba makng.
7)Can be customized to multifunctional line for both popping boba and agar boba.
8)Boba Shell thickness is easy to be adjusted and controlled .
9)User friendly interface and processing available.
| | |
| --- | --- |
| Name | Popping Boba Making Machine |
| Model | APK-PB50A |
| Capacity | 20-50kg/h |
| Depositing Speed | 15-25 Strike/min |
| Voltage | 220V/380V |
| Advantage | Easy Operated |
| B0ba Weight | According to boba diameter |
| Compressed Air | 0.5m3/min |
                                                   Get in touch with an expert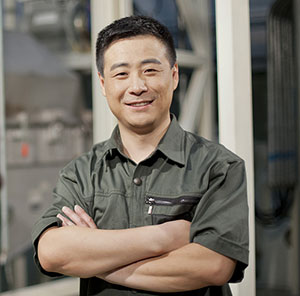 We´re looking forward to find the suitable solution for your product. Please contact:
Andrew Yang
Engineer Director
Phone: +86 189 7157 0951
Popping Boba Machine Related Products
Popping Boba Machine Related Posts
Popping Boba Machine Related Videos