HB220-40-10 Supercritical CO2 Extraction Machine
Supercritical extraction technology is the latest discipline emerging in modern industrial separation, and it is one of the internationally emerging advanced separation processes.
The so-called supercritical fluid means that the thermodynamic state is above the critical point (Pc, Tc). The critical point is the state point where the gas-liquid interface has just disappeared. The supercritical fluid has very unique physicochemical properties, its density is close to liquid, viscosity is close to gas, and the diffusion coefficient is large, the viscosity is small.
The characteristics such as large dielectric constant make it a better separation effect and a good solvent.
Supercritical extraction is under high pressure, at a suitable temperature, the solvent is contacted with the extract in the extraction kettle, the solute diffuses into the solvent, and then in the separator change the operating conditions to precipitate dissolved substances to achieve the purpose of separation.
Since the supercritical device has chosen CO2 medium as the supercritical extraction agent, it has the following characteristics:
Wide operating range, easy to adjust.
With good selectivity, the required components can be extracted in a targeted manner by controlling the pressure and temperature.
The operating temperature is low, and the extraction is carried out near room temperature, which is particularly suitable for heat-sensitive components.
During the extraction process, the possibility of oxidation in the presence of oxygen and light reaction is excluded, and the extract can maintain its natural flavor.
One step from extraction to separation is completed, and the CO2 after extraction does not remain on the extract.
CO2 is non-toxic, odorless, non-flammable, inexpensive and easily available, and can be recycled.
Fast extraction speed.
Main technical parameters of the device
Design pressure: 50MPa;
Design temperature: normal temperature ~ 85 ℃;
Extraction kettle: 0.5L, 50MPa;
Separation kettle: 0.3L, 30MPa, 2 sets;
CO2 flow: 0 ~ 50L / h adjustable;
Power supply: 380V 50Hz;
Instantaneous maximum power: 16KW.
The main structure of the device
Extraction system: including extraction kettle, heat exchanger, heating bath, temperature control, safety protection, pressure measurement, etc.
Separation system: including separation kettle, heat exchanger, heating bath, temperature control, safety protection, pressure measurement, etc.
Pressurized system: including liquid CO2 pump, cold water circulation, safety protection, electrical contact protection, pressure measurement, etc.
Voltage stabilization system: including filters, back pressure valves, etc.
Liquid CO2 generation system: including refrigeration unit, liquid CO2 storage tank, purifier (gas-liquid separation Device), pressure testing, etc.
Entraining agent system: including entraining agent pump, entraining agent addition tank, entraining agent flow meter
CO2 circulation system: mixer, liquid CO2 flow meter, etc.
| | | | |
| --- | --- | --- | --- |
| Model No. | Capacity | Specification | Extraction & Separation |
| HB121-50-0.5 | 0.5L | 0.5LX1/50Mpa | 1&2 |
| HB120-50-01 | 1L | 1LX1/50Mpa | 1&2 |
| HB121-50-1.5 | 1.5L | 1.5LX1/50Mpa | 1&2 |
| HB121-50-02 | 2L | 2LX1/50Mpa | 1&2 |
| HB121-50-05 | 5L | 5LX1/50Mpa | 1&2 |
| HB221-50-06 | 6L | 5L+1LX1/50Mpa | 2&2 |
| HB220-40-10 | 10L | 5LX2/50Mpa | 2&2 |
| HB221-40-20 | 20L | 10LX2/40Mpa | 2&2 |
| HB121-40-24 | 24L | 24LX1/40Mpa | 2&2 |
| HB220-40-48 | 48L | 24L+24LX1/40Mpa | 2&2 |
| HB421-40-50 | 50L | 25LX2/40Mpa | 2&2 |
| HB221-40-100 | 100L | 50LX2/40Mpa | 4&2 |
| HB221-40-180 | 180L | 30LX6/40Mpa | 6&3 |
| HB220-40-200 | 200L | 100LX2/40Mpa | 4&3 |
                                                   Get in touch with an expert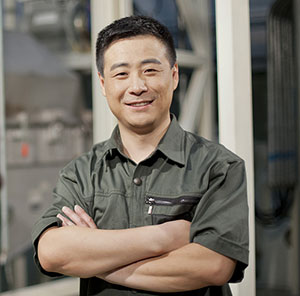 We´re looking forward to find the suitable solution for your product. Please contact:
Andrew Yang
Engineer Director
Phone: +86 189 7157 0951